Radosť, nadšenie i postupné uvedomenie si skutočnosti, že po dlhých mesiacoch intenzívnych príprav sa šou na Dunaji podarilo zrealizovať. Presne to sú pocity, ktoré naším najznámejším huslistom Filipom Jančíkom, podľa jeho vlastných slov, rezonovali uplynulú sobotu krátko po skončení dychberúceho vystúpenia v našom hlavnom meste.
To, že plánuje niečo veľkolepé netajil, no nevídaný úspech jeho nedávneho koncertu prekvapil a dojal i samotného tvorcu. Očakávaná návštevnosť päťtisíc ľudí sa vyšplhala až na dvojnásobné číslo. Záujem bol dokonca taký obrovský, že zaplnená bola celá plocha pozdĺž Eurovea až po ministerstvo vnútra. Pohľad do publika bol viac než pestrý, vystúpenie si užili všetky vekové kategórie: od najmenších detí v sprievode rodičov, až po teenagerov či staršie ročníky. Hudba spája a ukázalo sa to opäť. A spájala i rôzne národnosti, medzi návštevníkmi totiž nechýbali ani zahraniční turisti, ktorí pricestovali do Bratislavy na predĺžený víkend a koncert Filipa Jančíka bol pre nich zaujímavým spestrením.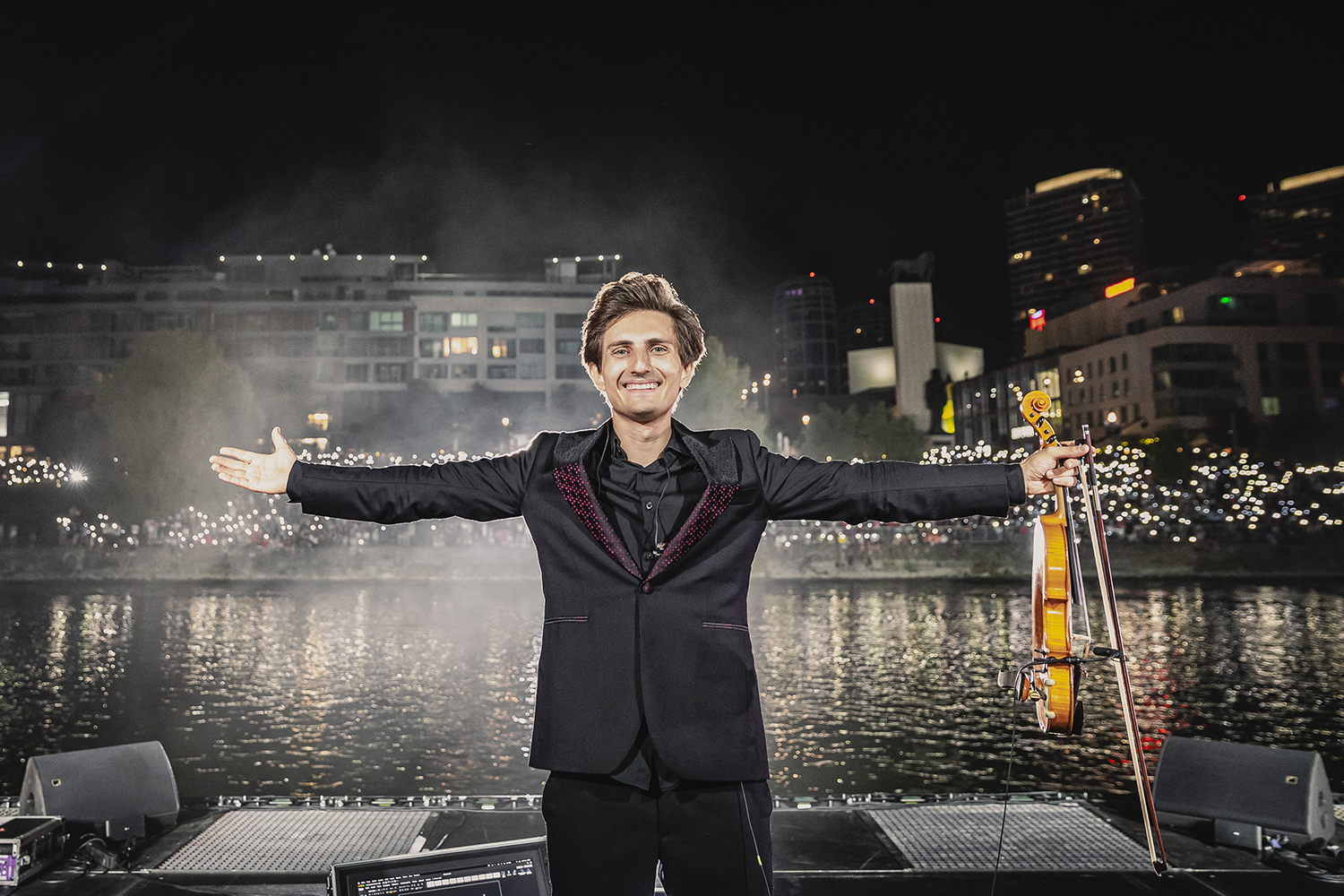 O fenomenálne vystúpenie, ktorého úroveň či prepracovanosť do posledného detailu ocenil ako jeden z prvých gratulantov aj maestro Peter Dvorský, neboli vďaka veľkoplošným obrazovkám ukrátení ani fanúšikovia stojaci ďalej od brehu. Už vôbec niet pochýb, že sobotňajší večer patril, a to zaslúžene, tridsaťročnému huslistovi.
Produkcia svetovej kvality
Okrem známych soundtrackov hollywoodskych filmov si Filip Jančík pripravil pre návštevníkov i dve hudobné prekvapenia. Za tie si vyslúžil niekoľkominútový potlesk a aplauz pripomínajúci atmosféru športových zápasov. Reč je o epickej hymne formuly 1 a hymne Ligy majstrov. Ľudia si ako pamiatku na unikátnu šou odniesli svietiace náramky, ktoré na svojich koncertoch využíva i svetoznáma kapela Coldplay. Náramky sa rozsvietia presne v okamihu, keď fanúšikovia môžu ešte väčšmi umocniť eufóriu počas skladieb a týmto spôsobom sa emočne prepojiť s hudobníkmi na pódiu.
Šou na Dunaji v číslach
Príprava tohto veľkolepého projektu trvala deväť mesiacov a podieľalo sa na ňom viac ako 250 ľudí. Posledné dva týždne boli mimoriadne intenzívne a celý tím spával iba tri hodiny. Technika použitá počas šou mala hodnotu 2,5 milióna eur. Celú scénu priviezol najväčší remorkér na Slovensku. Na pontóne sa predstavil tridsaťšesť členný orchester. Atmosféru vystúpenia umocňovali svetelné efekty, v jednom momente Dunaj vyzeral byť zamrznutý ako z rozprávky. Plamene, ktoré znásobovali strhujúcu atmosféru jednotlivých skladieb, šľahali až do výšky 15 metrov. Po koncerte Filip Jančík dostal tisícky správ od nadšených ľudí, ktorí mu skandovaním a nekonečným potleskom prejavovali priazeň počas celého večera, a neskôr aj touto osobnejšou formou. No nielen pre nich má výnimočný hudobník výbornú správu. "Určite sa budem snažiť priniesť niečo, čo poteší rovnaký, ak nie ešte vyšší počet ľudí. Plánov mám veľa, no nerád ich avizujem príliš vopred. Čo ale môžem prezradiť je, že v rámci vianočného turné navštívim zhruba pätnásť miest po Slovensku a poteším ľudí aj v predvianočný čas." Filip Jančík potvrdzuje povesť umelca, ktorý si fanúšikov veľmi cení a okrem nádherných skladieb ich rád prekvapí i zážitkami, ktoré ostávajú hlboko v srdci. Už navždy…
Zdroj: TS