Slovenské národné múzeum v spolupráci s pamäťovými inštitúciami v Bratislave pozýva na XVI. ročník populárneho celoeurópskeho podujatia Noc múzeí a galérií 2020. V tomto roku netradične – vo virtuálnej podobe. Program 20 múzeí a galérií v Bratislave, vrátane múzeí SNM na celom Slovensku, sledujte online 14. novembra 2020 od 15.00 do 24.00 h na stránkach: nmag.snm.
Z dôvodov protipandemických opatrení bol na jar 2020 tradičný termín podujatia (3. májová sobota) presunutý organizátormi vo Francúzsku na 14. novembra. Už začiatkom jesene však začalo byť zrejmé, že sa epidemiologická situácia môže zhoršovať. Nad návštevou "kamenných" kultúrnych inštitúcií v novembri už visel otáznik. "Rozhodnutie pripraviť Noc múzeí a galérií v tomto roku online, sa ukázalo ako správne. Hoci má Slovenské národné múzeum s koordináciou podujatia dlhoročné skúsenosti, tento špecifický ročník predstavuje pre nás novú výzvu. Verím, že rovnako ako v minulosti, bude o podujatie aj v tejto forme záujem", povedal Branislav Panis, generálny riaditeľ SNM.
Program spolupracujúcich pamäťových a kultúrnych inštitúcií ponúka množstvo tém, kde v centre záujmu stojí múzejný artefakt alebo výtvarné dielo a jeho prezentácia. A to všetko v podobe virtuálnych výstav, komentovaných audio či video prehliadok, kurátorských sprievodov, prednášok, diskusií, inštruktážnych videí, datasheetov, herných zón, kvízov, pracovných listov a pod., určených pre všetky vekové skupiny návštevníkov.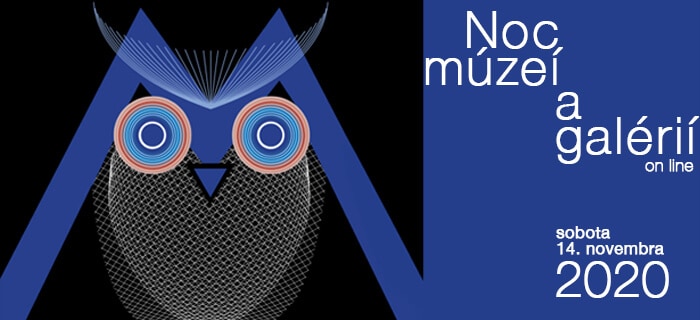 Galéria "najmenších" – Bibiana, si k tohoročným 30. narodeninám pripravila predstavenie tvorivých oddelení, ktoré už celé roky sprostredkovávajú umenie deťom hravou formou. Galéria moderného umenia Nedbalka prostredníctvom virtuálnej prehliadky prevedie stálou expozíciou a priblíži výtvarné diela súťaže Maľba – Cena Nadácie VÚB za maliarske dielo pre umelcov do 35 rokov. Slovenská výtvarná únia – galéria Umelka pripravila online výstavu a live stream lektorovanej prehliadky Marián a Tomáš Polonský – socha, maľba, architektúra. Medzinárodný výstavný projekt NA HRANE / AT THE LIMIT / AM LIMIT od Kunsthalle Bratislava, skúma hraničné situácie na pozadí diel 16 autorov zo 6 krajín. Slovenská národná galéria ponúka počas podujatia atraktívne vizuály vlastných diel na stiahnutie z Instagrau na mobil či audionahrávky z portálu webumenia.sk k vybraným dielam výstavy Generácia 909,76. V krátkom videu s námetom na jednoduché aktivity inšpirované výstavou Ó, šaty! preskúma vzťah tela a odevu.
Prehliadku Múzea dopravy v čase pripravilo STM – Múzeum dopravy v Bratislave. Na návštevu 2 priestorov a 2 tém z oblasti života Múzea mesta Bratislavy pozýva návštevníkov do Ateliéru Múzeum má budúcnosť (2011) Lukáš Latinák. S príbehmi historických hračiek je spojená aj aktivita výroby z papiera, do ktorej sa návštevníci môžu zapojiť. "Nováčik" podujatia, Múzeum polície, prináša zaujímavý dobový materiál – Bezpečnostní služba, časopis pro úřady, sbory a orgány bezpečnostní v Československé republice (1932 – 1936). Zalistujte si spolu s múzeom v prvorepublikových žandárskych časopisoch a objavte pôvabné policajné historky ako: Bitka na slovenskej dedine, Trhanie zubov prstami, Značky řemeslných žebráků a iné. CVTI SR-Múzeum školstva a pedagogiky prezentuje online výstavné cykly spomienok významných slovenských osobností, ktoré zaspomínali na svoje školské časy, s názvom Osobnosti v školských laviciach. Taktiež prezentáciu školských zbierkových predmetov z rokov 1918 – 1945 ako "50 z kabinetu". Ústredie ľudovej umeleckej výroby pripravilo sprievodný program a výstavu Majstri hudobných nástrojov. Vodárenské múzeum sprístupňuje online výstavu Ekologická katastrofa na II. vodnom zdroji v Bratislave a datasheety významných objektov a ľudí v histórii bratislavskej vodárne. Web k prvej výstave Slovenského múzea dizajnu 100 rokov dizajnu Slovensko 1918 – 2018, ako aj nominácik Národnej ceny za dizajn 2020 / komunikačný dizajn, spustí v čase podujatia Slovenské centrum dizajnu.
Aké je to ostať zamknutý v noci v múzeu? Prejdite sa potme po výstavách a expozíciách sídelnej budovy Slovenského národného múzea s malou Adelkou. Prevedie vás osobne staviteľ múzeí Michal Milan Harminc a kurátori zbierok SNM – Prírodovedného múzea predstavia zaujímavé zbierkové predmety. Ženy a ich pôsobenie v dejinách je zaujímavá a málo prebádaná téma. Čo všetko prežívali "Ženy v povstaní" ozrejmí prednáška k výstave Armáda v povstaní. Ako sa (ne)správať v múzeu vysvetlí SNM – Historické múzeum pomocou zábavných inštruktážnych videí. Pre deti ponúka j príbehy a legendy o uhorských kráľoch s názvom Panovníci Uhorska a iné virtuálne prehliadky expozícií a výstav. Až raz budem dospelý – chcem byť archeológ, povedia si najmladší návštevníci spolu s pracovníkmi SNM – Archeologického múzea. Zbierkový fond a históriu vzniku SNM – Hudobného múzea predstavuje videonahrávka v slovenskom aj anglickom jazyku. Kultúrno-umelecký život Nemcov v historickej Bratislave spoznáte s pracovnými listami SNM – Múzea kultúry karpatských Nemcov. Virtuálne po svojich e mimobratislavských expozíciách v Sklabinej a Dolnej Strehovej vás prevedie SNM – Múzeum kultúry Maďarov na Slovensku. O pomeroch vo futbale v období 1. ČSR v Bratislave rozpráva J. Kšiňan vo videonahrávke k výstave Futbal pod hákovým krížom, s názvom O S. C. Makabea a futbale v Bratislave v medzivojnovom období, z produkcie SNM – Múzea židovskej kultúry. SNM – Múzeum kultúry Chorvátov na Slovensku pripravilo prezentáciu k stálej expozície múzea, zameranej na dejiny a kultúru Chorvátov na Slovensku. Videonahrávky stálych expozícií možno zhliadnuť aj na stránkach Múzea Červený Kameň a Múzea Ľudovíta Štúra v Modre. Cherchez la femme – za všetkým hľadaj ženu –v prezentáciách k expozíciám v SNM – Múzeu Slovenských národných rád. Múzeum Bojnice pripravilo interaktívne 360° video o verejnosti neprístupných priestorov povál na zámku. S Múzeom bábkarských kultúr a hračiek na Modrom Kameni si najmenší návštevníci precvičia kreativitu v bábkových dielňach cez objektív. Ku krátkemu filmu Juliana a tí druhí pripravilo SNM – Spišské múzeum niekoľko kvízových otázok, na ktoré bude možné odpovedať na sociálnych sieťach múzea v priebehu podujatia a zapojiť sa tak do súťaže. SNM – Múzeum ukrajinskej kultúry predstaví virtuálnu výstavu Ivan Kulec a jeho tvorba.
Stredoeurópsky dom fotografie ponúka audiovizuálnu prezentáciu výstavy stredoeurópskej fotografie Sonification v Galéri Zoya a fotografické vzdelávanie – Od individuálnych kurzov
k detským táborom. Prezentačný portál Slovakiana sprístupňuje výsledky digitalizácie kultúrneho dedičstva širokej verejnosti a umožňuje záujemcom atraktívne detailné zobrazenie objektov, prezeranie virtuálnych výstav, sprievodov po pamiatkach, vytváranie vlastných zbierok a zdieľanie zaujímavých tém. Bratislavské kultúrne a informačné stredisko a Mesto Bratislava v spolupráci s grafickým dizajnérom Róbertom Paršom sprístupňujú výnimočnú výstavu plagátov – Tolerancia. Ide o putovnú plagátovú šou, do ktorej neustále pribúdajú plagáty z rozličných krajín. Zostaňte doma a poďte s nami na online prehliadky Bratislavy! Na virtuálne prechádzky a videoprehliadky významných pamiatok, múzeí, galérií či zaujímavej architektúry v Bratislave pozýva Bratislava Tourist Board, aby podporil zaujímavé miesta v čase pandémie.
Sledujte Noc múzeí a galérií 2020 online. S rodinou, priateľmi či len tak večer osamote v pyžame. Strávte príjemný čas až do neskorej noci v dobrej spoločnosti múzeí a galérií, ktoré sú týmto netradičným spôsobom otvorené len a len pre vás v sobotu 14. novembra 2020 od 15.00 do 24.00 h na stránkach: nmag.snm.sk
Zdroj: SNM