Program festivalu Nu Sound of Visegrad: Castle Sound sa pomaly zapĺňa. Do Ľubovnianskeho skanzenu príde 26. augusta aj maďarská Operentzia, ktorá publikum roztancuje svojím live psychedelickým trance s etno nádychom. Vo večernom programe vystúpia aj Korben Dallas, poľská Kroke a interpret z Česka, ktorého už čoskoro oznámime. Celodenný sprievodný program sa uskutoční v rôznych lokalitách mesta Stará Ľubovňa. Festival sa uskutoční v rámci spolupráce s projektom Uzol kultúry – Stará Ľubovňa – Mesto kultúry.
Po oznámení poľskej Kroke, ktorá hrá klezmer s world music a prvkami jazzu, vyhlasujeme maďarskú kapelu Operentzia. Existujú od roku 2005 a svoj názov si požičali z maďarských ľudových povestí označujúci imaginárnu krajinu. Gábor Bánházi (bicie, elektronika) a Tibor Domokos (klávesy, vokál) chceli poslucháčov pozvať na dobrodružnú cestu, kde by okolitý svet stíchol, aby načúval pulzujúcim basom, folkovým motívom, prírodným silám. Zdanlivo nekonečná pusta sa zráža do toku riek, z ktorého tryská dobrodružná, energická a temperamentná maďarská hudba. Tam, kde Béla Bartók hľadal esenciu národného a svetového v ľudovom obraze, tak oni rôzne folklórne inšpiračné zdroje zabalili do elektronickej tanečnej hudby. Zaradili sa tým do kategórie uznávaných maďarských kapiel ako Korai Trancemission či Grabanc.
V tomto svete sa usadili a presadili ôsmimi štúdiovými doskami vychádzajúcimi z rôznych inšpirácií – balkánskeho, maďarského folklóru, ako aj zo žánrov dub, chillout, psytrance, techno. Táto netradičná kombinácia zafungovala, keďže ich debut z roku 2008 vzbudil okamžitý ohlas. Jednou nohou sú stále v undergrounde, ale tou druhou už dávno prekročili prah malých pódií na veľké festivaly. A je jedno či roztancujú niekoľkotisícový dav na Ozore či na Szigete, kde vystúpili s najznámejším maďarským huslistom Lajkóm Félixom, alebo privedú do tranzu publikum v tmavých kluboch. Ich nakumulovaná energia zafunguje všade – aj v Ľubovnianskom skanzene – kam prídu s posledným albumom BIOHACK a s prívlastkom jednej z najlepších psychedelických live kapiel.
Večerný program festivalu Nu Sound of Visegrad: CASTLE SOUND sa uskutoční 26. augusta v Ľubovnianskom skanzene (lístky v predpredaji) – potvrdenými headlinermi sú Korben Dallas (SR), Operentzia (HU) a Kroke (PL) – ďalší program už čoskoro! Počas dňa bude v oddychovej zóne mesta prebiehať sprievodný program (koncert, čítačky, diskusie, vzdelávacie aktivity), na ktorý je voľný vstup. Už čoskoro oznámime ďalšie mená v programe.
Festival CASTLE SOUND je pokračovaním niekoľkoročného cyklu Nu Sound of Visegrad, ktorého primárnym cieľom je prinášanie do slovenských regiónov novú a inšpiratívnu hudbu z krajín V4 (Slovensko, Česko, Poľsko, Maďarsko). Projekt bol súčasťou aktivít Mesto kultúry 2019 Banská Štiavnica (4 koncerty), taktiež sa uskutočnil v rámci aktivít Mesto kultúry 2020 Nové Zámky ako celodňový festival. Putovný projekt sa predstavil aj v zahraničí – Rumunsko, Srbsko, Nórsko, Nemecko. Prednedávnom vyšla 2 CD kompilácia NU SOUND OF VISEGRAD 2015-2020, ktorá mapuje prvých päť rokov existencie tohto koncertného projektu.
Tento projekt z verejných zdrojov podporil: Fond na podporu umenia.
Finančne podporili: SOZA, Hudobný fond
https://www.facebook.com/events/1067817923824260
https://goout.net/sk/listky/nu-sound-of-visegrad-castle-sound-2022/jekn/
https://www.ticketportal.sk/event/NU-SOUND-OF-VISEGRAD-CASTLE-SOUND-STARA-LUBOVNA-2022
https://predpredaj.zoznam.sk/sk/listky/nu-sound-visegrad-castle-sound-stara-lubovna-2022/
https://tootoot.fm/sk/events/6278e11f7588030a14a8bb7b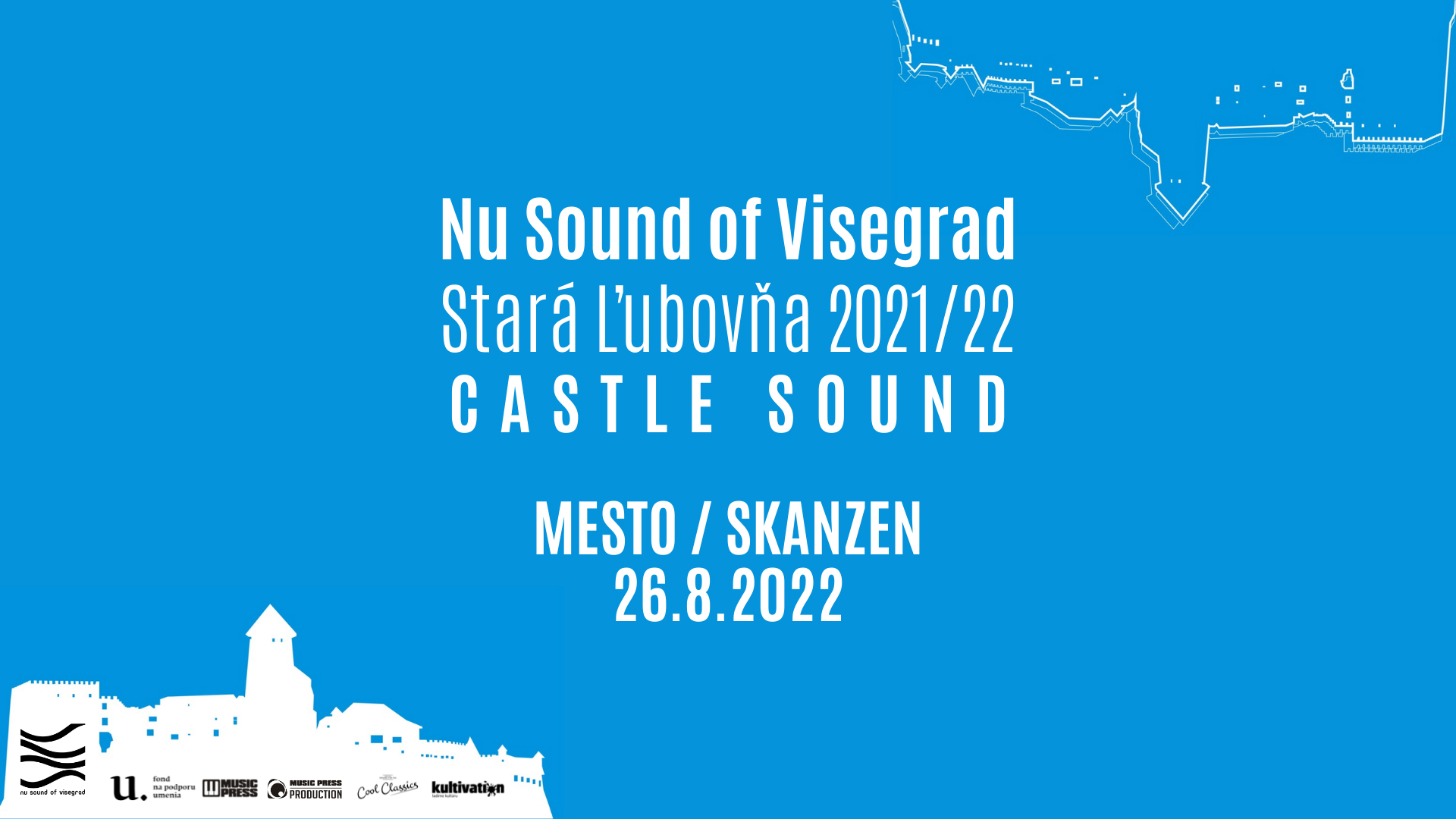 Zdroj: TS