Spoločná česko-slovenská predpremiéra víťazného filmu 71. ročníka Berlinale sa uskutoční online na platforme kino-doma.sk už 12. mája 2021 o 20.30 hod. Mimoriadne aktuálny film SMOLNÝ PICH ANEB PITOMÝ PORNO otriasol spoločenskými aj kinematografickými konvenciami.
Film o sexe, klamstvách a videokazete s nechceným obsahom vznikol počas lockdownu minulého leta režíroval jeden z najúspešnejších európskych režisérov súčasnosti Radu Jude. Snímku, vhodnú len pre publikum nad 18 rokov, prináša do slovenských kín aj online distribučná spoločnosť Filmtopia.
"Radu Jude prináša vo svojom filme výsostne aktuálnu tému. To bol hlavný dôvod, prečo sme sa rozhodli sprístupniť film našim divákom v online predpremiére ešte pred samotným otvorením kín, kam film patrí a kam sa, veríme, čoskoro dostane," povedala riaditeľka Filmtopie Silvia Učňová Kapustová.
Satirická dráma SMOLNÝ PICH ANEB PITOMÝ PORNO rozpráva príbeh učiteľky, ktorá je vystavená ostrej konfrontácii s rodičmi po tom, čo na internet unikne jej súkromné video s chúlostivým erotickým obsahom. Video sa stáva virálnym. Je na ňom vidieť sex medzi mužom a ženou v rúškach. Žena je napriek maskovaniu identifikovaná. Škoda len, že je učiteľka a mala byť vzorom. A to navyše v spoločnosti, ktorá sa čoskoro stratí v zdanlivo zjednocujúcom blahosklonnom nadhľade diskurzu sociálnych sietí, pseudo-politickom vševedení, pokryteckom šovinizme a groteskných konšpiračných teóriách. Každý má svoj názor. Z diskusie sa stal tribunál – o konsenzuálnom sexe, pornografii a ďalších.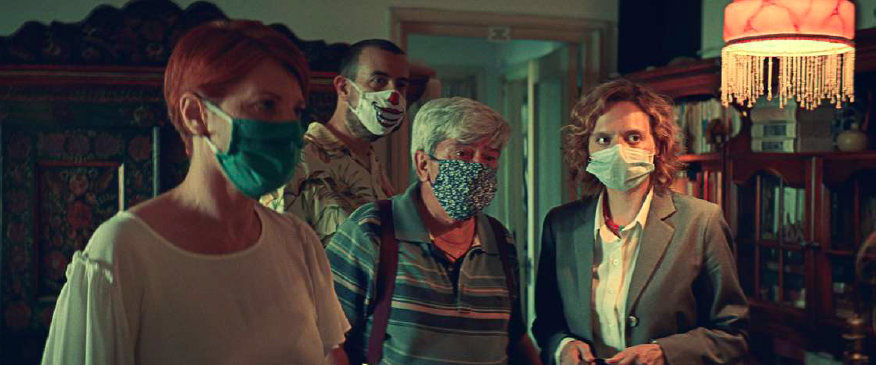 Všetci herci nosia na sebe rúška, ktoré boli nielen ochranným prostriedkom pri nakrúcaní, ale aj metaforou súčasného stavu, dokonca miestami slúžili ako spôsob komunikácie. SMOLNÝ PICH ANEB PITOMÝ PORNO nám približuje realitu, v ktorej stále žijeme, a ponúka nekompromisný pohľad na pokrytectvo súčasnej spoločnosti nielen v Rumunsku.
Radu Jude (1977) ukončil v roku 2003 filmovú réžiu na Univerzite médií v Bukurešti a pracoval ako asistent réžie. Nakrútil sériu krátkych filmov, medzi ktorými najviac vynikajú Elektrónka (Lampa cu caciula, 2006) a viac ako 50 medzinárodných cenami (Sundance, San Francisco, Los Angeles a iné) a Alexandra (2007). Jeho celovečerný debut Najšťastnejšie dievča na svete (Cea mai fericită fată din lume, 2009) vyhral na Berlinale cenu CICAE a do programu si ho vybralo viac ako 50 filmových festivalov (Toronto, Solún, Sarajevo, Londýn…). V roku 2011 režíroval a produkoval nezávislú snímku Film pre priateľov (Film pentru prieteni). Jeho druhý celovečerný film Všetci v našej rodine (Toata lumea din familia noastra, 2012), ktorý mal premiéru na Berlinale, získal cenu Sarajevské srdce na filmovom festivale v Sarajeve, cenu Le Bayard d'Or za najlepší film a pre najlepšieho herca na MFF Namur a vybralo si ho viac ako 30 festivalov na celom svete. Jeho krátke filmy Tieň oblaku (O umbra de nor, 2014) a Prejsť cez stenu (Trece si prin perete, 2014) boli uvedené v Cannes. Jeho tretí dlhometrážny film Aferim! (2015) mal premiéru na 65. Berlinale, kde zaň získal Strieborného medveďa za réžiu ex aequo. Jeho film Je mi jedno, že sa do dejín zapíšeme ako barbari (2018) získal hlavnú cenu na festivale v Karlových Varoch.
Zdroj: Zuzana Golianová, PR manažérka distribučnej spoločnosti FILMTOPIA