Štrnástimi európskymi koncertmi v štýle dvadsiatych rokov nadviaže populárna formácia Postmodern Jukebox na svoje aktuálne prebiehajúce celosvetové turné. Hudobný stroj času, ale aj virálna senzácia v jednom sa tak po dvojročnej odmlke opäť vracia na Slovensko. Svoju najnovšiu šou predstaví na jar 15. marca v priestoroch bratislavského Majestic Music Clubu (MMC).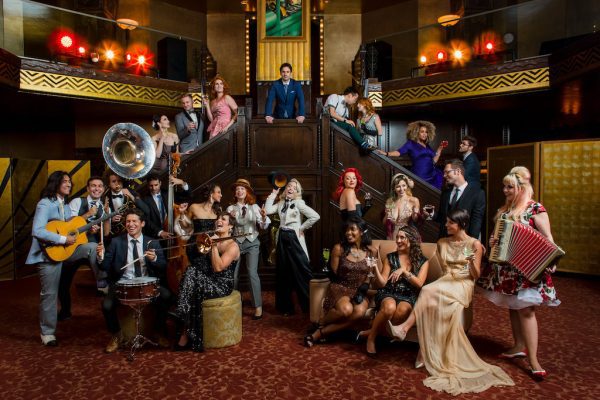 Novou šnúrou tematických koncertov pod názvom Welcome to the Twenties 2.0 Tour sa tvorca Jukeboxu Scott Bradlee približuje k túžbe, ktorú v sebe nesie od stvorenia tejto obľúbenej značky. Tou je, aby hudba opäť mala svoj štýl a vrátila sa k remeselnej zručnosti muzikantov. "Naposledy nám dvadsiate roky dali jazz, naozajstnú umeleckú formu. Kto vie, čo bude možné v roku 2020?," vyznal sa Bradlee, pričom dodáva: "Jedna vec je istá. Množstvo ľudí je už otrávených z palcových titulkov, bezduchých reality šou a závislosti na mobilných telefónoch, ktoré v poslednej dekáde iba slúžili na to, aby rozdeľovali ľudí." Jukebox podľa Bradleeho využíva svoj malý priestor na to, aby fanúšikom priniesol večer, ktorý je oslavou hudobného talentu, ale aj nadčasového štýlu.
Aktuálne celosvetové turné, ktoré hlása návrat k dvadsiatym rokom, má však už teraz potvrdených takmer 250 miest, kde v rámci svojich vystúpení zavíta. Turné tak plynule nadviaže na inú tematickú šnúru Back in Black & White Tour (Späť k čiernobielej), v rámci ktorej hudobný kolektív PMJ zavíta do západnej Európy. Aj z toho dôvodu tento, dnes už hudobný kolos, neustále naberá na palubu nových talentovaných spevákov a hudobníkov, ktorých zostava sa v priebehu turné priebežne obmieňa. Skutočnosť, ktoré z hviezd Postmodern Jukeboxu vystúpia na bratislavskom koncerte preto zostane do poslednej chvíle prekvapením. "Keď sme vytvárali koncepty turné, snažili sme sa spárovať ten správny talent so správnym materiálom, a vytvoriť tak jedinečný a úžasný zážitok pre všetkých fanúšikov," vysvetľuje Bradlee. "Preto sa pripravte na najveľkolepejšiu párty v štýle 20. rokov a Veľkého Gatsbyho," uzatvára.
Postmodern Jukebox (PMJ) je americký hudobný kolektív, ktorý od roku 2009 pretvára súčasné popové a komerčne úspešné hity do ich novej retro podoby, predovšetkým v žánroch swingu a jazzu. Za značkou stojí jej zakladateľ, a kedysi ťažko sa predierajúci, jazzový klavirista Scott Bradlee, ktorý natočil prvé videá PMJ s hŕstkou kamarátov vo svojom dome v Queense. Videá začali rýchlo naberať na popularite, pričom prvý virálny hit kapely Thrift Shop (2012) s jedným miliónom videní, zabezpečila zoskupeniu speváčka Robyn Adele Anderson. Doposiaľ najúspešnejšou skladbou je coververzia hitu Creep od skupiny Radiohead, v podaní talentovanej Haley Reinhart, ktorá má do dnešného dňa 54 miliónov zhliadnutí. V súčasnosti má Postmodern Jukebox na konte bilión Youtube videní, 22 hudobných CD kompilácií a od roku 2016 stovky vypredaných koncertov na šiestich kontinentoch sveta.
FB UDALOSŤ: https://www.facebook.com/events/2270000769685046/
VSTUPENKY: https://www.ticketportal.sk/Event/SCOTT_BRADLEES_POSTMODERN_JUKEBOX_USA?IDpartner=154
VIAC INFORMÁCIÍ: www.citysounds.sk www.postmodernjukebox.com
Nezabudnite na náš koncert NATURALLY 7, 26.11. v Ateliéri Babylon!
Zdroj: TS