Michael Kocáb, Michal Pavlíček, Vilém Čok, Klaudius Kryšpín, Jiří Hrubeš. Najslávnejšia zostava legendárneho Pražského výběru + DJ Roxtara prichádza na špeciálny klubový koncert do Bratislavy! Vo vynikajúcej kondícii hrajú piesne z kultového albumu Straka v hrsti a ďalší prierez z ich štyridsaťročnej kariéry. Uskutoční sa 21.4.2023 v MMC v rámci koncertnej sérii DANUBE MUSIC DAY.
Pražský výběr vznikol v roku 1976. Začínali v ťažkých časoch, ktoré nepriali slobodnému mysleniu. Závan slobody v Československu opätovne zavanul medzi mladými ľuďmi, ktorí sa spoločne s predchádzajúcou generáciou disidentov, nechceli zmieriť s totalitnými pravidlami. Zo spojenia rockovej a jazzovej scény vzišli muzikanti novej vlny. Texty reagovali českou národnou vlastnosťou všetko zľahčovať ironickým zmyslom pre humor s trefným poukazovaním na absurditu doby. To ich stálo miesto na javiskách, keď prišiel trojročný zákaz. Ľudia na nich však nezabudli. Pražský výběr sa stal jednou z najvplyvnejších skupín v Československu a potvrdil tvrdenie, že rock and roll dopomohol k pádu železnej opony. To ocenili aj Rolling Stones či Frank Zappa, keď sa s nimi stretli na spoločných koncertoch.
Od roku 2012 sa opäť pretli ich spoločné cesty. Odvtedy sú veľmi aktívni, keď hrávali na tých najväčších domácich festivaloch. Teraz sa rozhodli hrať častejšie, ale klubový koncert je stále vzácna a neopakovateľná príležitosť uvidieť jednu z najdôležitejších kapiel v našej spoločnej histórii. Zohrané silné individuality sa znovu bavia hudbou a posúvajú dôležité posolstvo v nových úpravách z legendárnej nahrávky Straka v hrsti aj z výberu z ďalších albumov.
Koncert Pražský výběr sa uskutoční pod hlavičkou DANUBE MUSIC DAY v spolupráci Music Press Production a Majestic Music Club.
DANUBE MUSIC DAY/ MMC: Pražský výběr, 21.4.2023, MMC, Bratislava
Facebook: https://www.facebook.com/events/608337171044383
Vstupenky: https://predpredaj.zoznam.sk/sk/listky/danube-music-day-mmc-prazsky-vyber-2023-04-21/
https://goout.net/sk/prazsky-vyber-danube-music-day-2022/szkhutu/
https://tootoot.fm/sk/events/638cd583ee3be212a8a668ed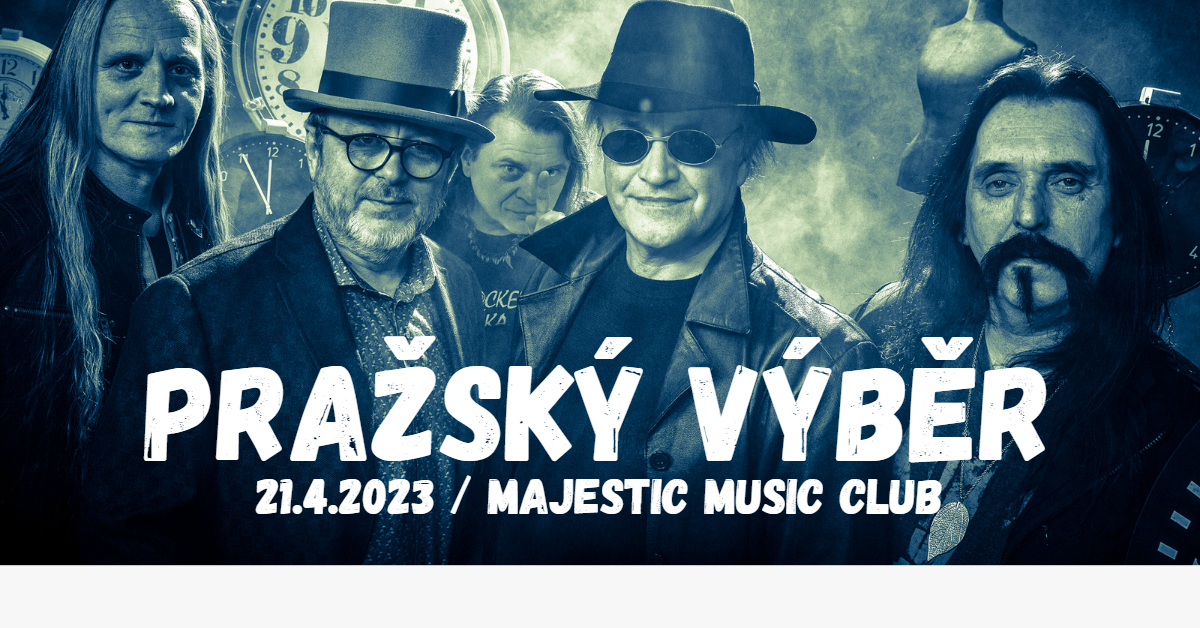 Zdroj: TS