Teleso Lento Ad Astra tvoria klaviristka Zita Sopková a saxofonista Erik Rothenstein, aktuálne vytvorilo album MADE IN SK, ktoré je pri nich tak výzvou ako i potešením. Nové CD má byť podporou slovenskej pôvodnej hudby, jeho dramaturgia sa sústredí na klasický saxofón v klasickej hudbe. Siahla po dielach skladateľov Ľuboša Bernátha, Egona Kráka, Viliama Gräfffingera, Eugena Suchoňa. Album vychádza vo vydavateľstve Real Music House a jeho prezentácia spojená s koncertom sa uskutoční 5. októbra 2022 o 19.00 hod. v Klariskách v Bratislave.
"Ďakujeme našim kamarátom skladateľom, Ľubošovi Bernáthovi, Vilovi Gräffingerovi a Egonovi Krákovi za ich diela a majstrovi Suchoňovi za jeho prínos pre slovenskú kultúru. Dovolili sme si vzhľadom na blížiaci sa "suchoňovský rok" (v roku 2023 uplynie 115 rokov od narodenia a 30 rokov od úmrtia) zaradiť do dramaturgie albumu jeho Larghetto z Metamorfózy č.4 a upraviť jeho Malú suitu s pasacagliou pre saxofón a klavír. Na nahrávke okrem Suchoňovej Pasacaglie, ktorá je interpretovaná na altovom saxofóne, môže poslucháč počuť barytónový saxofón," povedal o novom albume Erik Rothenstein.
Spomínaný typ saxofónu, ktorý je aj vo svetovom meradle zriedkavejším sólovým nástrojom klasickej literatúry, si skupina vzhľadom na jeho zvukovosť, vybrala zámerne a oslovuje už dlhší čas slovenských skladateľov, aby mu skladby doslova ušili na mieru. "Svojím konceptom chce skupina rozširovať hranice poznaného a spájať rôzne podnety vo svojom repertoári. Lento Ad Astra – pomaly ku hviezdam – je dlhodobou hudobnou cestou telesa," dodal Erik Rothenstein.
Luboš Bernáth: Partyta pre barytónový saxofón a klavír
Egon Krák: Carnivore II, A piece for Baritone sax and recording
Viliam Gräfffinger: Danza
Eugen Suchoň: Malá suita s pasacagliou opus 3 (pre altový saxofón a klavír upravil Viliam Gräffinger)
Eugen Suchoň: Metamorfóza č.4, Larghetto
Album MADE IN SK vychádza vo vydavateľstve Real Music House, ktoré sa aj ako nahrávacie štúdio programovo venuje tvorbe slovenských hudobných skladateľov a interpretov.
"Erik a Zita už v našom vydavateľstve jedno CD (Playing šach with Mr. Bach, 2013) ako zoskupenie Lento Ad Astra vydali. Ich novinka sa však venuje domácim skladateľom a pôvodná slovenská hudba je prioritou značky Real Music House," povedal Martin Sillay z Real Music House. Podobne to vidí Robert Pospiš: "Made In Sk, to je jednoznačná skratka. Erik a Zita sa rozhodli nahrať diela slovenských skladateľov v unikátnom obsadení. Je to nahrávka, ktorá môže osloviť širšie publikum svojou komornosťou a výnimočnou hudobnou komunikáciou. V neposlednom rade sa Lento Ad Astra zamerali na výborných skladateľov. Odporúčame!"
Teleso Lento Ad Astra vzniklo v júni 2011, keď sa klaviristka Zita Sopková a saxofonista Erik Rothenstein rozhodli využiť svoje doterajšie muzikantské skúsenosti a vyskúšať spolu realizovať niekoľko koncertov. Sústredili sa najprv na klasický altový saxofónový repertoár, resp. transkripcie pre tento nástroj. Postupne však začali interpretovať literatúru hlavne pre baritónový saxofón. Aj keď má každý iný muzikantský "background", snažia sa spolu hľadať prieniky a vytvoriť spoločný koncept a pretaviť ho do hudobného jazyka. Či sú to transkripcie violončelových prelúdií Johana Sebastiana Bacha, skladby francúzskych autorov ako Claude Debussy, Gabriel Faure alebo originálne kompozície napísané na objednávku telesa, interpreti sa snažia zaujať vlastným vkladom a skúmaním nových možností.
Komorné zoskupenie prináša novú koncepciu a sviežosť pri zachovaní vysokej interpretačnej kvality. Svoj priestor dostáva aj improvizácia a štýlové zaranžovanie i prispôsobenie skladieb pre potreby telesa. Lento Ad Astra spolupracuje s rôznymi hosťami. Teleso nahralo v roku 2013 svoj profilový album Playing Šach with Mr. Bach.
Vznik CD nosiča MADE IN SK z verejných zdrojov podporili Fond na podporu umenia, Bratislavské kultúrne a informačné stredisko, SOZA, Hudobný fond.
Bližšie informácie o CD:https://www.realmusichouse.sk/obchod/hudba/lento-ad-astra-saxofon-v-klasickej-hudbe/
Album sa dá vypočuť tu: https://open.spotify.com/album/29CtNEDYaTFkBGPPyTMTvr?si=ZJptqGKhRRmoX7KRnSAaHg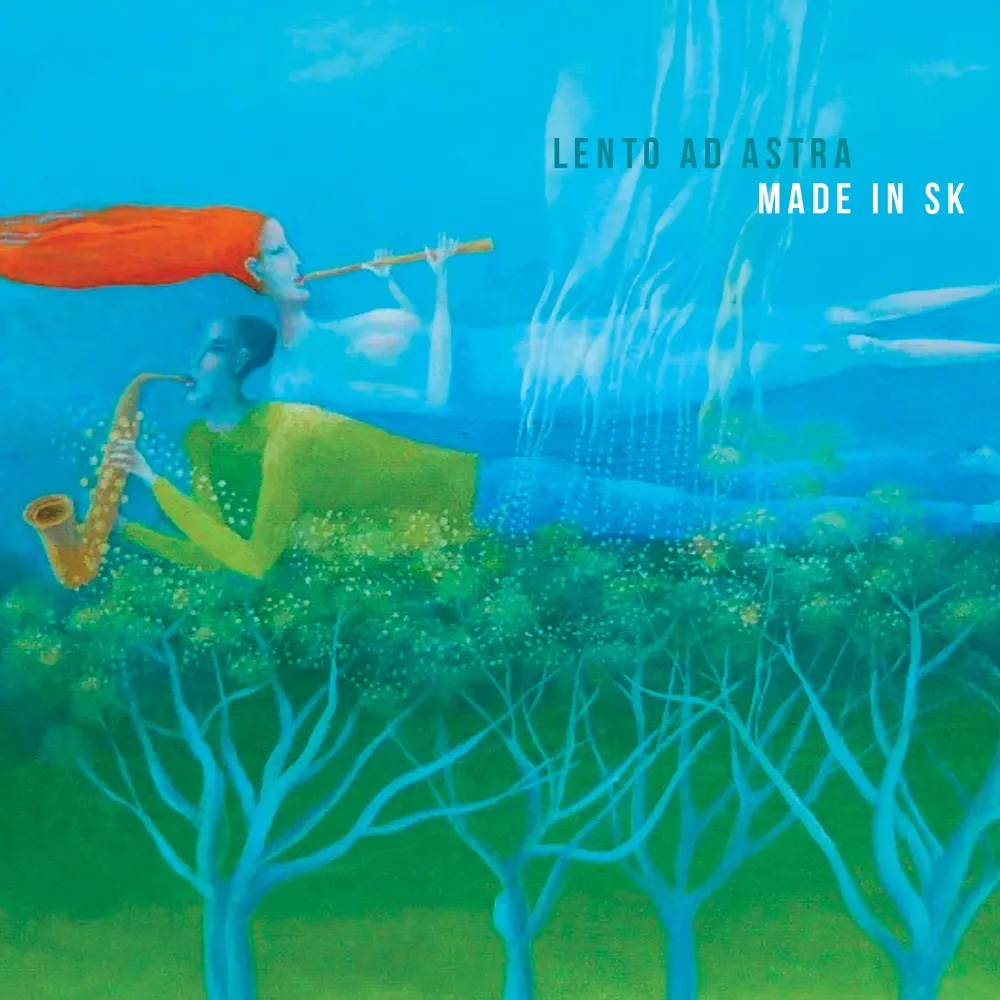 Zdroj: Real Music House