V spolupráci s európskymi autorskými zväzmi bola tento týždeň spoločnosťou EY vydaná štúdia, ktorá upozorňuje na ekonomický význam kultúrneho a kreatívneho priemyslu (KKP). Štúdia reálne ukazuje ako COVID-kríza v roku 2020 ovplyvnila a najbližšie roky ovplyvní kultúrno-kreatívny sektor a ponúka riešenia ako mu pomôcť.
Podľa štúdie patrí KKP k odvetviam, ktoré pandémia zasiahla najviac. Celkovo stratila kultúrna a kreatívna ekonomika v Európe až 31 % z obratu, čo je viac ako stratil napríklad cestovný ruch (27 %) či automobilový priemysel (25 %). Jediný sektor, ktorý sa v tomto nepríjemnom porovnaní vyrovnal KKP bola letecká doprava (31 %). Celkový obrat kultúrnych a kreatívnych podnikov tak klesol o 199 miliárd eur.
COVID-kríza zasiahla najhoršie oblasť kultúry práve v strednej a východnej Európe a otrasy sú citeľné vo všetkých kultúrnych a kreatívnych odvetviach. Najviac postihnutými sú múzické umenie (- 90 %) a hudba (- 76 %). Hneď za nimi nasleduje výtvarné umenie, architektúra, reklama, knihy, tlač a audiovizuálne umenie, ktorých príjmy v porovnaní s rokom 2019 klesli v rozmedzí 20 % – 40 %. Jediná oblasť KKP, ktorá si dokázala udržať svoje príjmy v roku 2020 bola oblasť videohier (+ 9 %).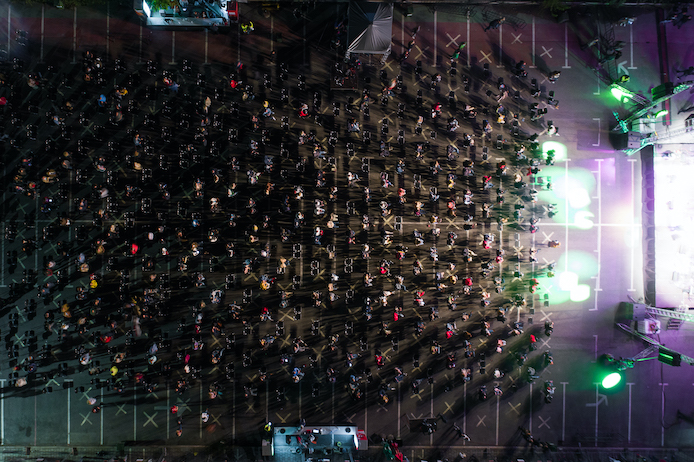 Kultúra – prvá a posledná zároveň
Jeden z hlavných dôvodov prečo má KKP veľký ekonomický prepad je, že kultúra patrila k prvým skupinám, ktorých sa dotkli pandemické opatrenia. Od začiatku pandémie v marci 2019 boli zrušené takmer všetky verejné podujatia. Len na Slovensku klesol počet nahlásených podujatí takmer o 70 %. Podľa údajov SOZA bolo na celom Slovensku v roku 2020 nahlásených iba okolo 4 000 podujatí. Na porovnanie, v roku 2019 ich bolo na Slovensku viac ako 11 000.
Štúdia zároveň naznačuje, že aj keď bol KKP prvým odvetvím, ktoré sa dostalo do krízy, bude zrejme posledným, ktorý sa z krízy dostane von. Aktuálny spotrebiteľský index totiž ukazuje, že až 46 % opýtaných respondentov by sa necítilo pohodlne ísť na koncert ešte niekoľko mesiacov a až 21 % priznalo, že by sa necítili pohodlne ísť na koncert či iné verejné podujatie ešte niekoľko rokov. Živé podujatia sú pritom pre kultúru kľúčovým trhom, pretože až dve tretiny príjmov výkonných umelcov pochádza zo živých podujatí. Rysuje sa tak pesimistický scenár, že KKP potrvá najdlhšie zo všetkých oblastí, kým sa úplne spamätá z následkov pandémie.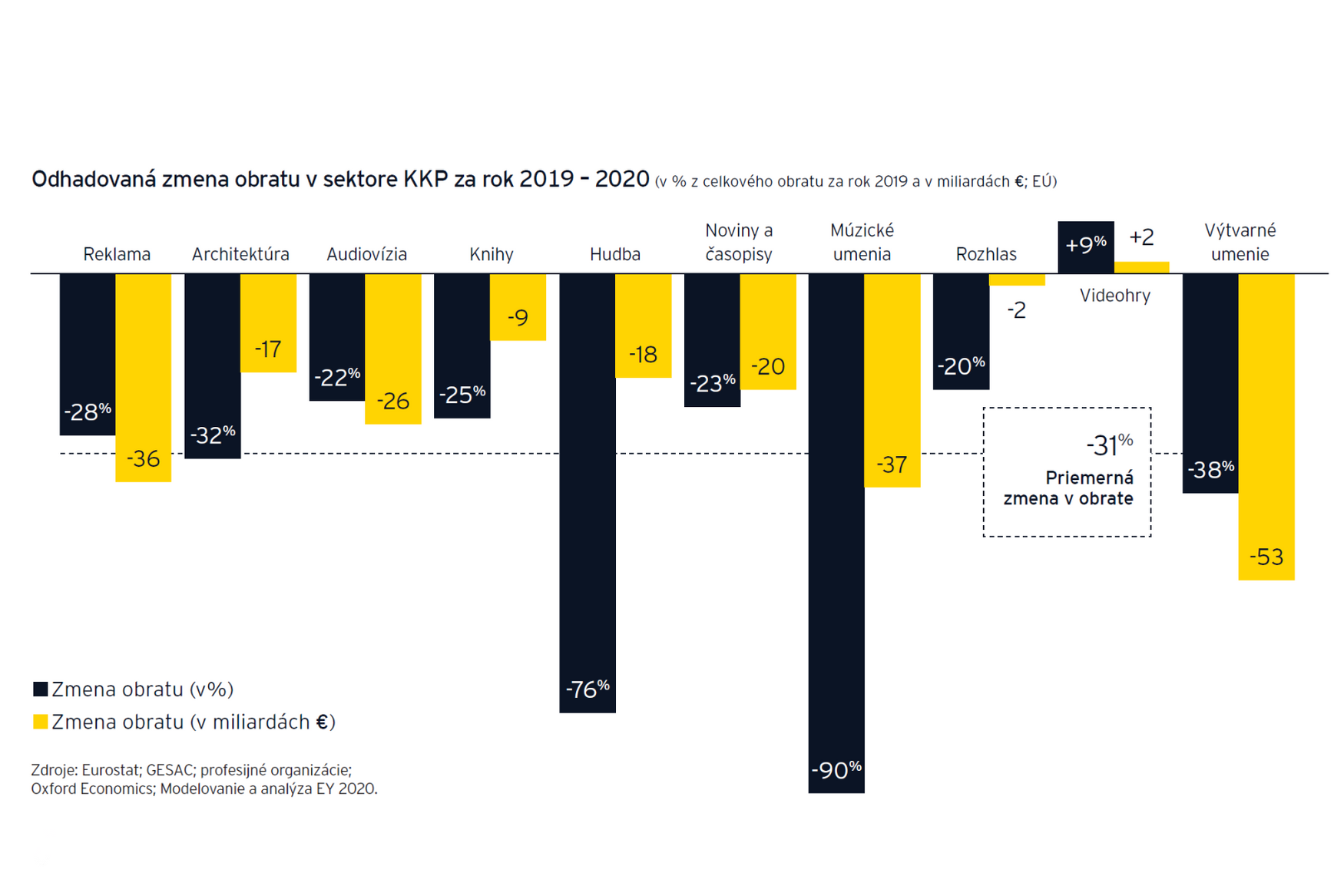 Motor európskeho hospodárstva
Ešte v roku 2019 bola pritom kultúra a tvorba v plnej sile. S obratom 643 miliárd € a s celkovou pridanou hodnotou 253 miliárd € predstavovala činnosť kultúrneho a kreatívneho priemyslu 4,4 % HDP Európskej únie z hľadiska celkového obratu. Hospodársky prínos KKP bol dokonca vyšší ako prínos telekomunikácií (187 miliárd €), automobilového priemyslu (107 miliárd €) či farmácie (122 miliárd €).
KKP zabezpečil od roku 2013 približne 700 000 pracovných miest vrátane autorov, výkonných umelcov a iných kreatívnych pracovníkov. Na konci roka 2019 bolo v Európskej únii v rámci KKP zamestnaných viac ako 7,6 milióna ľudí a KKP tak malo oveľa početnejšiu pracovnú silu ako iné popredné odvetvia európskeho hospodárstva napr. automobilový priemysel (2,9-krát viac), či chemický priemysel (6,3-krát viac). Viac ako 90 % spoločností v KKP pritom tvoria malé alebo stredné podniky a až 33 % pracovnej sily sú samostatne zárobkovo činné osoby, čo je dvakrát viac ako v európskom hospodárstve ako celku (14 %).
Kultúrny sektor navyše stimuloval rast niekoľkých ďalších priemyselných odvetví, ktoré sú dodávateľmi a aj zákazníkmi KKP. Patria sem odvetvia ako cestovný ruch, doprava, telekomunikácie a tiež technológie a digitálny priemysel. Kultúrny obsah napríklad už od samého začiatku podnietil rast a rozvoj internetu, pričom stále predstavuje vysoký podiel z celkového obsahu na internete. Len za posledných šesť rokov obrat generovaný online kultúrnym obsahom rástol medziročne o 11,5 % a je pravdepodobné, že rast v tejto oblasti bude stabilný.
KKP má navyše veľký potenciál. V posledných rokoch sa zvýšil dopyt európskych občanov po kultúrnom obsahu a službách. Výdavky domácností na kultúrne tovary a služby sa medzi rokmi 2010 a 2015 zvýšili o 12 %, čo predstavuje ročné tempo rastu 2,2 %. Toto všetko len potvrdzuje, že KKP môže byť kľúčovým motorom rastu pre celé európske hospodárstvo. Navzdory týmto nepopierateľným prínosom však KKP nedokázal napriek svojej hodnote a potenciálu počas koronakrízy získať dostatočnú verejnú podporu. Treba konštatovať, že hodnota žiadneho iného odvetvia nebola tak spochybňovaná ako hodnota KKP.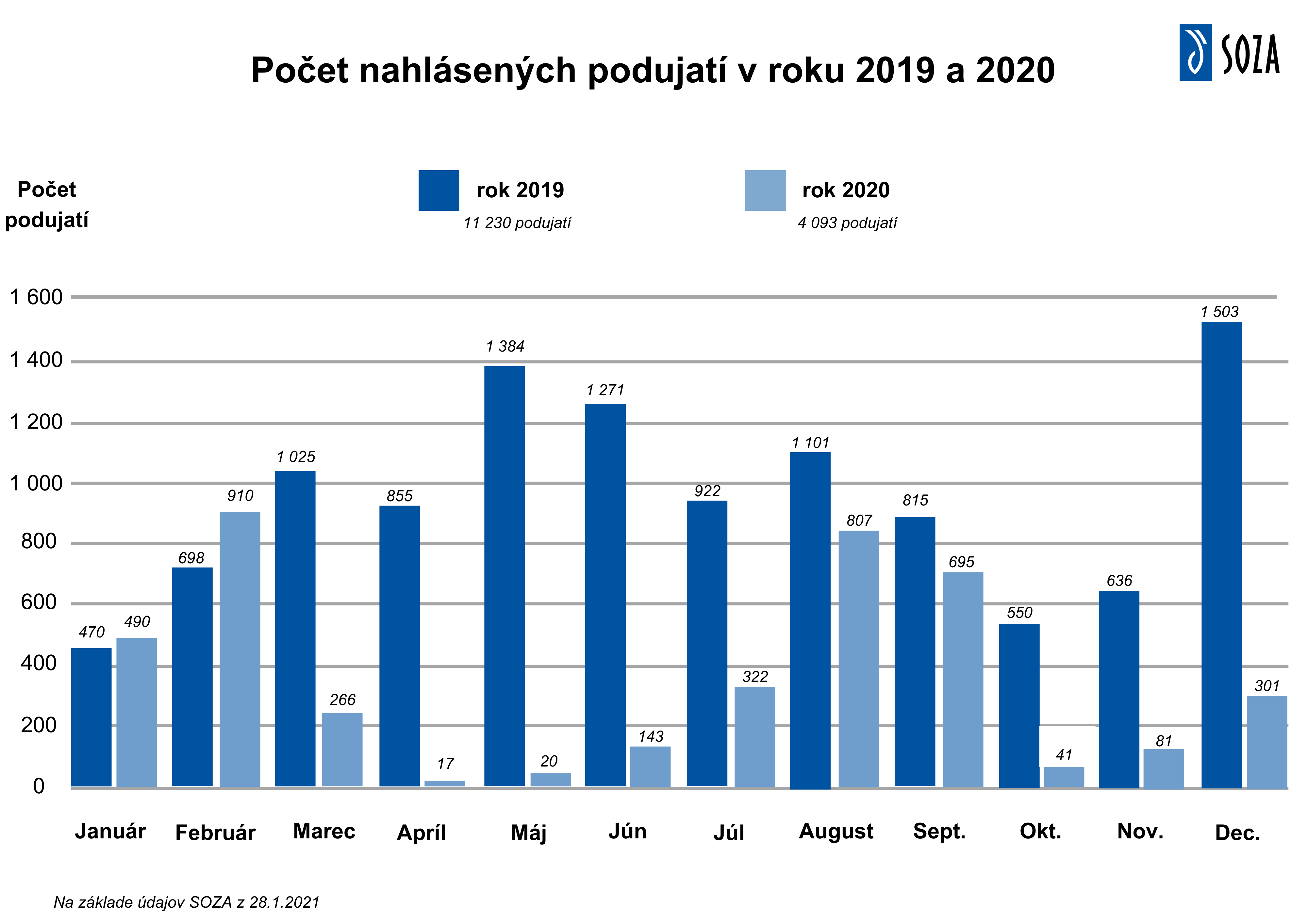 Pomoc v troch výzvach
Záver štúdie ukazuje, ako je možné kultúrnemu sektoru počas COVID-krízy pomôcť. Prvým krokom je poskytnutie masívneho verejného financovania kultúre a podpora súkromných investícií do kultúrnych a kreatívnych podnikov, či organizácií. Tento krok je podľa štúdie nevyhnutnosťou na podporu a urýchlenie obnovy a transformácie kultúrneho sektoru. V rámci toho je potrebné napríklad zabezpečiť, aby sa neisté podmienky nezávislých pracovníkov KKP zohľadňovali prostredníctvom osobitných programov financovania alebo v rámci podpory podnikov KKP. Štúdia tiež odporúča, aby vlády vyčlenili najmenej 2 % z plánu obnovy pre kultúrny sektor, tak ako to v právnom rámci navrhuje EÚ.
Druhým krokom je podpora kultúrnej ponuky zabezpečením kvalitného právneho rámca, ktorý umožní rozvoj súkromných investícií do výroby a distribúcie KKP a zabezpečí tak tvorcom primeraný príjem. V tejto časti je dôležité zaistenie rýchleho a efektívneho vykonávania prijatých smerníc autorského práva a tiež zabezpečenie silnej ochrany duševného vlastníctva. To umožní tvorcom lepšie využívať hodnotu online trhu a nové spôsoby použitia kultúrneho a kreatívneho obsahu. Tento krok zahŕňa aj podporu podnikania v KKP stimulovaním povinných kurzov kultúrneho podnikania, ďalej posilňovanie partnerstiev medzi technickými a umeleckými školami a tiež podporovanie investícií do domáceho kultúrneho obsahu.
Posledným krokom je využitie pridanej hodnoty KKP. Kultúrny sektor má silu miliónov individuálnych a kolektívnych talentov, vďaka čomu je práve kultúra hlavný urýchľovač sociálnych, spoločenských a environmentálnych zmien v Európe. Sila kultúry môže byť využitá na vzdelávanie, ovplyvňovanie a podporu hodnôt a dokáže tak výrazne pomôcť pri zmierňovaní dopadov pandémie koronavírusu. V tomto kroku je dôležité predovšetkým využívanie medziodvetvových väzieb a lepšie prepojenie napríklad s cestovným ruchom, výskumom či dopravou.
KKP je dôležitou súčasťou ekonomiky každého štátu a aktuálne vďaka pandémii zažíva veľkú krízu. "Veríme, že cenné dáta a odporúčania z tejto štúdie sa premietnu aj v slovenskej realite na urýchlené kroky potrebné k zotaveniu sa z covid-pandémie, tak, aby sme okrem ekonomických benefitov mohli opäť radostne prežívať neopakovateľné emócie, ktoré umenie prináša." povedal na margo štúdie Ľubomír Burgr, predseda predstavenstva SOZA.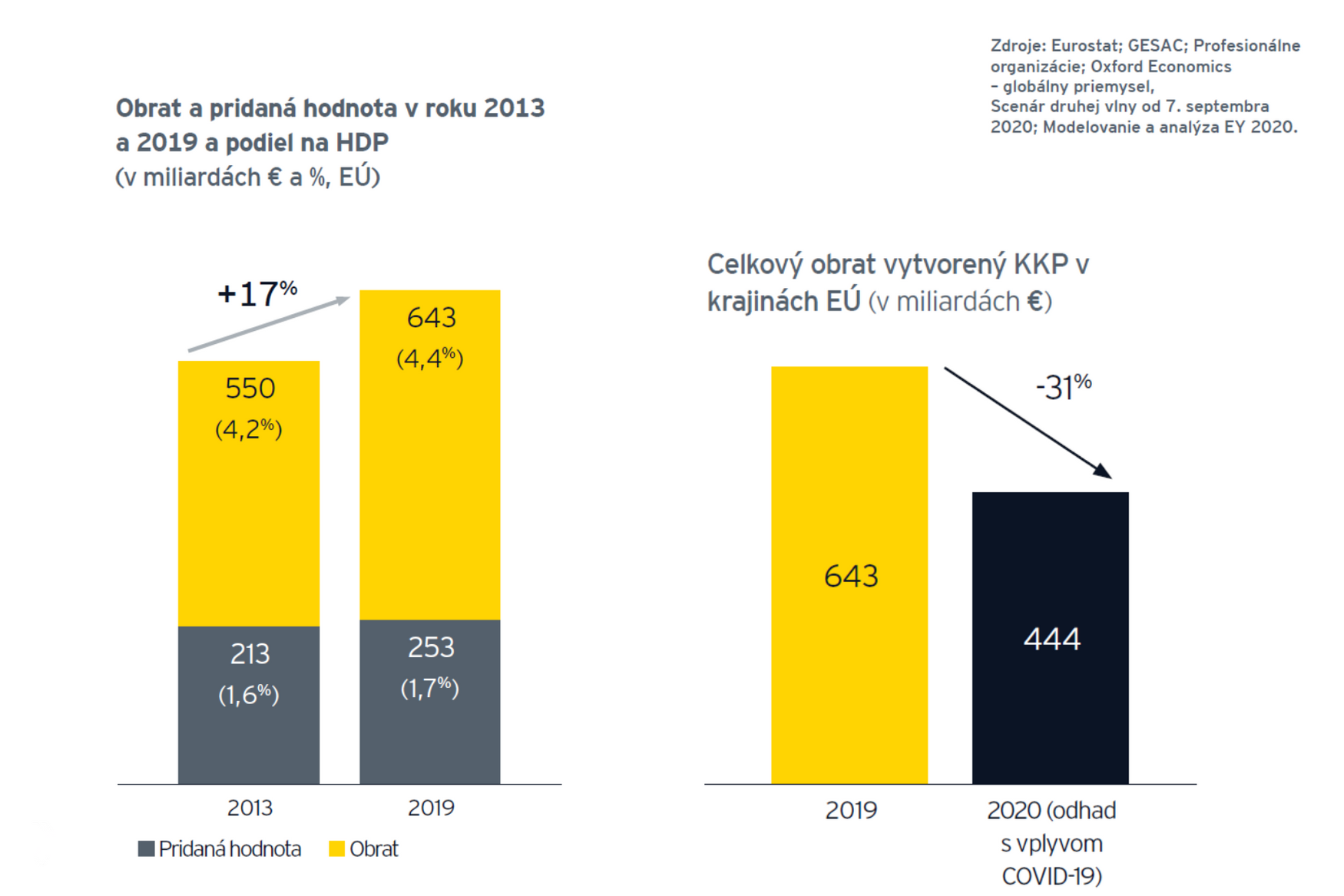 Viac o štúdii
Štúdia vznikla na podnet Európskeho zoskupenia autorských organizácii (GESAC) a podporili ju viacerí partneri z rôznych sektorov ako napr. AEPO-ARTIS, EUROCINEMA, EUROCOPYA, EVA, FIAPF, IMPALA, IVF, SAA, SROC, AER, CEPIC, EACA, ECSA, EGDF, EPC, FEP, FERA, FSE, IFRRO, IMPF.
Kompletnú štúdiu nájdete na webovej stránke štúdie.
Zhrnutie štúdie v slovenskom jazyku je dostupné TU.
Správu pripravila: SOZA, PR oddelenie