Miro Žbirka sa už teraz intenzívne pripravuje na oslavu štyridsiatich rokov svojej úspešnej sólovej kariéry. Na troch exkluzívnych koncertoch v Londýne 26.10.2019), Prahe (3.12.2019) a Bratislave (5.12.2019) divákom ponúkne všetky obľúbené hity a spolu s renomovanými svetovými hudobníkmi aj novinky z oceňovaného Double Albumu.
"Som rád, že sa to podarilo a že budeme na koncertoch hrať nové skladby v zostave, v ktorej sme ich v Abbey Road nahrali. Nebolo jednoduché zladiť termíny vyťažených hudobníkov, ale zvládli sme to. Bude pre mňa potešením si s nimi zahrať a predstaviť tak u nás muzikantov, ktorí boli na veľkých turné s Paulom McCartneym, Ringom Starrom a ďalšími," povedal Miro Žbirka.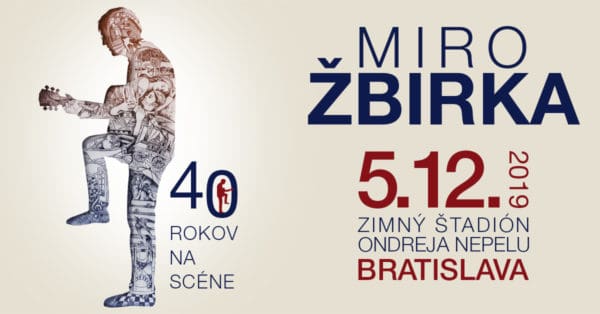 Nové skladby si s ním zahrá zostava hviezdnych muzikantov: Blair Cunningham (bicie), Robbie McIntosh (gitary), Hamish Stuart (basgitara) a Dean Ross (klávesy), Pears McIntyre (gitary) a producent Double Albumu Rob Cass. Okrem Mekyho si s nimi v skladbe Skúška snov zaspieva Katarína Knechtová a naživo v premiére zaznie skladba Take Me Home, ktorú s Mirom Žbirkom naspievala škótska speváčka Eddi Reader, ktorá na koncertoch pridá aj svoj veľký celosvetový hit Perfect.
Perfect
Skladbu Čistý svet, ktorá je slovensko-českou verziou piesne Take Me Home príde s Mekym zaspievať talentovaná česká nevidomá klavíristka Ráchel Skleničková.
Na bratislavskom koncerte bude blahoželať aj skupina IMT SMILE. Jej líder Ivan Tásler tento rok tiež oslavuje okrúhle výročie a so skupinou chystá pre Mekyho prekvapenie, z ktorého sa určite stane veľká oslava hudby oboch úspešných skladateľov.
"Je pre nás veľká česť byť súčasťou Mekyho oslavy a spolu s kapelou sa na to veľmi tešíme," povedal Ivan Tásler.
Minulý týždeň bola skupina IMT SMILE spolu s legendárnym Milanom Lasicom hosťom v jednej z častí novej hudobnej talkšou Doupě Mekyho Žbirky, ktorý vysiela vždy v piatok večer na programe ČT ART. Aj s neskrátenymi verziami rozhovorov je aj táto časť dostupná v archíve Českej televízie:
https://www.ceskatelevize.cz/porady/12646379162-doupe-mekyho-zbirky/219542150050008/
Vstupenky na dva veľké koncerty 3.12.2019 v O2 Aréne v Prahe a 5.12.2019 na zimnom štadióne Ondreja Nepelu v Bratislave sa veľmi dobre sa predávajú. Ich predzvesťou bude 26.10.2019 už tradične koncert v Londýne.
Link videopozvánka na koncerty:
Vstupenky: Bratislava – 5.12.2019
https://www.ticketportal.sk/Event/Miro_ZBIRKA_40_rokov_na_scene
Vstupenky: Praha – 3.12.2019
https://www.ticketportal.cz/Event/MIRO_ZBIRKA-116670
Vstupenky Londýn – 26.10.2019
http://pishter.com/cs-party-229-venue-with-meky-zbirka-2/
Aktualizované info:
http://www.facebook.com/MiroZbirka
Zdroj: pro:messa