Kto z nás vie z prvej ruky, aké to je byť novinárom v krajine, kde sa za pravdu platí životom? Tínedžerom, ktorý trávi svoju mladosť namiesto diskoték opakovanými pokusmi utiecť z krajiny odopierajúcej základné ľudské práva? Ženou, ktorú teroristi vyrvali od rodiny, aby si z nej spravili sexuálnu otrokyňu? Alebo len tehotným slovenským dievčaťom, ktoré si nemôže dovoliť priniesť na svet nový život, či rodičom, ktorý vyrastal v chudobe a sám nikdy nedostal vzdelanie? Izolácia nie je len stav, v akom sme sa na niekoľko mesiacov ocitli vďaka pandémii.
V skutočnosti sme všetci prepojení omnoho viac ako si vieme predstaviť. A filmy, ktoré vo svojom programe prinesie festival Jeden svet, nám umožnia to vidieť. V kine alebo z domu. Medzinárodný festival dokumentárnych filmov Jeden svet tento rok vyzýva: Buďme v kontakte! Jeho 22. ročník sa uskutoční 5. – 11. novembra.
"Rok 2020 nás donútil prehodnotiť pojem "kontakt" na mnohých úrovniach, či už ide o vzájomné medziľudské stretnutia, udržanie kontaktu so svetom faktov a overených informácií, či liečivý kontakt s prírodou alebo citlivý kontakt s naším životným prostredím," vysvetľuje výkonná riaditeľka Jedného sveta Eva Križková.
Aj vďaka tomu festival sprístupňuje filmy bežným, ale aj znevýhodneným divákom formou špeciálne upravených projekcií, ktoré budú môcť spoločne zdieľať všetci diváci, vrátane sluchovo a zrakovo znevýhodnených. Zároveň je v kontakte s rodičmi malých detí, ktorí sa túžia zúčastniť festivalu, s majiteľmi psov, ktorí by si chceli užiť projekcie so štvornohými priateľmi, ale aj s ľuďmi bez domova, ktorí si do kina nemôžu dovoliť zájsť.
"Jeden svet sa stará o ekologickú udržateľnosť svojich aktivít, ako aj o zdravie divákov," dodáva výkonná riaditeľka festivalu. "Preto sa tento rok koná v hybridnej podobe. Online pre tých, ktorí z rôznych dôvodov preferujú sledovať náš program z pohodlia a bezpečia svojich domovov a ak nám to aktuálna epidemiologická situácia dovolí, tak aj naživo, aby sme udržiavali a kultivovali živý osobný kontakt medzi našimi návštevníkmi."
Jeden svet predstavuje nový vizuál
Nová téma festivalu prirodzene prináša nový vizuál, ktorý vytvorila grafická dizajnérka a minuloročná víťazka Národnej ceny za dizajn v sekcii Nové horizonty, Katarína Balážiková. "Rovnako ako Jeden svet otvára kritické témy, aj ja sa viac než osem rokov venujem tomu, ako z postavenia dizajnérky môžem svojím kritickým prístupom prispieť ku reflexii v spoločnosti."
Pre festival Jeden svet bolo dôležité, aby sa vytvorila nová vizuálna identita, s ktorou bude komunikovať konzistentne a zároveň jasne odlíšiteľne podľa ústrednej témy aktuálneho ročníka niekoľko nasledujúcich rokov. "Veľmi oceňujem snahu organizátorov o vizuálne zjednotenie a ich otvorenosť, ktorou prijali moje netradičné riešenie," hodnotí Katarína Balážiková. "Realizovaný koncept bude prehovárať k ľuďom. Bude netradičný, no ľudský a plný múdrych, možno aj trochu kontroverzných myšlienok. Ale to je koniec-koncov príznačné pre dokumentárne filmy, ktoré bude vizuál niekoľko rokov reprezentovať."
Vizuál Jedného sveta sprostredkuje divákom kontakt s protagonistami z jednotlivých dokumentárnych filmov, ktoré si v programe festivalu môžete pozrieť, a s ich životmi. Prvý z nich hovorí o kontakte s vlastným vnútrom, minulosťou a koreňmi. Je zo snímky Homecoming. Marina Abramović and her children (Návrat domov. Marina Abramović a jej deti) režiséra Borisa Miljkovića: "Skočiť a lietať nie je problém. Nebezpečenstvo sa skrýva v kontakte so zemou."
"Pochádzam z temného miesta, z Titovej Juhoslávie," hovorí Abramović v úvode filmu. Nebojí sa v ňom odhaliť aj čierne stránky svojho osobného života. Aké je to byť umelkyňou v neslobodnej krajine? Dcérou národných hrdinov komunistickej Juhoslávie? Odhodlať sa pre potrat troch detí? Aké je to vrátiť sa tam, kde ste roky neboli vítaní? "Návrat bol ako pocit mieru." prezradila Abramović v rozhovore pre magazín Observer.
Jeden svet predstavuje svoj nový tematický a vizuálny koncept práve myšlienkou Mariny Abramović aj preto, že vyzýva ku kontaktu s naším vlastným vnútrom, krajinou a okolím, skôr ako vyrazíme do vzdialenejších svetov.
Hlavným organizátorom festivalu Jeden svet je nezisková organizácia Človek v ohrození.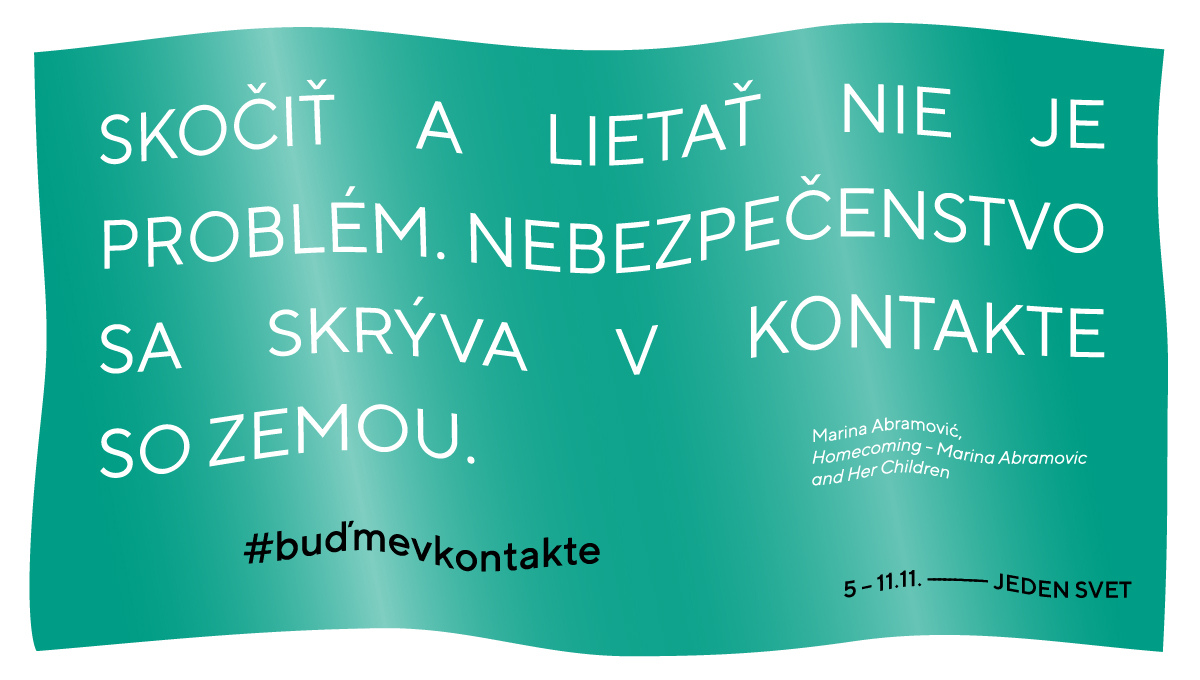 Zdroj: TS