K letným prázdninám jednoznačne patrí dobrá komédia, ktorá osvieži svojou atmosférou a humorom. Do slovenských kín prichádza francúzsky film o sile nečakaného priateľstva, plachých romanciach a bolestivých ranách, ktoré sa v žiary horúceho leta buď rýchlo zahoja, alebo už nikdy nezmiznú. Mladý režisér Guillaume Brac s ľahkosťou prepája tradíciu francúzskej novej vlny s americkou buddy komédiou. Poetický film Na palubu! prináša od 15. júla 2021 spoločnosť Filmtopia.
"Všetky moje filmy sa točia okolo stretnutia, častokrát pominuteľného a prerušeného, no v každom prípade skutočného a plného krásnych momentov medzi ľuďmi a svetmi – Parížom a francúzskym vidiekom, Parížom a jeho znevýhodneným predmestím, študentmi a robotníkmi, mužmi a ženami. V tomto novom filme s jednoduchou zápletkou som sa pokúsil vykresliť portrét jednej generácie a ukázať nie len mladosť – nič také neexistuje, ale mladých ľudí, snažil som sa zamerať sa na chvíle súznenia a treníc, na to, čo spája i rozdeľuje vo vnútri jednej a tej istej generácie," povedal režisér, scenárista a producent Guillaume Brac.
Tento intímny komediálny klenot uviedol vlani Medzinárodný filmový festival Berlinale v sekcii Panoráma. "Filmtopia prináša umelecky hodnotné filmy, častokrát už overené na medzinárodných festivaloch. Kvalitných titulov, ktoré v sebe spájajú aj filmárske remeslo, aj originálny pohľad a humor, nie je veľa. Preto máme radosť, že toto leto môžeme priniesť do slovenských kín vyslovene letnú, prázdninovú komédiu, ktorá všetky tieto kritériá spĺňa. Máme za sebou náročné obdobie – aj my, aj kiná. Dobrá komédia môže byť práve tým, čo nám vráti divákov do kín," povedala riaditeľka filmovej distribučnej spoločnosti Filmtopia Silvia Učňová Kapustová. Distribúciu snímky podporili aj Audiovizuálny fond a Francúzsky inštitút na Slovensku.
Mala to byť jednorazová spolujazda, ale všetko sa skomplikovalo už v Paríži, kde namiesto očakávaných slečien obsadili sedadlá Edouardovho auta zavalitý dobrák Chérif a zhovorčivý frajer Félix… Úzkostlivý mamičkin maznáčik sa za volantom stáva pasažierom Félixovho romantického nápadu prekvapiť na vidieku dievča, s ktorým prežil krátky letný románik. Trio symbolicky stroskotá v idylických kulisách divokej rieky a prázdninového kempu na juhu Francúzska. Vo filme Guillaumea Braca sa vtipne prelínajú prvky buddy komédie a neokázalej civilnosti klasika francúzskej novej vlny Erica Rohmera. Poetický film Na palubu! rozpráva o sile nečakaného priateľstva, plachých romanciach a bolestivých ranách, ktoré sa v žiary horúceho leta buď rýchlo zahoja, alebo už nikdy nezmiznú; o čase dospievania, keď je všetko zdanlivo len akože, ale v skutočnosti je to naozaj.
Vo filme účinkujú: Éric Nantchouang, Salif Cissé, Édouard Sulpice, Asma Messaoudene, Ana Blagojevic, Martin Mesner, Lucie Gallo.
Guillaume Brac (1977) je francúzsky producent a režisér. Jeho celovečerná prvotina, melodráma Hrom (Tonnerre) mala v roku 2013 premiéru na festivalu v Locarne. O päť rokov neskôr sa Brac predstavil aj ako zručný dokumentarista vo filmu Ostrov pokladov (Treasure Island), ktorý prestížny časopis Cahiers du Cinéma zaradil do výberu desiatich najlepších filmov roku 2018. Spomínaný časopis vymenoval Braca aj ako jedného z najnadanejších talentov svojej generácie po boku Justine Triet a Antonina Perjatka. Na palubu! (À l'abordage) je režisérovým návratom k hranému filmu.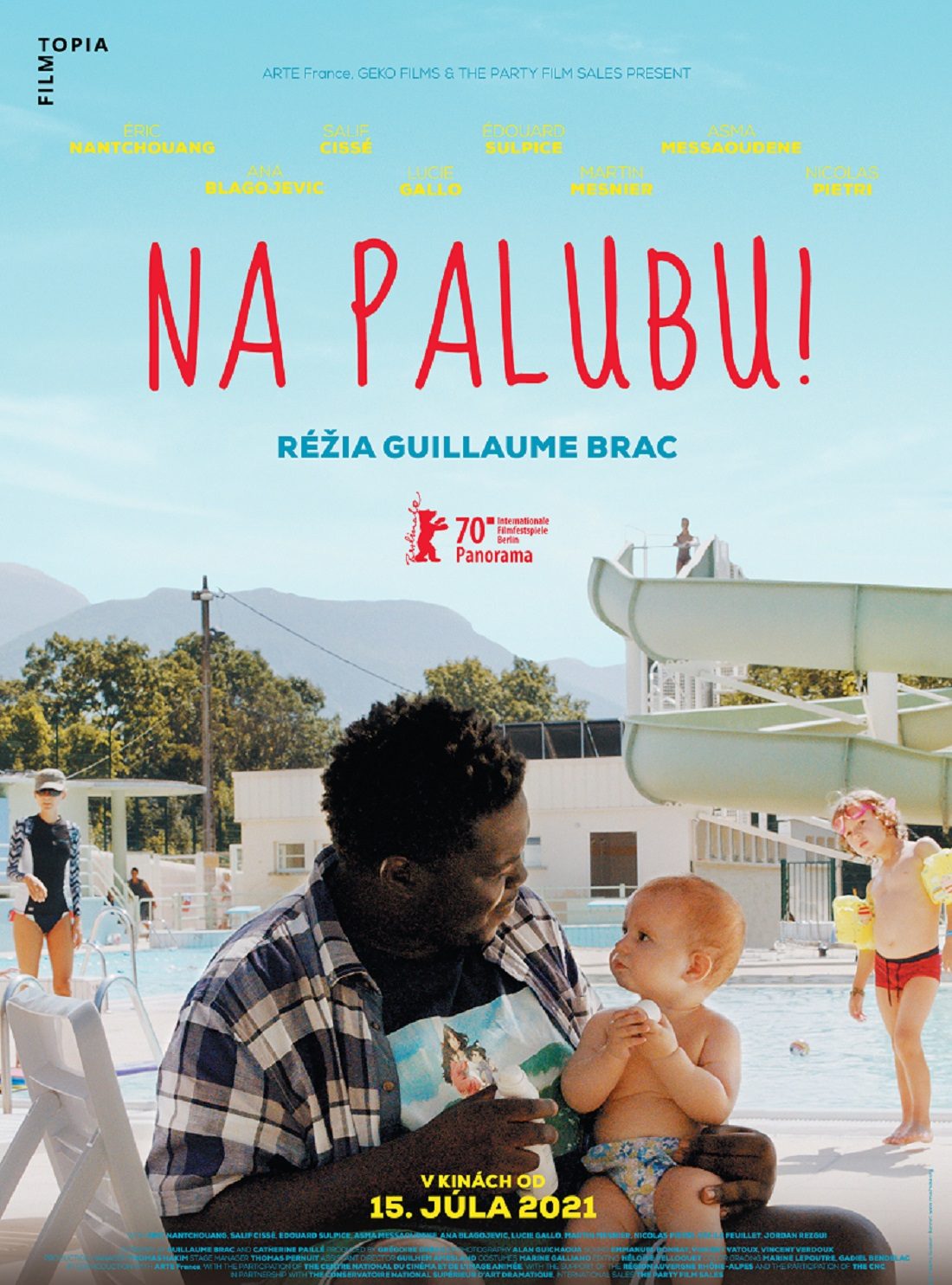 Zdroj: Zuzana Golianová, PR manažérka distribučnej spoločnosti FILMTOPIA