Pred necelým polrokom na seba upozornil singlom Home, začiatkom budúceho týždňa predstaví originálnu zmes elektroniky, akustického popu a rapu. Stane sa tak v rámci dvojkoncertu, na ktorom ako hlavná hviezda vystúpi americká a capella senzácia Naturally 7. Podujatie sa uskutoční 26. novembra v priestoroch bratislavského Ateliéru Babylon pod hlavičkou celoročného festivalu City Sounds.
Samuel Hošek je mladý spevák a výtvarník, ktorý na seba v súčasnosti púta pozornosť prostredníctvom viacerých hudobných projektov. Ako spevák hosťoval na albume V hmle (2017) slovenskej elektroakustickej formácie Fallgrapp, pričom spolupracoval aj s originálnou jazz-fusion formáciou Ľudové Mladistvá. Ako sprievodný vokalista sa objavil na pódiu s menami, ako Marika Gombitová, Lucie Bílá, či Majk Spirit. Široká verejnosť si ho však môže pamätať aj ako sprievodného speváka finálových kôl Česko-Slovenskej Superstar. V súčasnosti pracuje tento 27-ročný rodák z Bratislavy na svojom debutovom albume s producentom Jurešom Líškom z Fallgrappu. Na potrebu uberať sa vlastným tvorivým smerom upozornil už v minulosti, singlami Own World (2015) a Phone Call (2016). Sám však priznáva, že v tomto období ešte presne nevedel, kam smeruje a ako svoju tvorbu uchopiť.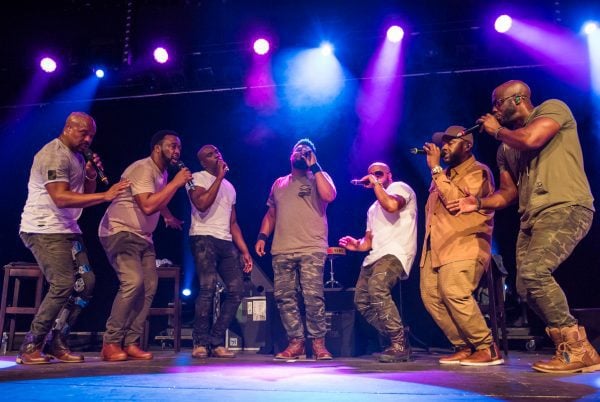 "Posledný rok bol pre mňa veľmi prínosný, nielen čo sa týka životných skúseností… Odrazu to prišlo všetko samé a sám som pocítil potrebu dať skladby von," uviedol na margo pripravovaného albumu Hošek. Jeho aktuálna tvorba v súčasnosti odzrkadľuje nielen jeho vnútorný život, ale aj ranú katolícku výchovu, vzťahy, sklamania a nádeje, objavovanie vesmírnych javov, až po blikajúce neóny veľkomiest. Spoločnosť na pódiu mu robí zostava talentovaných muzikantov v zložení Jakub Šedivý (gitara), Lukáš Mutňanský (basa), Petr Hanák (bicie), Jureš Líška (elektronika), ale aj vokalistky Kristína Mihaľová a Laura Weng. Práve s menovanými speváčkami stojí Hošek za úspešnou coververziou skladby Svitá, pôvodne z muzikálu Neberte nám princeznú.
Newyorské zoskupenie Naturally 7 doposiaľ vystupovalo na najväčších jazzových festivaloch, pričom na konte má viac než 450 odohraných koncertov v rámci celosvetového turné s kanadským spevákom a štvornásobným držiteľom Grammy Michaelom Bublé. Spolu so sólovými koncertmi odohrala vokálna formácia koncerty v 25 krajinách sveta, medzi inými aj v USA, Veľkej Británii, Kanade, Číne, či v krajinách Európy, Južnej Ameriky, Ázie a v Austrálii.
Formácia, ktorú legendárny hudobník a producent Quincy Jones označil ako "najlepšiu a-capella skupinu na svete", pritom svoju kariéru odštartovala priamo z ulice. Video na ktorom spievajúci mladíci vzbudili pozornosť cestujúcich v parížskom metre sa stalo virálnym rýchlosťou blesku, pričom ich interpretácia hitu In The Air Tonight britského hudobníka Phila Collinsa má na Youtube dodnes vyše 6 miliónov zhliadnutí. O tri roky neskôr od zverejnenia videa (2009) už skupina stála pred publikom vypredaného londýnskeho klubu Pigalle, s mnohými prominentnými hosťami v publiku. Patrili medzi nich aj Chris Martin zo skupiny Coldplay a svetoznámy producent Brian Eno, ktorí už len definitívne odštartovali kariéru tejto formácie. V súčasnosti pracuje zoskupenie na propagácii svojho ôsmeho štúdiového albumu Both Sides Now (2017). "Poslucháči nemôžu inak, než byť ohromení, technickými schopnosťami týchto siedmych mužov, ktorý dokážu plynule prechádzať z vokálov do hudobných nástrojov," uviedol hudobný kritik Howard Dukes na margo jedinečnej šou skupiny.
Festival City Sounds z verejných zdrojov podporil Fond na podporu umenia, Bratislavský samosprávny kraj, SOZA a Ars Bratislavensis.
FB UDALOSŤ: https://www.facebook.com/events/441618302916457/
VSTUPENKY: https://citysounds.sk/naturally-7/
Zdroj: TS