Putovní festival Impericon Never Say Die! tour se každoročně koná již od roku 2007. Jeho sestavou tak prošla slušná řádka kapel, které fans metalcoru a přidružených směrů přinesly už mnoho zábavy. A to je cílem pořadatelů i pro letošní ročník, který přináší vyrovnanou a pestře složenou sestavu z ještě neokoukaných kapel, ačkoli silné jména nechybí.
Co by to bylo za rok, kdyby se na podzim nekonalo každoroční putovní turné IMPERICON NEVER SAY DIE! TOUR. Přehlídka core kapel prezentujících aktuální pohledy a poslední trendy v hardcoru, metalcoru se tentokrát uskuteční 10. 11. 2023 v pražském Stormu.
Hlavními dvěma tahouny jsou belgičtí úderníci NASTY, kteří jsou se svým metalickým hardcorem jako pěst namířená proti vašemu obličeji, a KING 810 z Ameriky. Ti jsou k hudbě mnohem otevřenější a začleňují do ní i žánry spojené s rozpukem nu-metalu, takže je tu provázání s experimentálními polohami hip-hopu, dark jazz nebo moderní rock. Zařazení do škatulky nu-metalcore by nám snad mělo projít.
Dalším tahákem jsou též TEN56. Pařížský soubor svůj metalcore rozbíjí deathcore výpady i downtempo tlakem, ale nebojí se rozbíjet strukturu osobitým přístupem. Těmi z tvrdších v sestavě jsou Američané LEFT TO SUFFER. Podlazený zvuk směřuje k beatdownu a deathcoru, ale opět tu je hudební vazba na devadesátkový nu-metal, kterou vykazují i koloradští FOX LAKE. V základu však jde o těžší hutný hardcore, ale zpěv má výraznou rap dikci. Posledními v sestavě jsou Němci. Heavy hardcore REDUCTION vykazuje cestu s minimem kompromisů vůči vytyčenému cíli, což neznamená, že Zápaďáci neumí překvapit. Příležitost ke krutému moshingu ale bude už od začátku, sbírejte síly!
NASTY, KING 810, TEN56, LEFT TO SUFFER, FOX LAKE, REDUCTION
10. 11. 2023 – Praha, Storm
FB event: https://fb.me/e/3faHiTaUc
e-TICKET: https://obscure.cz/cs/tickets/detail/id/605
Předprodej viz e-TICKET výše, dle místa konání dále v sítích GoOut a Ticketmaster.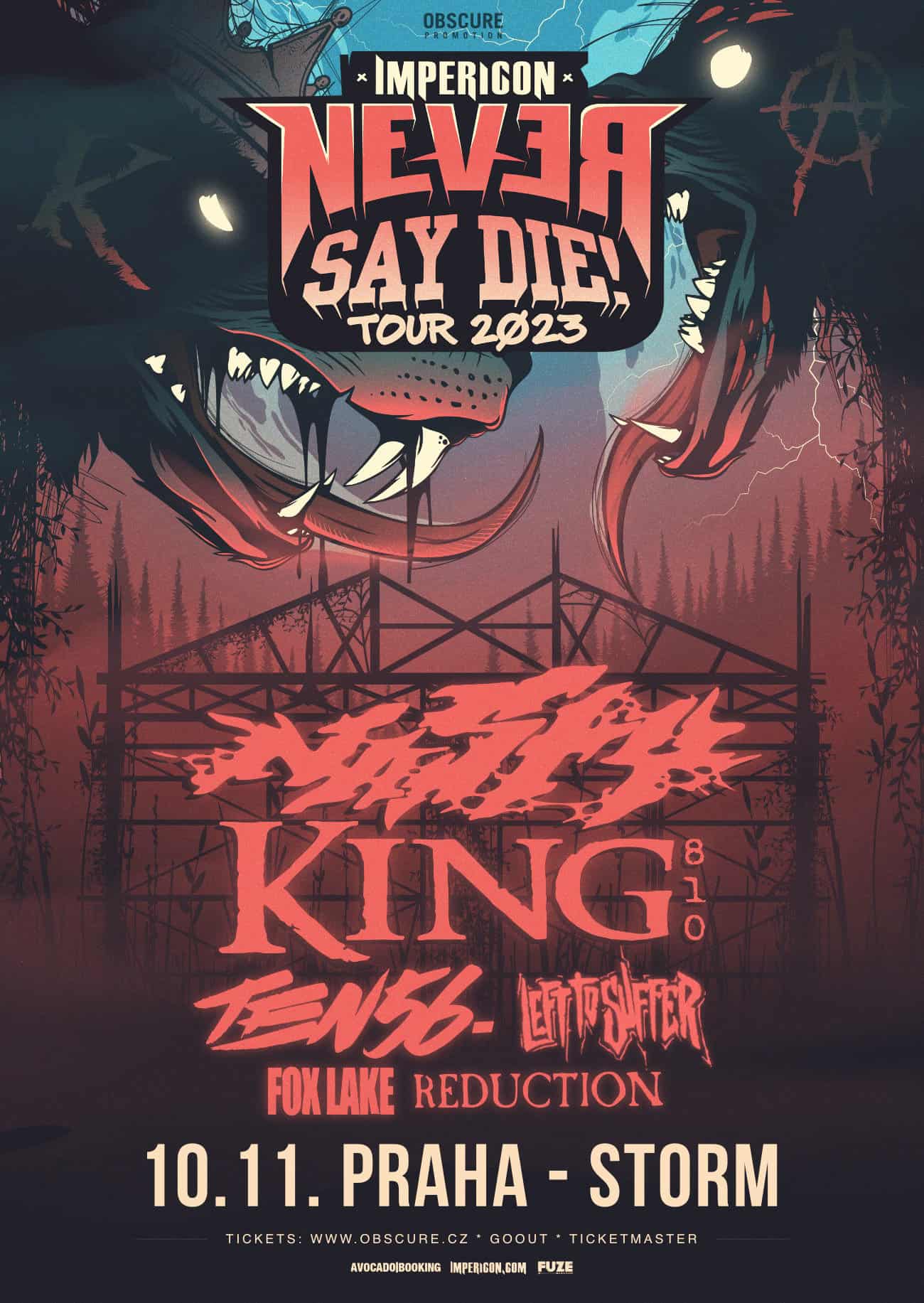 Zdroj: Obscure Promotion