V nedeľu, 5. septembra 2021, sa v Prešove oslavovali "okrúhliny". Občianske združenie Milan Štefánikpripravilo desiaty ročník benefičného podujatia Opri sa o mňa. Neskoré letné slnko priam lákalo prežiť popoludnie vonku. I preto si za miesto konania vybral organizátor prešovský amfiteáter.
Priestranstvo i samotné pódium bolo potrebné pred začiatkom pripraviť. A tak dobrovoľníci od skorého rána kmitali. Nosili. Skladali. Lepili. Čistili a dezinfikovali celý priestor. Aby bolo všetko ako má byť. I vzhľadom na pretrvávajúce epidemiologické opatrenia. Nesmeli chýbať stojany s dezinfekciou. Pripraviť farebné tričká. Zvukové skúšky skončené. Hudobní hostia pripravení. Vstup pre pozvaných.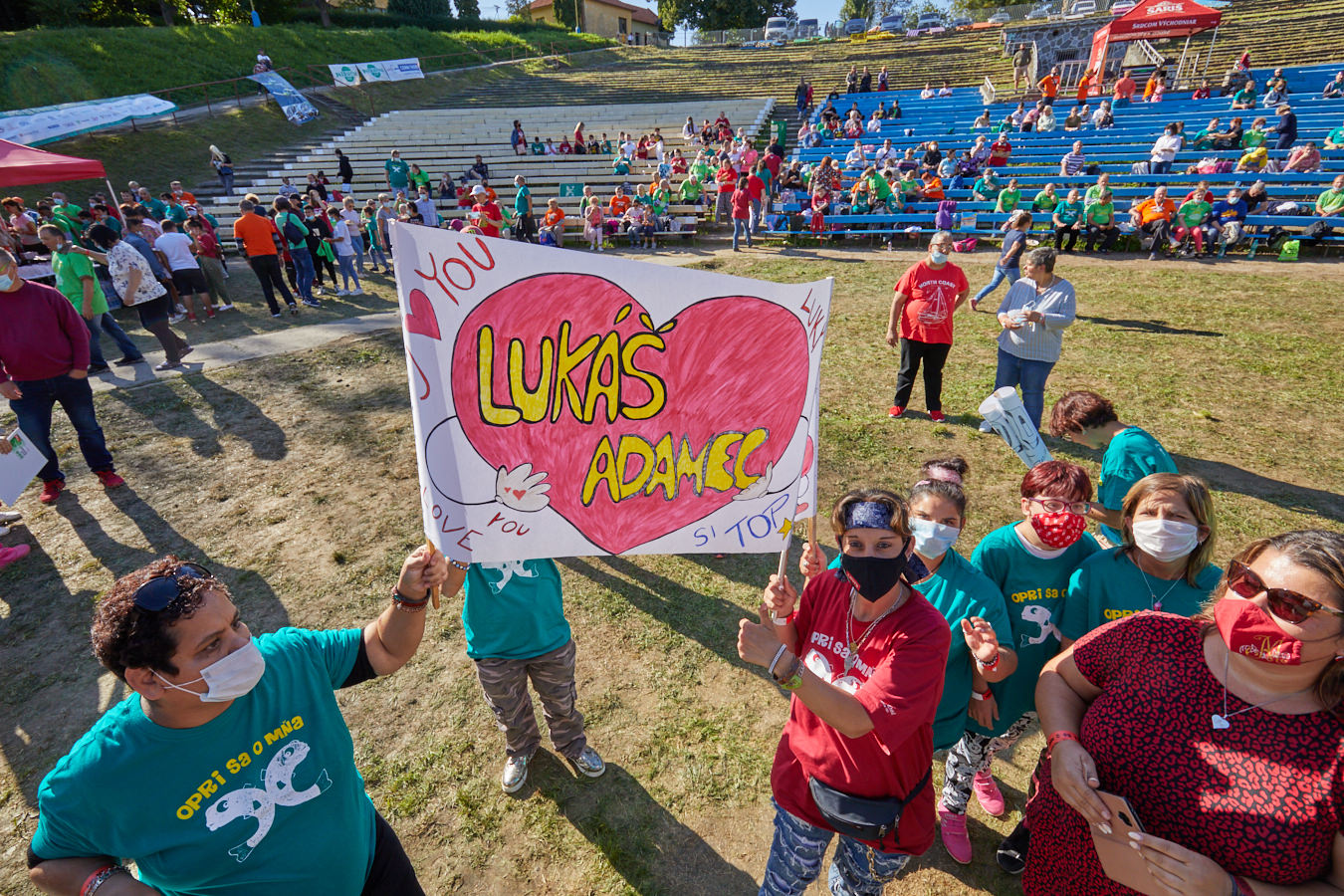 Prví prichádzajúci. Na pódiu sa moderátorského žezla ujíma zabávač Richard Vrablec. Nedeľné popoludnie by mohol stráviť i inak. Ale pozvaniu moderovať podujatie, neodolal. "Som rád, že v Prešove môžem nechať kúsok svojej energie. Aby tí, čo ju nasali, ju mohli rozdávať po celom Slovensku." Na úvod pripomenie pravidlá. R-O-R. Pozýva k sebe tím dievčat. 3, 2, 1. Zumba s Jankou z Vranova je tu. Krok. Krok. A dva späť. Latino rytmi. Temperament. Slniečko nad hlavami. Priestranstvo pred pódiom je hneď plné tancujúcich "inak obdarených". Otoč sa a dva kroky vpred. "Zumba je jedna veľká rodina. Takže my sme prišli stráviť nedeľu s rodinou. Keď môžeme potešiť iných ľudí našim tancom, tak sme veľmi radi." Ruky vbok. Poskočiť. Nemôže chýbať výzva. Jerusalema. Tancuje ju celý svet. Veselá nálada priam hmatateľná. "Neskutočná energia. Skvelí, srdeční ľudia!" Hore ruky. Zamávať.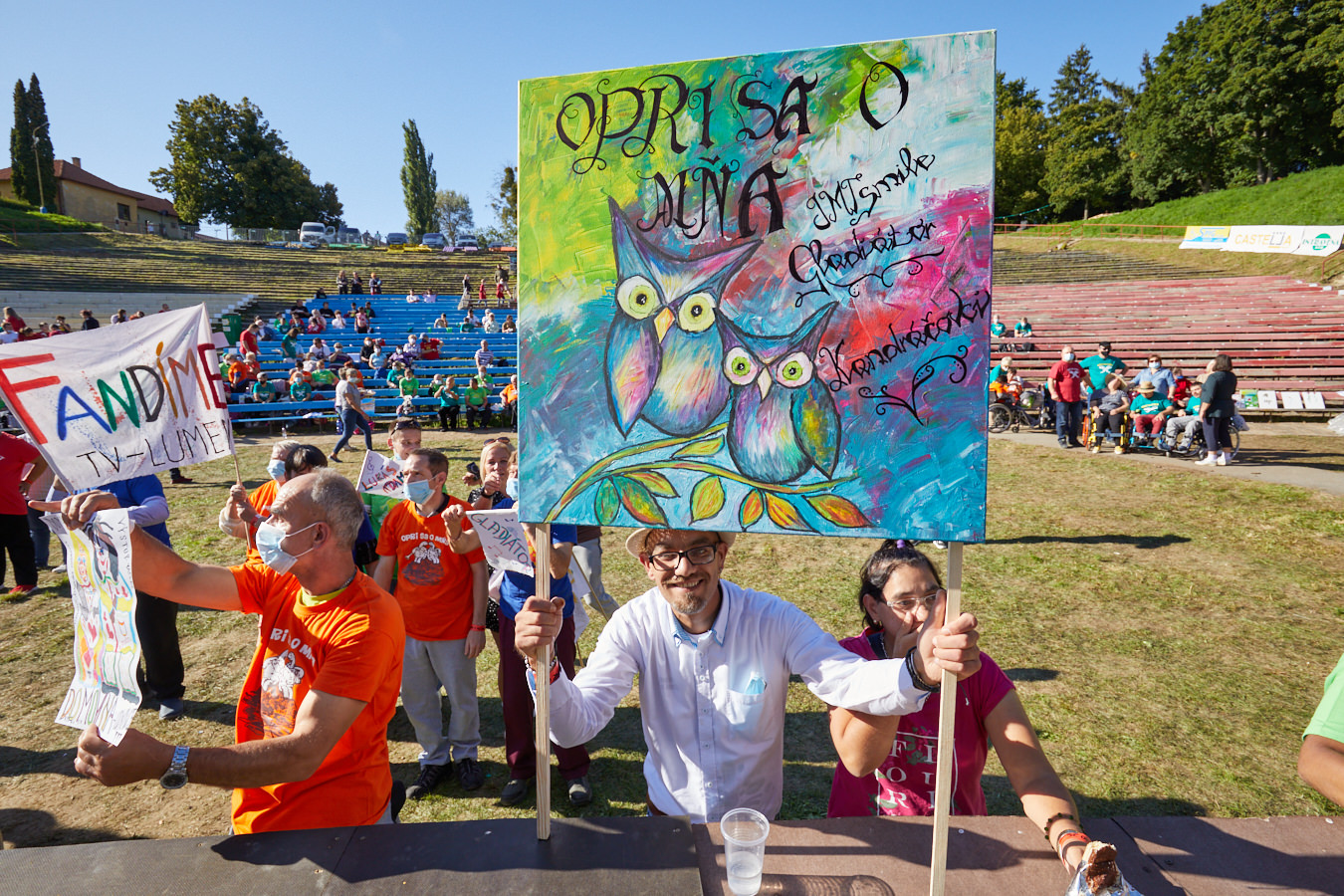 Richard Vrablec už k sebe na pódium pozýva Gabrielu Bačovú – organizátorku tvorivých dielní a Milana Štefánika – organizátora podujatia, aby si splnili peknú povinnosť. Spoločne odovzdať obraz s motívom tohto ročného Opri sa o mňa. Chodbu ktorého zariadenie bude zdobiť? Domoc sociálnych služieb sv. Jána z Boha v Spišskom Podhradí.
Hudobné nástroje pripravené. Prvé tóny klavíra s jemnou basgitarou. Už to rozbiehajú naplno. Rockoví "bojovníci". Gladiátor. Prišli zahrať do arény. "Veľmi sme sa tešili na túto akciu. Okrem toho, že je krásne počasie, tak sme sa tešili aj na všetky detičky a na všetkých ľudí, ktorí tu budú." Viac ako tridsať rokov pôsobenia na hudobnej scéne. Hity, ktoré sprevádzajú minimálne dve generácie. Namiešaná zmes najznámejších. Nemôžem dýchať, Neviem ťa nájsť, Život pred sebou. Spievajú mamky, vychovávateľky, ale i deti. Charizmatický Miko vťahuje prítomných do ďalšej piesne – Nechcem o teba prísť. Basgitarové sólo. Kúpim si pekný deň. Pre dnešný to platí určite. Pre chlapcov z kapely je vystúpenie pre "inak obdarených" silným zážitkom. Vždy sa na nich tešia. "Vždy, keď chodíme na tieto akcie, má to perfektnú atmosféru. Krásne sa bavia. Ide z nich radosť. A preto sa veľmi radi vraciame." Môj otec hovoril. Keď sa láska podarí. Nesmie chýbať NAJ. Pesnička o Medulienke. Óooo, óooo, publikum sa pridáva. Dnes je skvelý deň. Nie len v piesni.
Občerstviť sa. Dať si sladký závin, či koláč. Môžeme pokračovať. Ešte predstaviť členov dezinfekčnej hliadky Lenku a Richarda. A už so svojim "chripľákom" vstupuje na scénu Lukáš Adamec. Hudobník dušou i telom. Symbolicky i Lukáš oslavuje tento rok "okrúhliny". Desať rokov víťaz Superstar. So svojou skupinou roztočili pop rock ako sa patrí. Jedna pieseň strieda druhú. Zaznieva pocta pre Karola Duchoňa – Cítim. Slzička sa zaleskne v nejednom oku. A ako cítia, vnímajú jeho hudbu "inak obdarení"? Aký majú svet? Lukáš o tom niečo vie. Jeho brat patrí medzi nich. "Myslím si, že ich svet je čistejší, ako ten náš. Vnímajú pieseň ako takú. Ako niečo, z čoho ide pre nich buď dobrá energia, zaujímavá, alebo nie." A hneď v piesni vysvetlil, čo by chcel Najviac zo všetkého. Východniarsky naturel nezaprel a dal si s publikom spoločnú – A ja taká čárna. Veď sme na šarišu. Nárečie vystriedala angličtina. Hit od Wham vystriedal rock and roll. Tancuj mi…dievčatá zo Zumby idú tanečnú choreografiu. Pieseň má Janka v repertoári. Pridajte sa. Potlesk a darčeky. "Ja si vážim každý jeden darček. Ja vlastne už roky tieto veci zbieram. Som veľmi vďačný, lebo viem, že to chce a zaberie čas a energiu. Je to veľká odmena."
Čas na výmenu nástrojov je dobré využiť. Na odmeny. Za mávadla, transparenty. Výber ťažký. Pestré. Väčšie i menšie. Trojrozmerné. S nápismi i ľudovým motívom. Hlavné ceny rozdané. Ale nezúfajte. Každému, kto sa snažil, putuje do rúk aspoň malý darček.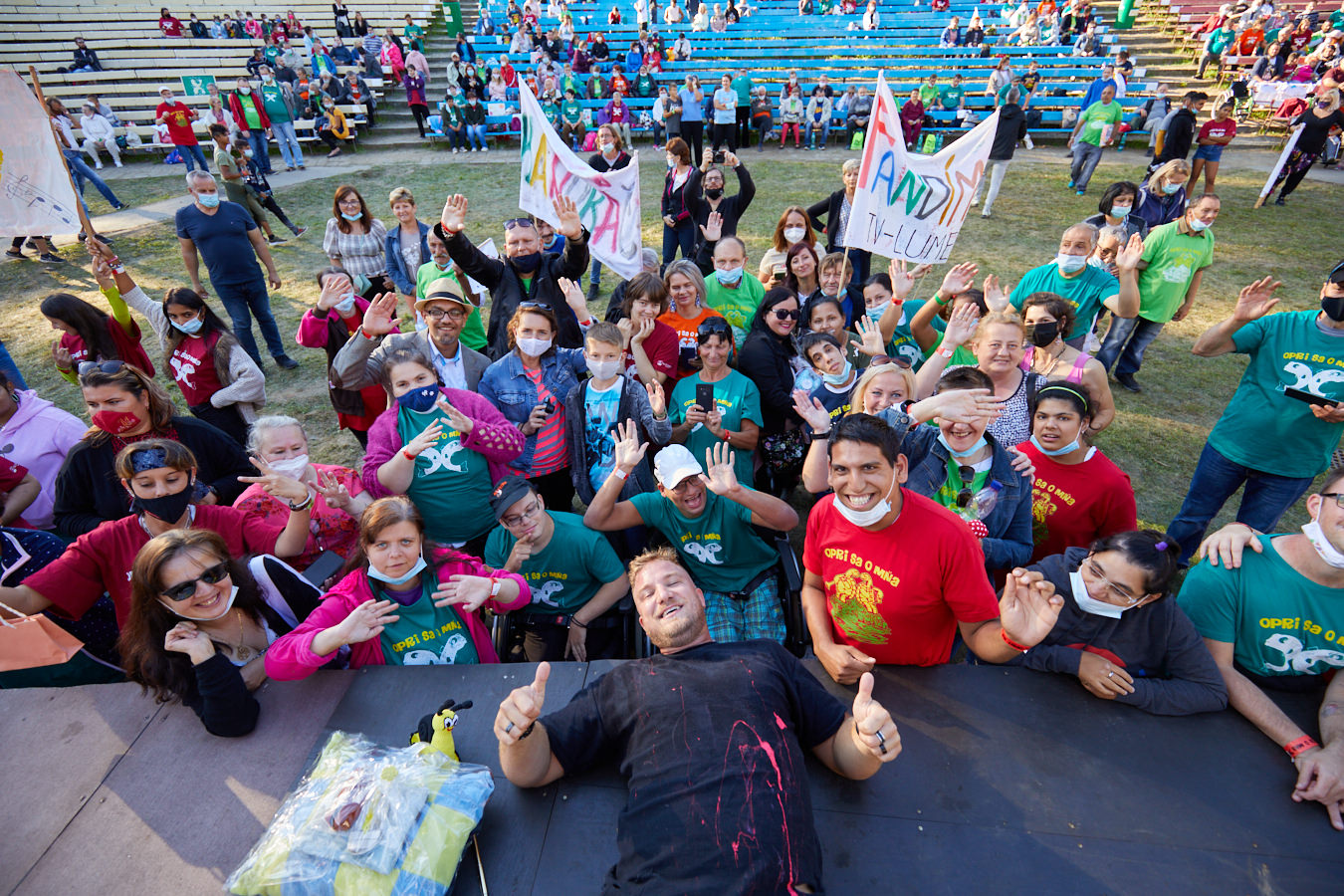 Husle. Akordeón. Kontrabas. Začína sa východniarska zábava. Bubny a gitara. Cimbal. Kandráčovci prišli na Šalený východ. Nemali to ďaleko, toť na skok. Ondro sa prihovára divákom. Ideme na to? "Vraví sa, že práve tieto deti sú deti božie. Sú to deti, ktoré nevedia závidieť. Nevedia klamať. Nevedia ubližovať. Majú čisté duše. A takíto ľudia by si mali zaslúžiť aj trošku rešpektu z našej strany."
Na kostolnej veži, Do rána hraj… hej. Ľudové motívy i vlastná tvorba. Postav dom. A jedna rusínska. Ľúbim cigána Ján. Pred ďalšou skladbou vyzýva Ondro všetkých. Poďte, zapojte sa. Tieto piesne patria tým, ktorým chcete vyjadriť vďaku. Mamkám, vychovávateľkám, sestričkám. Všetkým, čo sa o vás starajú. Vytvoríme veľké kolo. Včielka, Duby. Rýchlejšie. Montiho čardáš. Ruky cimbalistu nestíhate sledovať. Prsty behajú po akordeóne.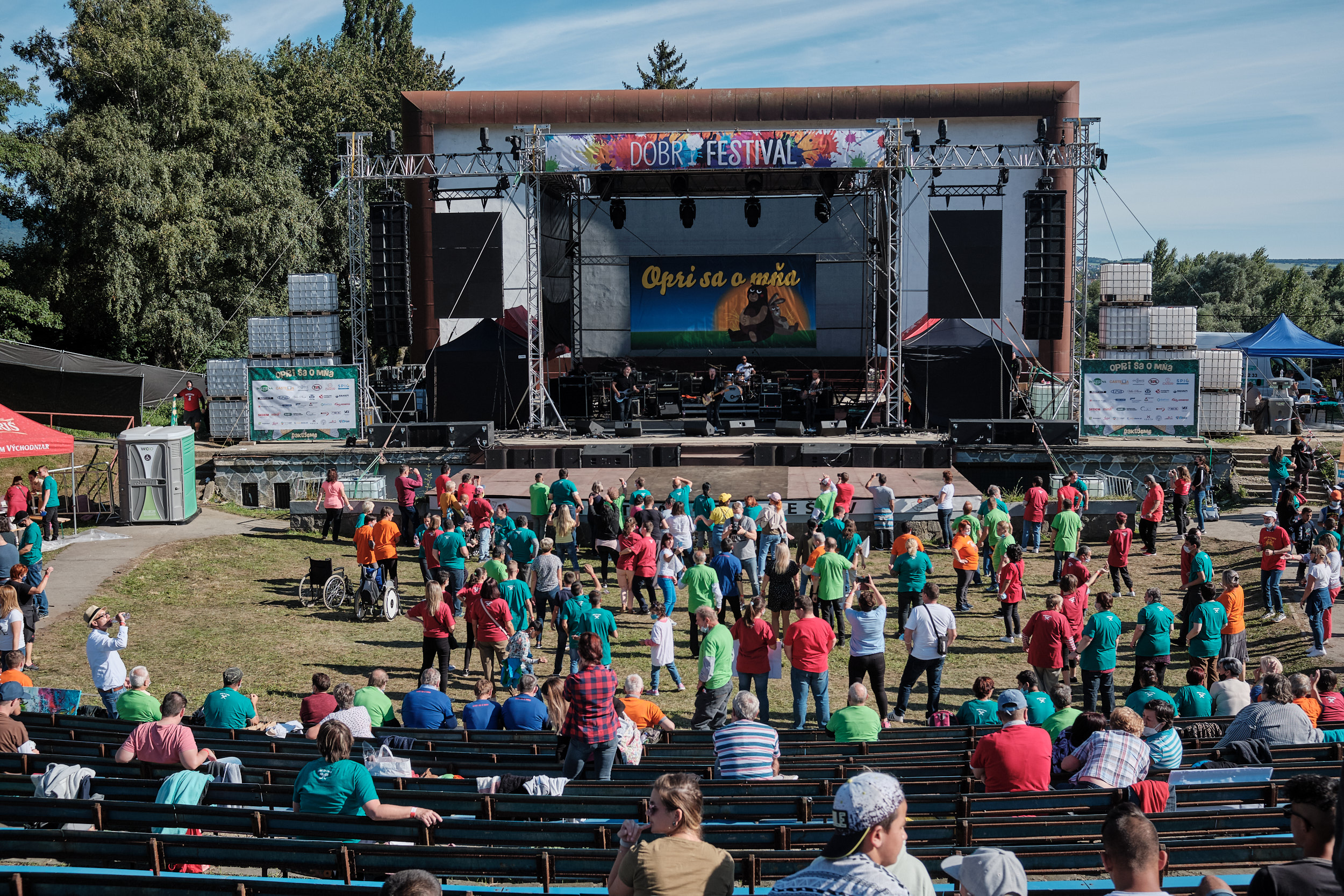 Čo by to bol za koncert Kandráčovcov, keby nezazneli Sokoly. Hej, hej, hej … a ideme po šarišsky. A ja taká dzivočka. Do lesa, Keď ja pôjdem. Oj, zabava. Zábava vrcholí. Nebudu tu pidu dalej. S touto piesňou je čas sa rozlúčiť a ísť ďalej. Do bežného dňa. Ale ešte je čas. Čas na posledný veľký potlesk. Posledné foto. Posledný darček. "Ja chcem v prvom rade poďakovať za množstvo tých plagátov, rôznych výrobkov, srdiečok. Vankúš som dostal dokonca. A za každým týmto predmetom je človek. Je kus ľudského umu a hlavne láska."
Benefičný koncert Opri sa o mňa, poskytol priestor i na tvorenie. Gabriela Bačová premenila stany na kreatívne dielne. Maľovanie na tričká, plátna, drevo. Farebné obrázky na rukách "inak obdarených". Horúci vosk a žehlička – enkaustika. Každý si to mohol vyskúšať.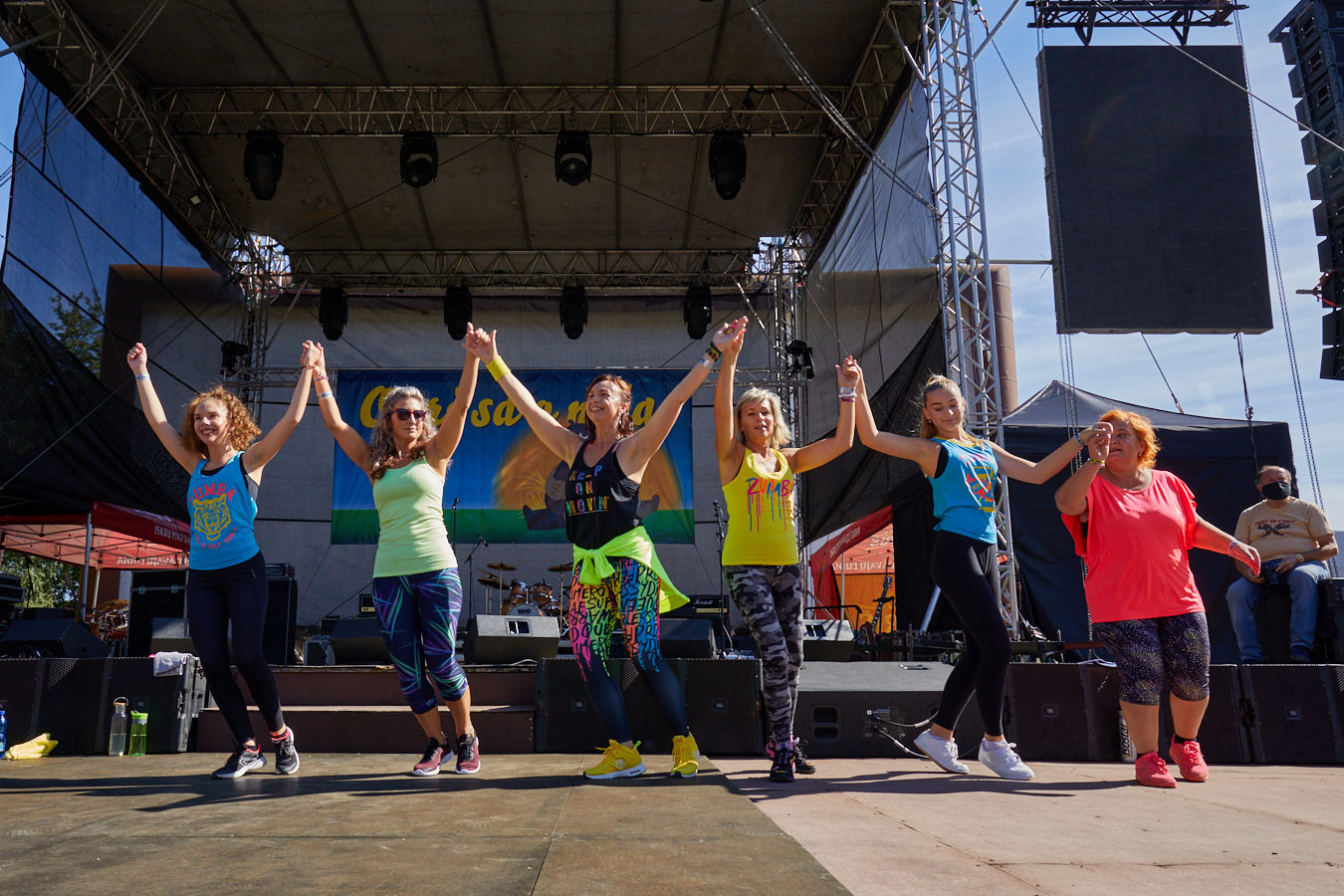 Na záver potlesk. Veľký potlesk a ďakujeme. Organizátorovi, dobrovoľníkom, sponzorom. Moderátorovi, spevákom. Tanečníčkam Zumby. Všetci prispeli k tomu, že … Ako povedal Ondro Kandráč: "bol to pre mňa veľmi obohacujúci čas o nové stretnutia, nové čisté pohľady, a o to že sme tu mohli priniesť trocha radosti."
K slovám jednej z účastníčok niet čo dodať. "Ďakujeme výnimočnému človeku, Milan Štefánik, a kolektívu jeho Občianskeho združenia, ktorí zorganizovali úžasné podujatie "Opri sa o mňa". Ďakujeme Vám za pozvanie, krásny umelecký zážitok a darčeky. Veríme, že sa o rok stretneme znova."
Text: Júlia Platková
Foto: Milan Maršalka a Peter Ivan
Video: Igor Kolesár