Nový přírůstek kapel Basinfirefestu, vč. pěti headlinerů festivalu, představí temné směry, modernu a odlehčený pohled. Širokou škálu žánrů představují letité spolky s kořeny v osmdesátkách, nestárnoucí hardcoristé ale i svébytní Skandinávci.
Ačkoli teď nebudeme hovořit o počasí, nad Basinem se zatáhnou mračna. Vedle hororových Wednesday 13 se totiž sestava rozšiřuje o dva spolky, které temnotou kráčí již mnoho dlouhých let a které s každou deskou prozkoumají další část jejího zákoutí. Se 13ti alby (a spoustou dalších výlisů) na kontě a s více než 30letou historií přivlečou svůj nezničitelný koráb bratři Tolisové. Věříme, že black metal ROTTING CHRIST živený melodiemi jižních svahů vás potěší stejně jako Portugalci MOONSPELL. I oni za svou existenci sahající rovněž do 80. let prozkoumali vícero směrů včetně black metalu, aby nakonec zůstali u temného metalu, který atmosféru silně nasává z goticko-okultního estetična.
I další účinkující, ač jsou jednou z prvních deathcorových kapel, mají své zkušenosti s temnou stranou. Smrt jejich zpěváka, legendárního Mitche Luckera, do té doby jednoho z popularizátorů a ikon celého subžánru, je málem stála kariéru. Ale SUICIDE SILENCE zdárně pokračují, čehož důkazem jsou jejich desky poluckerovské éry, které se striktně nedrží zajetého včetně nekompromisní novinky "Become the Hunter".
Vážných témat bylo dost, odlehčeme. DOG EAT DOG jsou jedna ze zásadních kapel 90. let. Jejich pomník "All Boro Kings" se stal charakteristickým odrazem své doby. Přerod socialismu, vznik nových hnutí, rozvoj technologií a plácání se dospívajících teenagerů v nabývající dospělosti a svobodě, která vyústila ve vznik pouličního mixu muziky, jež tehdejší mládež bavila. Hardcore, hip hop, rap, ska, funk a saxofon. Megahity jako "No Fronts" nebo "Who's the King" netřeba připomínat.
V módu "svoboda, muzika, párty" ale ještě zůstaneme. I když nejde o skutečný rock, o jejich výkonu na Brutal Assaultu v roce 2018 se mluvilo ještě několik následných měsíců. Statut jedné z nejzábavnějších a vlastně i nejoriginálnějších kapel pak potvrdila i vyprodaná show v Praze roku následného. Bluegrass (ne country!) verze slavných hitů (Iron Maiden, Rammstein, AC/DC, Metallicy ad.) v podání STEVE'N'SEAGULLS, jakožto vlastní skladby, se z paměti po poslechu vymazat už nedají. Dechberoucí hudební výkony, skvělá show a optimismem otevřená srdce čisté esenci hudby nezamaskují ani finské montérky nebo nástroje jako mandolína, banjo či akordeon.
Dále v lineupu přivítejme německé heavy/power metalové symfoniky STEEL ENGRAVED s českou stopou (bubeník Jarda), nezlomné obdivovatele Lemmyho a ostravské baviče MALIGNANT TUMOUR, ambiciózní projekt heavy opery BOHEMIAN METAL RHAPSODY, punkrocku 30 let oddané N.V.Ú. a mladé talenty FROZEN POPPYHEAD z Českých Budějovic.
Jelikož jsme se tentokrát obzvlášť snažili přijít s pořádnou dardou, doufáme, že vás nové kapely v line-upu pořádně navnadily a že už na červen máte pochystanou dovolenou!
Předprodej vstupenek frčí v plném proudu, tak jen připomínáme, že druhá vlna vstupenek končí v březnu!
Kapely z updatu: Rotting Christ, Moonspell, Suicide Silence, Dog Eat Dog, Steve'n'Seagulls, Steel Engraved, Malignant Tumour, Bohemian Metal Rhapsody, N.V.Ú., Frozen Poppyhead
www.basinfirefest.cz
www.facebook.com/BasinfirefestOfficial
www.instagram.com/basinfire_fest/
Vstupenky: https://shop.basinfirefest.cz/
FB event: www.facebook.com/events/672670189922570
Dosud zveřejněné kapely: P.O.D., STEEL PANTHER, STEVE'N'SEAGULLS, JINJER, ROTTING CHRIST, MOONSPELL, SUICIDE SILENCE, DOG EAT DOG, WEDNESDAY 13, TUBLATANKA, INFECTED RAIN, PRO-PAIN, GRAVE DIGGER, GUTALAX, VAN CANTO, UNLEASH THE ARCHERS, MALIGNANT TUMOUR, PIPES AND PINTS, KRUCIPÜSK, HENTAI CORPORATION, COCOTTE MINUTE, WALDA GANG, DEBUSTROL, DOGA, KURTIZÁNY Z 25. AVENUE, STEEL ENGRAVED, BOHEMIAN METAL RHAPSODY, FERAT, GAIA MESIAH, XIII. STOLETÍ, ASMODEUS, PLEXIS, SPS, E!E, N.V.Ú., FROZEN POPPYHEAD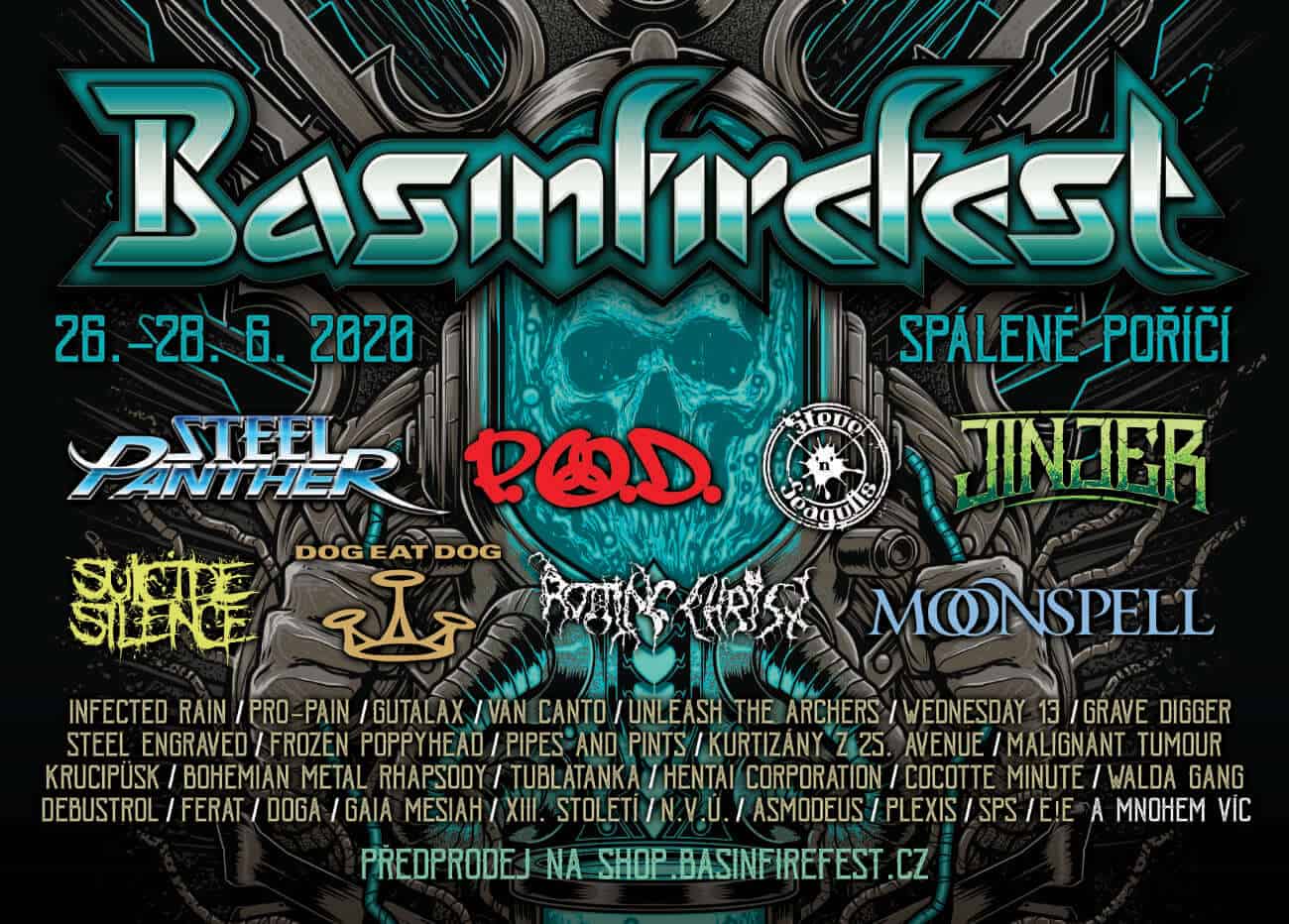 Zdroj: Obscure Promotion