Už za týden se na pódiích poličského festivalu Colour Meeting vystřídají hudebníci a divadelníci z osmi zemí od Kanady, Anglii, Řecko až po Slovensko. Ve dnech 22. – 23. července se představí zpěvačka Aneta Langerová s kapelou, hvězda současného ostrovního jazzu Sarathy Korwar, kanadský post-rocker Alex Henry Foster, řečtí psychedelici Thrax Punks, ale i Ventolin nebo rapperka Arleta.
Colour Meeting proběhne již podevatenácté, festival proběhl i během covidových let.
"Stejně jako ostatní festivaly vyhlížíme letošní ročník trošku s obavami. Náklady neuvěřitelně stouply. Budeme velmi vděčni stálým návštěvníkům, když nás podrží nad vodou, koupí si vstupenky a příjdou. A doufáme, že pověst o festivalu přitáhne i ty, co u nás ještě nebyli. Na oplátku nabízíme stylově pestrý program s několika premiérami zahraničních kapel a mixem známých i zatím utajených domácích jmen. Moc se těšíme na naše skvělé jídlo, krásný areal v parku pod hradbami, ale i koncert v kostele sv. Michala a pověstnou Colour Meeting atmosféru," říká ředitel festivalu Dušan Svíba.
Prostor mezi středověkými hradbami a Synským rybníkem rozezní rock, jazz, world music, psychedelie, country, rap, disco i alternativní pop. Několikanásobná držitelka Ceny Anděl, zpěvačka a hudebnice Aneta Langerová přijíždí na festival s aktuální deskou Dvě slunce. Řekové Thrax Punks mísí tradiční hudbu s elektronikou i punkem, polská dívčí čtveřice Kosy oživuje písně Dolního Slezska, slovenskou scénu představí Terrible 2s, Edúv Syn nebo Zabiť Františka. Po svém zpracovávají country městští kovbojové Frankie & The Deadbeats, z Brna dorazí mezinárodní bigband Cotatcha Orchestra, vystoupí hudebnice Anna Vaverková, jenž vystoupila i na slavném festivalu Glastonbury coby členka kapely The Flavians. Herečka a písničkářka Jana Kozubková skládající křehké písně na pomezí folku a šansonu odehraje na Colour Meetingu nejen koncert, ale také představení Rusalka od Vydří řeky a povede workshop.
"Chceme, aby si akci mohli užít i ti, co si nemohou dovolit plné vstupné. Proto je divadelní část programu volně přístupná. Rádi bychom vyjádřili také podporu uprchlíkům z Ukrajiny a zveme je na festival zdarma, stačí když předloží průkaz totožnosti. V neposlední řadě jsme se rozhodli nabídnout vstup na noční koncert Ireny a Vojtěcha Havlových v kostele sv. Michala za jednorázové vstupné," dodává k letošnímu ročníku Svíba.
Pro děti i dospělé bude hrát Hlasový šálek a Divadlo Loutky bez Hranic. Colour Meeting již tradičně zahájí vystoupení na hlavním poličském náměstí. Pouliční vystoupení s akrobatickým kolem, s notnou dávkou lomozu i supění přijedou V.O.S.A. Theatre & Sunriders. Vstupenky zakoupíte v prodejní síti smsticket.cz. Kompletní program naleznete na colourmeeting.cz
Colour Meeting festival
22. – 23. 7. 2022, Polička, Park u hradeb
Pardubický kraj
Vstupenky: https://colourmeeting.cz/vstupenky/
Facebook událost: facebook.com/events/260900788871071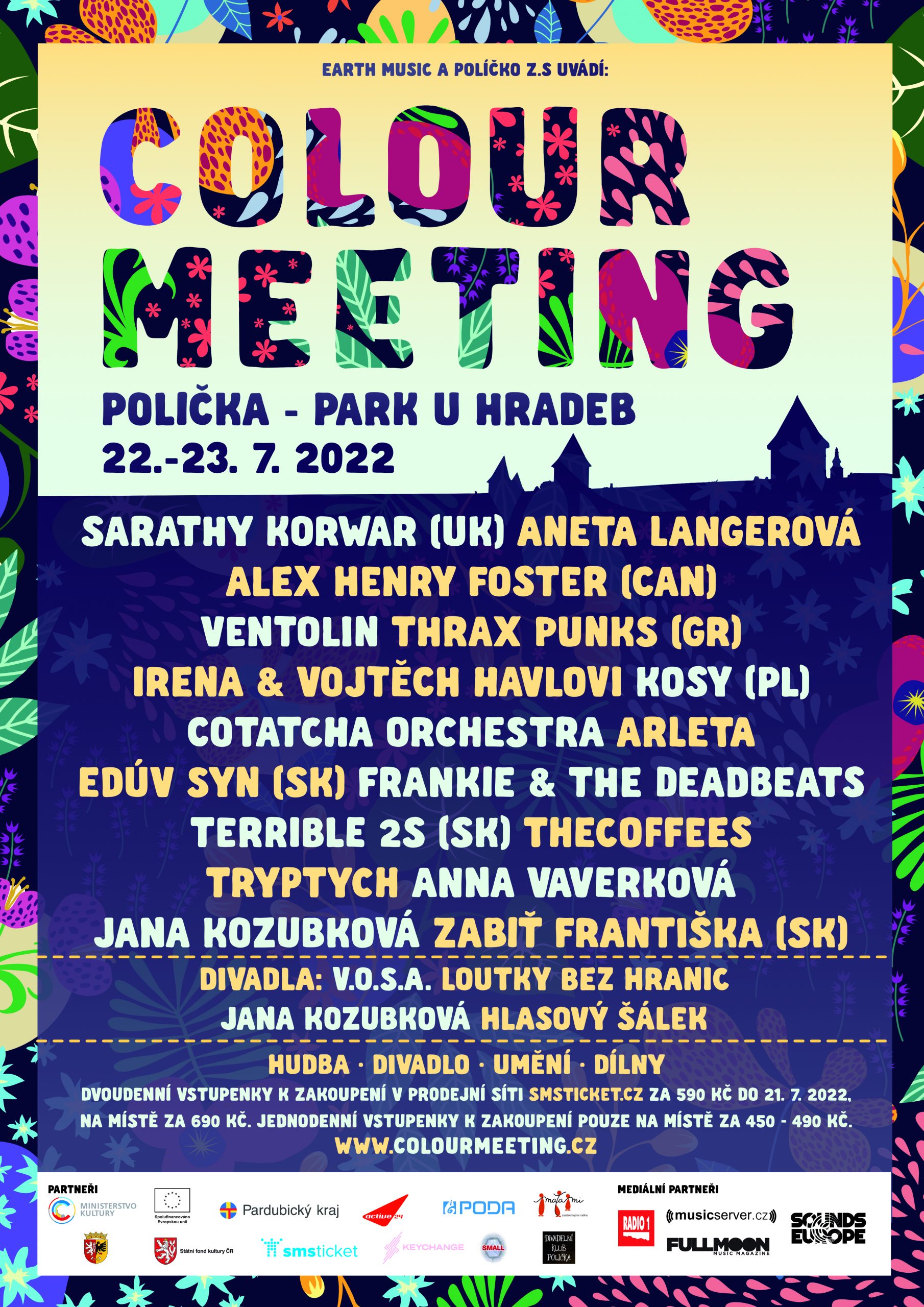 Zdroj: TS