Múzeum GUITAR CAFE s viac ako 70 gitarami československej výroby bolo slávnostne otvorené 20. októbra o 18:00 na Bajzovej ulici č. 4 ( v blízkosti McDonalds a Auparku).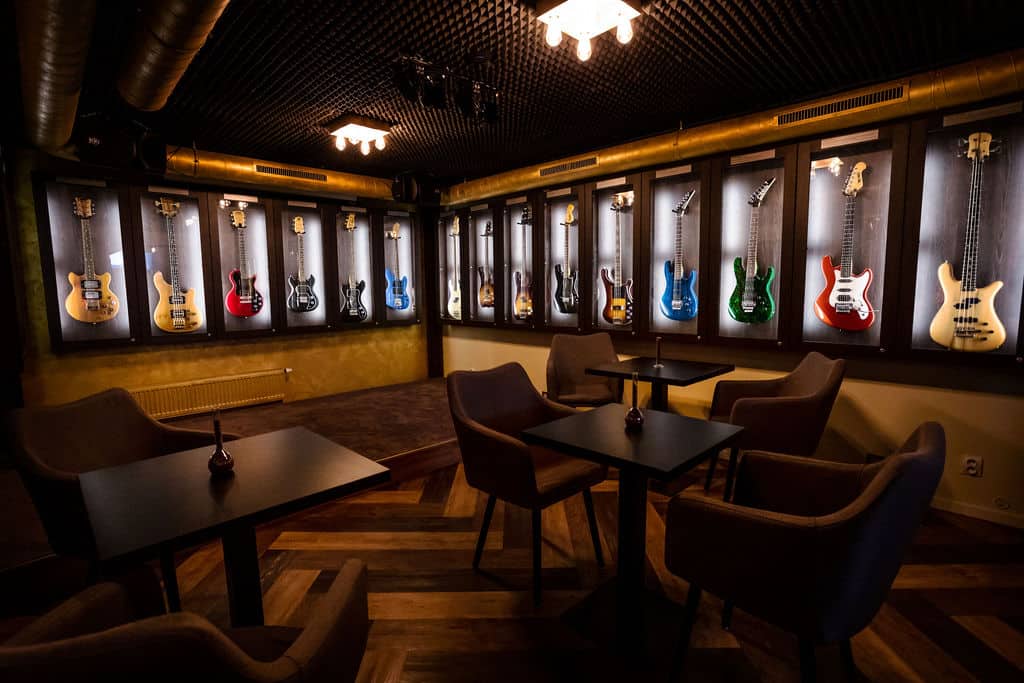 Ako nahovára samotný názov, ide aj o kaviareň, preto vstup bude pre všetkých návštevníkov zdarma, stačí si dať kávičku, prípadne inú dobrotu a vychutnať si bezprecedentnú krásu dizajnových skvostov s nádychom histórie. Otvorené bude každý deň v týždni od 09:00 do 22:00, teda aj v čase, kedy je väčšina múzeí zatvorená.
Súčasťou kaviarne a múzea je aj malé ozvučené pódium, kde sa budú organizovať vystúpenia komorného charakteru, ale nie len gitarovej hudby: "Priestor je vhodný na vystúpenia umelcov rôznych žánrov v bezprostrednom kontakte s publikom. Košice tak získajú okrem múzea aj ďalší priestor, kde je možné počuť hudbu naživo. Budeme spolupracovať hlavne so začínajúcimi umelcami, ktorých takto chceme podporiť v ich hudobnej ceste, ale plánujeme aj exkluzívne koncerty s už známymi a ostrieľanými muzikantmi." dodal na adresu hudobného pódia autor výstavy Ján Spišák, známy tiež z pôsobenia v skupine Dilemma.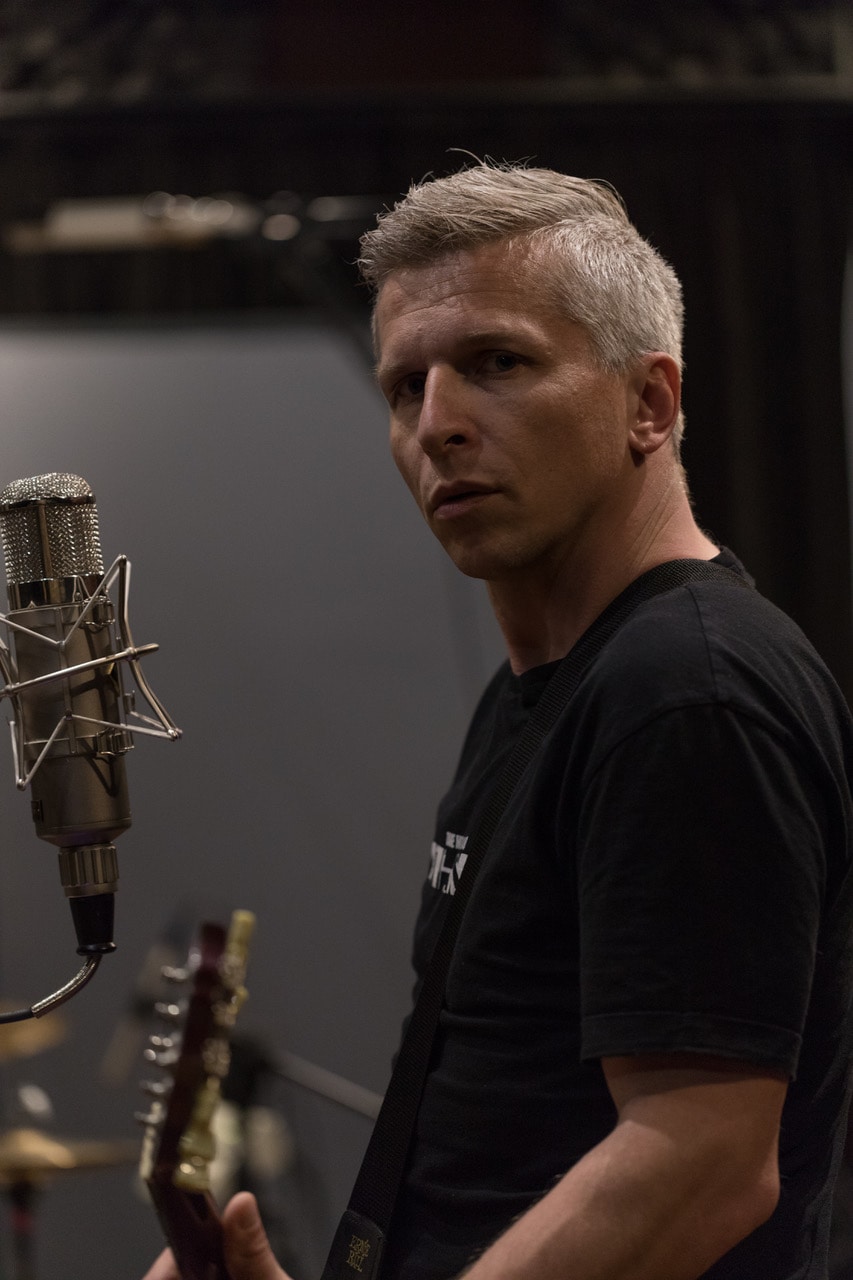 Samotná výstava zachytáva 70 rokov výroby tohto najsexi hudobného nástroja modernej hudby na našom území, ale aj jeho prepojenie so svetovou scénou. Na elektrických gitarách z Československa začínali aj také mená ako George Harrison z The Beatles alebo Jimmy Page z Led Zeppelin: "Ako všetci muzikanti u nás, aj my sme sa kedysi podkýnali o Jolany v skúšobni a nikto netušil, aký príbeh sa za nimi skrýva a akú dôležitú úlohu zohrali pri rozvoji hlavne britskej rockovej scény 60tych rokov. Aj to bol jeden z dôvodov, prečo sme sa rozhodli otvoriť takéto múzeum s kaviarňou a pódiom. Aby aj mladšia generácia hudobníkov v tomto prostredí nasala atmosféru svojich predchodcov, získala ďalšiu inšpiráciu a zároveň mohla predviesť svoju vlastnú tvorbu."
Celá výstava pozostáva zo 70 rôznych elektrických gitár, bás a ďalších nástrojov, nechýba popis exponátov v slovenčine a angličtine a tiež informatívne tabule s dobovými obrázkami. Tým chce múzeum priblížiť kus našej tvorivej histórie aj zahraničným návštevníkom.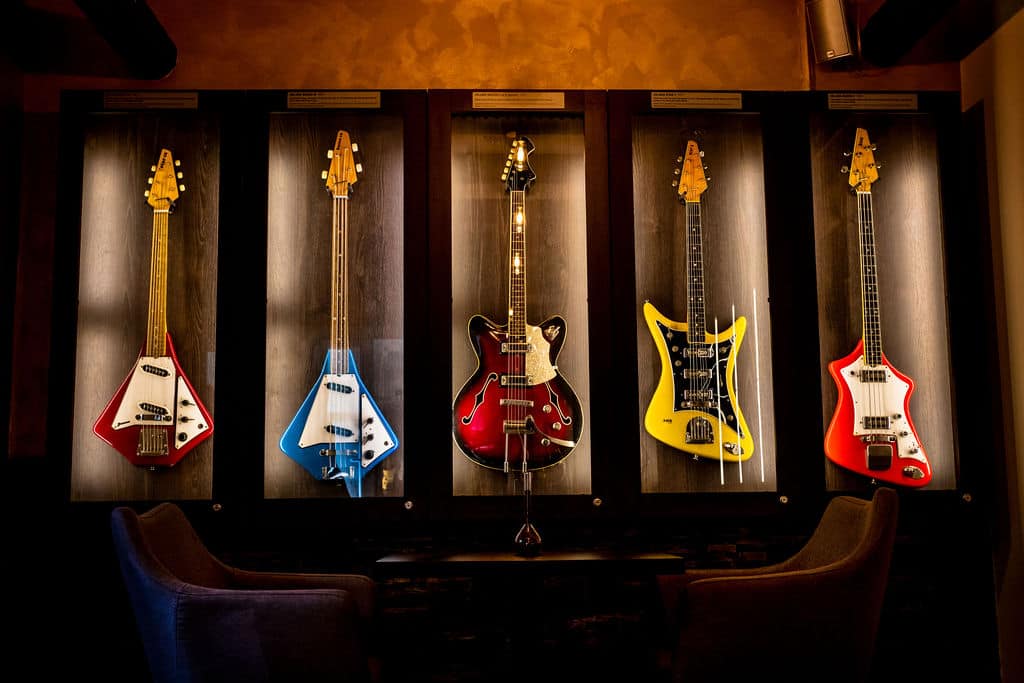 Na slávnostnom otvorení vystúpil samotný autor výstavy Ján Spišák so svojím sólovým projektom JAN SOLO: "Do prípravy tejto expozície som dal strašne veľa úsilia a času. Neodpustil by som si, ak by som si na otvorení aj sám nezahral. Zároveň som počas vystúpenia predviedol viacero zaujímavých gitár z tejto výstavy a vypovedal aj ich príbeh."
Gitarové cafe a múzeum je určené pre širokú verejnosť, nie len pre fajnšmekrov. "Vybranými modelmi ale aj ich popisom sme chceli jednoduchou a hravou formou priblížiť kus našej histórie a kultúry aj úplným laikom. Je to proste krásne vidieť tieto gitary takto pokope, každá je iná, niečim zaujímavá. A na pódiu máme staré nástroje, okrem gitár aj bicie a klávesy, aby si návštevníci a hlavne deti mohli u nás urobiť svoje vlastné rockerské fotky a zároveň sa dotknúť kusu našej histórie. A keď tu nebude koncert, z reprákov bude znieť náš vlastný výber hudby zaberajúci rôzne súčasné aj historické štýly hudby. Tu nebude pustený futbal z obrazovky a k tomu zvuk z rádia…" dodáva Ján Spišák, ktorý za celou myšlienkou múzea/kaviarne/klubu stojí.
www.guitarcafe.sk
https://www.facebook.com/profile.php?id=61552142780443
https://www.instagram.com/guitarcafe_kosice/
Zdroj: TS