Outlook Festival je pre nás každoročným vyvrcholením festivalovej sezóny. Koná sa na začiatku septembra a spája v sebe kvalitný hudobný zážitok spolu s dovolenkou na nádherných plážach chorvátskej Istrie. Stredoveká pevnosť Fort Punta Christo sa aj tento rok v termíne 5. až 8. septembra premení na obrovský žúr.
Dvanásť rokov sa Outlook konal na tomto magickom mieste, tento rok to bude preň posledný ročník v tejto lokalite. Organizátori oznámili, že budúci rok sa bude sťahovať. Kam, to to neprezradili, tak sa nechajme prekvapiť. Poďme sa však spoločne pozrieť, čo nás čaká tento rok. Tento festival je už tradične prehliadkou toho najlepšieho, čo ponúka súčasná scéna britskej bass music. Nájdete tu obľúbené subžánre elektronickej hudby špecifických práve pre Veľkú Britániu, spomeňme napríklad UK garage, drum and bass, dubstep, bassline, techno, house ale aj reggae, grime a hip hop. Dunivá elektronická hudba v priestoroch starej pevnosti, no neznie to skvelo? Práve areál festivalu je jedným z najzaujímavejších, aké sme kedy mali možnosť zažiť. Pevnosť bola vybudovaná v devätnástom storočí v Rakúsko-Uhorsku a slúžila na obranu Puly. Neskôr bola využívaná na rovnaké účely aj juhoslovanskou armádou. Ktovie, či jedni alebo druhí vojaci tušili, čo sa tu bude diať v dvadsiatom prvom storočí. Pevnosť sa totiž zmení na festivalový areál s desiatimi menšími stageami roztrúsenými medzi stromami a hradbami. Party pláž je otvorená počas celého dňa, zatiaľ čo vnútorné pódia sa otvárajú až vo večerných hodinách. V srdci polostrova, medzi kempom, pevnosťou a prístavom nájdeme The Clearing s kapacitou až 3000 ľudí, ďalej nás čaká The Garden, prírodný stagik schovaný medzi stromami, The Moat, akási priekopa situovaná pri hradbách pevnosti, The Void, jeden z tých klasickejších festivalových stageov, Mungo´s Arena s epickým Mungos Hifi Soundsystemom priamo zo Škótska, The Stables so svojou skvelou svetelnou show a Noah´s Ballroom, ktorý pozostáva z kruhovej jamy so stageom uprostred. Po minuloročnom úspechu sa vráti aj mestský stage v Pule, Zerostrasse.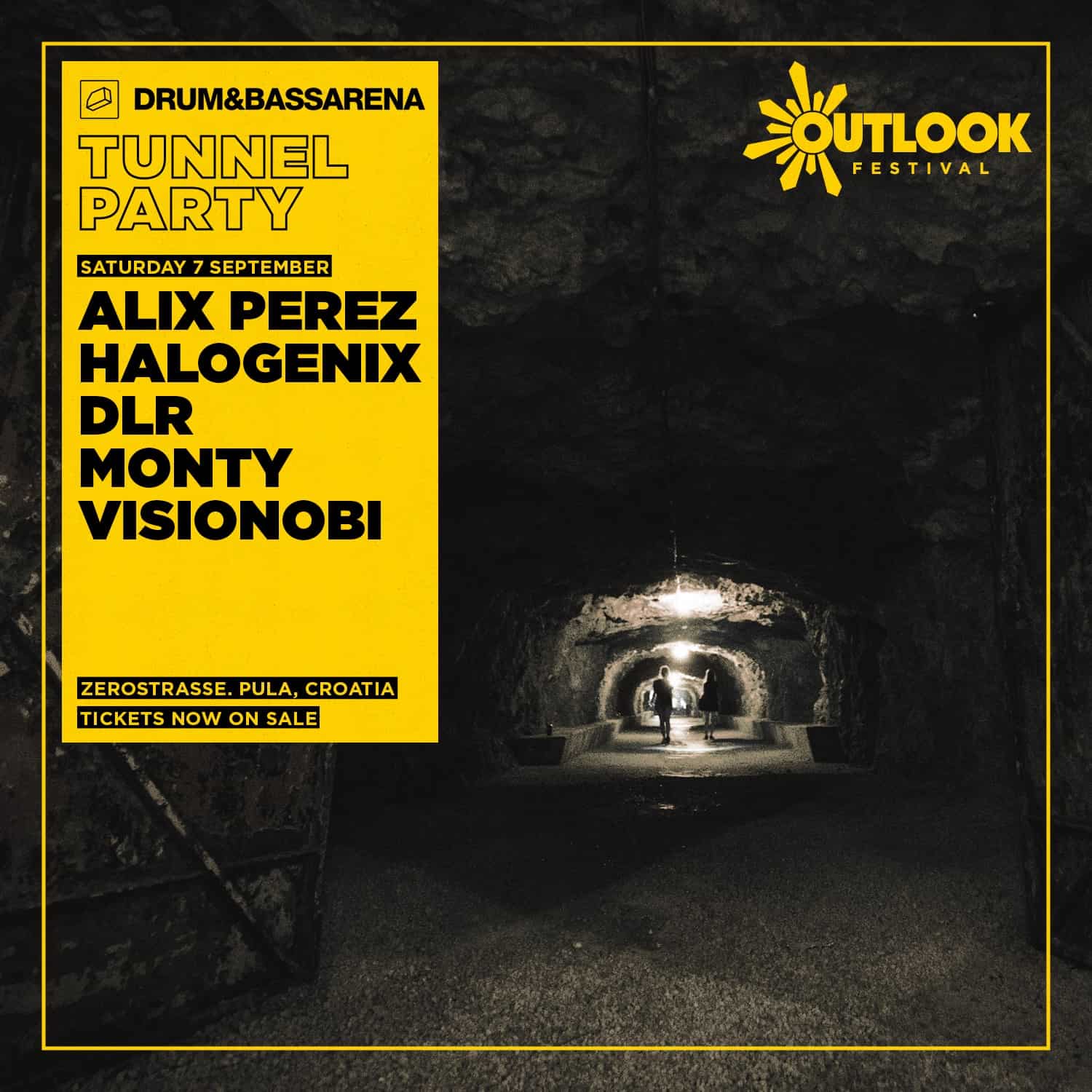 Je to akési podzemné bludisko spletitých chodieb a tunelov, ktoré bolo vybudované počas prvej svetovej vojny ako úkryt pred leteckými náletmi. Zároveň tunely spájajú srdce mesta Pula s okolitými pevnosťami a budú exkluzívne sprístupnené pre návštevníkov Outlook Festivalu. Festival konajúci sa na takomto mieste skrátka musí byť epický. Areál je dosť rozľahlý, dajte si teda pozor, aby ste nestratili kamošov ale samých seba. Takisto sa treba vhodne obuť, lebo prírodný terén je veľmi členitý.
Hlavný festival trvá 4 dni a 4 noci od štvrtka večera až do skorých hodín pondelňajšieho rána. Všetko to ale vypukne už v stredu večer špeciálnym otváracím koncertom. Ten sa ako vždy bude konať priamo v meste Pula v rozprávkovej starorímskej aréne. Kedy ste naposledy mali možnosť vychutnať si nadupané drum and bassové sety na takomto mieste? A tento rok sa môžeme tešiť na jednu z legiend tohto žánru, lebo headlinerom koncertu nie je nikto iný ako boss labelu Ram Andy C. Sekundovať mu bude jeho krajan Shy FX a chýbať nebudú ani stálice Outlooku z Gentlemen's Dub Clubu. Hip hop zastúpi mladá krv z južného Londýna, rapper Loyle Carner. Jeho debutový album Yesterday 's Gone bol pred dvoma rokmi nominovaný na prestížnu Mercury Prize, sme teda veľmi zvedaví, čo predvedie v pulskej aréne. Nežnejšie pohlavie bude reprezentovať raperka s nigérijskými koreňmi Flohio, ktorá sa len pred pár dňami objavila na novom tracku The Streets. A samozrejmosťou otváracieho koncertu je "domáci" The Outlook Orchestra, ktorých skvelú historicko-hudobnú šou z minulého roka máme stále v živej pamäti. Na pódiu ich bude dopĺňať dubstepový mágom Mala. Pripomíname, že lístky na otvárací koncert sa kupujú osobitne a nie sú v cene festivalového lístka. Zakúpiť si ich môžete priamo cez oficiálnu stránku festivalu a cena za jeden je niečo cez 43 euro. S presunom z areálu pevnosti do Puly si nemusíte lámať hlavu. Pripravené budú lodné taxíky z prístavu festivalu priamo do hlavného prístavu Puly, ktorý sa nachádza len niekoľko sto metrov od arény.
Pre tých, ktorým to stále nestačí, máme dobrú správu. K Outlook Festivalu neodmysliteľne patria aj boat parties, ktoré každý deň štartujú z mini prístavu, ktorý je súčasťou areálu. Na každý zo štyroch dní festivalu je naplánovaných presne 12 boat parties a každá z nich ponúka inú zostavu DJov za gramcami, ktorí vám budú hrať počas celej trojhodinovej plavby. Loďky a jednotlivé parties sú rozdelené podľa labelov, ktoré zastrešujú jednotlivých DJov a producentov. Pre tých nedočkavých prvé loďky z prístavu štartujú už napoludnie. Tí, čo cez deň preferujú odpočinok na lôžku či na pláži, si môžu vybrať jednu z poobedňajších alebo večerných plavieb, posledná várka odchádza z prístavu o pol deviatej. Pozor, boat parties nie sú v cene lístka na festival a treba si ich zakúpiť osobitne prostredníctvom oficiálnej stránky. Cena jednej je v prepočte libier na eurá niečo cez 26 euro. Odporúčame si ich zakúpiť v dostatočnom časovom predstihu, keďže kapacita každej loďky je obmedzená a môže sa poľahky stať, že sa vypredá.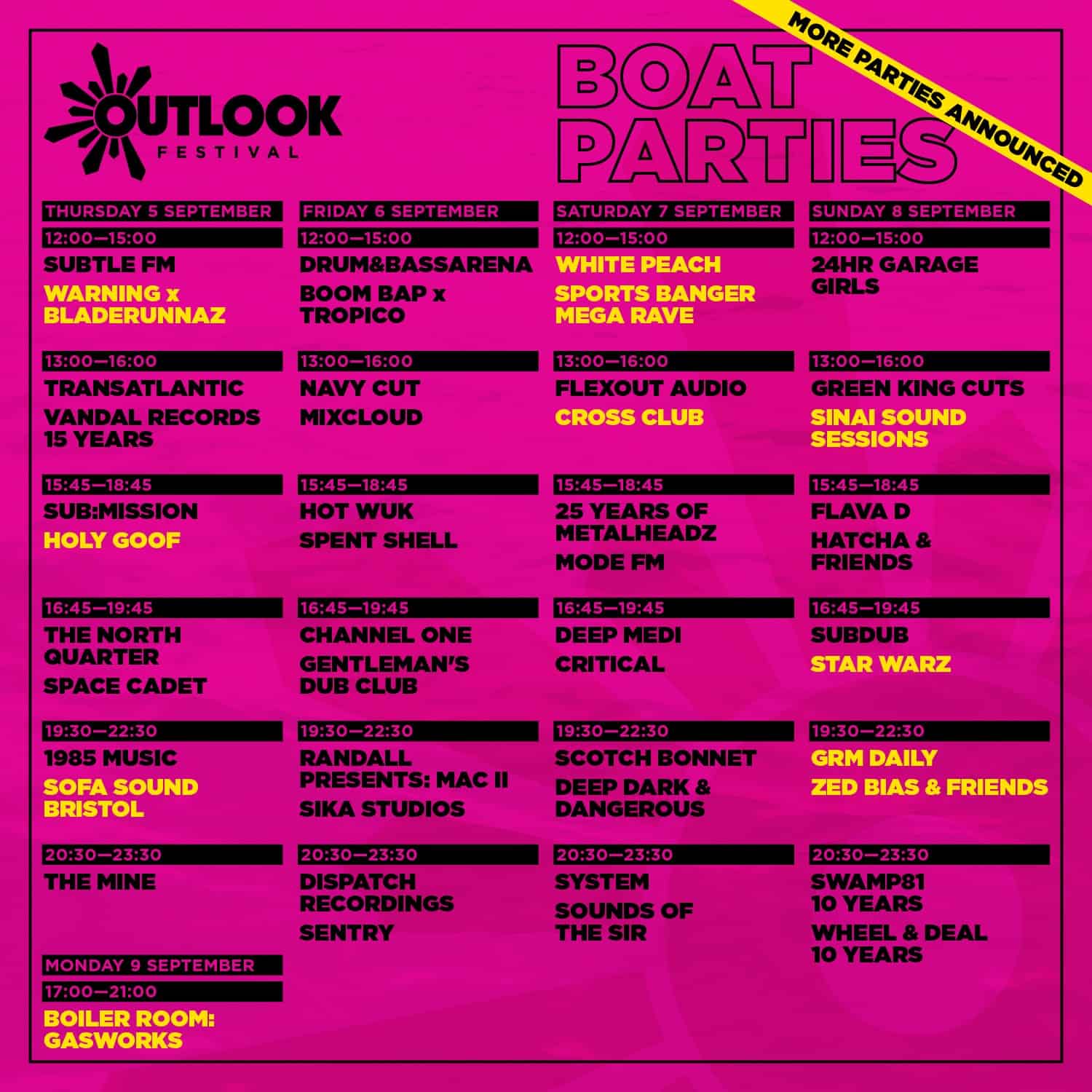 Kompletný zoznam boat parties na tento rok nájdete na tomto linku.
Čo sa týka ubytovania, súčasťou festivalu je kemp – Camping Brioni, ktorý je priamo napojený na pláž. V kempe je na výber Mobile Homes – také útulné bungalovíky, vo vnútri však vyzerajú peckovo. Ďalej je to klasické stanovanie vo vlastnom stane. Stany sa dajú zakúpiť aj na mieste. Ďalšou možnosťou sú tzv. Boutique camping. Sú to dva druhy stanov – kruhový pre 4 osoby, a taký malý domček pre 2 osoby. Výhodou je, že aj v domčeku, aj v kruhovom sú postele. V kempe je ešte možnosť ubytovať sa v tzv. Mobile Homes. Je to niečo ako maringotka prerobená na exkluzívne bývanie. POZOR! Lístok na stanovanie alebo iný druh ubytka nie je súčasťou lístka, treba si kúpiť zvlášť alebo kúpiť kombo s lístkom! V každom prípade sa dá samozrejme ubytovať aj v okolitých klasických dovolenkových apartmánoch, ktorých je v priľahlých dedinkách naozaj veľa. Možností dopravy je takisto viac. Cesta autom zo Slovenska vychádza na približne 6 – 7 hodín, čo je naozaj zvládnuteľné, či už zvolíte variant s prechodom cez Rakúsko alebo variant cez Maďarsko. Dostupné sú aj autobusové linky, tam ale treba počítať s prestupmi a trvaním okolo 10 – 11 hodín. Možno je to troška ďalej ako naše lokálne festivaly, rozhodne to však stojí za to.
My si posledný tanec v pevnosti rozhodne nenecháme ujsť, určite bude výnimočný a budeme naň ešte dlho spomínať.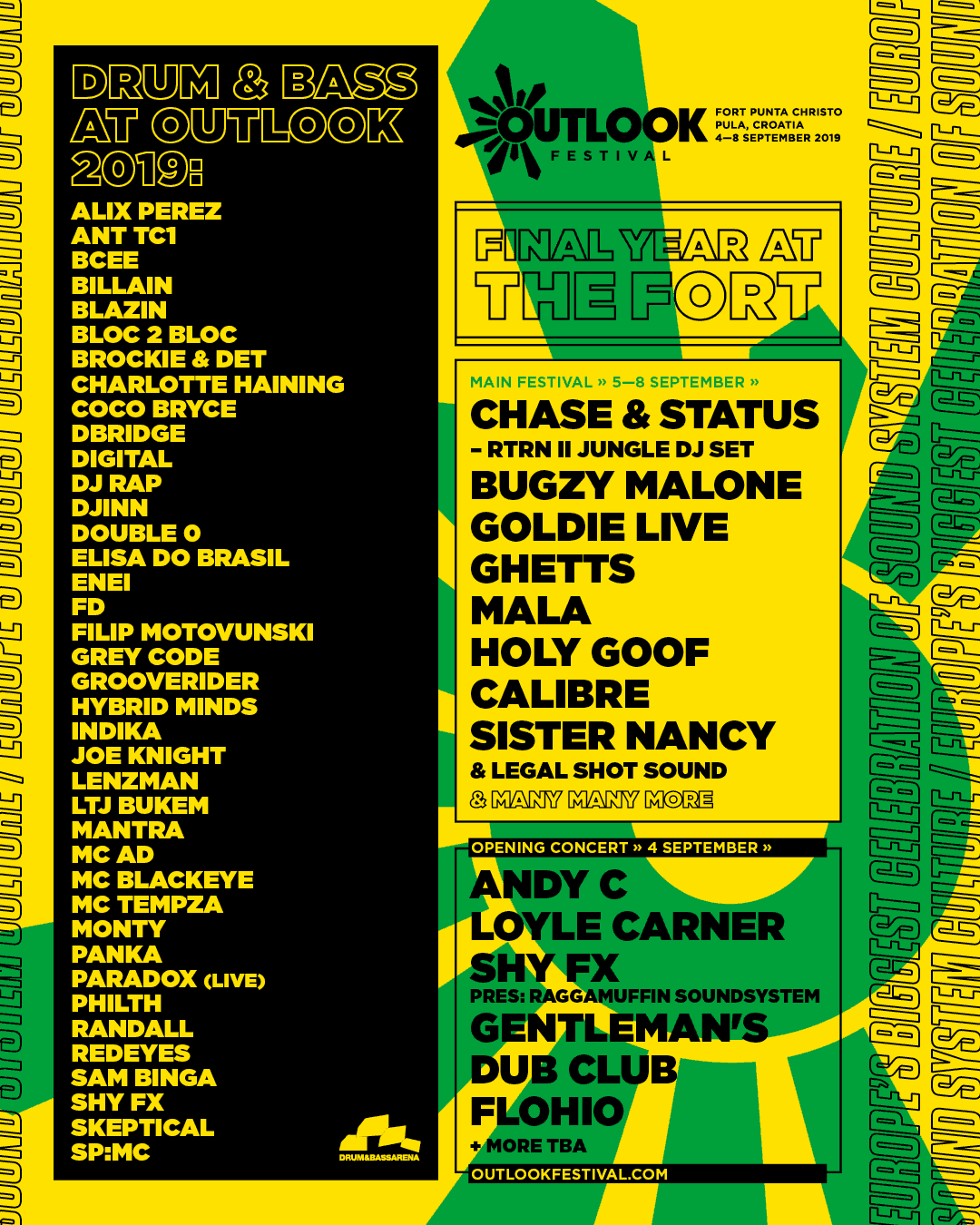 Kompletný line up festivalu: BUGZY MALONE, CALIBRE, DJ ZINC, FLAVA D, GHETTS, GOLDIE (LIVE), HOLY GOOF, KABAKA PYRAMID, MALA, MY NU LENG & DREAD MC, SISTER NANCY & LEGAL SHOT SOUND ,SKEPSIS, 24HR GARAGE GIRLS, AITCH, ALIX PEREZ, AMOSS, AMY BECKER, ANT TC1, ARTIFICIAL INTELLIGENCE, ASHANTI SELAH,BARELY LEGAL, BCEE,BIG ZUU,BILLAIN,BROCKIE & DET,CHANNEL ONE,CHEF, CHILDREN OF ZEUS,CHIMPO, CHUNKY, COMMODO, CRAZY D,D DOUBLE E, DABS, DBRIDGE, DECOY & SEAPA (MC GRINDAH), DEGO RANKING, DEVILMAN, DIGITAL, DJ RAP, DLR, DRS, EGOLESS, ELIZA, EMERALD, ENEI, EVA LAZARUS, FD, FLOHIO, FLOWDAN, FOREIGN CONCEPT, FOX, GOTH-TRAD, GROOVERIDER, HALOGENIX, HATCHA, HEADHUNTER, HOLLIE COOK, HYBRID MINDS, IRATION STEPPAS, JAMAKABI, JETSSS, JIMOTHY LACOSTE, JOKER, J.SPARROW, KAHN & NEEK, KASRA, KENNY KEN, KILLA P KING ALPHA, LAMONT, LENZMAN, LOEFAH, LTJ BUKEM, MACKY BANTON, MANARA, MATT JAM LAMONT MC AD, MC GQ, MC SGT POKES, MEFJUS & MAKSIM MC, MONTY, MINA, MUNGO'S HIFI FT, N-TYPE, NYMFO, O.B.F & THE A1 CREW, ONEMAN, PARADOX, PRESIDENT T, QUEST, RANDALL, REDEYES, RUSKO, SAM BINGA, SAMMY VIRJI, SAMWISE, SEANI B, SHY FX, SIR SPYRO,SKEPTICAL, SLIMZEE, SP:MC, STICKY, SUKH KNIGHT, TASH LC, THE BUG, THE HEATWAVE, TOMMY CASH, TRUTH, V.I.V.E.K, VISIONOBI, YOUNGSTA, YT, ZED BIAS, ZERO T 207, AKCEPT, ANDY H, ARKAIK, B.O.C., BETHBETHBETH, BLACK BARREL, BLAZIN, BOOM BAP DJ'S, BRUZA, CAPS, CATCHING CAIRO, CHAD DUBZ, CHARLI BRIX, CHARLIE P, CHARLOTTE HAINING, CIMM, COCO BRYCE, CODEBREAKER, COLTCUTS,CVSS, DAYZERO, DEYAH, DIGITRON, DISTINCT MOTIVE, DJ JAMPAK, DJ RAGGO, DJINN, DOUBLE 0, DR. OBI & ANJA G, DUBDIGGERZ, ELISA DO BRASIL, FIEND, FILIP MOTOVUNSKI, FINWA, FLIRTA D, FORCA, GARDNA, GREY CODE, HARLEIGHBLU, HEADLAND, INDIKA, IRAH, J BEATZ, JAY 0117, JIVES, JOSSY MITSU, KALI FAT DUB, KANNAMAN, KHIVA, KOJAQUE, KOTEI, KYRIST, L U C Y, LEFTLOW, LIANA, LOGAN, LOST, LX ONE, MANTRA, MAYHEM NODB, MC BLACKEYE, MC TEMPZA, MIKEY B,MIND OF A DRAGON, MR K, NEFFA-T, NUMA CREW, OB-SERVER, OBLIG, ONE87, ONHELL, OPUS, P JAM, PANKA, PART2STYLE, PHILTH, RAMSEZ, ROOTS IN SESSION, SEPIA, SHADOW PEOPLE, SHARKY MAJOR, SHOSH, SHYUN & CRUK, SICARIA SOUND, SINAI SOUND SYSTEM, SISKIYOU, SKAMMA, SKS, SOURCE DIRECT, SOX, SUBTLE FM – BUER, KRYO & DRED,SUMGII, SUN OF SELAH, SURREAL, SUSTANCE, SYSTEM ROOTS, TERNION SOUND, THE GREYS, TINO, TREBLE CLEF, TRENDS & BOYLAN, TREX, TROPICO DJ'S, VAPOUR, VITAL TECHNIQUES & MC PEAN, WESTY, ZHA 2 GUYS 1 DUB, ACIES, ADAM SIXS, AJAM & RAXX, ALTEX, AMA, AMERICAN GRIME, ARGO, ARKAIK, AZTEK, BASSI, BASSI GRADASSI SOUND SYSTEM, BENNY BOOTLEG, BHONGO, BLIND JUDGE, BLOC 2 BLOC, BLOKEYE, BMC KRU, BNML, BOB & LOS PIBES, BODHI, BOGL, BONAFYDE, BOOGIEMAN, BRAIN, BRAVE, BREAKFAKE, BT3K, CALCULON, CHARLIE BRIX, CHUNKZ, CIVIL DIN, COLLISTAR, CRINNION, DEPTH, D-LICIOUS, D2, DANOX, DENCI, DE-TU, DICK LEE, DIVERGE, DJ 108, DJ LUSH, DJ SAIYAN, DJ TEZ DNN, DOUBLE O, DORA, D.O.K, DRONE, DUBBING SUN, DUKU, DVS, DWR, ELI, ENADA EWSKI, FBR, FIYAHMAN, FORMA, GEOSTATIC, GIULIO T, GLUME, GOAST, GRABADUB, GRANWINKEL, GROUND, GUNDAM, GUSTO, HAINESY, HAZBEN, HØST, HIGH ROLLER, HITMAN, HITMAN TIGA, HUZZY, IMMUNO, INSAINT, ILLEXXANDRA, JACK DUB, JAH RIDDIM, JAHWY, JAY ROME, JIMMY MAGIC, JOE KNIGHT, JOE NBO, JOSOSICK, JUGGANAUT, JUST JAY, K-ERA, KARNAGE, KINNY, KNEGATIV, KONFUSION, KUEDON, KWALITY, LB, LEINK, LEMZI, LD50, LFM, LOGAN, LUKAS, LUKAS DEYAH, LUKE EP, LURID, LUSH, LYNDON JARR, MATT TRACKER, MAXIMOUS, MC CODEBREAKER, MC KENNA, MC LD, MC NO LIMIT, MC SAS, MC RVS, MC STEPPA, MEDIC MC, MELEK, MICOFCOURSE, MISFIT, MOODULAR, MOREOFUS, MURDER HE WROTE MX, NICO, ONE87, ODDITY, OLSKWA, OURMAN, PAPER CHASER, PASCH, PART-TIME, PASCH, PAV:IO, PEFLEX, PERCEPTION, PHOSSA, PIOLO SELEKTAH, RAIS, RASTAFAIRY, RAZOR, REZIN, RD, RICH REASON, RIZZLE, RMTN, SARKI, SBK, SCOPE, SEQUENCE, SHAY_B, SHRIVE, SKS, SMIFF, SOOLEK, SLANTY, SLUG WIFE, SOOLEK, SOUL FICTION, SOULTRADER, SPHERE, SPINLINE, SUB:MISSION CREW DJ'S, SUTTY, SYNTEK, SYRUS, T-BONE, TALISMAN, TALK TO FRANK, TBM, TEMPOTWINZ, THEKAWZ, THINK'D, THIRD LAW, TIATSIM, TOAST, TOMMY T, TONY STARKS, TRU NATURE, VELASQUEZ,VEXED, VICI, VISAGES, VYBES, WAGWAV DJS (WUTA, 40HURTZ & CHEESUS), WALLAR BEATS, WHSY, ZANDER TOXSIKK, ZELDUH, ZERE
Festival ticket: £163.50
Camping pass: £49.50
Opening concert: £44.00
Boat taxi: £10.00
POZOR! Ak ste z východnej Európy, máte zvýhodnené lístky! Všetky info o cenách atď. nájdete tu:
https://www.entrio.hr/event/outlook-festival-2019-5764
Web: https://outlookfestival.com
FB: https://www.facebook.com/outlookfestival/?ref=br_rs
Event: https://www.facebook.com/events/252337602102050/
Napísala: Tamara Zaťková