Hoci sa začína obdobie letných dovoleniek a hudobníci z celého sveta vydávajú letné single dýchajúce zábavou, uvoľnenou atmosférou, slnkom a pohodovými rytmami, my vám dávame do pozornosti skladbu z celkom iného súdka. Na jej vzniku sa podieľali nielen ostrieľaní hudobníci, ale i tím profesionálov, čo je bezpochyby predzvesťou silného, hudobného zážitku. A to najmä vtedy, ak máte za sebou obdobie tápania a hľadania samého seba.
Za prvotným nápadom stojí dvojica kamarátov a uznávaných umelcov, ktorí sú v brandži známi ako hudobný producent Peter Pann a rapper Plexo. Po tom, ako hudbu a mužskú časť spevu k novinke GPS pripravili, prišla na rad úloha vybrať do nej správny ženský hlas. Voľba padla na speváčku Nicky Mack. Viac už prezrádza Michelle Kristová, manažérka speváčky, ktorá ju dvojici hudobníkov predstavila. "Akonáhle ma Plexo oslovil so svojou prosbou, ihneď mi napadla Nicky. Jej hlas spôsobuje zimomriavky, čo sa potvrdilo aj neskôr už pri samotnom nahrávaní v štúdiu. Zaujala aj chalanov, z čoho mám veľkú radosť." Jej slová potvrdzuje aj Plexo: "Nicky ma zaujala svojím krásnym, zastretým hlasom. Poslal som jej nahrávku s tým, že síce netuším, aký refrén by sa do skladby hodil, no ak by súhlasila, rád by som ju v nej počul. O pár dní mi prišla e-mailom nahrávka, pričom Nicky na nej urobila kus práce, nielen čo sa refrénu týka. Okamžite som vedel, že to je ONO a zabookoval štúdio."
Pre Nicky išlo taktiež o cennú hudobnú skúsenosť. Ako tvrdí: "Plexa poznám a jeho piesne počúvam roky. Keď prišla ponuka naspievať refrén k jeho skladbe, bola som nadšená. A možno o to viac, že produkcie sa zhostil Peter Pann. Obaja sú veľké talenty a bolo mi veľkou cťou s nimi pracovať."
Výber lokality všetkých potrápil
Za miesto natáčania klipu je zodpovedný taktiež Peter Pann. Ten, ako veľký milovník turistiky, navrhol oblasť našich Tatier a známe lokality Starý Smokovec, Hrebienok, Štrbské pleso či magicky pôsobiacu Tricklandiu s veľmi ústretovým personálom a turistami vyhľadávanú Rainerovu chatu. "Mali sme dokonca šťastie a naživo videli miestnu celebritu, líšku Elišku," smeje sa pri spomienke na natáčacie dni speváčka Nicky. Napriek náročnému terénu, neustálemu presúvaniu ľudí i techniky a nie celkom priaznivému počasiu, sa ale všetci jednoznačne zhodujú, že výsledok za tú drinu určite stojí!
Hlavnej myšlienke klipu nahrávalo i počasie
"Tému GPS som mal zapísanú v telefóne už dlhšie. V príbehu rozprávam o svojom životnom blúdení. O časoch, keď peniaze, stimulanty, ženy či prebdené noci ukazujú jednu nablýskanú a vysvietenú cestu ako do Las Vegas. No aj keď som ňou kráčal roky, necítil som sa naplnený a stále niečo hľadal. Bol to vzťah, pokoj, usadenie sa. Mal som to pod nosom, no prehliadal to a hľadal inde. Až dovtedy, kým prišla žena, ktorá mi aj v tej najväčšej diaľke a búrke ukazuje cestu ako hviezdy na oblohe. Cestu naspäť domov," poodhaľuje viac zo svojho súkromia a pocitov Plexo.
A práve blúdenie dokonale symbolizujú zábery, v ktorých sa loďka plaví po Štrbskom plese a úplne neplánovane ponurú atmosféru celej myšlienky sprevádza hmla, ktorá je pre dokonalé precítenie skladby doslova kľúčovým prvkom.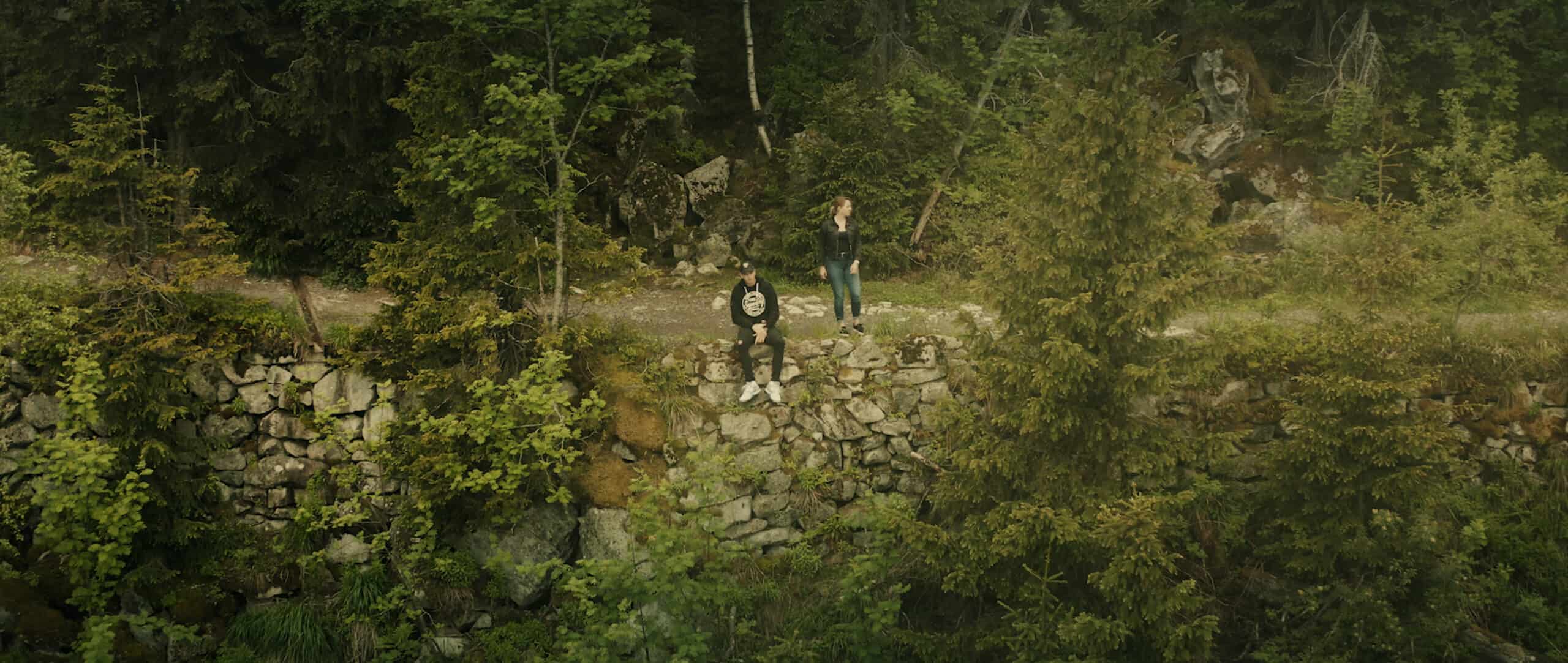 Finálny výsledok v rukách profesionála
Natáčanie, réžiu i postprodukciu skladby GPS mal pod palcom Marek "KRTNK" Kovalovský z BROpicture, ktorý je v realizácii hip-hopových skladieb ako doma a jeho profesionálny prístup i pracovné výsledky tomu nasvedčujú. Ako on sám spomína s odstupom niekoľkých dní na túto spoluprácu? "Vždy, keď dostanem návrh na realizáciu vizuálu skladby si ju najskôr poriadne popočúvam. V prípade pesničky GPS som už po jej prvom vypočutí mal jasno, ako to bude celé vyzerať. Spoločne sme sa rozhodli pre lokácie v Tatrách. Sú naším klenotom a nájdeme v nich nespočetne veľa krásnych miest. Zámerom bolo vybrať na každú pasáž iné miesto, ktoré bude mať to správne čaro a v konečnom dôsledku do seba všetko pekne zapadne. Keďže chémia medzi interpretmi funguje skvele, snažil som sa ju preniesť aj do vizuálu. Dúfam, že mi to vyšlo."
Určite áno, veď ako aj speváčka Nicky tvrdí: "Keď sa spojí tím šikovných ľudí, možno vytvoriť naozaj úžasné veci." Novinka GPS je toho žiarivým príkladom.
Vypočujte si novinku GPS: https://youtu.be/ILBNs5V2-SY
Peter Pann: https://facebook.com/PETERPANNofficial/
https://www.instagram.com/djpeterpann/
Plexo: https://facebook.com/plexoplexo
https://www.instagram.com/plexmansky/
Nicky Mack: http://bit.ly/fb_nicky_mack
http://bit.ly/ig_nicky_mack
Informácie o foto poskytla Michelle Kristová z umeleckej agentúry Stella Production