V zozname účinkujúcich Pohody 2019 nám tento týždeň pribudli viaceré skvelé mená. Návštevníkom trenčianskeho festivalu sa predstaví víťaz BBC's Sound, dvakrát nominovaný na Mercury Prize Michael Kiwanuka, hviezdy súčasnej tanečnej scény Sofi Tukker (ktorých debut Treehouse je nominovaný na Grammy pre najlepší elektronický album roka) či punk-rockové objavy – švédski Viagra Boys a islandsko-britská kapela Dream Wife.
Viaceré lahôdky ponúkne festival fanúšikom world music. Nevšednú kombináciu R&B vokálov, hip-hopových beatov a severoafrických husľových motívov a figúr predvedie Sudan Archives. Z Kinshasy k nám príde kapela KOKOKO!, ktorá podľa Pitchforku exceluje v prerábaní chaosu na eufóriu a roztancuje nás aj kráľovná karibskej hudby Calypso Rose. World-music-ovským vrcholom bude koncert dvoch skvelých kapiel, ktoré už svoje kvality návštevníkom festivalu potvrdili. Na Pohode opäť zahrajú Amadou & Mariam, ako aj päťnásobní víťazi Grammy Blind Boys of Alabama – tentokrát však vystúpia spolu na jednom pódiu.
Michael Kiwanuka
V roku 2012 vydal debut Home Again, ktorý sa dostal na 4. miesto britskej hitparády. V tom istom roku sa stal víťazom ankety BBC's Sound of 2012. Na druhom albume Love & Hate s ním spolupracoval producent Danger Mouse (Gorillaz, The Black Keys, Adele, U2). Album sa dostal na čelo britskej hitparády, a to zhodou okolností v deň 60. narodenín oficiálneho rebríčka predajnosti albumov. Podobne ako jeho predchodca bol aj Love & Hate nominovaný na Mercury Prize. Mimoriadne ospevovaný album dostal 10 bodov z desiatich od The Telegraph, Chicago Tribune či magazínu Mojo. Podľa posledného menovaného je album plný silných melódií, textov, ktoré vás zasiahnu, ostrých rífov, nesmierne dobrých aranžmánov a sympatickej produkcie. The Guardian a GQ ho zaradili do koncoročných výberov najlepších albumov roka.
Amadou & Mariam a Blind Boys of Alabama
Amadou & Mariam odohrali pred 11-timi rokmi jeden z najpamätnejších koncertov v histórii nášho festivalu. Pár talentovaných muzikantov sa spoznal v Inštitúte pre mladých nevidiacich v Bamaku v 70. rokoch. Definitívny prelom v ich kariére priniesol album Dimanche a Bamako, ktorý produkoval Manu Chao. Amadou et Mariam v ďalších rokoch spolupracovali s umelcami ako Damon Albarn, U2, David Gilmour, Coldplay či Scissor Sisters. O výnimočnej kolaborácii bude aj ich koncert na Pohode 2019, kde vystúpia s jednou z najznámejších gospelových kapiel sveta Blind Boys of Alabama. Päťnásobní víťazi Grammy už hrali na Pohode v rokoch 2007 a 2009. Kapela vznikla v roku 1939. Po útlme súvisiacom s nástupom soulu v 60. – 80. rokoch zažili veľký comback s albumom Deep River v roku 1992 a obzvlášť po roku 2000 s albumami ocenenými Grammy Spirit of the Century či Higher Ground. Aj najnovší autobiografický album Almost Home (z augusta minulého roka) bol nominovaný na Grammy a získal hodnotenie 8,6/10 od magazínu Paste.
Sofi Tukker
Na Pohode 2019 vystúpia aj Sofi Tukker, ktorých debut Treehouse je nominovaný na Grammy pre najlepší tanečný/elektronický album roka. Ide pritom už o druhú Grammy nomináciu tejto dvojice, keď ich prvý singel "Drinkee" bol minulý rok medzi piatimi najlepšími tanečnými nahrávkami roka. Drinkee a Best Friend majú aj vďaka reklamám na Apple Watch či iPhone X na Spotify dokopy vyše 100 miliónov vypočutí. Náladu albumu výstižne opisuje DIY v závere svojej veľmi pozitívnej recenzie: "Jedna vec naprieč celým Treehouse je istá – Sofi Tukker sa bavia lepšie ako vy. Je čas sa pridať."
Viagra Boys
Viagra Boys je 6-členná mimoriadne nákazlivá post punková partia zo švédskej metropoly. Debutový album Street Worms vydali len v septembri tohto roka, no už zaujali médiá ako BBC, Pitchfork, Q Magazine, The 405 či The Fader. Ich singel "Sports" zaradil Pitchfork do kategórie Best new track a The Guardian dal pieseň na 45. miesto rebríčka 100 najlepších skladieb roka 2018. "Viagra boys sú stelesnením nesmrteľnosti punku. Videl som ich na Reeperbahne, kde boli jednoznačne najlepšou kapelou. Hodia sa výborne k Slaves, Sleaford Mods, či k The Wildreness. Saxofón či klávesy nikdy nezneli v punku tak dobre a prejav speváka je fenomenálny. Viagra boys sú pre mňa objavom roka 2018," povedal o kapele Michal Kaščák.
Calypso Rose
Trenčianske letisko roztancuje aj legenda karibskej hudby a kráľovná žánru Calypso – Calypso Rose. Jej prvým albumom bol Cooperation (1964), za ktorý vyhrala ako prvá žena v histórii Calypso King contest. Cenu dokonca v 70. rokoch premenovali na jej počesť na Calypso Monarch. V tom čase účinkovala aj s Bobom Marleym & the Wailers. Počas piatich dekád vydala až 800 piesní a 22 albumov. Spolu s Manu Chaom a Ivanom Duranom nahrala pred dvomi rokmi ďalší skvelý albumu Far from Home, za ktorý získala ocenenia WOMEX Artist of the Year a World Music Album of the Year na "francúzskych Grammy" Victoires de la musique.
Sudan Archives
Na Pohode vystúpi aj fantastická americká huslistka a speváčka Sudan Archives. Jej nevšednú kombináciu R&B vokálov, hip-hopových beatov a severoafrických husľových motívov a figúr už vychválili Pitchfork, The New York Times, The Guaradian či NPR Music a všimli si ju už aj naše médiá. Ako píše Musicpress: "Dychtivé skladby s nádychom exotických kultúr dokážu vyčariť scenériu ďalekých svetov aj medzi mrakodrapmi, obchodnými reťazcami a biznis centrami. Výnimočné!" Môžeme len súhlasiť.
Dream Wife
Rolling Stone zaradil vystúpenie britsko-islandskej punk-rockovej kapely Dream Wife. na americkej Lollapalooze medzi 13 najlepších celého festivalu. Podľa Billboardu sú nepochybne jednou z najzaujímavejších rockových kapiel posledných rokov a podľa Paula Glynna z BBC Music padá z ich vystúpení sánka, a preto nečudo, že sú jednou z najrozoberanejších nových kapiel roku 2018.
KOKOKO!
Mimoriadne inovatívna kapela z konžskej metropoly – KOKOKO podľa Pitchforku exceluje v prerábaní chaosu na eufóriu. Partia muzikantov z predmestia Kinshasy privádza svojou tanečnou hudbou hranou na "DIY nástrojoch" z elektro (a iného) odpadu poslucháčov do tranzu. Kapela okolo francúzskeho producenta Débruita už zaujala médiá ako TIME , Pitchfork, Resident Advisor, BBC6 či Afropunk a vystúpila na festivaloch Roskilde festival, Sonar, Dour, We Love Green či Down The Rabbit Hole. Nevšedne spracované zvuky každodenného života tretieho najväčšieho mesta Afriky prinesú KOKOKO! aj na Slovensko.
Ďalšie zaujímavé mená Pohody 2019 zverejníme aj medzi sviatkami a fanúšikov festivalu obzvlášť potešíme hneď po novom roku.
Viac informácií, videá i ukážky piesní nájdete na www.pohodafestival.sk/sk/artists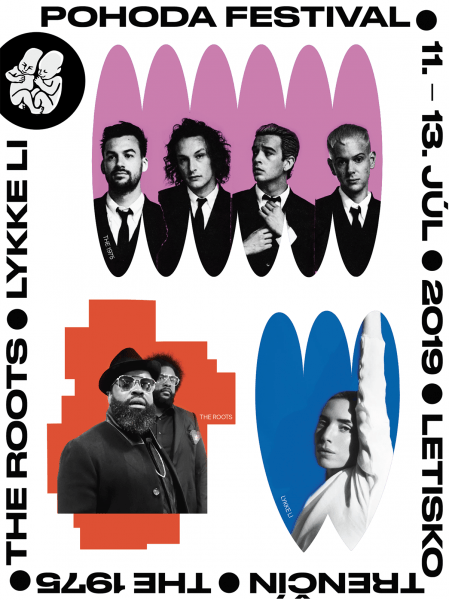 Zdroj: Agentúra POHODA