Mestské kultúrne centrum v Žiari nad Hronom sa v utorok, 17. októbra 2023, stalo miestom konania v poradí už 11. ročníka benefičného podujatia Na krídlach anjelov. Pre osoby s mentálnym a zdravotným postihnutím ho úspešne pripravilo Občianske združenie Milan Štefánik s aktívnou podporou Mesta Žiar nad Hronom. Veľké sála MsKC si priam žiada usporadúvať takéto veľkolepé podujatia.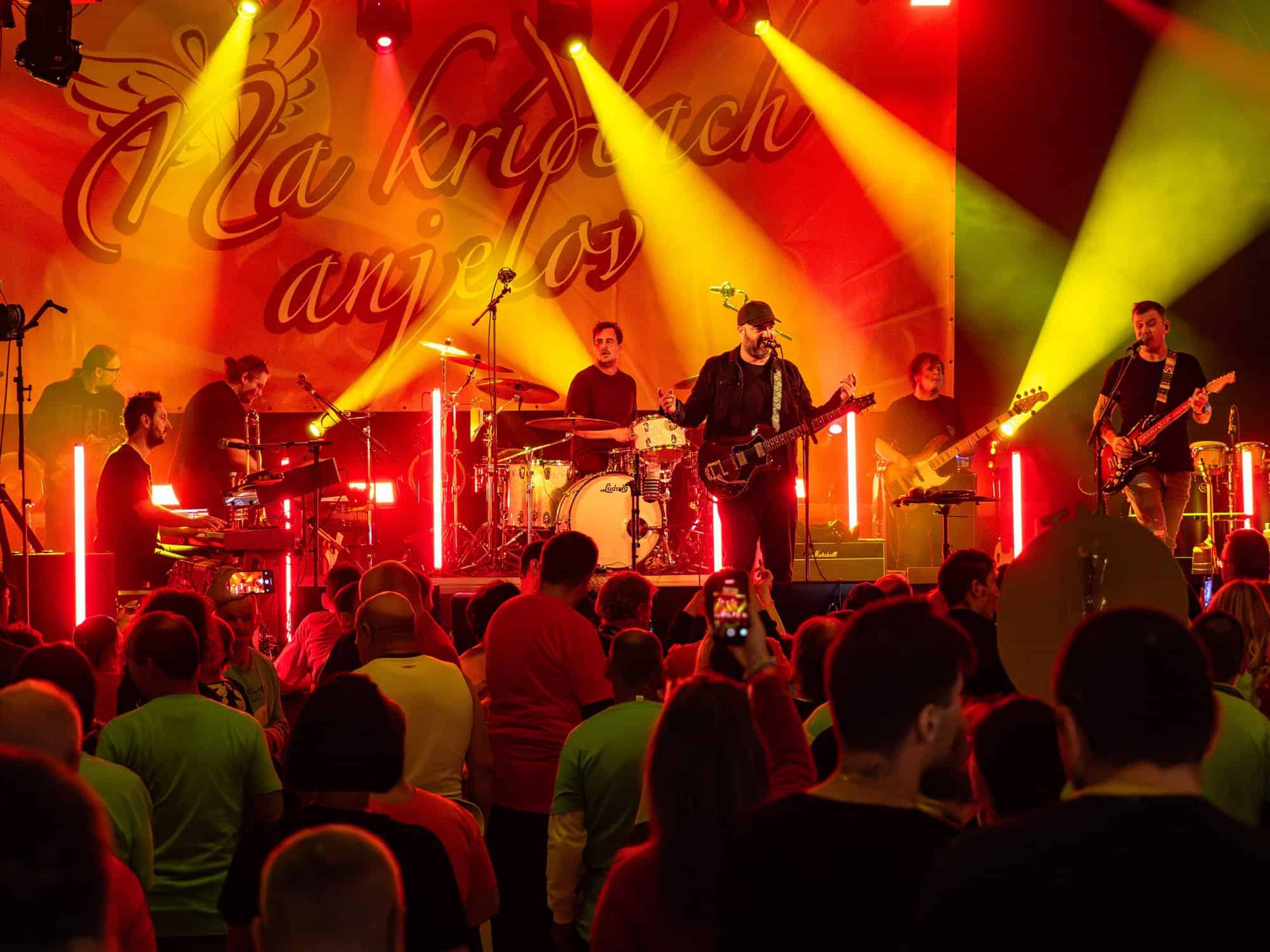 Ale poďme pekne po poriadku. Pred začatím koncertu treba všetko pripraviť. Preto od rána dobrovoľníci kmitali hore, dole. A to doslova aj po schodoch. Najprv vyniesť všetko potrebné. Potom rozdeliť úlohy a ide sa na to. Zavesiť banery. Pripraviť pódium. Zoradiť aparatúru. Stoly na občerstvenie. Ale aj samotné občerstvenie. Miesto pre kreatívne dielne. Čo to bude tento krát? Enkaustika – maľba horúcim voskom. Maľovanie na sadrové odliatky. Výroba košíčkov z pedigu. Maľovanie na tvár a ruky. Ešte pripraviť šatne pre účinkujúcich a miesto pre fotobox. Už máme všetko? Veru ešte chýbajú farebné tričká. tak rýchlo vybrať z krabíc, prví hostia prichádzajú.
Stoličky v sále sa pomaly začínajú zapĺňať. Ale nesadajte si. Začína program. Ideme hneď tancovať. Prvé tóny a je to jasné. Pod pódiom už sa to začína hýbať. Kto to je? No predsa Zumba s Alou. Podporiť podujatie svojou Zumbou chodí Ala už tradične. Lákavými latino rytmami zodvihli "inak obdarených" zo stoličiek. Poďme to poriadne rozhýbať. Krok vpred. Krok vzad. Zavrtieť zadočkami. Chytíme sa za ruky a ideme do stredu. Teraz kroky vbok. Hore ruky. Zatlieskame si. A ešte nebol had. Tak ideme na to. "Ako každý rok, aj tento rok som prijala pozvanie na otváračku koncertu Na krídlach anjelov." Energická hudba a tanec zaplnili priestor úsmevmi. A deti odmenili Alu darčekmi, ktoré sami vyrobili.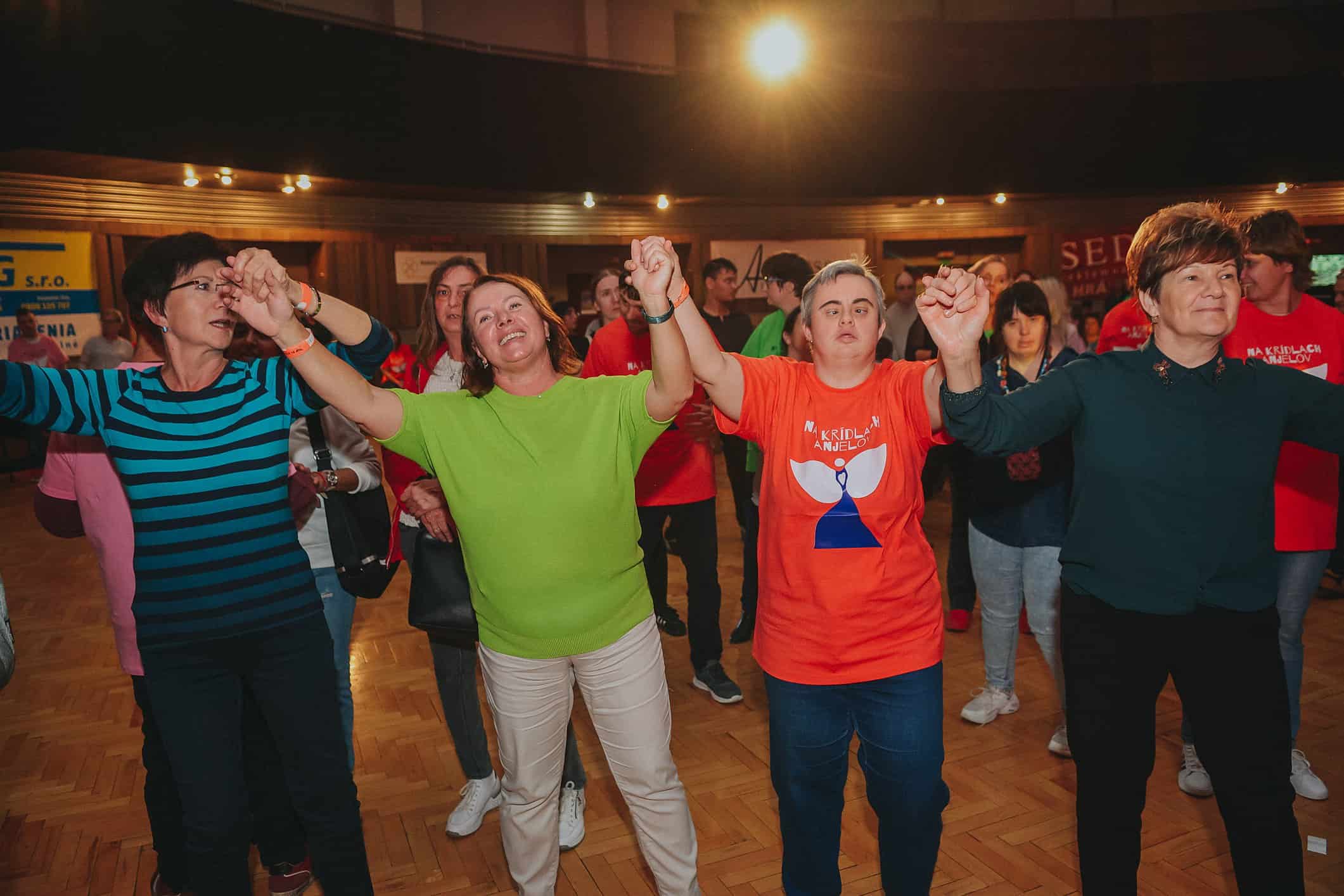 Moderátorského mikrofónu sa ujal Andrej Bičan. Slovenský moderátor, herec, zabávač a streamer. Dnes ho v telke nečakajte. Je u nás na koncerte. "Môžem odovzdať nejakú energiu a tak to robím." Poďakoval Ale. A hneď v úvode si k sebe pozýva Mgr. Petra Antalu, primátora mesta Žiar nad Hronom, ktorý prijal záštitu nad podujatím. Za ním prichádzajú MUDr. Ladislav Kukolík, viceprimátor mesta Žiar nad Hronom a Milan Štefánik, organizátor OZ Milan Štefánik. Prihovorili sa prítomným a popriali im pekný hudobný zážitok.
V publiku už to vrie. Všetci sa tešia na hudobných hostí. Kto prichádza ako prví? Nezameniteľní IMT Smile. Chlapci z Prešova so skvelou muzikou. "Je to pre nás vždy veľká radosť a česť a musím povedať, že už aj tradícia hrať na koncertoch, o ktoré sa stará náš kamarát Milan." Pop-rockovou muzikou. Minulý rok oslávili okrúhlu tridsiatku. Ideme na to. Za klávesmi Miro Tásler a pri mikrofóne spev lídra Ivana Táslera. Roztáča sa play list najväčších hitov. Opri sa o mňa. Budeme to stále my. Nepoznám. Tamburína hrá Len tebe. Frčíme ďalej. Nie po diaľnici. Sú tu aj Cesty druhej triedy. Prichádza Niekto ako kráľ. Vlastne, už je tu 7 piesní. Saxofónové sólo skvelého Gapu. Je tu Exotika. Hľadisko je už plné tancujúcich a spievajúcich ľudí. Títo Ľudia nie sú zlí. Poďme si všetci zaspievať spolu. Hej, sokoly! Dáme si ešte jednu. Poď so mnou. A ako sa spieva v piesni – so mnou sa spoj, tak "inak obdarení" sa dnes hudbou spojili s kapelou. "Verím tomu, že je to vždy zážitok. Hudba je niečo, čo dokáže spájať nie len generácie, ale aj ľudí , ktorí majú rôzne pohľady na svet i na život. A myslím si, že tento deň, tento koncert je plný dobrej energie a to musia všetci cítiť." A členovia kapely si odnášajú obrovský aplauz a kopec darčekov.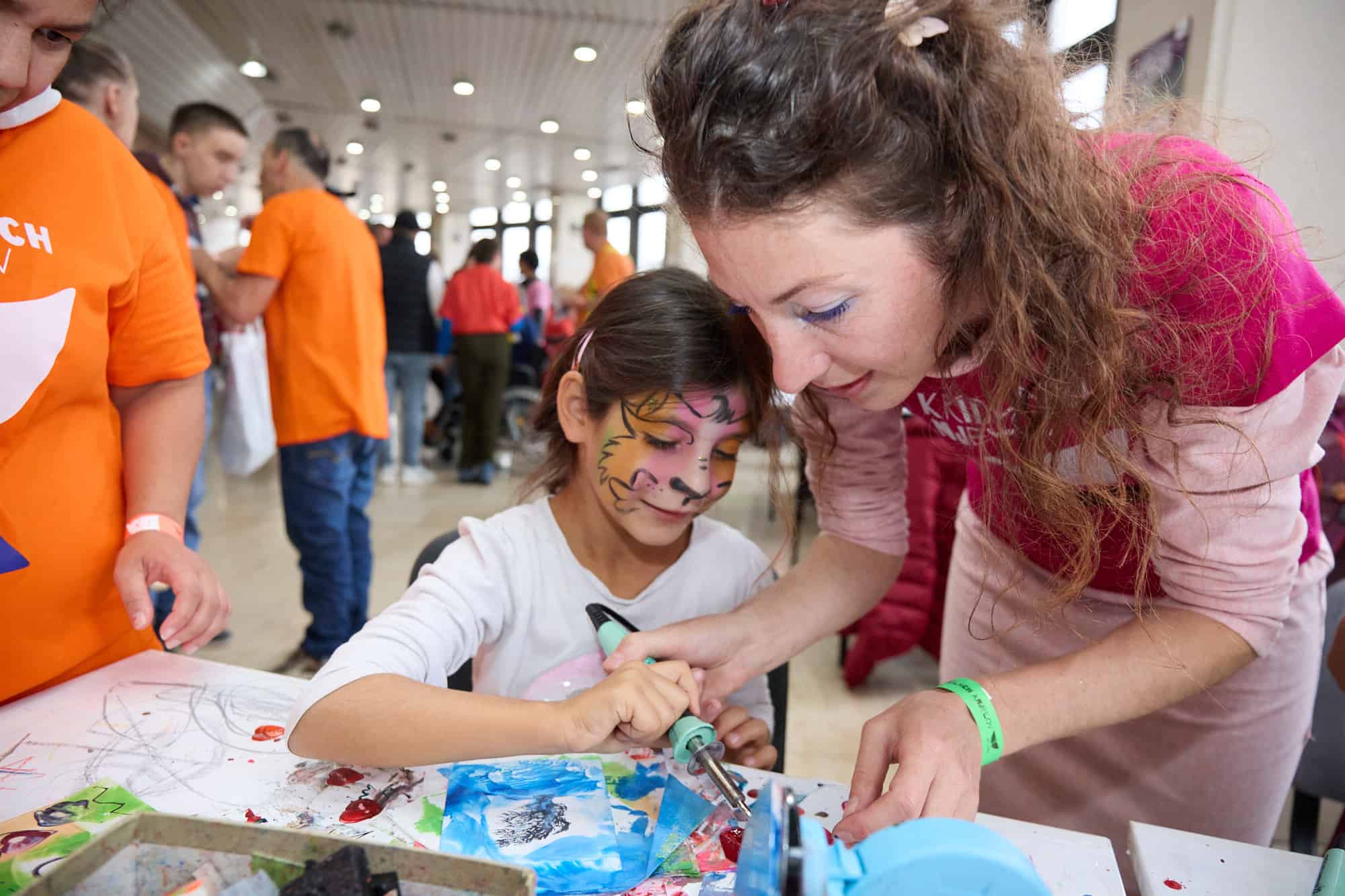 Krátku prestávku na výmenu nástrojov využíva moderátor na predstavenie spoločnosti SPIG. To sú tí muži v žlto modrom stánku pri vchode. Vždy ochotní poradiť a usmerniť vo výbere kompenzačných pomôcok a zariadení.
Organizátor podujatia, Milan Štefánik má ešte jednu milú povinnosť. A preto si k sebe pozval na pódium maliarku Ľubomíru Brigantovú, autorku obrazu s motívom tohto ročného podujatia. Kam poputuje jej obraz? Prichádza i bývalá riaditeľka DSS Ladomerská Vieska pani Viera Šedivcová. Spolu obraz venujú DSS Libertas Lučenec a prevziať ho prichádza pán Zoltán Šarkan.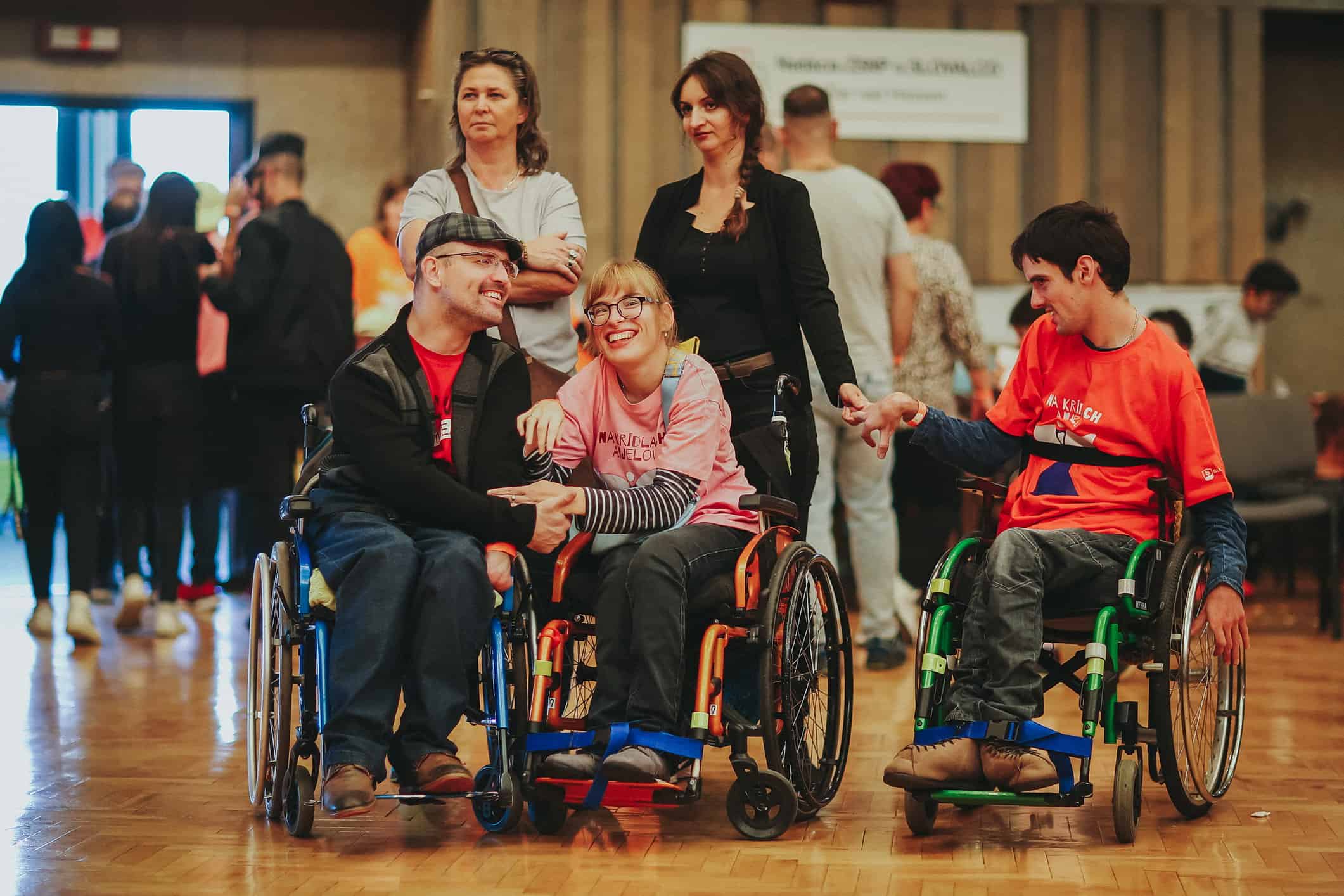 Už je všetko pripravené pre ďalšieho hudobného hosťa. Mala ním byť Zuzana Smatanová, ale choroba si nevyberá. Na poslednú chvíľu, ale s nadšením prijali pozvanie Modus Memory. Marián Greksa založil skupinu ako poctu skupine Modus, kde hral v 80-tych rokoch. Repertoár tvoria najväčšie hity, ktoré vytvorili Miro Žbirka, Kamil Peteraj, Janko Lehotský, Boris Filan. Spievali ich Marika Gombitová, Miro Žbirka, Janko Lehotský, Ľubo Stankovský a Marián Greksa. Čakali ste dnes po prečítaní mien účinkujúcich čisto pánske zostavy kapiel? Tak vás sklameme. V Modus Memory je aj zástupkyňa nežného pohlavia, Petra Molnárová. A piesne Mariky Gombitovej dnes zaspieva ona. Ideme na to. V slepých uličkách sme sa dnes netúlali. Pozvaní hostia mali presnú adresu konania koncertu. Kapely starnú. Veľký sen mora. V hľadisku i na parkete sa to ozýva spevom. "Tie decká sú naozaj zlaté. A tak sa vedia z toho tešiť, že to je ešte viac násobnejšia radosť, ako keď hráš pre bežných divákov. Toto je taká veľmi, veľmi nefalšovaná radosť." Farebné transparenty zaplňujú priestor. Sklíčka dotykov, Malý veľký vlak. A ide sa do výšav. Vytiahne to Petra? Dala to. Vyznanie. Zatlieskame si. Zažni. Úsmev. Tak Snívaj, lietaj, bež a skáč. Pesnička pre Dievčatá. Opäť potlesk a darčeky od "inak obdarených". "Oni sa z toho veľmi tešia. Môžu s nami spievať. Je to také kolektívne. Taký zvláštny okruh energie, ktorý nás nabíja, ich nabíja."
A je tu čas na darčeky aj pre "inak obdarených". Za čo? Za krásne, pestré, originálne transparenty a mávadlá, ktoré vyrobili v zariadeniach na tento koncert. Kto ale vyberie ten naj? Porota v zložení Milan, Andrej a Karol to nemá veru ľahké. Nakoniec sa predsa len dohodnú a vyberú ten naj, ktorý si odnáša hlavnú cenu. Ani ostatní nemusia smútiť. Všetci, ktorí vytvorili plagáty, si odnášajú aspoň malú odmenu. A prečo všetci? Na to odpovedal Andrej. "Hociktorý transparent, ktorý prišiel, obsahuje v sebe energetický a časový článok. A keď si človek uvedomí a keď už doma niečo sám vyrábal a vie, že to zaberie určitý nie jeden deň, tak si to veľmi vážim, že tí ľudia odovzdali ten čas a priestor."
Pódium je pripravené pre posledného dnešného hosťa. Kto ním bude? Desmod. Muži v čiernom. Na hudobnej scéne od roku 1996. Slovenská rocková skupina si pred dvoma rokmi prešla malou búrkou. Skupina sa môže pochváliť siedmimi Zlatými slávikmi. A spevák Kuly niekoľkými titulmi OTO. Tak poďme na to. Intro a Nevrav mi. "Vždy je to taká strašne milá akcia. Mňa to vnútorne teší, preto že aj my máme v rodine chlapčeka postihnutého, teda už dospeláka. Keď máme čas, prídeme radi." Texty zo života. O láske. Vzťahoch. Chýbanie. A prichádza hit z filmu – Kométa. Pýtali ste sa na niečo? Niekto ti to povie. A potom … Možno mi odpustíš. Rozbalíme naplno rockové gitary. Hemeroidy. Táto akcia bola Vyrobená presne pre "inak obdarených". To nie je možné, aby bol už koniec. Ale je. Za neutíchajúceho potlesku sa lúči aj náš posledný hudobný hosť. Chlapci neodchádzajú s prázdnymi rukami. Odnášajú si plné ruky darčekov od detí. "My sme z toho by som povedal, že veľmi prekvapený. My to potom v skúšobni, keď cvičíme, tak to rozbaľujeme. A potom pozeráme si, čo dokážu tie decká vyrobiť. A sú to niekedy nádherné veci. Dokonca si to rozchytávame."
Posledné darčeky. Objatia. Posledné foto. A ide sa domov. S úsmevom na tvárach a veľkým ďakujem. Ďakujem pre organizátora. Všetkých dobrovoľníkov, sponzorov. Účinkujúcich, zvukárov. A ďakujem patrí aj hosťom – "inak obdareným". Podujatie bolo pre nich a o nich.
Odkaz úplne na záver od organizátora podujatia, Milana Štefánika: "Prajeme, aby o rok sme sa tu znova stretli."
Text: Júlia Platková
Foto: Igor Frimmel, Marek Vaco a Milan Maršalka
Video: Andrej Budai