Slovenská punkrocková legenda Davová Psychóza sa po troch rokoch, odkedy v roku 2019 absolvovala zatiaľ svoje posledné turné "Léto s Davofkou Tour 2019" vydáva opäť na koncertnú šnúru a to pri príležitosti svojho 35. výročia! A znovu v letnom období.
Davovka v priebehu piatich týždňov (22.7. – 27.8.) odohrá presne 20 koncertov po SK/CZ/PL, z toho sa predstaví 13 x na Slovensku, 6 x v Čechách a 1 x v Poľsku. Z 20-tich koncertov odohrá spolu 11 festivalov, 4 samostatné open air koncerty a 5 klasických klubových. Na každom koncerte bude k dispozícii samozrejme aj bohatý merchandise.
Skupina Davová Psychóza vznikla v roku 1987 a tak tento rok oslavuje svoje 35. výročie. Počas tejto tri a pol dekády jej existencie sa stala jednou z najkultovejších punkových skupín ako na Slovensku, tak aj v Českej republike. Stihla vydať päť radových albumov – Antropofóbia (1991), Svet žaluje (1992), Kríza vedomia (1998), Nakŕmte prežratých (2004) a Emancipácia (2019), jeden Split 7´´ Zeměžluč + Davová psychóza (2001), jedno DVD Davová psychóza 1998 – 2003 (2004), jeden album Greatest Shit Live (2008) a jeden split 12´´ LP Davová psychóza + Zeměžluč (2014), z ktorých vzišli desiatky kultových skladieb (najznámejšie songy sú Depresia, Spravodlivosť, Tiesňové volanie, Radujme sa, veseľme sa, Mozgová paralýza, Dnes je správny deň, Christiánia, Davová psychóza, Svet žaluje, Kult osobnosti, Agresia, Horiaca Európa, Ľudské práva, Ilúzia alebo realita, Epitaf pre Boha, Čierna diera, Tvár plná nenávisti, Echo v raji a mnoho ďalších).
Vzhľadom na to, že spevák kapely Jano Kassa dlhodobo žije v ďalekej Austrálii v Sydney, Davovka posledných 15 rokov koncertuje veľmi málo a len sporadicky a s viacročnými prestávkami. Naposledy, ako už bolo uvedené, absolvovala turné v lete 2019 (Léto s Davofkou Tour 2019) a tak najbližšie sa koncertne predstaví po troch rokoch a to znovu v letnom období tohto roku na letných festivaloch, resp. samostatných open air, či klubových koncertoch v období od 22.7. do 27.8. v rámci turné Davová Psychóza – 35 rokov Tour 2022 (1987 – 2022). Jano po troch rokoch priletel na Slovensko len v nedeľu 17. júla, od pondelka 18.7. do štvrtka 21.7. kapela absolvovala intenzívne skúšky, aby v piatok 22.7. v Banskej Bystrici v Klube 77 odštartovala už na ostro svoju energickú a nenapodobiteľnú show na pódiach pre svojich fanúšikov, ktorej sa nikdy nedá presýtiť.
Davová Psychóza sú: Jano Kassa – spev, Marcel Duchoň – gitara, Roman "Hulo" Hulín – basa a Tibor "Cibi" Adamec – bicie.
Na rok 2023 Davovka plánuje odohrať klubové turné k zatiaľ poslednému albumu Emancipácia (2019), ktoré pre pandémiu Covid-19 odkladá už od roku 2020. Či to bude v jarnom, alebo jesennom období 2023 kapela upresní po tohtoročnom letnom turné v septembri.
Viac info o kapele nájdete tu: www.davovapsychoza.sk (stránka je momentálne bohužiaľ v rozsiahlej rekonštrukcii) a www.facebook.com/davovapsychozaofficial.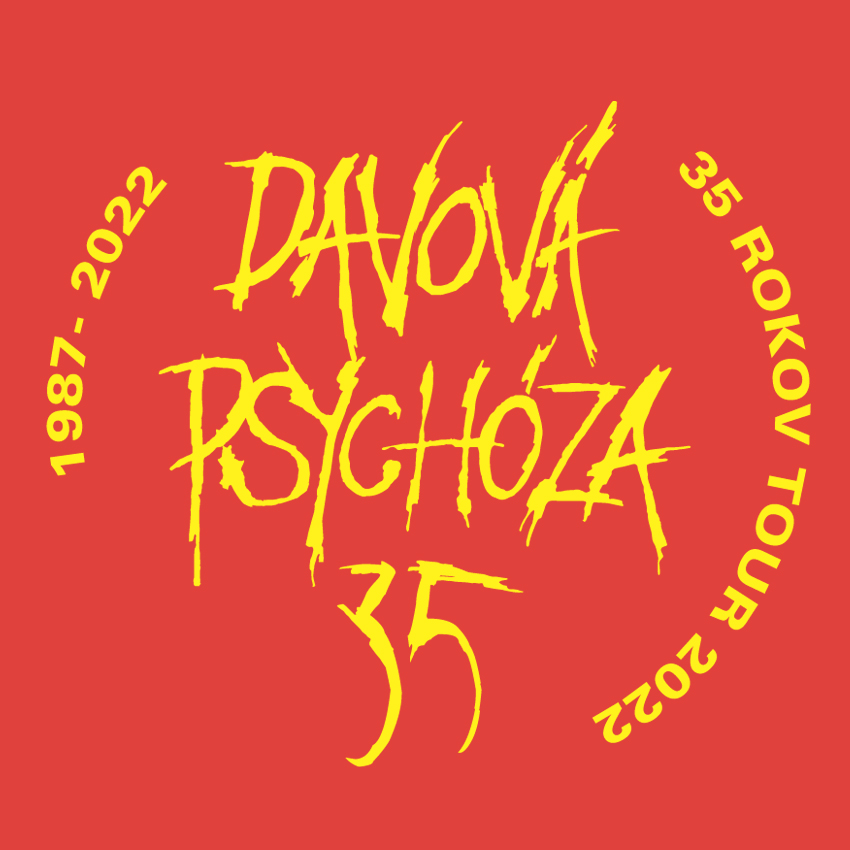 DAVOVÁ PSYCHÓZA – 35 ROKOV TOUR 2022 (1987 – 2022)
22.07. – SK, BANSKÁ BYSTRICA, Klub 77, hosť: Kotúče DM
23.07. – SK, ŽIAR NAD HRONOM, Park Š. Moysesa, Sitňan Fest
27.07. – SK, BRATISLAVA, Umelka – letná záhrada, hosť: 29. August
28.07. – CZ, PRAHA, Music Club Modrá Vopice – venkovní podium, hosť: Antisocial Skills
29.07. – CZ, TRUTNOV, Bojiště, Fest Pod Parou
30.07. – SK, TURANY, Strelnica Tibín, Festival Kulturák
05.08. – SK, TURZOVKA, Prírodný amfiteáter, Rock Beskyd Fest
06.08. – CZ, VYŠNÍ LHOTY, Kulturní areál Kamenité, Punk Picnic
11.08. – SK, PREŠOV, Stromoradie, hosť: Nerva
12.08. – PL, ZDYNIA, Lemkovska Watra, DIY Punx Fest
13.08. – SK, LIPTOVSKÝ MIKULÁŠ, KASSa, Punkrock pre Ukrajinu
18.08. – SK, ŽILINA, Smer Klub 77 – letná terasa, hosť: Prach
19.08. – CZ, PARDUBICE, RC Ponorka, hosť: Antisocial Skills
20.08. – CZ, SLANÝ, Letní kino, Valník
21.08. – CZ, BRNO, Na Střelnici, TrutnOFF BrnoON Open Air Festival
24.08. – SK, BRATISLAVA, Randal Club, hosť: Kotúče DM
25.08. – SK, TRENČÍN, Letisko, Punkáči deťom
25.08. – SK, SEREĎ, Camping, Ohy Fest
26.08. – SK, KOŠICE, Collosseum Club, hosť: Tvoi Postoi
27.08. – SK, ZLATÉ MORAVCE, Quadraton Club – open air, hostia: Primitivi, Stále nič, Ballsqueezer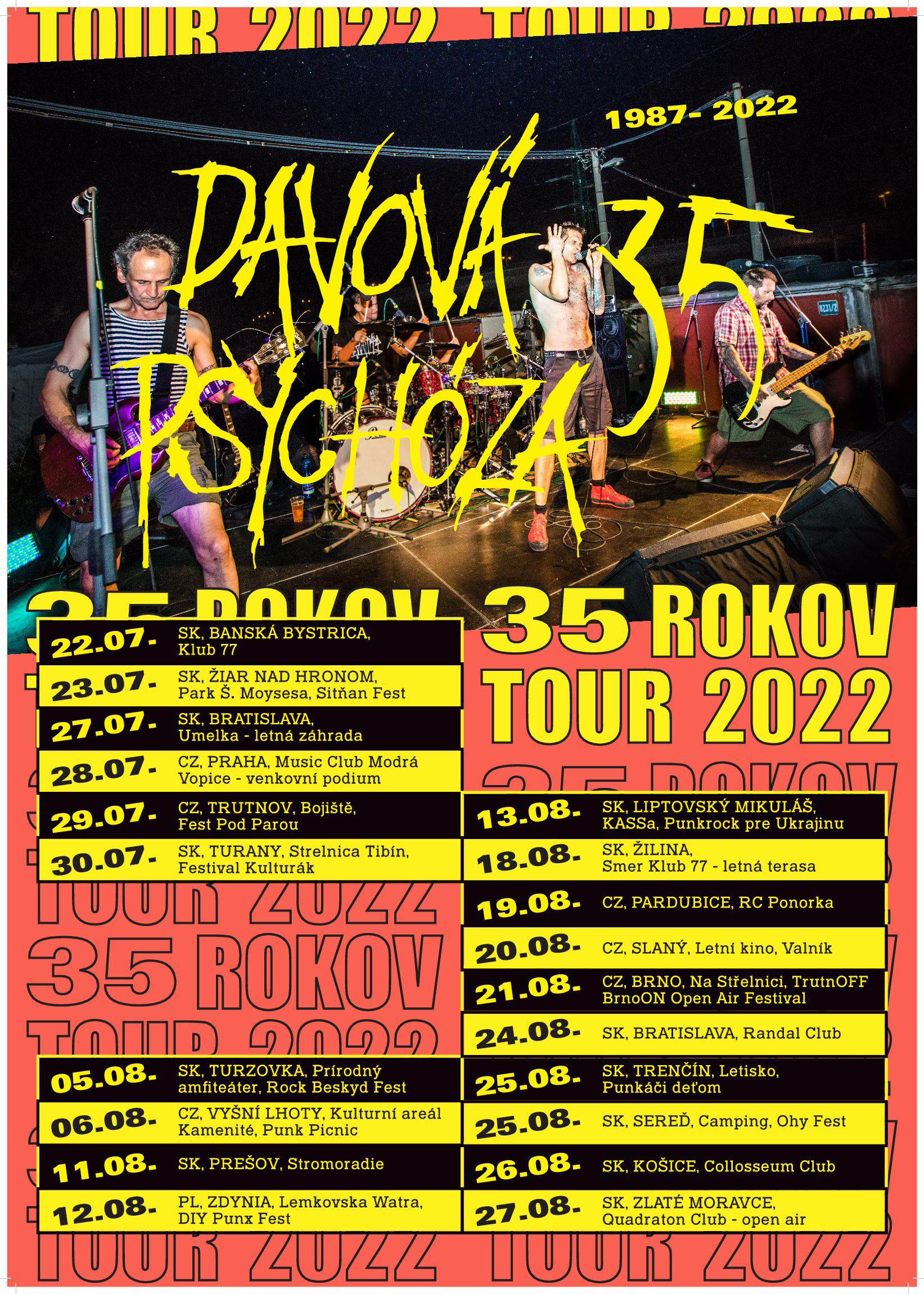 Zdroj: Roman Fecko, RF music agency
Foto: plagát – Braňo Gza Waclav, promo foto – Roman Fecko