Vypredané koncerty v prestížnejších kluboch a koncertných sálach. A dobrá správa je, že súčasťou európskeho turné bude aj Bratislava! Akua Naru sa vráti na Slovensko kvôli klubovému koncertu, aby predviedla svoje neopakovateľné flow, poéziu hiphopu a našliapanú kapelu. Koncert sa uskutoční 20. septembra v MMC v rámci novej koncertnej edície DANUBE MUSIC DAY (Grandmaster Flash, DakhaBrakha, PSH, Munly & The Lupercalians a ďalší).
Hiphop ako poézia z klubov. A do toho vstupuje ženský element s odlišným pohľadom na zdanlivo mužský svet. Akua Naru sa narodila a vyrastala v USA, kde zažila rozdelenú spoločnosť, ktorá sa brojí s rasizmom a sociálnou nerovnosťou. Sociálne témy ju neprestali zaujímať ani po presťahovaní sa do Kolína nad Rýnom, kde si našla spoluhráčov z okruhu hiphopovej aj jazzovej scény. Vo svojej tvorbe presadzuje africké korene, americké aj európske vplyvy. Presvedčená, že poézia má s hudbou spoločný nielen zmysel pre rytmus. No tak ako sa nehodí na to byť dobrým textom každá báseň, tak nie každý text je dobrou poéziou. Akua to prepája rapovaním, kde môže slová akcentovať rôznym ohýbaním. Je to jej flow, skills, ktorými dáva slovám ďalší význam. Poslucháčov vracia do minulosti a podsúva im štýly afroamerickej hudby do prítomnosti. Nie nadarmo s ňou spolupracovali hudobníci naprieč širokým spektrom ako Lauryn Hill, Busta Rhymes, Talib Kweli, Tony Allen, Mulatu Astatke či Christian Scott.
Neoficiálna ambasádorka hiphopovej kultúry pocestovala cez päťdesiat krajín so svojou šesťčlennou skupinou. Kultúrne odlišnosti sa snažila reflektovať aj na svojich nahrávkach – …The Journey Aflame (2011), Live & Aflame Sessions (2012), The Miner's Canary (2015), The Blackest Joy (2018). Témy týchto albumov pojednávajú o generačnom a medzi kultúrnom dialógu, ale aj otvorenom konflikte, v ktorom musia ženy neustále obhajovať svoje miesto. Popritom brojí proti inštitucionalizovanom rasizme, sexizme, homofóbii.
S touto motiváciou pracuje nielen v umení, ale aj v rôznych aktivitách v spolupráci s rôznymi komunitnými centrami. Občiansky aktivizmus prednášala po celom svete na slávnych univerzitách ako Harvard, Oxford, Princeton, ale upozorňovala aj na nich aj na akademickej pôde v Číne (Pivot Point College) či Sudáne – Ahfad University for Women.
Do Bratislavy príde v rámci svojho európskeho turné The Black Magnificent predviesť odolnosť a hrdosť afroamerického dedičstva v hudobnom spojení hiphopu, soulu, jazzu so živou kapelou.
Koncert Akua Naru sa uskutoční pod značkou Danube Music Day, ktorá chce prinášať na Slovensko prelomových a priekopníckych interpretov, ktorí výrazným spôsobom formovali hudobnú scénu (v oblasti zvuku, formy aj estetického vnímania).
FB: https://www.facebook.com/events/1067817923824260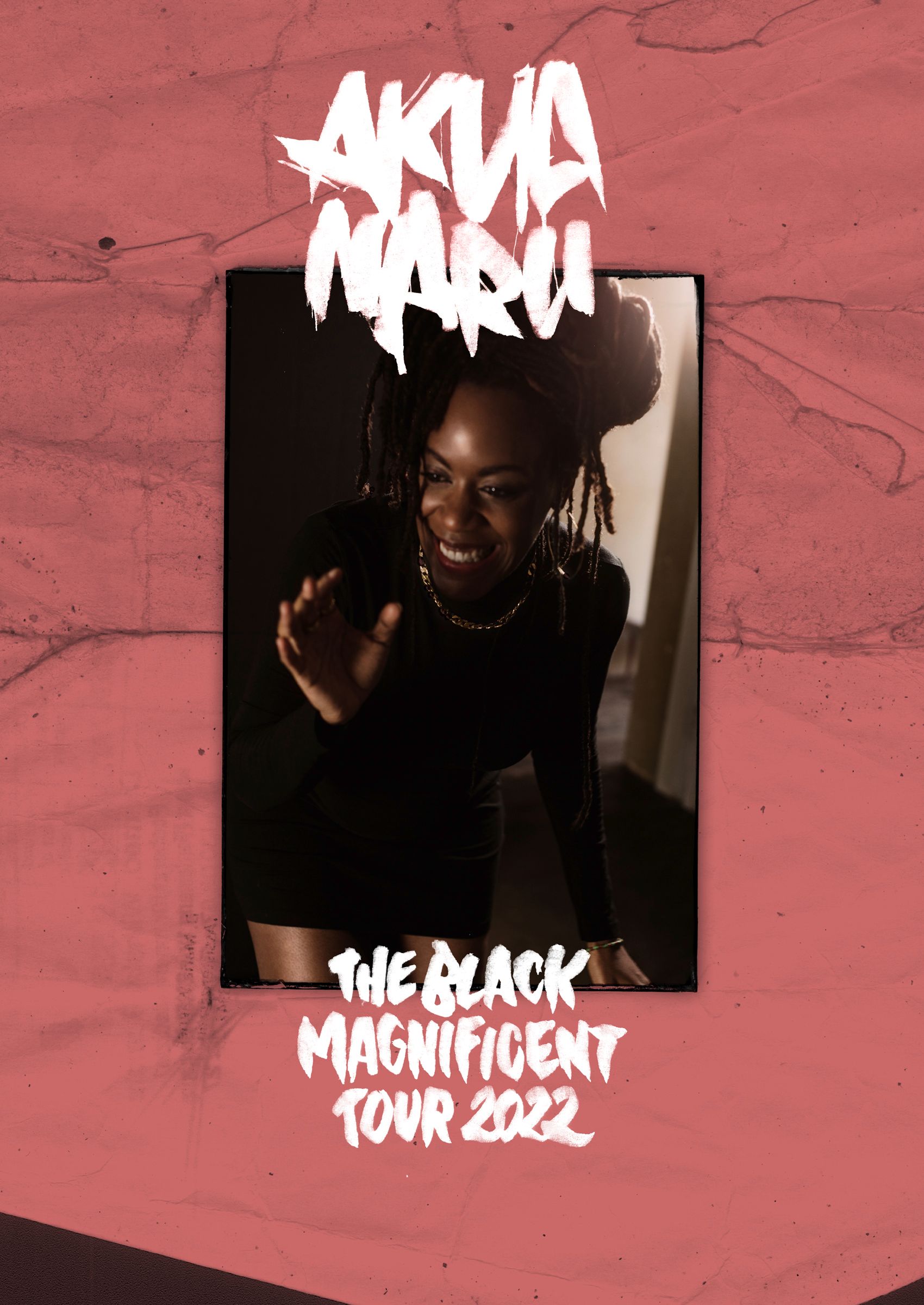 Zdroj: TS