Kozmopolitná formácia N.O.H.A. (Noise Of Human Art), ktorá zvykne vypredávať kluby po celej Európe, sa už tento piatok (9. novembra) predstaví v slovenskej metropole. Misia je jasná: opäť raz ukázať, ako má vyzerať koncert, kde sa s energiou rozhodne nešetrí.
Kapela búrajúca hranice medzi žánrami aj svetadielmi, sa tentoraz predvedie v Majestic Music Clube (MMC) a končiť sa bude až keď sa piatok bude meniť na sobotu. Bezprostredne po vystúpení hlavnej hviezdy večera totiž odštartuje DJ set, o ktorý sa postará SABOTAGE z EMONOIZBOYZ. So svojou selekciou sa k ľuďom prihovorí už aj pred koncertom.
N.O.H.A. v Bratislave určite nevynechá najväčšie hity ako Tu Café, Di Nero, Wanna Play či Balkan Hot Step, no nebude to len o nich. Len pred pár dňami vydala táto kapela nový singel. Ten dostal meno Patata Puta a ak viete aspoň základy španielčiny, určite vám ho netreba prekladať.
"Patata Puta vznikla ako text v Španielsku, kde sme sa s kapelou kúpali v mori a tak nejak spoločne napodobňovali tých gipsy trubačov, ktorí tu pesničku začínajú. Keď sme do tej vody prskali, začal z toho liezť text v zmysle Patata Puta. Aj keď toto spojenie v španielčine vlastne neexistuje, náš španielsky manažér nešetril komplimentami a hovoril, že z toho máme niečo spraviť. A tak sme napísali scenár k videoklipu, ktorý sme pred týždňom zverejnili," povedal o novinke jeden z jej autorov Philip "Noha".
Kapela si ju už vyskúšala aj na publiku, keďže sa práve vracia z malého turné po Španielsku, a potešilo ju, že si ju miestni fanúšikovia dokonca pýtali a následne spievali.
Phillip Noha sa vyjadril aj k tomu, kedy môžu fanúšikovia čakať kompletný nový album a tiež k tomu, či bude znieť podobne ako prvá ochutnávka z neho.
"S novým albumom sme celkom pozadu. Skomplikovalo sa nám to po náhlom úmrtí šéfa anglicko-nemeckého vydavateľstva, kde sme mali dosku vydať už pred rokom. Momentálne zvažujeme ponuku zo Španielska a Nemecka. Je to dlhý proces, ale na druhej strane nám to dáva priestor pre realizáciu našich nových nápadov," uviedol muzikant.
"Patata Puta je sama o sebe len jedným článkom mozaiky, z ktorého sa skladá celá štúdiová nahrávka, ale v podstate budeme verný nášmu štýlu, ktorému v Španielsku hovoria Etno bass. Z nového albumu budeme už v Bratislave hrať minimálne štyri veci a pevne verím, že sa divákom budú nové skladby páčiť rovnako ako v Španielsku," dodal český hudobník.
Okrem sponutého Philip Nohu sa so špecifickým mixom drum&bassu, world music, dubstepu MMCčku prihovoria aj MC Chevalier Henry (USA), Kaia Brown (USA), Thom Herian (ČR), Jatrabass (ČR), Felipe Machado (BRA) a Guido Lahrmann (D). Vstupenky na koncert sa stale predávajú v sieti Predpredaj.sk za uvádzaciu cenu 19 eur, na mieste si na vstup bude treba pripraviť 23 eur.
Časový harmonogram piatkového eventu:
19:00 – Doors Open
20:30 – 21:00 – SABOTAGE / EMONOIZBOYZ
21:00 – 22:45 – N.O.H.A.
22:45 – 00:00 – SABOTAGE / EMONOIZBOYZ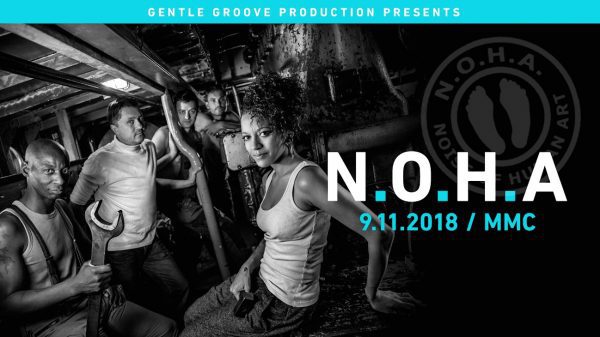 FB event: www.facebook.com/events/2123533231268253/
Link na predpredaj: https://predpredaj.zoznam.sk/sk/listky/noha-2018-11-09/
YouTube: https://www.youtube.com/watch?v=q_tiy1wVnNg
Tvorba EMONOIZBOYZ: https://www.mixcloud.com/emonoizboyz/mixtape-2017/
Zdroj: TS