Na amfiteátri v Banskej Bystrici sa 11. júna 2022 uskutoční 2. ročník benefičného metalového festivalu Angelus fest. "Metalisti sú vo väčšine prípadov dobrosrdeční ľudia, ochotní pomôcť tým, ktorí to potrebujú. To je hlavná myšlienka Angelus festu a preto sme sa rozhodli celé vyzbierané vstupné venovať Občianskemu združeniu Svetielko nádeje, ktoré sa zameriava na pomoc deťom, trpiacim onkologickými ochoreniami", prezradili organizátori festivalu.
Festival je žánrovo zameraný na slovenské metalové undergroundové kapely. Ako headliner na tomto ročníku vystúpi svätojurská úderka ČAD, ktorej budú určite zdatne sekundovať bystrickí death metaloví matadori PYOPOESY a folkovo blacková partia LUNATIC GODS s výnimočným Marthusom za bicími. Ďalšími kapelami, na ktorých vystúpenia sa môžu návštevníci festivalu tešiť, sú HC/thrashové power trio DEMONIC-EYED zo Zvolena, atmosferickí metalisti APRIL WEEPS a CASTAWAY so svojím progresívnym power metalom. Nielen pre fanúšikov metal coreu vystúpia AS THEY RISE z Nitry a metalisti preferujúci atmosferický black/doom určite uvítajú vystúpenie kapely ORKRIST. Trnavskí OHEN zahrajú svoj symfonický black metal a festival uzavrie doom metalová SAMSARA. Prestávky medzi vystúpeniami kapiel po príchode tmy spestrí ohňová show skupiny Black Evils-ShowReel.
Bližšie informácie o festivale ako aj rozhovory s členmi skupín, ktoré vystúpia na Angelus feste, môžete nájsť na www.angelusfest.com.
Angelus fest podporujú: Nadácia Tatra banky, 365.nadácia, Nadácia SPP, mesto Banská Bystrica, Pivovar Urpiner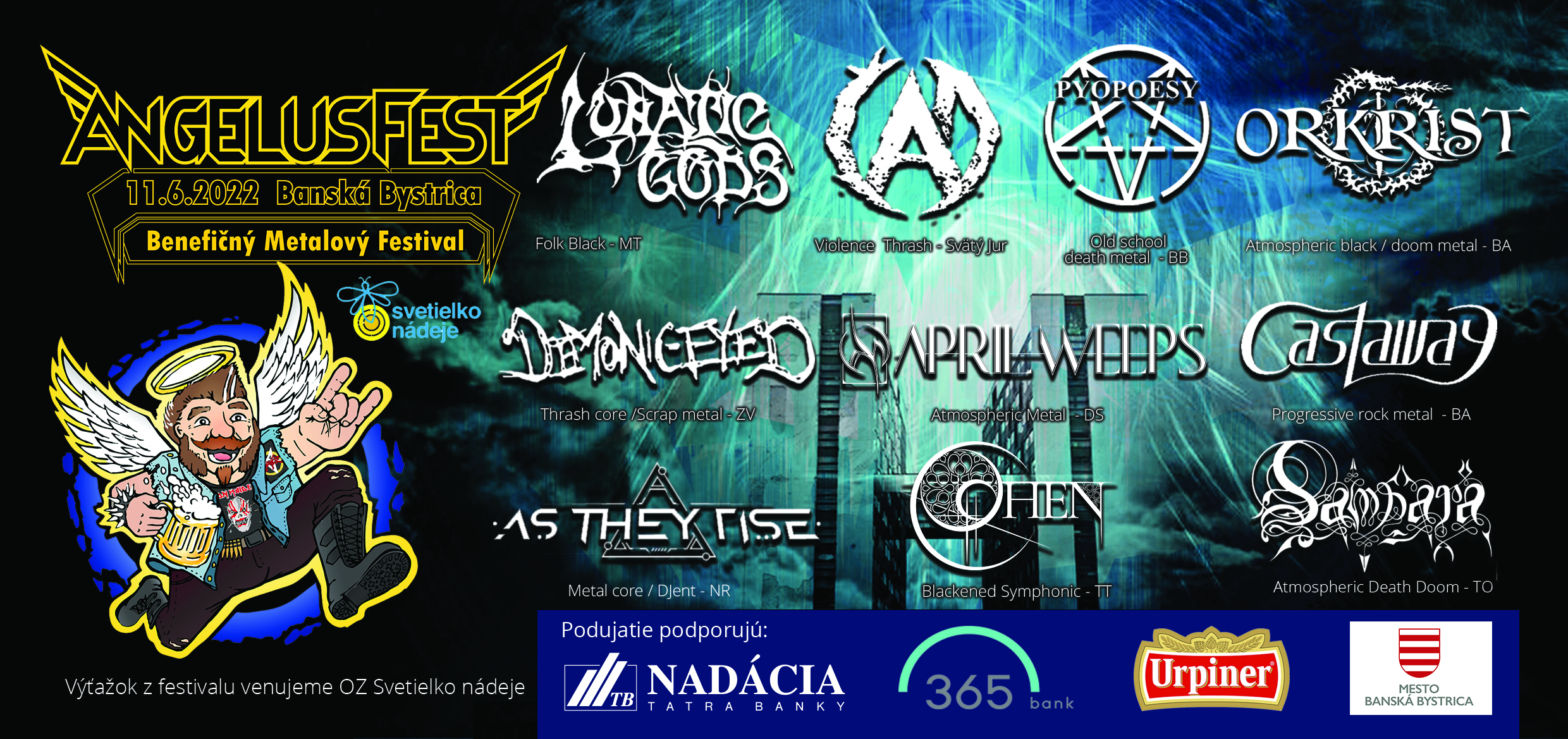 Zdroj: Organizátor