Veľkovýpravná slovensko-česká filmová rozprávka Zakliata jaskyňa sa po náročnom období nakrúcania dočká už o pár dní uvedenia do kín. Autorské dielo režisérky a scenáristky Mariany Čengel Solčanskej je inšpirované klasickými slovenskými rozprávkami a do kín prichádza ako darček k Medzinárodnému dňu detí. Predpremiéry v sieti kín Cinemax budú len v tento deň za špeciálne zvýhodnené vstupné pre detských aj dospelých divákov.
Za rozprávkou Zakliata jaskyňa stojí Mariana Čengel Solčanská, jedna z najúspešnejších slovenských režisérok a scenáristiek súčasnosti. Jej autorské dielo vzniklo po dvoch politických thrilleroch Únos a Sviňa, a nakrúcanie rozprávky bolo pre ňu aj pre štáb náročnou, ale veľmi príjemnou prácou.
"V rozprávke máte možnosť definovať svoj názor výtvarne. Žáner je posvätný, nie je možné ho ohýbať, deti sú na to veľmi citlivé. Čo môžete urobiť naozaj do dôsledkov, to je ten výtvarný rámec – spôsob a kompozícia obrazov, spôsob svietenia, to, ako radíte za sebou zábery a čo všetko obsahujú… Je to krásna práca," hovorí režisérka.
Práve výtvarné spracovanie a výpravnosť príbehu robia zo Zakliatej jaskyne filmovú udalosť najbližších mesiacov. Podľa producentov nejde ani tak o klasickú rozprávku, ale obsahuje aj prvky fantasy. Ukazuje množstvo prekvapivých zvratov, je obrazovo atraktívna a v každom momente vťahuje diváka do deja. Výpravnosť deja podčiarkujú nádherné prírodné scenérie, premyslené historické kostýmy a aj hudba z pera Ľubice Čekovskej, ktorú nahral Symfonický orchester Slovenského rozhlasu.
Inšpiráciu čerpala režisérka z klasických slovenských rozprávok ako Soľ nad zlato alebo Mahuliena, zlatá panna. Súčasťou príbehu je prirodzene téma dobra a zla a nechýbajú ani zázraky. "Dobro, krása a láska by mali víťaziť nad zlom a nenávisťou. Rozprávky sú o nádeji, že sa všetko dobre skončí. A, samozrejme, zázraky. Je to môj prvý film, v ktorom sa dejú zázraky a nadprirodzené javy a aj to je nám veľmi vlastné," vysvetľuje Solčanská.
Zakliata jaskyňa vznikla za náročných podmienok počas uplynulého roka, keď produkciu viackrát prerušila pandémia. Nakrúcanie trvalo celkovo 39 dní počas štyroch ročných období vo viacerých lokalitách na Slovensku, v Českej republike aj v Maďarsku. Herci museli zvládnuť množstvo náročných kúskov – od cvalu na koňoch, cez zábery historického šermu, pád do priepasti alebo zlaňovanie, a výzvou bola aj práca so zvieracími hercami.
Príbeh o Zakliatej jaskyni stvárnili začínajúci aj skúsení herci. Svoju prvú filmovú príležitosť v ňom dostala Martina Zábranská, ďalšiu mladú herečku Petru Dubayovú si režisérka so sebou "priniesla" z thrilleru Sviňa, spolu s obľúbeným Markom Igondom. Toho na príbehu oslovil najmä fakt, že ide o originálne dielo: "Vždy, ak ide o autorské dielo, je pre mňa spolupráca konkrétnejšia, presnejšia, hlbšia. Čiže príbehovo vytvárate nielen to, čo je na papieri."
Slovenskému obsadeniu triumfuje Tatiana Pauhofová, ktorá si v rozprávke zahrala zápornú postavu zlej kráľovnej: "Zbožňujem rozprávky a veľmi ma zaujala možnosť zahrať si zloducha. Berta je protipól všetkého dobrého, čo máme radi. Ambiciózna, neempatická, chladná a krutá macocha a kráľovná, ktorú vedie iba túžba po moci a majetku."
Vo filme si zahrali aj osobnosti zo zahraničia. Spolu s českými hercami Karlom Dobrým, Ondřejom Krausom a Dominickom Benediktom sa predstavil aj srbský herec Predrag Bjelac známy zo série Harry Potter.
Zakliata jaskyňa bude mať predpremiéru na Medzinárodný deň detí, 1. júna. Detskí aj dospelí diváci si túto filmovú lahôdku budú môcť vychutnať v sietí kín Cinemax v tento deň za zvýhodnené vstupné, pre deti je navyše pripravený malý darček. V týchto dňoch vychádza vo vydavateľstve Ikar aj rovnomenná kniha Zakliata jaskyňa.
Rozprávka bude uvedená v troch jazykových verziách – v slovenskej, maďarskej a ukrajinskej – je prvou rozprávkou s ukrajinským dabingom u nás.
Zakliata jaskyňa vzniká v produkcii spoločnosti ATTACK FILM. Koproducenom sú Rozhlas a televízia Slovenska, spoločnosť Flamesite, FilmWorx Studios, BA Production- Hungary, Dana Volákova. Vývoj a výrobu finančne podporil Audiovizuálny fond. Distribútorom na Slovensku je Garfield Film.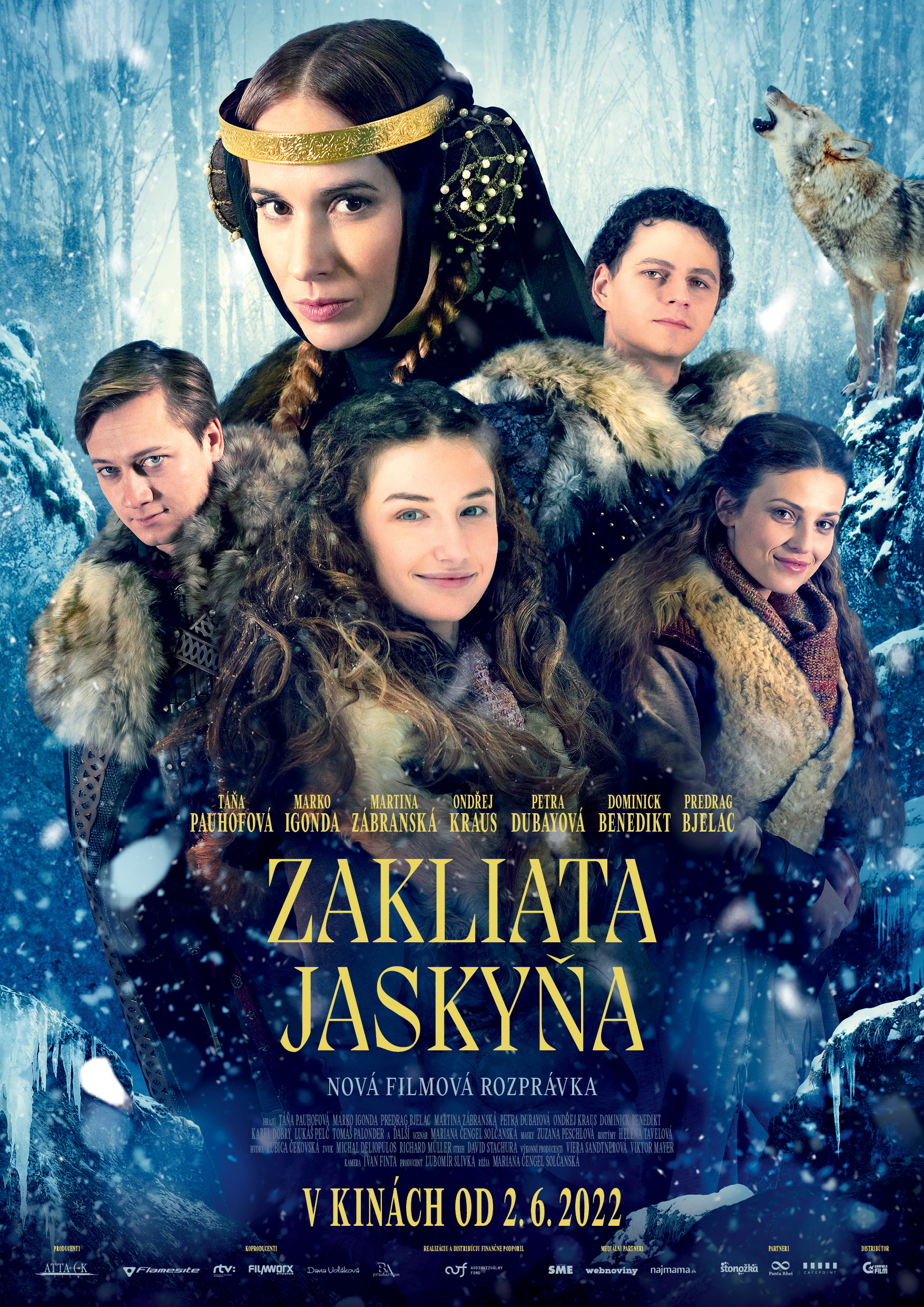 Zdroj: TS