V máji sa uskutoční jarná edícia bratislavského world music festivalu. Tentoraz aj s hudobníkmi, ktorých očakávaný koncert sa musel pred dvomi rokmi kvôli COVIDu zrušiť.
Fenomenálny akordeonista Jean Louis Matinier a vynikajúci gitarista Kevin Seddiki predstavia svoj spoločný projekt Rivages, ktorý si už, za ten čas, stihol získať množstvo priaznivcov a album výborné recenzie. Ich vystúpenie bude súčasťou tzv. Francúzskeho dvojkoncertu, kde vystúpi aj duo Iness Mezel a Nora Abdoun. Dva osobité hudobné projekty predstavia multižánrovú a multikultúrnu stránku francúzskej hudobnej scény 21.mája 2022 v Slovenskom Rozhlase.
Jean Louis Matinier & Kevin Seddiki (Francúzsko)
Jea-Louis Matinier je jedným z najvýznamnejších akordeonistov v Európe. Hoci má klasické hudobné vzdelanie, prekračuje hranice žánrov a vyhľadáva nové výzvy v podobe projektov s rôznorodými hudobníkmi. Gitarista Kevin Seddiki, je držiteľom prestížneho Európskeho gitarového ocenenia (European Guitar Award 2009) a dlhoročným spoluhráčom napríklad aj známeho hudobníka Al di Meolu. Kevin má rovnako blízko k jazzu ako aj k world music.
Jean-Louis Matinier a Kevin Seddiki vytvorili hudobný projekt, ktorého hlavnú myšlienku zhrnuli v popise "Chamber Jazz Music Opened to the World".
Výsledný album vyšiel pod názvom Rivages v renomovanom vydavateľstve ECM.
Obaja umelci už v Bratislave účinkovali s inými hudobníkmi. ich spoločný projekt potvrdzuje kvality oboch hráčov umocnené improvizačnými schopnosťami a invenciou v bravúrnej hudobnej komunikácii. K.Seddiki ju popisuje nasledovne: "Vzťah s J.L. Matinierom bol okamžitý. Zdieľame skutočne špecifické predstavy o zvuku a rytme. Dokážeme si vymieňať myšlienky, aj keď sa pohybujú vo veľmi širokej škále nálad a idiómov". Dobrým príkladom je skladba "Schumannsko", ktorá čerpá z bulharskej tradičnej melódie aj témy od R. Schumanna. Výsledok je neobyčajne nápaditý, pričom na koncertoch plynule prechádza do strhujúcich improvizácií.
Album "Rivages": Spotify
Iness Mezel & Nora Abdoun (Alžírsko, Francúzsko)
Iness Mezel spája severoafrickú tradíciu Berberov (Kabyle) z Alžírska s prvkami soulu, funku, rocku a jazzu. Má za sebou množstvo úspešných koncertov a výnimočné postavenie na medzinárodnej scéne ako všestranná multižánrová speváčka a skladateľka.
V Bratislave vystúpi v komornom duu s perkusionistkou Norou Abdoun. V ich podaní sa berberská hudba a africké rytmy menia vplyvom nevšedného prístupu. Spevácke frázovanie a netradičný prejav Iness Mezel dodávajú piesňam nádych jazzu či blues.
Nositeľka ocenenia Kora Award "Best Singer of Africa/ Music Awards" za rok 1998 vydala niekoľko albumov. Ten s názvom "Beyond the Trance" vznikol v spolupráci s gitaristom Justinom Adamsom (známy ako spoluhráč Roberta Planta).
Album "Beyond the Trance": Spotify
Jean Louis Matinier & Kevin Seddiki (F) a Iness Mezel & Nora Abdoun (F)
21.5. 22 / 19.00, Slovenský Rozhlas, Štúdio 2, Mýtna 1, Bratislava
PREDPREDAJ – TU
Informácie o jarných podujatiach WMFB: https://worldmusicfestival.sk/program/
Koncert vznikol v spolupráci WMFB s Francúzskym Inštitútom na Slovensku a Rádiom Devín. Podujatie z verejných zdrojov podporil Fond na podporu umenia.
Ďakujeme za podporu partnerom a mediálnym partnerom.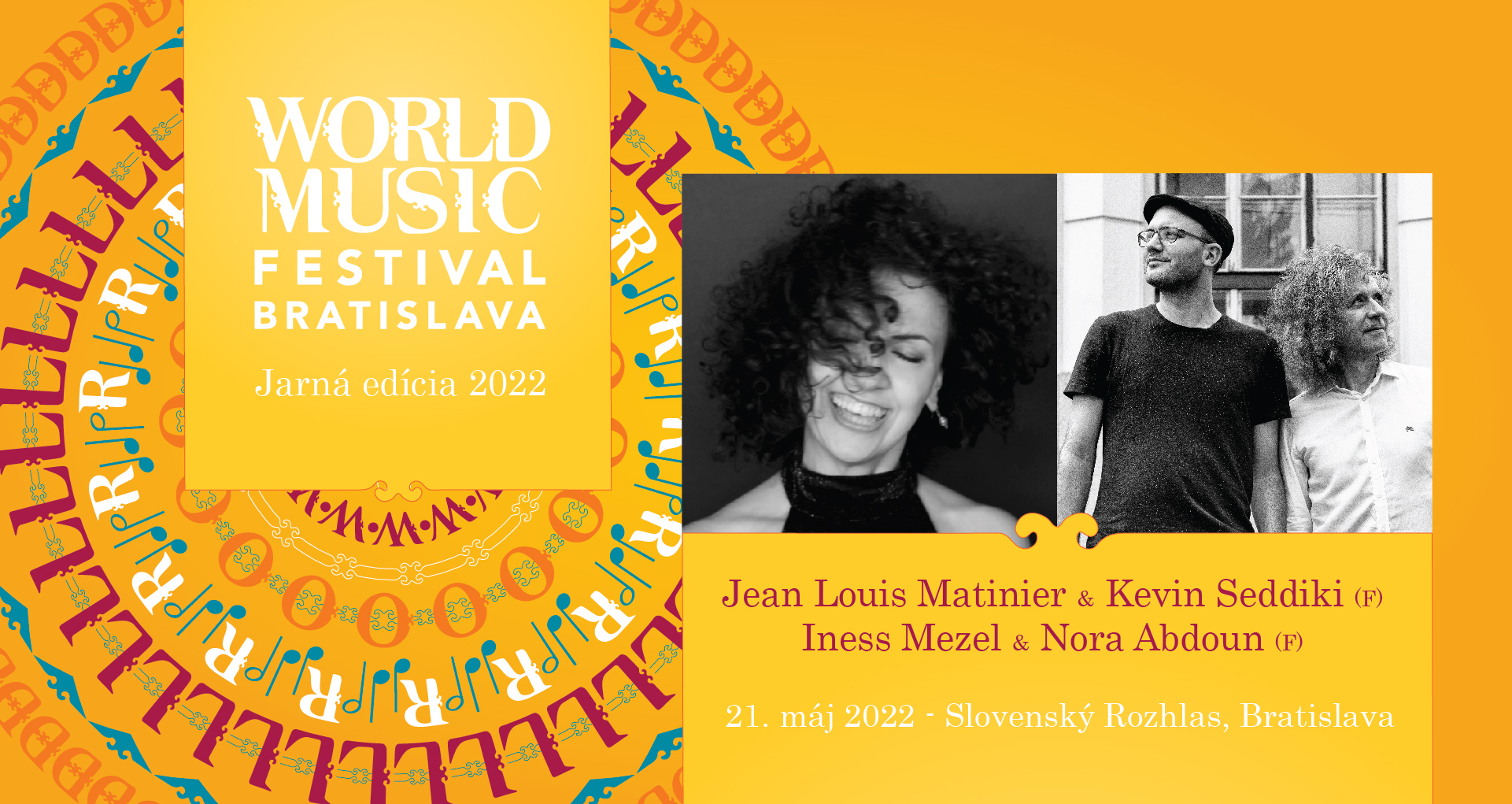 Zdroj: PR World Music Festival