Rock Line 1970-1974 – to je již čtvrté pokračování úspěšné řady kompilací Supraphonu, mapující vývoj československého big beatu, beatu a rocku na přelomu 60tých a 70tých minulého století. Po Beat Line 1967-1969 (2016), Big Beat Line 1965-1968 (2017) a Beat (Al)Boom 1968-1970 (2018) se – jak už z názvu vyplývá – tentokrát dostáváme do první poloviny 70tých let, zejména k poslednímu beatovému festivalu v roce 1971.
Celkem 36 skladeb šestnácti československých kapel od Flamenga, Collegium Musicum, Blue Effect přes Progress Organization, Jazz Q až třeba po Bluesmen či Prúdy tak ukazuje cestu od melodického big beatu k razantnímu elektrickému rocku či rhythm and blues a dál. Podívejte se na video teaser: http://y2u.be/8_fr1ItshJ4
Tak jako kompilace předchozí, i Rock Line je hudebním zrcadlem doby. Doby už však zdaleka ne tak "růžové", jako byl konec šedesátých let. Nástup normalizace se mimo jiné nesl ve znamení utahování šroubů stranou a vládou. Mnoho muzikantů emigrovalo, jiní se ukryli do barových kapel, další se pokusili o sólovou popovou kariéru nebo se přidali do doprovodných souborů těch, kterým se to podařilo. Stále byli ale i tací, jenž věrně setrvali u beatové muziky, která se postupně transformovala ve formálně komplikovanější a instrumentálně náročnější rock, občas propojený s prvky vážné, jazzové nebo lidové hudby. Tedy aspekty tvořící rock nově progresivním, pro fandy přitažlivě náročnějším na poslech.
I přes všechny překážky, jako byly vynucené proměny názvů kapel a textů písní do češtiny, zkrácení účesů či méně avantgardní oblečení, stále přetrvávaly vzácné ostrůvky tolerance, přispívající k vcelku důstojné existenci. Napomohl tomu i fakt, že v edičních plánech Supraphonu a Pantonu zůstaly z uvolněných let 1968 až 1969 některé dramaturgicky předjednané tituly. Samozřejmě, že ne vše se skutečně podařilo realizovat, ale minimálně několik nahrávek s nepochybnou historickou super hodnotou bylo prosazeno díky lidem jako byl například producent Hynek Žalčík.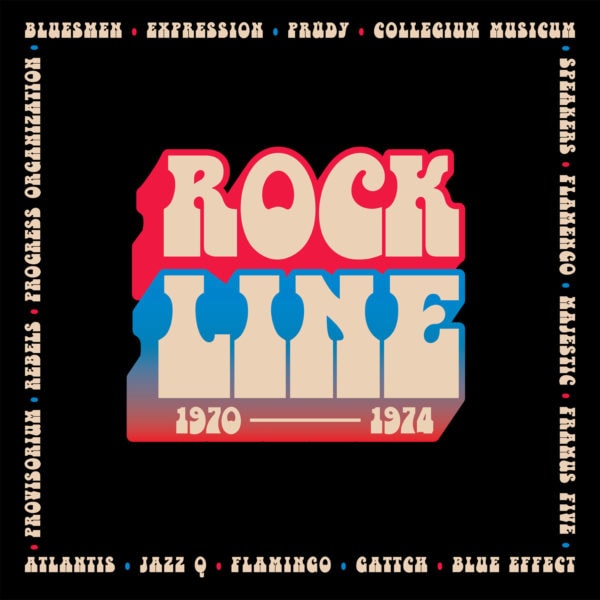 Rock Line zvětšiny reflektuje kapely hrající na 3. a posledním československém beatovém festivalu, který proběhl ve dnech 24. až 26. dubna 1971 v pražské Lucerně. Ač byl oproti předchozím ročníkům již organizačně notně svázán režimem, i tak se během něj událo mnoho hudebně energického, objevného a hlučného. Z vystupujících na tomto dvojalbu nenabízíme jen skladby karvinského Strakatého másla a bratislavských Ex-We Five, bohužel nexistující či nedostupné.
Vedle tradičních největších center v podobě pražského a bratislavského rockového dění tu oprávněně najdete různě početné zastoupení z Brna, Ostravy, Olomouce či Nových Zámků. Tam všude stále ještě velmi mladí zpěváci a instrumentalisté dokazovali, jak obrovský a leckdy kvalitou mezinárodně srovnatelný pokrok učinili. V některých případech se právě v tomto období vydané singly či alba dokonce staly jedněmi z absolutních vrcholů domácí rockové scény. Její perspektiva ovšem ve zbytku sedmé dekády rozhodně nebyla příliš optimistická. Mnohdy tak šlo o kapelové labutí písně, dnes s nádechem kultovnosti, viz Kuře v hodinkách, Město ER, Barnodaj, Provisorium aj.
Ať už však byla budoucnost jakákoli, na Rock Line se objektivně zrcadlí stav české rockové muziky začátku 70tých let. Stav, který při pozorném poslechu vybraných šestatřiceti písní, ukazuje, že zdejší rocková scéna se mohla směle srovnávat s tou světovou. Že nadějná očekávání a přísliby leckdy už bohužel nedošly svého naplnění, je už jiný příběh…
Zdroj: SUPRAPHON a.s.