SICK OF IT ALL jsou nehynoucí legenda. Legenda, která nepolevuje, legenda, která zbytku scény furt ukazuje záda. Hardcore-punková čtyřka okolo bráchů Kollerových to hrne od r. 1986 bez zásadních změn nehledě na to, co ve světě běží, aniž by to na výkonech kvartetu z New Yorku bylo znát. Poctivost, čistota. SICK OF IT ALL žijí podle standardů své vnitrní vize, a to není samozřejmost, je to součást jejich DNA. I proto se u nich za 36 let vyměnili jen dva členové.
Ten neuhašený dračí oheň (klidně ho nazvěme zdravou nasraností), co SICK OF IT ALL žene vpřed, rozdmýchává frustrace. "Na rozdíl od kapel, které zpívají, jak celou noc paří, stárnutí s naším poselstvím funguje dobře. Svět má tolik hrozných aspektů, které pro nás jsou rok od roku zřejmější a které jsme předtím neviděli nebo nechápali. Tohle denně naši frustraci podněcuje. Žijeme už dost dlouho na to, abychom ten Matrix prohlédli, a díky bohu, že máme tuhle kapelu, že to můžeme vše ventilovat," říká bubeník Armand Majidi.
Poslední, již dvanáctá deska "Wake the Sleeping Dragon!" to potvrzuje. Energie, kterou ve svém věku do svých úderných riffů a rytmů dávají, je neuvěřitelná i ve čtvrté dekádě jejich kariéry. Jejich hardcoru se prostě dá vždy bezvýhradně věřit. Přesto hledí do budoucnosti a do svého charakteristického, tradice držícího zvuku vpustili silnější melodie a hymničnost.
SICK OF IT ALL od svého vzniku mnohokrát procestovali svět, hráli před statisíci diváků a přesto v sobě pokaždé naleznou dost bouřlivosti, aby jejich deska byla opět událostí. SICK OF IT ALL jsou majákem hardcore kontinuity, integrity a odhodlání. SICK OF IT ALL nehrají hardcore, SICK OF IT ALL jsou hardcore!
Společnost SOIA budou dělat pankáči SVETLANAS a hárdkoristé DEVIL IN ME a ETERNAL STRUGGLE.
SICK OF IT ALL, DEVIL IN ME, SVETLANAS, ETERNAL STRUGGLE
19. 11. 2022 – Praha, Palác Akropolis
FB event: https://fb.me/e/3J3k62aQ6
e-TICKET: https://obscure.cz/cs/tickets/detail/id/520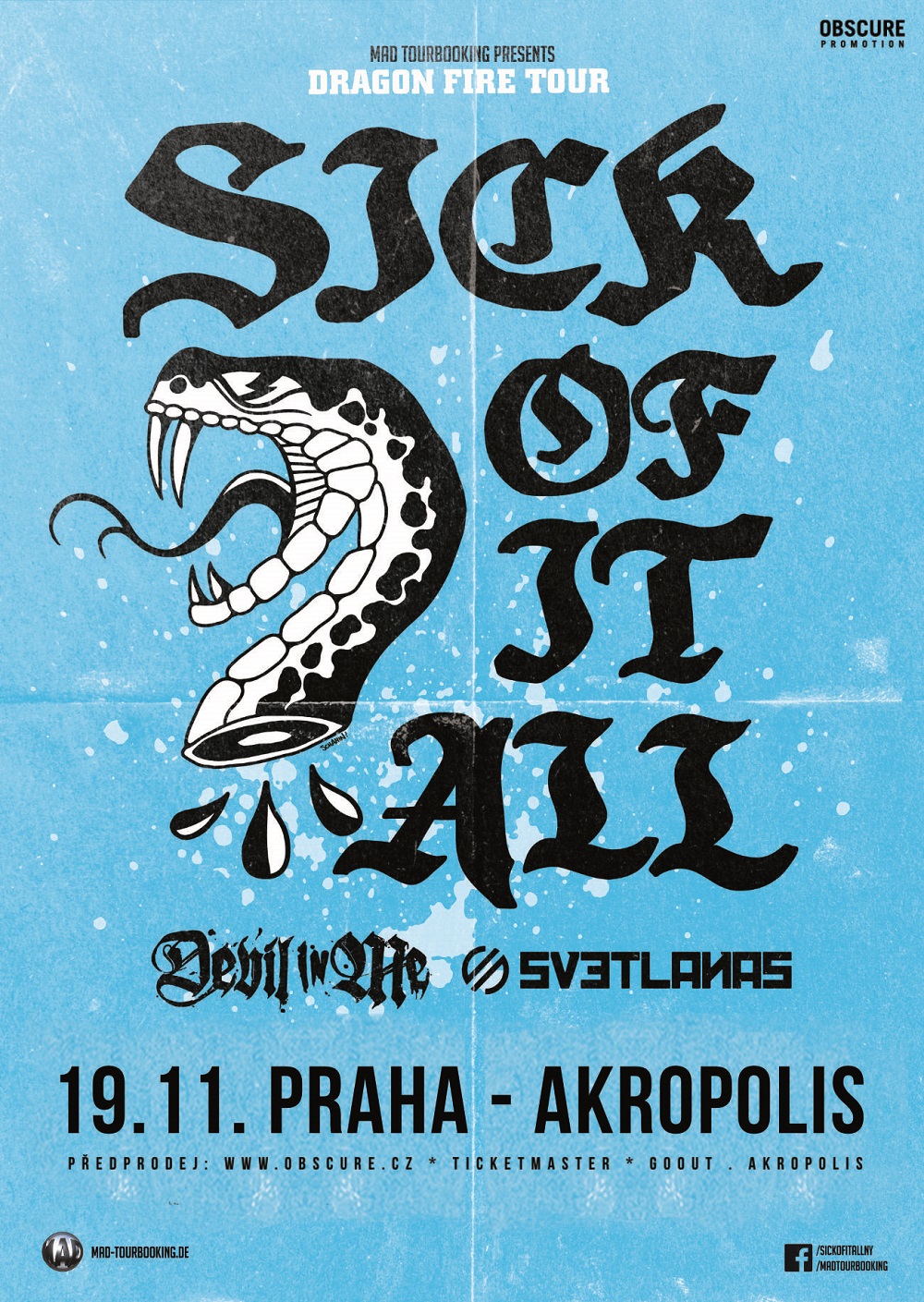 Zdroj: Obscure Promotion