Začiatky skupiny The Tricksters siahajú až do roku 2006 keď vznikla kapela "E&I" (neskôr "Kvet Života").
Zaujímavé na tejto kapele bolo to, že nikdy verejne nevystúpila, napriek tomu hrala stále iba naživo. Kapela sa vyznačovala so svojou ťažkou psychedéliou a improvizáciou, ale aj tím, že všetky nahrávky kapely sú naživo zaznamenané. Medzi improvizovanými inštrumentálkami sa v Kvete Života urodili aj spievané skladby, ako napríklad slovenská "Tajomstvá" a aj anglická variácia na "3, 2, 1 štart" kompozícia "Waste another day".
Tricksters hrajú až tri skladby tejto kapely: "Čas", "Diaľnica ku hviezdam" a významnú skladbu "Do krajín". Je to zároveň aj najstaršia skladba v repertoári. Má korene ešte v 90 -ich rokoch, vo fiktívnej kapele zo základnej školy "Thunder and flashes". Táto skladba bola znovu nahratá v úplne inej podobe a je aktuálnym singlom kapely The Tricksters.
Kvet Života boli:
Richard Piroška – gitara a spev,
Katarína Štvrtecká – spev a basgitara ,
Matúš Kuba – bicie,
P. – gitara,
neskôr Peter Satina – klávesy,
Zuzka Pirošková – klávesy a spev.
Neskôr sa duša kapely dostala aj na pódiá , ale už v značne zmenenej zostave. Samozrejme aj pod novým menom "Čaro Okamihu".
Čaro Okamihu bolo v tom , že zloženie kapely sa líšilo na každom jednom koncerte a nahrávke. Kapela sporadicky vystupuje a de facto nikdy nekončí.
Paralelne s týmto zoskupením vznikla aj kapela "Sex Pre Panenstvo" Tá vydáva album ktorý sa volá "Doba Jalová", odkiaľ pochádzajú skladby "Seniori" a "Príchodovka", ktoré hrajú takisto Tricksters naživo.
Sex Pre Panenstvo boli:
Marek Kučera – bicie, spev a produkcia,
Katarína Šrvrtecká – spev a basgitara,
Ján Coss – spev a gitara,
P. – spev a gitara.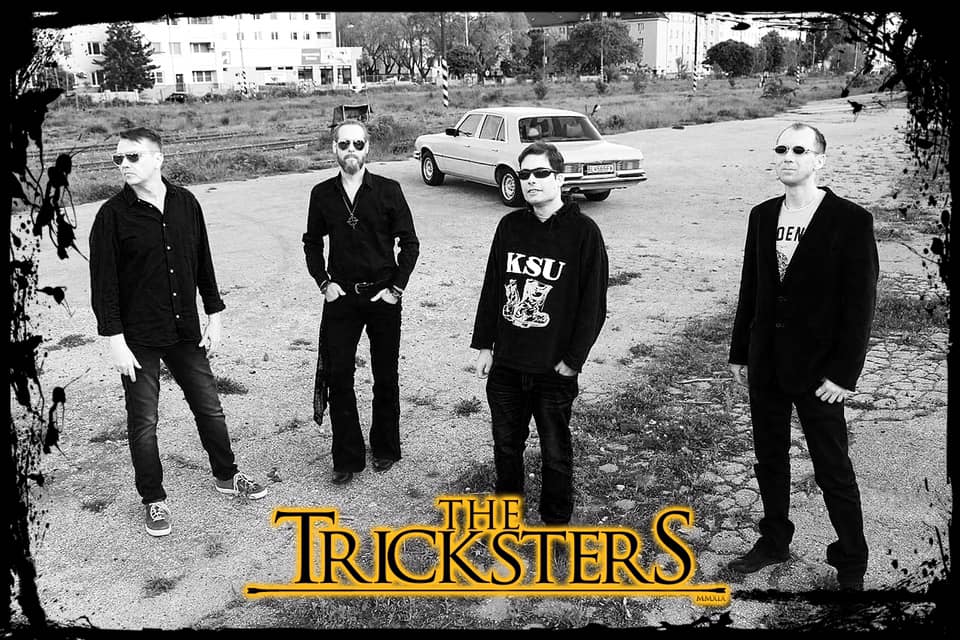 Neskôr popri "S. P. P." vznikla ďalšia kapela, odkiaľ Tricksters hrajú hit "Televízia". Banda sa volá "Jolanin Rozparock", známa predovšetkým svojim hitom a klipom "Kríza" či ostrou kritikou cirkvi ako takej pod názvom "Svätá Stolica".
Protest rocková úderka hrá v zložení: Peter Seki Sekanina, M. P. a Marek Blažíček.
Všetky vyššie menované kapely sa neskôr rozpadli a na ich troskách vzniklo ďalšie zoskupenie – The Tricksters.
Maroš Plávka – spev a gitara,
Tomáš Varga z kapely TZB – basa,
Slávo s neznámym priezviskom – gitara a spev (takisto priniesol jednu skladbu "Tak Bež"),
Doktor Juraj – sólová gitara,
Zsíros – bicie.
Tomáš priniesol z TZB aj ich najlepší song "Posledná Minúta" a kapela nadviazala na predošlé v skladbách "Bohyňa" a " Nízky prelet nočným mestom", vytvára veľmi ojedinelý zvuk , keď mixuje 4 rôzne štýly psychedelický rock, punk, metal a pop.
Je to vlastne výber z toho najlepšieho za poslednych 15 rokov okolo M. P. plus ďalšia vlastná tvorba. Všetky menované skladby sa dajú vypočuť na YouTube.
Zdroj: TS