Tak už se to blíží! 16. ročník Basinu je tu za čtvrtroku a my jsme úplně bez sebe, že se nám do sestavy podařilo dostat německou úderku SODOM. Jedna z kapel německé thrashové "velké čtyřky" patří k nejdéle působícím (založeni r. 1981) a nejvlivnějším kapelám žánru. Další zahraniční kapelou jsou ROLO TOMASSI. Mladí progresivisté v čele s kouzelnou Evou Spence hrají něco mezi moderním metálkem a éterickými rádiovými hity. To zní šíleně, že? Žánrově nezařaditelní Angláni čerpají z mathcore, dreampopu i experimentálního rocku- skvělá a zajímavá kapela!
Do šestice tu máme kvartet skupin z tuzemska. COCOTTE MINUTE s charismatickým Zellerem patří na špičku českého crossoveru už od první desky, šťavnatý nariffovaný rock GAIA MESIAH sdílí podobnou vizi s kapelami jako Faith No More, Jane's Addiction nebo Deftones, metalický crust n' roll ostrafskych MALIGNANT TUMOUR vychází z muziky Motorhead a nakopává "píp", trhá "píp" a hlavně jede vždy naplno! Na závěr přidáváme kapelu nesoucí tu nejčistší esenci gotického rocku, která před 30 lety vydala svou albovou prvotinu- XIII. STOLETÍ!
Zůstaňte naladěni, další kapely budou přibývat!
BASINFIREFEST 2022
23.– 26. 6. 2022 // Spálené Poříčí
Vstupenky: https://basin.cz/tickets
FB event: https://facebook.com/events/672670189922570
Aktuálně potvrzené kapely: Annisokay, Blind Guardian, Cocotte Minute, Death To All, Dog Eat Dog, Epica, Frog Leap, Gaia Mesiah, Grave Digger, Gutalax, Heilung, Hentai Corporation, Infected Rain, Jinjer, Malignant Tumour, Moonspell, Obscura, Pro-Pain, Rolo Tomassi, Rotting Christ, Saxon, Sodom, Stellaris, Steve'n'Seagulls, Suicide Silence, Symphony X, Tublatanka, Van Canto, Vltimas, Wednesday 13, XIII. století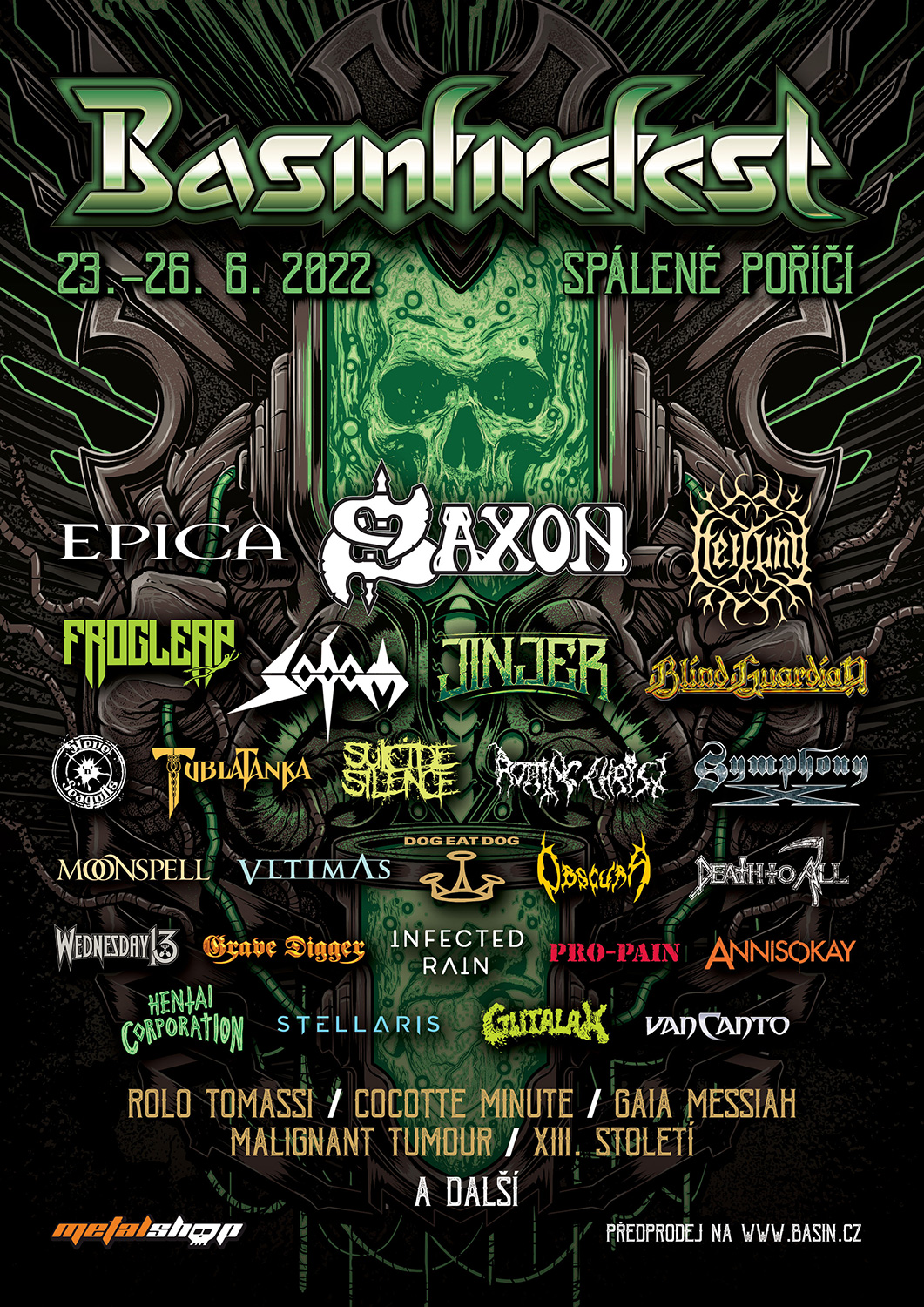 Zdroj: Obscure Promotion