Putovní Ultima Ratio Fest se po loňském úspěchu vrací do Čech. Jeho hvězdná sestava zaštítěná jmény PARADISE LOST a PRIMORDIAL tentokrát melancholii všech barev nedoveze do Brna, ale přímo do metropole.
PARADISE LOST plamen anglického gothic doomu udržují už 35 let, a to i přesto, že se nikdy neváhali vydat na nové cesty a během kariéry si prošli mnoha žánry. Po svých deathmetalových začátcích vytvořili ikonické a žánr formující desky "Gothic", "Shades of God", "Icon" a "Draconian Times", aby pak nahráli mainstreamovější "One Second" s vlivy synthpopu, darkpopové album "Host" nebo elektronické vlivy vstřebávající desku "Symbol of Life". Zásadní jsou ale jejich majestátní gotické momenty, jimiž se stali ne jen jednou z nejvýraznějších metalových kapel, ale také tou gotický subžánr definující a tou, co doom metal pozvedla na novou úroveň. Proto jsou průkopníci Holmes, Mackintosh, Aedy a Edmondson i headlinery letošního festivalu.
Druhým tahounem turné jsou irští PRIMORDIAL. Vznikli v roce 1991 v Dublinu, takže též překročili svou třetí životní dekádu. Původně patřili k druhé vlně black/death/doomu, která se na přelomu 80. a 90. let rozmohla po celém světě, ale přidali k ní prvky irské tradiční hudby a kulturní, historické vlivy. Ani na svém právě vydaném, desátém albu "How It Ends" neztratili nic ze své vitality a energie, takže se fanoušci mohou těšit na hudbu pro temnou noc duše s jejich klasickým soundem tvořeným mixturou keltského folku a black metalu.
Finští melodici OMNIUM GATHERUM u nás hrají pravidelně a pokaždé na pódium vlítnou s maximální intenzitou, takže sextet z Kotky vedený Markusem Vanhalou (též INSOMNIUM) odehraje živelný koncert jako by se jednalo o jeho premiéru. Omnium se ale oproti svým žánrovým rivalům (též Insomnium) nebojí šlápnout na plyn, ani použití progresivnější pasáže, čímž spolu s neomšelými, ale pro Finy opět signifikantními melodiemi neopakují vyřčené, ale objevují v melodickém death metalu neprošlapané cesty i se zachováním vlastního rozpoznatelného rukopisu.
A ten mají i HARAKIRI FOR THE SKY, kteří jsou jedni z nejvýraznějších představitelů post-blackmetalové vlny. Ve svém zvuku sice prvotní depresi a hysterické napětí už vyměnili za melodicky harmoničtější a náladami prosvětlenější polohy, ale plochy plné atmosfér naplněné temnými a zádumčivými tóny melancholie přetrvaly. Zklidněné atmosférické post-rockové plochy tu náladou v sobě s blackovou ostrostí nachází neuvěřitelné souznění, o čemž svědčí i řada oceňujících nominací.
časový rozpis ULTIMA RATIO FEST 2023
17:30 doors
18:20 – 19:10 HARAKIRI FOR THE SKY
19:30 – 20:20 OMNIUM GATHERUM
20:40 – 21:35 PRIMORDIAL
22:00 – 23:00 PARADISE LOST
Ultima Ratio Fest 2023: PARADISE LOST, PRIMORDIAL, OMNIUM GATHERUM a HARAKIRI FOR THE SKY
6.10. 2023 – Praha, MeetFactory
FB event: https://fb.me/e/AEAZEacZ
e-TICKET: https://obscure.cz/cs/tickets/detail/id/545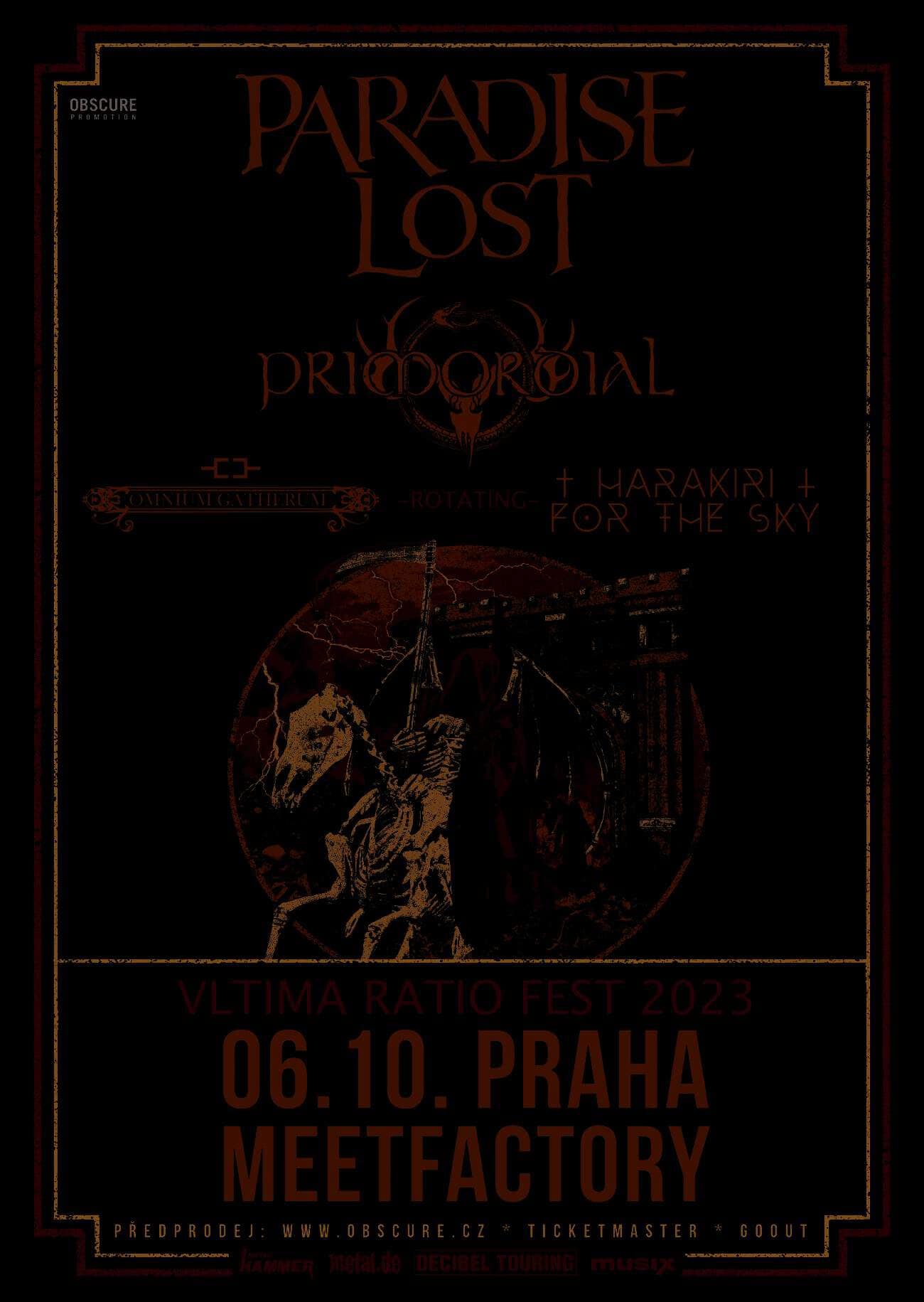 Zdroj: Obscure Promotion