Při zaměření se na nejsoučasnější pohledy, co se dá s heavy muzikou dělat a kam se vyvíjí, musíme si předtím říct jedno: na začátku byli Meshuggah. Bavíme-li se o progresivních přístupech, které do metalové muziky vnesly polyrytmii.
Švédská eskadra tím nastupující generaci muzikantů otevřela dveře pro další modifikace a směry. Jedni z těch, co jen nenásledovali, ale objevovali vlastní cesty, byli FellSilent (2003-2010). V nich se potkali dva djentové velemozky: Acle Kahney a John Brown. Acle Kehney založil Tesseract, John Brown zas Monuments. Tehdy se ale novému směru ještě neříkalo djent, stačilo jednoduché math metal.
Rytmičtí konstruktéři MONUMENTS tak jsou jedna z prvních djentových kapel. Zatímco Tesseract se vydali do líbivějších vod a silně využívají ambientních podkresů, Monuments stále pevně stojí na precizní kytarové práci riffostroje Johna Browna, který se momentálně nachází před vydáním čtvrtého alba. A i když rok stará deska "Phronesis" lehce obrousila hrany a posunula svůj zvuk do 'příjemnější' polohy, Brownovo experimentování s přísně časovanými groovy a originálními kytarovými motivy zůstalo.
Přesto se možná část fanoušků o budoucnost kapely či celého djentování obává. Odpověď je nasnadě. Nechť si o vývoji každý udělá představu poslechem nového singlu "Animus" (https://youtu.be/Pi9bOkXE6lI). Ten představuje nejen novou sestavu, do níž se vedle novice za mikrofonem vrátil bubeník Mike Malyan, ale v nejlepším možném úhlu dává najevo, že do důchodu se nikdo nechystá. John Brown a jeho Monuments tedy určitě ne.
A jelikož se Monuments po vydání "Phronesis" v Čechách neukázali, důvod jejich návštěvy je s připravovaným materiálem prozaický. Navíc s více než vhodně zvoleným doprovodem.
S Monuments přijedou jejich angličtí kolegové HEART OF A COWARD, kteří jsou přes svého bubeníka s FellSilent, a tedy i Brownem, rovněž spjati. I HoaC sjíždí progresivní proud, ale mohou sem tam připomenout Textures nebo třeba Townsendovy projekty včetně Strapping Young Lad.
Třetími do prog-sestavy jsou instrumentalisté I BUILT THE SKY točící se kolem australského kytaristy/producenta Rohana Stevensona. Tenhle "konkurent" Pliniho sponzorovaný kytarami Kiesel má pod jménem IBtS právě vydánu třetí desku. A jelikož je živé hrání pro trio největší zábavou, o kterou se v minulosti už dělili s The Dillinger Escape Plan, Twelve Foot Ninja, Intervals, Plini, Between The Buried and Me a trilionem dalších, můžeme jásat, že tu konečně máme v parádní sestavě i u nás!
MONUMENTS
Animus 2020: https://youtu.be/Pi9bOkXE6lI
https://www.youtube.com/watch?v=W4sEXcolEy0
https://www.youtube.com/watch?v=sMRIpTcQRhg
https://www.youtube.com/watch?v=uVXSXr8to9k
https://www.youtube.com/watch?v=6Xw8a7-iBpA (playthrough)
https://www.youtube.com/watch?v=sTn29WvGpEU (playthrough)
Heart Of A Coward
https://www.youtube.com/watch?v=yQPuaK-RlV4
https://www.youtube.com/watch?v=oSf5Jfv1E5E
https://www.youtube.com/watch?v=C-h3c2VnA7A
https://www.youtube.com/watch?v=zSZot6o0tY0
I Built The Sky
https://youtu.be/1ijP4BsPT_g
https://youtu.be/OTBdO18zmxQ
https://youtu.be/ZDn43hVeBjA
https://youtu.be/km1Txl7InB0
https://youtu.be/9pRQ9sGhkuQ
Předprodej viz výše, dále pak v sítích Ticketmaster a na předprodejní kase v Lucerna Music Baru.
MONUMENTS, HEART OF A COWARD, I BUILT THE SKY
19. 2. 2020 – Praha, Futurum
FB event: https://www.facebook.com/events/1201512853390849
e-TICKET: https://obscure.cz/cs/tickets/detail/id/320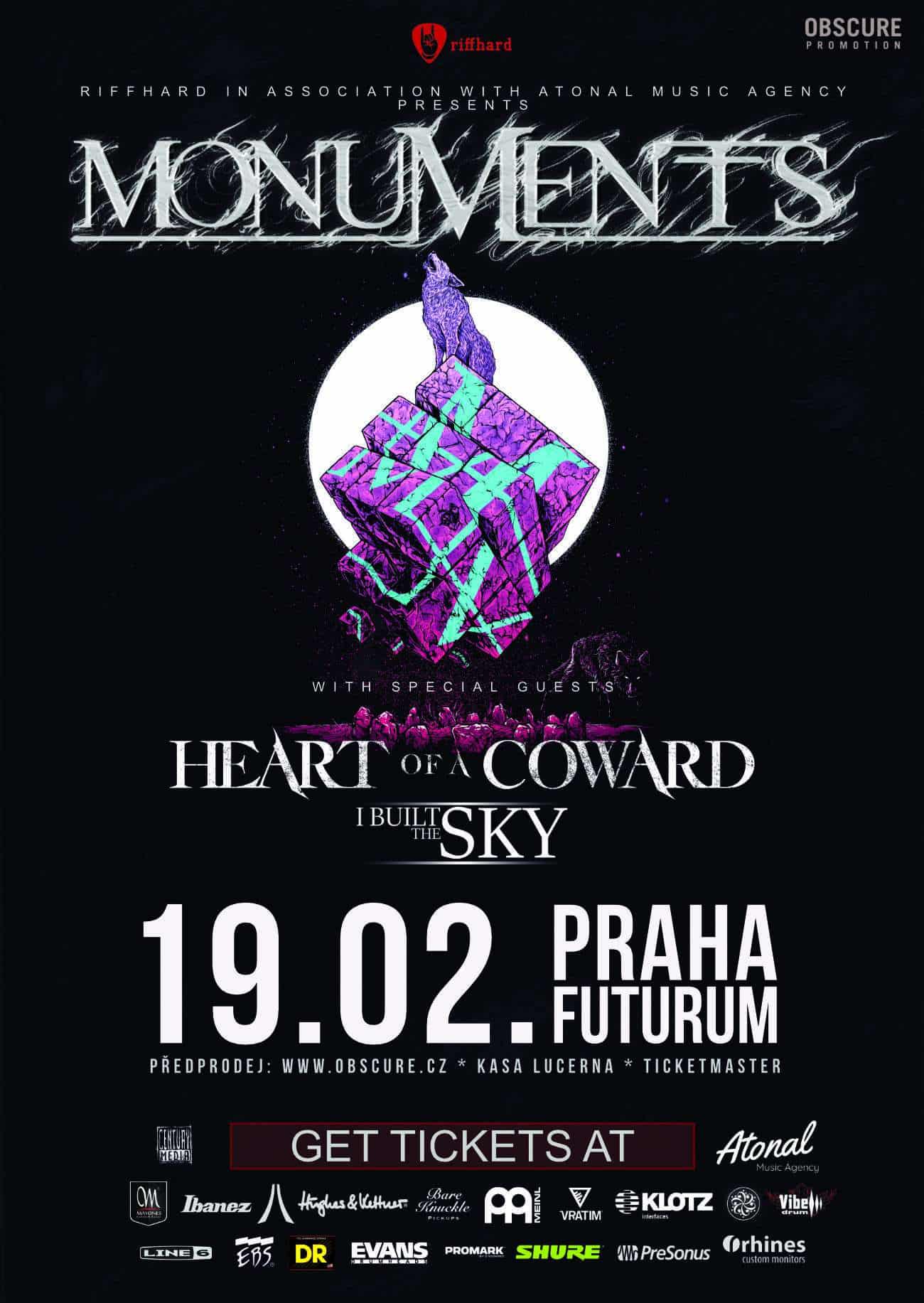 Zdroj: Obscure Promotion