V neděli 3. dubna se na pražské Letenské pláni uskuteční velký benefiční koncert Společně pro Ukrajinu. V rámci koncertu vystoupí řada předních interpretů, osobnosti z řad herců, sportovců či promluví také lidé, kteří Putinův teror zažili osobně, přežili a podařilo se jim utéct. Ve spolupráci s neziskovými organizacemi na místě vznikne také "tržiště pomoci", kde návštěvníci budou moci přispět na konkrétní činnosti či přivézt materiální pomoc. Ukrajinci, kteří utekli před válkou, zde například dostanou možnost najít práci. "Pozvěte své nové ukrajinské sousedy, kamarády, rodiny a přijeďte na Letnou," vyzývá veřejnost organizátor koncertu Společně pro Ukrajinu Robin Suchánek.
24. února v brzkých ranních hodinách média přinesla šokující zprávu. Ruský prezident Vladimir Putin dal povel zaútočit na Ukrajinu, na svobodný a suverénní stát. Od té doby denně sledujeme, jak kvůli tomuto ruskému zločinci a vrahovi statisíce nevinných lidí svobodného státu přichází o své domovy, rodiny i své životy.
Od vypuknutí Putinovy války lidé z celého světa Ukrajině pomáhají nejen finančně či materiálně, ale také ukrajinským rodinám, kterým se podařilo před válkou utéct, poskytují střechu nad hlavou, oblečení, stravu…
"Jen těžko si dokážeme představit, jaké utrpení prožívají ženy a děti, které odešly do neznámé země a jejichž muži zůstali na Ukrajině bojovat. Jen těžko si dokážeme představit, jaké utrpení prožívají ti, kteří na Ukrajině zůstávají. A všichni bohužel ještě prožívat budou…," říká Robin Suchánek, organizátor koncertu Společně pro Ukrajinu.
"Po celé zemi se téměř denně konají různé akce a koncerty a je to naprosto fantastické! Chyběla mi však nějaká akce, na kterou by mohli přijít i naši noví ukrajinští sousedé a noví kamarádi, kteří utekli před válkou do naprosto cizí země, v níž nikoho neznají. Nebude se jednat pouze o koncert, ale také o akci, která bude přímo na místě aktivně pomáhat," vysvětluje.
Koncert Společně pro Ukrajinu se uskuteční v neděli 3. dubna od 15 hodin na pražské Letenské pláni. Během přibližně tříhodinového maratonu na pódiu bez nároku na honorář vystoupí například Tomáš Klus, Rybičky 48, Wohnout, Divokej Bill, Michal Hrůza a kapela Hrůzy, Poetika, Pavel Callta, Desmod & Robo Šimko (SK), Juraj Hnilica (SK), Jamaron a další. Moderátory nedělního koncertu budou Ondřej Lechnýř a Oksana Moiseniuk, která bude koncertem provázet v ukrajinštině.
Na pódiu vystoupí také naši noví ukrajinští sousedé
"Napsala mi paní Inna, která do ČR přijela se svou osmiletou dcerou Arinou z Charkova. Arinka hraje na banduru, což je ukrajinský lidový nástroj, který se jim podařilo vzít s sebou. Dcera paní Inny projevila zájem o to, aby mohla na pódiu zahrát na podporu Ukrajiny písničku. Neváhal jsem ani minutu, její nabídku přijal a požádal jsem paní Innu, zda by nám mohla svěřit jejich příběh. Souhlasila," říká Robin Suchánek.
Arinka se narodila v únoru 2014 ve městě Pervomajsk v Luhanské oblasti a v červenci 2014 rodina musela opustit domov kvůli okupaci Luhanské oblasti. Jeli do Charkova a mysleli si, že to bude krátkodobé, ale čas plynul a rodina paní Inny se nemohla vrátit domů. Později začali budovat jejich nový život v Charkově. Arina chodila do školky, pak do školy, kroužků a hudební školy. Za osm let přestavěli celý jejich život.
25- února měla Arinka a její folková skupina nahrát ve studiu novou píseň, kterou připravovali na Masopust, ale nestalo se… Místo toho zpívala tuto píseň ve sklepě.
26. února se měla Arinka zúčastnit soutěže Charkovské hvězdy a zahrát bandurskou píseň "Byl jsem Ukrajinec", kterou připravovaly s paní učitelkou, ale také se tak nestalo, protože 24. února se celá rodina probudila do nové hrozné reality. Plány nebyly předurčeny k tomu, aby se staly. Válka k nim domů přišla podruhé.
"Pět dní jsme seděli ve sklepě naší výškové budovy a mezi nálety jsme utíkali domů, abychom si uvařili, vzali si teplé oblečení, umyli se a vzali něco na zabavení dětí. Uvědomili jsme si, že se věci jen zhoršují, a tak jsme se rozhodli opustit Charkov. Nejprve jsme jeli k příbuzným na západní Ukrajinu a odtud do České republiky,"vzpomíná na hororové dny paní Inna.
Když se rozhodli odejít, Arinka mamince řekla, že si banduru bere s sebou, a přestože byla na ní bandura hodně těžká, nesla ji celou dobu sama, a tak se jim podařilo hudební nástroj přinést s sebou.
"Bylo to velmi těžké rozhodnutí a jsme vděční všem, kteří pomáhají lidem, jako jsme my, na Ukrajině i zde v České republice. Nyní Arinka studuje v centru Prostor +, má nové známosti, ale jak ji bolí srdce z toho, co se děje doma, na rodné Ukrajině, to se popsat nedá. Chybí nám náš otec (zůstal na Ukrajině), naši příbuzní, náš domov, náš obvyklý život. Chceme slyšet zprávy o vítězství Ukrajiny, vidět naše příbuzné, vidět naši rodnou Ukrajinu znovu vzkvétat a lidi živé, zdravé a šťastné, jako jsme byli my všichni před začátkem této hrozné války," říká paní Inna.
"Na koncertu vyjádříme solidaritu s lidmi, kteří na Ukrajině odolávají barbarskému útoku, ale také s Bělorusy, kteří neúnavně demonstrují proti diktátorskému režimu Alexandra Lukašenky i Rusy, protestujícími proti Putinovské agresi. Žádáme veřejnost, aby ale pozvala také ty, kteří k nám v posledních týdnech přišli. Někteří tu s námi budou na dobu dočasnou, jiní zde najdou nový domov. Přivítáme je jako nové sousedy, dáme jim příležitost pozdravit se s námi, podáme jim na symbolické Letné pomocnou ruku. Všichni společně také vyšleme psychickou podporu těm, kteří na Ukrajině zůstali a chrání své domovy," vysvětluje Suchánek.
Na části Letenské pláně vznikne ve spolupráci s neziskovými organizacemi "tržiště pomoci". Své stánky si na Letenské pláni postaví například Charita ČR, Post Bellum, Velvyslanectví Ukrajiny či Potravinová banka, která bude zároveň sbírat materiální pomoc. Některé z organizací budou nabízet ukrajinským uprchlíkům práci či jiné potřebné důležité informace.
"Jednou z organizací, která se k akci Společně pro Ukrajina připojila, je Potravinová banka, která pomáhá jak na místě konfliktu, tak ukrajinským uprchlíkům v ČR a bude přímo na místě přijímat materiální pomoc. A to je přesně příležitost i pro autobusy a zavazadlový prostor," říká organizátor.
Co můžete na Letnou 3. dubna přinést/přivézt?
1) Všechny trvanlivé potraviny: těstoviny, rýže, luštěniny, cukr, olej, konzervy, dětské přesnídávky, sladkosti, polévky v sáčku
2) Čerstvé potraviny: máslo, sýry, uzeniny
3) Drogerie: vlhké ubrousky, tekutá mýdla, šampony, základní kosmetika pro ženy i muže, vložky, pleny větších velikostí (3-6)
Na režijní náklady organizace této akce může přispět také veřejnost prostřednictvím známé crowdfundingové platformy Donio. "Ačkoliv všechny společnosti, které se na technické organizaci podílejí (podium, LED obrazovky, zvuk, světla, stany, oplocení, zábrany, toalety, agregáty, přímý přenos, strava pro dobrovolníky, technici, "bedňáci" a mnoho dalšího), jsou ochotné spolupracovat jen za nejnutnější náklady, přesto si organizace takové velké akce vyžádá nějaké náklady," vysvětluje Robin Suchánek.
Finance, které se vyberou nad potřebný rozpočet pro důstojné uspořádání této akce, organizátor věnuje na účet sbírky na podporu ukrajinské armády, kterou zřídilo Velvyslanectví Ukrajiny na humanitární účely.
Aktuální program a další informace o koncertu Společně pro Ukrajinu jsou dostupné na webu www.SpolecneProUkrajinu.cz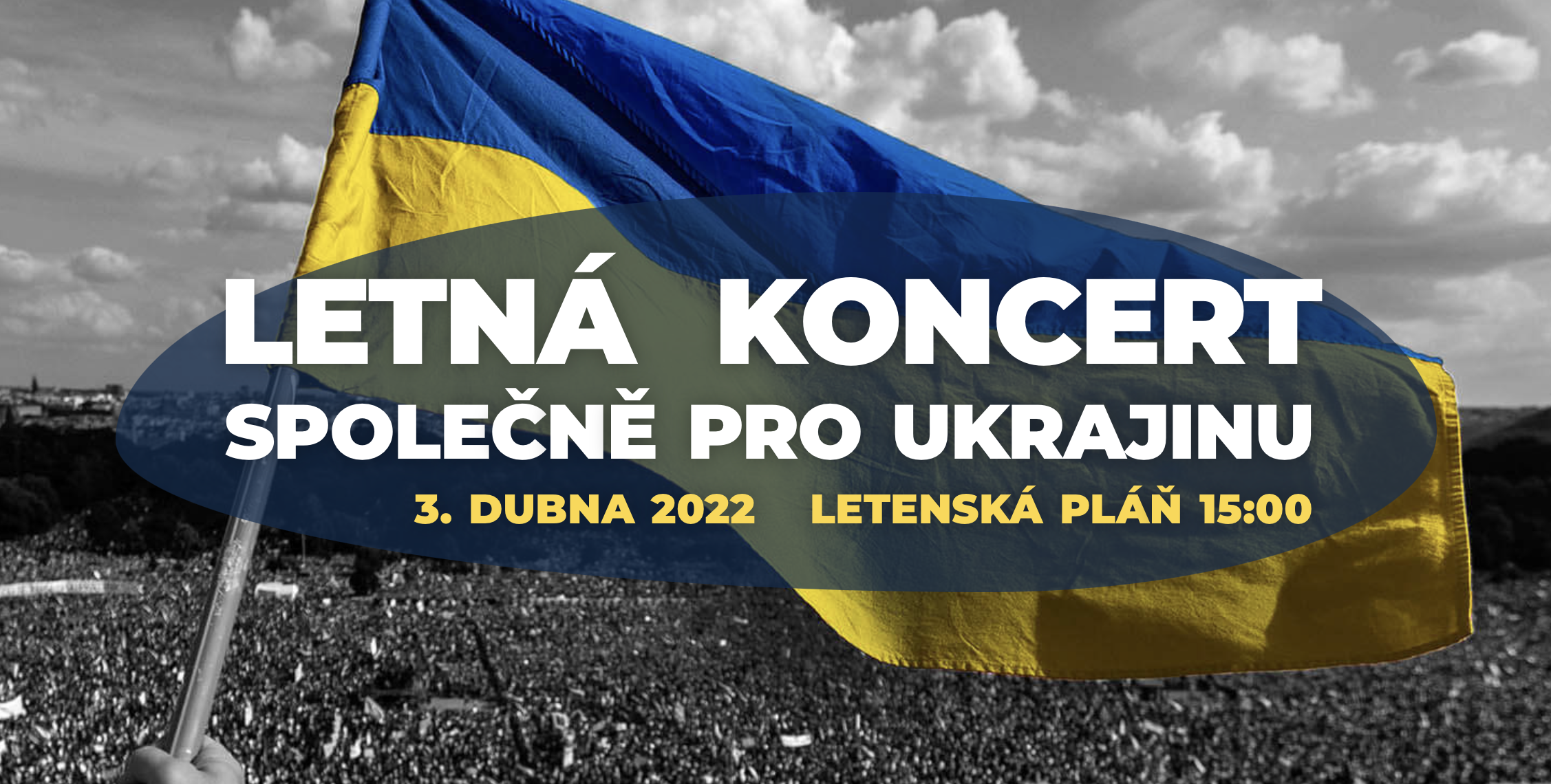 Zdroj: TS