Známi slovenskí hudobníci sľubujú silnú rockovú smršť a uvádzajú svoj pilotný videoklip k legendárnej pesničke.
Na slovenskú scénu prichádza nová hudobná formácia. Shot Up založili známi slovenskí interpreti – spevák a gitarista Juraj Zaujec s uznávaným gitaristom Michalom Bugalom. Pôvodne z čistej recesie, avšak netrvalo dlho a spoločne so slovenskou muzikantskou špičkou – multiinštrumentalistami Štefanom Bugalom a Eugenom Vizvárym sa rozhodli radosť z rockovej hudby zdieľať so svojimi novými fanúšikmi a rozvíriť "stojaté vody" slovenského rocku.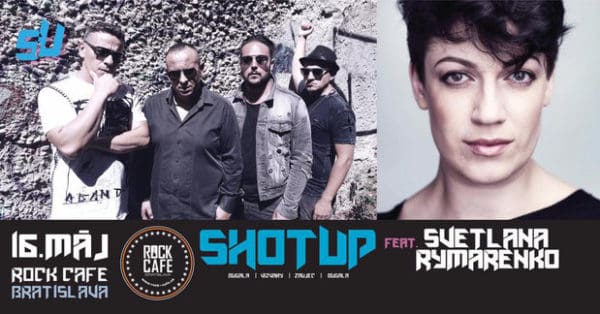 Koncom apríla vychádza ich debutový videoklip ku cover verzii skladby Enter Sandman kultovej rockovej skupiny Metallica, v ktorom okrem členov kapely a ich kamarátov účinkuje aj populárny herec Robo Jakab či mladá herečka Lenka Libjaková. Shot Up klip natočili v spolupráci s umelcom menom Randy Cold. Je to režisér s bohatými medzinárodnými skúsenosťami. A prečo Enter Sandman? Ako sami lídri Juraj a Michal vravia: "Pre skladbu Enter Sandman sme sa rozhodli hlavne pre jej nadčasovosť a aktuálnosť z hľadiska textu piesne. Vo vzťahu k originálnemu videoklipu Metallici sme chceli poukázať ako detské nočné mory prirodzene súvisia s tými, ktoré sa týkajú života dospelého človeka v dnešnom svete." Shot Up plánujú ďalšie hudobné počiny už v najbližšej dobe, pripravujú materiál a chystajú sériu koncertov, na ktorých sľubujú okrem neobyčajných hudobných výkonov hlavne absolútnu zábavu a pravý rockový "čurbes" .
Ten najbližší sa uskutoční vo štvrtok, 16. mája v klube Rock Cafe Bratislava, kde ako hosť Shot Up vystúpi aj jedna z našich najlepších speváčok súčasnosti – Svetlana Rymarenko. A tá sa aj v rockovej hudbe cíti ako ryba vo vode. Napokon, nebude to ich prvá spolupráca, keďže prednedávnom odprezentovali slávny hit Shallow z filmu Star is Born. Je sa teda na čo tešiť!
Shot Up:
YouTube: https://www.youtube.com/channel/UCrd_DLDoFDfhsO1NuTGDsjQ
Facebook: https://www.facebook.com/shotupofficial/
Instagram: https://www.instagram.com/shotup.purerock/
Web: www.shotup.sk
Zdroj: TS