Bratislava bude svedkom nezabudnuteľného hudobného zážitku, keď legendárny Leeroy Thornhill z kapely The Prodigy zahrá svoj unikátny DJ set. Koncert sa uskutoční 6. októbra v bratislavskom koncertnom priestore klub Šafko, ktorý je známy svojím nadupaným programom a jedinečnou atmosférou.
The Prodigy, ktorí pochádzajú z Anglicka, sú jednou z najvýznamnejších skupín v histórii elektronickej hudby. Kapela bola založená v roku 1990 a odvtedy ovládala svetovú hudobnú scénu svojou jedinečnou kombináciou elektroniky, rocku a rapu.
"Kapela The Prodigy ovplyvnila nespočetné množstvo ľudí a otvorila úplne nové obzory v rámci elektronickej hudby. Mať The Prodigy na vlastnej akcii vo vlastnom klube bol pre nás nesplniteľný sen. Asi pred rokom sme sa ale dozvedeli, že Leeroy hráva aj DJ sety. Okamžite sme sa spojili s jeho agentkou. K zhode došlo relatívne rýchlo. Celý proces bookovania trval asi iba dva týždne. Vtipné bolo ale to, že sme agentku museli uistiť, že strop nad našim pódiom je dostatočne vysoký, pretože Leeroy má 2 metre." Prezradil organizátor a spolumajiteľ klubu Yanko Kral s úsmevom.
The Prodigy vytvorili niekoľko nezabudnuteľných albumov, ako napríklad "The Fat of the Land" a "Music for the Jilted Generation," ktoré stále patria medzi absolútne klenoty elektronickej hudby. Ich skladby ako "Firestarter," "Breathe" a "Smack My Bitch Up" sú dodnes hrávané na tanečných eventoch po celom svete. Skupina dlhodobo pozostávala z troch hlavných členov Liama Howletta, Maxim Realityho a Keitha Flinta, ktorý už žiaľ nežije.
Leeroy Thornhill bol členom The Prodigy do roku 2000, a počas tejto doby prispel k mnohým hitom kapely svojimi tanečnými a elektronickými prvkom. "Bude to jedinečná príležitosťou pre fanúšikov kapely zaspomínať si na najväčšie hity a užiť si špeciálny hudobný zážitok. Okrem samotného setu ex člena The Prodigy zahrá talentovaná a oceňovaná (Radio Head Awards) producentka Sofia Nøt, autor samotnej akcie TLAK – Yanko Kral a stálica slovenskej klubovej scény Maqau Olis Bakulu." Prezdradil Juraj Cocher, hudobný manažér a spolumajiteľ klubu.
DJ set Leeroya Thorhilla bude trvať dve hodiny a klub sa otvorí o 21:00 hodine a ponúkne úžasný hudobný zážitok. Jeho vystúpenie pozostávať z tvorby The Prodigy, kde fanúšikovia budú môcť zažiť klasické skladby kapely v novom a vzrušujúcom zvukovom prevedení. Okrem toho sa v jeho sete objavia aj legendárne skladby z éry Rave Music z 90. rokov.
Organizátori sľubujú počas októbra okrem stálic slovenskej scény i viac zahraničných interpretov. "Naša dramaturgia sa bude práve focusovať na zahraničné mená. Môžete sa tešiť na svetovú producentku Flava D a českého "elektro-diabla" Ventolina." Dodal Yanko Král
Predpredaj lístkov na tento jedinečný koncert už začal, a preto odporúčame fanúšikom, aby si svoje lístky zabezpečili čo najskôr, pretože dopyt bude určite veľký. Lístky sú k dispozícii na oficiálnej webovej stránke koncertného priestoru.
Nezmeškajte túto jedinečnú príležitosť zažiť Leeroya Thorhilla z The Prodigy v bratislavskom klube Šafko. Hudobný zážitok, ktorý sľubuje, je viac než hodný svojej legendy. Vidíme sa 6. októbra na tomto nezabudnuteľnom koncerte!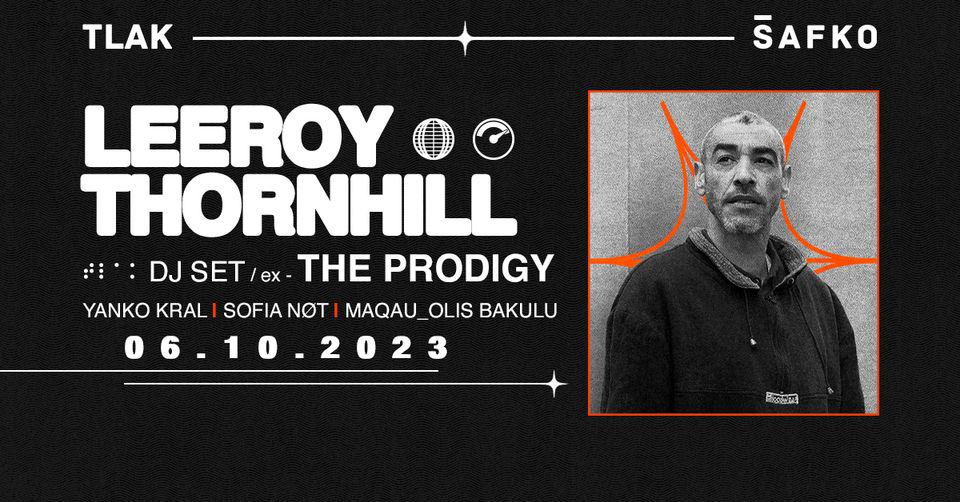 Zdroj: TS