Tri dni plné jazzu a dobrej hudby čakajú fanúšikov už tento víkend v Bratislave. Na Bratislavských jazzových dňoch Slovenská sporiteľňa 2019 bude koncertovať aj dvojnásobná držiteľka Grammy Corinne Bailey Rae, hudobná hviezda internetu Anomalie či Judi Jackson, speváčka s úžasným hlasom a neodolateľnou charizmou. Jazzáky budú v bratislavskej Inchebe od piatka 25. 10. do nedele 27. 10., v predaji zostávajú posledné vstupenky.
Piatok vystúpi jazzová senzácia súčasnosti Ghost-Note či spevák Dirty Loops
Funk-jazzová senzácia GHOST-NOTE s basgitaristom MonoNeon budú headlinerom prvého večera Bratislavských jazzových dní Slovensku sporiteľňa 2019. V piatok 25. októbra sa na festivale premiérovo predstaví aj JONAH NILSSON z projektu Dirty Loops a mladý francúzsky skladateľ a gitarista PAUL JARRET, ktorý bude v Bratislave koncertovať spolu s jedným z najvplyvnejších amerických bubeníkov JIMOM BLACKOM. Na hlavnom pódiu sa predstaví aj kapela TIBOR FELEDI KAIROS QUINTET, ktorá vyhrala súťaž mladých talentov BJD 2018.
Na B-pódiu sa predstaví maďarská speváčka Emma Nagy so svojim kvintetom. NAGY EMMA QUINTET získal viaceré prestížne ocenenia v Maďarsku, v Bratislave zahrajú vlastné skladby, aj ich verzie kompozícií klasikov ako Charles Mingus či Wayne Shorter. Prvými súťažiacimi súťaže Pódium mladých talentov sú kapely D# PIPL ARAUND a dvojica KRISTÍNA MIHAĽOVÁ A JAKUB ŠEDIVÝ.
Sobotný večer bude patriť ženám
Speváčka s úžasným hlasom a fantastickým rozsahom – JUDI JACKSON – bude headlinerom sobotného večera. Mladá Američanka, ktorá aktuálne žije v Londýne, vo svojej hudbe nezaprie vplyv Niny Simone, Sade či Amy Winehouse, okrem jazzu v nej cítiť množstvo soulových a pesničkárskych impulzov. Spolu s ňou sa 26. októbra bratislavskému publiku predstaví aj mladá talentovaná megahviezda a Steinway hráčka – klaviristka CONNIE HAN. The New York Times ju opisuje ako vzácnu hudobníčku s fantastickými technickými zručnosťami, širokou historickou znalosťou, a dostatočnou originalitou, aby napísala hudbu, ktorá vás absolútne pohltí. V druhý festivalový deň bude na BJD koncertovať aj THE BAYLOR PROJECT, manželský pár, ktorý so svojim debutovým albumom získal dve nominácie na Grammy. Slovenskou zástupkyňou bude BARBORA BOTOŠOVÁ. Slovenská huslistka, vnučka legendárneho virtuóza Jána Berkyho Mrenicu, otvorí sobotný program na hlavnom pódiu so svojou kapelou a hudobnými hosťami, viacerými renomovanými umelcami pôsobiacimi vo world music. Na koncerte zaznejú mnohé jej autorské skladby a aranžmány z nedávno vydaného debutu Colors of my Soul.
KERNFUSION je mladá kapely z Rakúska, ktorá bude v sobotu koncertovať na B-pódiu, hrá naživo vlastné aranžmány kompozícií velikánov, ako napríklad Herbieho Hancocka a Joe Zawinula. O víťazstvo v súťaži mladých talentov v sobotu zabojuje mladé česko-slovenské trio SZATURMA a kapela VELVET CASE.
V nedeľu Corinne Bailey Rae, aj víťaz Eurovízie Salvador Sobral
Hviezda nedeľného večera, CORINNE BAILEY RAE, sa v roku 2006 stala svetovou hviezdou svetelnou rýchlosťou vďaka hitom Put Your Records On a Like A Star. Počas svojej kariéry spolupracovala s množstvom hviezd rôznych žánrov, ako napríklad Herbie Hancock, Paul McCartney, Stevie Wonder či Kele Okereke z Block Party. Po niekoľkoročnej prestávke sa v roku 2016 vrátila na hudobnú scénu, jej album The Heart Speak In Whispers bol podľa The Guardian najlepším R&B albumom roka. 27. októbra sa v Bratislave premiérovo predstaví aj Portugalčan SALVADOR SOBRAL, ktorý si získal srdcia fanúšikov, ale aj hudobných kritikov v celosvetovej súťaži Eurovízia. Nedeľný jazzákový večer otvorí koncert elektronického projektu ANOMALIE, na čele ktorého stojí famózny mladý klavirista Nicolas Dupuis. Nicolas je hviezdou aj na Youtube: produkuje úspešné virálne videá, na ktorých prezentuje svoje fantastické schopnosti v hre na klávesy.
Na B-pódiu sa v nedeľu 27.10. predstaví aj Pacora Trio (Stanislav Palúch, Marcel Comendant, Róbert Ragan). Ich hudba je postavená na prelínaní jazzu a folklóru, podfarbená prvkami vážnej hudby. Repertoár tvoria vlastné kompozície a prearanžované jazzové štandardy. Posledný súťažiaci Pódia mladých talentov vystúpi v nedeľu a bude to Topoľana, londýnsky jazzovo-folkový sextet.
Bratislavské jazzové dni Slovenská sporiteľňa 2019 budú od piatka 25. 10. do nedele 27. 10. v bratislavskej Inchebe. Vstupenky sú k dispozícii v sieti Ticketportal, kompletný program a informácie nájdete na www.bjd.sk
BRATISLAVSKÉ JAZZOVÉ DNI SLOVENSKÁ SPORITEĽŇA 2019 – LINE-UP
PIATOK 25. 10.
19:00 – 19:50 Tibor Feledi Kairos Quintet
20:30 – 21:30 Paul Jarret ft. Jim Black
22:10 – 23:10 Jonah Nilsson
23:50 – 0:50 Ghost-Note
B-stage
19:55 – 20:25 D# PIPL ARAUND
21:35 – 22:05 Kristína Mihaľová & Jakub Šedivý
23:15 – 23:55 Nagy Emma Quintet
SOBOTA 26. 10.
19:00 – 19:50 Barbora Botošová & Friends
20:30 – 21:30 The Baylor Project
22:10 – 23:10 Connie Han
23:50 – 0:50 Judi Jackson
B-stage
19:55 – 20:25 Szaturma
21:35 – 22:05 Velvet Case
23:15 – 23:55 Kernfusion
NEDEĽA 27. 10.
18:00 – 19:00 Anomalie
19:40 – 20:40 Salvador Sobral
21:40 – 22:40 Corinne Bailey Rae
B-stage
19:05 – 19:35 Topoľana
20:45 – 21:35 Pacora Trio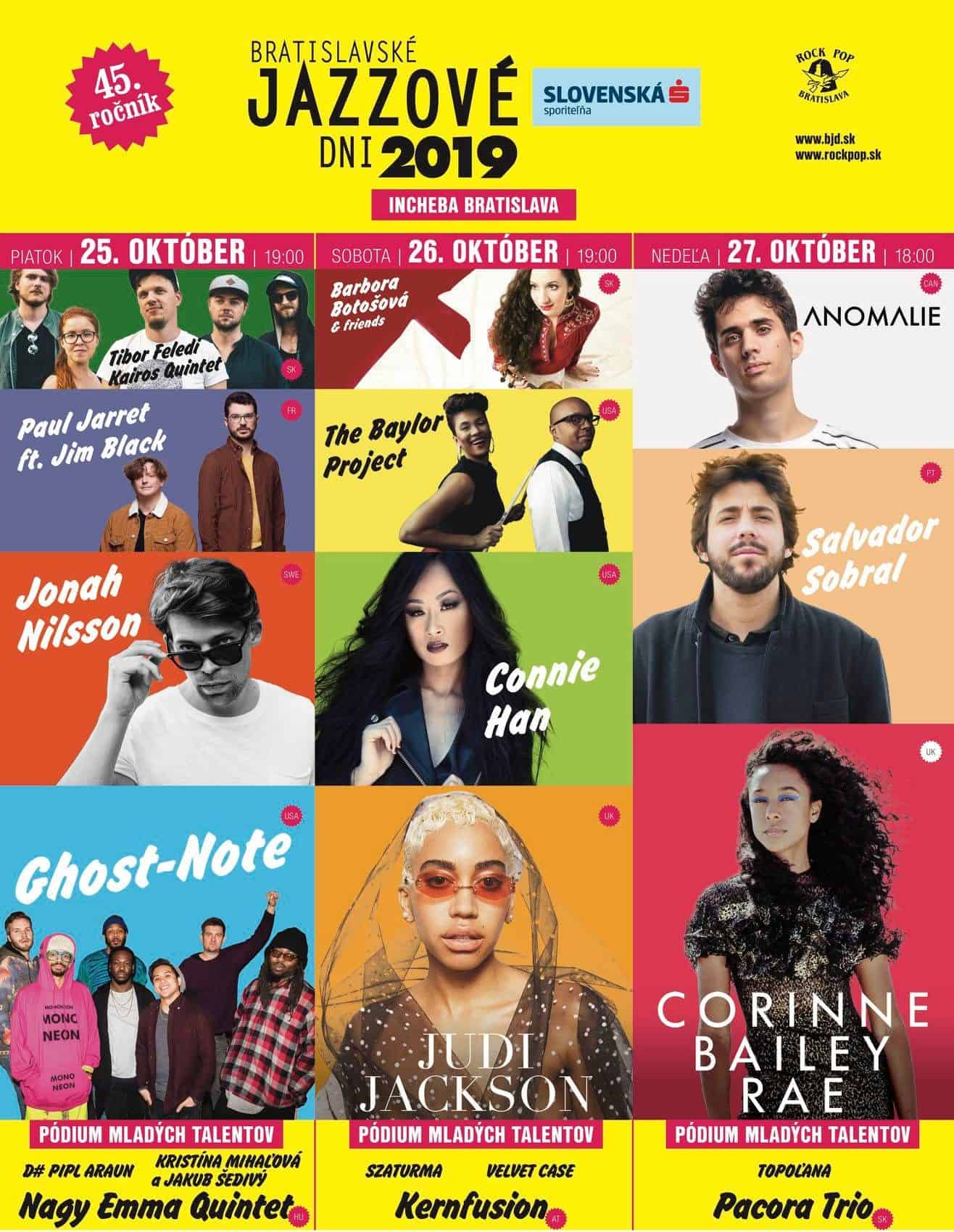 Zdroj: BJD