DPOH uvedie inscenácie zamerané na mladých ľudí, pôvodne situované do CO krytu, po prvýkrát na Hlavnej scéne divadla, v rámci projektu GEN Z ON THE STAGE. Projekt ukončí medzigeneračná diskusia s odbornými konzultantmi a tvorcami inscenácií 1. októbra.
Inscenácie FANTOMAS, Krása nevídaná a Sused, ktorého nechcem odzrkadľujú témy, ktorými žijú mladí ľudia generácie "Zoomerov", ale dotýkajú sa aj iných generácií. Netolerancia inakosti, strach z neznámeho, hľadanie vlastnej identity, boj s mýtom krásy, či nástrahy sveta dezinformácií rezonujú celou našou spoločnosťou.
Inscenácie otvárajú témy tolerancie, inakosti, jej rešpektovania či nenávisti, vnímania ženskej krásy, jej hodnotenia médiami a spoločnosťou, tiež tému vplyvu sociálnych médií. Mladí ľudia generácie Z, tzv. Zoomeri sú krehkou generáciou, ktorá žije v digitalizovanom svete s neobmedzeným prístupom k informáciám, no zároveň sa svet okolo nich nezadržateľne mení. V online priestore sa stupňuje frustrácia a nenávisť a oni sa v ňom musia zorientovať a nájsť svoje pevné miesto. Veľké množstvo mladých ľudí z generácie Z je však už teraz rozhodnuté opustiť Slovensko a možno sa už nikdy nevrátiť. Ako im môžeme pomôcť? Ako im povedať, že v tom nie sú sami?
Projekt GEN Z ON THE STAGE ukončí diskusia, ktorá sa pokúsi reflektovať všetky dôležité témy s tvorcami inscenácií. Na javisku DPOH sa stretnú tri odborné konzultantky inscenácií: riaditeľka Nadácie Milana Šimečku Veronika Fischbone Vlčková, psychoterapeutka Katarína Štefaničiaková a psychologička a lektorka mediálnej gramotnosti Kristína Blažeková. Do diskusie moderovanej herečkou Annamáriou Janekovou (Krása nevídaná, FANTOMAS) sa k nim pridajú aj riaditeľka Slovenského národného strediska pre ľudské práva, sociologička Silvia Porubänová, sociológ Michal Vašečka a riaditeľka DPOH Valeria Schulczová, ktorá je autorkou konceptu celého projektu Generácia Z a režisérkou inscenácie FANTOMAS.
Diskusia sa uskutoční po skončení inscenácie Sused, ktorého nechcem 1. októbra, približne o 20.30.
Hlavnou témou autorskej inscenácie FANTOMAS, v réžii Valerie Schulczovej sú dezinformácie, hoaxy a konšpiračné teórie a ich vplyv na mladých ľudí. Sociálne médiá a internet im menia život, môžu ich manipulovať, izolovať a následne radikalizovať. Mladí ľudia majú neobmedzený prístup k informáciám, virtuálny svet je ale aj plný nástrah. Cielená manipulácia v kombinácii s nezáujmom overovať fakty a nevedomosťou môže viesť k fatálnym skutkom. Inscenácia FANTOMAS kladie otázky: Čomu môžeme v dnešnej dobe zaručených právd vôbec veriť? Vieme, čo skutočne zdieľame a sledujeme na sociálnych sieťach? Ako sme na tom s hoaxami, dezinformáciami, či konšpiračnými teóriami? Sme voči nim takí imúnni, ako si myslíme?
https://dpoh.sk/generacia-z-fantomas/
Témou inscenácie Krása nevídaná v réžii Zuzany Fialovej je mýtus krásy ako sociálny konštrukt, ktorý už od malička vtláča dievčatám predstavu, aké by mali byť. Nielen vizuálne, ale aj mentálne. Aká je ich rola v spoločnosti, v rodine. Ako na ich názore vlastne nezáleží a mali by si ho nechať pre seba. Ženy sú od mladosti tlačené do toho, aby využívali svoj erotický kapitál. Sociálne siete všetko ešte viac exponovali a katalyzovali. Výsledkom sú úzkosti, depresie, pocit permanentného zlyhania.
https://dpoh.sk/generacia-z-krasa-nevidana-inscenacia/
Inscenácia Sused, ktorého nechcem, v réžii Juraja Hrčku a Erika Peťovského, bola vytvorená v spolupráci s Radou mládeže Slovenska, ktorá v roku 2020 realizovala reprezentatívny výskum Hodnoty mladých. Ukázalo sa, že mladí ľudia sú voči svojmu okoliu nedôverčiví, myslia si, že ich názory nemajú hodnotu, netreba ich teda počúvať a nemajú žiadny vplyv na dianie okolo seba. Výskum tiež ukázal, že viac ako polovica Zoomerov nechce žiť vedľa ľudí inej farby pleti, vedľa liberálov, vedľa homosexuálov. Viac ako polovica by rozhodne nebývala vedľa cudzincov, migrantov, utečencov, židov a moslimov. Mentálne, či zdravotne handicapovaný sused by viac prekážal mladým z mesta a spoločne inklinujú k antidemokratickým a populistickým stranám.
https://dpoh.sk/generacia-z-sused-ktoreho-nechces/
Nahliadnite do myslí Zoomerov, a ak patríte k ich generácii, príďte zistiť, ako sú na tom vaši rovesníci s inakosťou, vzťahom k sociálnym sieťam, hoaxom, či k sebe samým. Ak nie ste Zoomer, príďte sa pozrieť na to, v čom sa podobáme a ako vieme spolu žiť. Sú naše generácie také rozdielne, ako si myslíme? A nie sme v tom vlastne všetci spolu?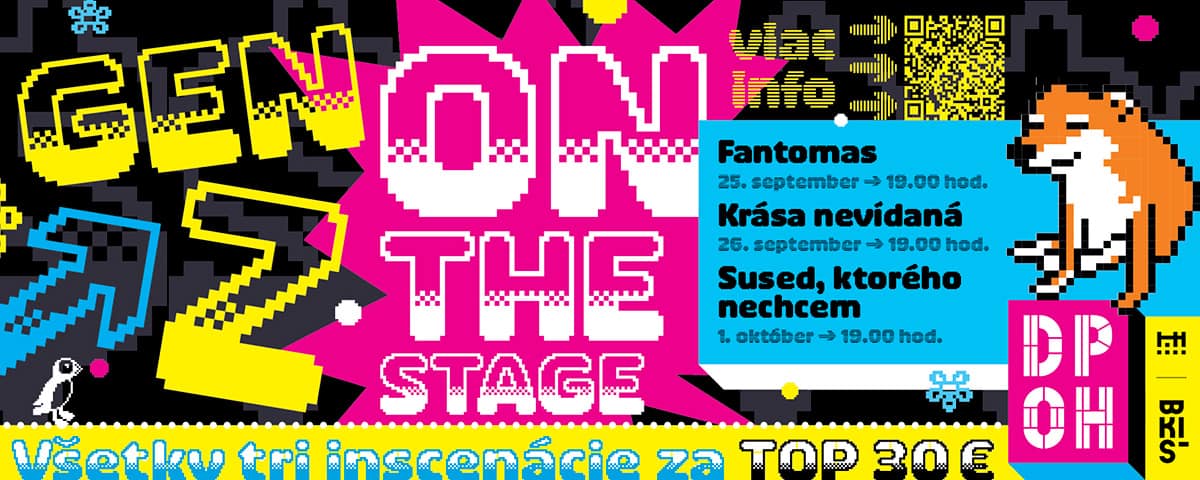 Zdroj: DPOH