Prešovská kapela Chiki liki tu-a ozná
mila re

štart. Dnes oslavuje 27. narodeniny a pri tejto príležitosti avizuje vydanie prvých piatich albumov na vinyloch, komplet CD BOX siedmich c

é

deč

iek vr

átane najčerstvejšieho EP Venovan

é

pamiatke budúcich zosnulý

ch plus koncertné

DVD. Zároveň dnes Prešovčania oznámili odchod dlhoročn

é

ho člena kapely Ľuboslava Petrušku.
"Nedá sa to tajiť do nekonečna. Náš dlhoročný spoluhráč Ľuboslav Petruška sa rozhodol prerušiť spoluprácu s našou kapelou Chiki liki tu-a. Nestalo sa tak za žiadnych dramatických okolností, niekedy príde skrátka čas, posunúť sa slobodne svojím smerom ďalej. Bol s nami v kapele od roku 1998, čiže 24 rokov, nahral 6 albumov a odohral 1354 koncertov. Aj z tohto dôvodu sme sa rozhodli, zrekapitulovať našu tvorbu a vydať kompletnú reedíciu našich prvých piatich albumov, a to historicky prvýkrát aj na vinyloch," píše kapela v oficiálnom vyhlásení.
Po vydaní albumov Nezatváraj Milan dvere (1998), Budeš musel vlasy na blond prefarbil (2000), Choďte sa hrať pred vlastný vchod (2003), Dvojkilometrový jeleň (2005) a Slzy tvý mámy, Šedivý a spol. (2015) na vinyle volali fanúšikovia Chiki liki tu-a už niekoľko rokov. Po dvadsiatichsiedmich rokoch sa podľa Martina Višňovského patrí, aby ich hudba vyšla na elpéčkach. Zároveň je to v tejto situácii uzatvorenie jednej kapitoly v živote skupiny. "27 je symbolické číslo. Kapela R.E.M.sa rozpadla, keď mala 27 rokov, v 27 rokoch sa niektorí umelci zabíjajú, niektorí aj dobrovoľne a my sme sa namiesto toho rozhodli, vydať našu hudbu na LP. Ideme si splniť túto historickú úlohu."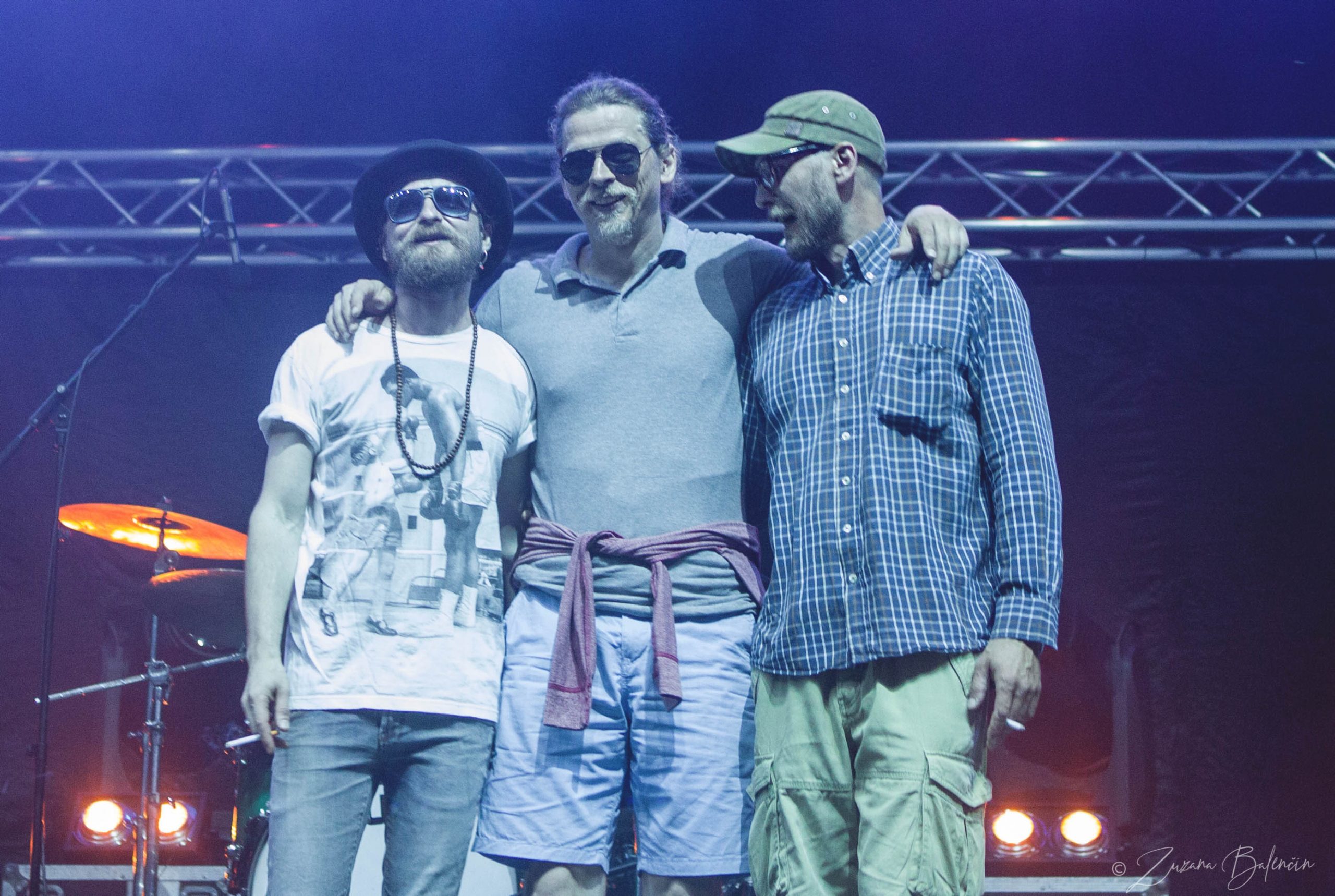 Reštart v kapele prichádza po vzájomnej dohodne všetkých troch hudobníkov. "Je to hlavne z Ľubovej strany. Po tých rokoch, hlavne tých dvoch posledných, kedy sa nedalo hrať a všetko stagnovalo, sa Ľubo rozhodol, že nebude veľmi hrávať živé podujatia, preto sme od tohto momentu prerušili našu spoluprácu, ale my, ako kapela, ideme ďalej," dodáva Martin Višňovský.
Chiki liki tu-a majú do 8. októbra 2022 potvrdené koncerty. Najbližšie už tento piatok 25. marca vystúpia vo Vrbovom na spomienkovom koncerte pre zosnulého gitaristu Miroslava Kusíka z Karpatských Chrbátov a o deň neskôr zahrajú na odovzdávaní cien Radio_Head Awards, kde majú zároveň štyri nominácie.
"Na tento moment sme si požičali Raptora Kocha, čiže Stana Sninského. S ním odohráme základné veci a tak máme mesiac a pol pauzu do reálneho prvého koncetu. Za ten čas vznikne nejaký základ programu, ktorý odohráme na koncertoch do 8. októbra."
Rytmika v kapele ostáva nezmenená. "My Višňáci, nechtiac ideme do kategórie skupín ako No Name, IMT Smile alebo Gladiator, čiže bratských kapiel, do ktorých nikoho nepustia. Trochu je nám z toho smiešno, že v tejto krajine vznikajú takéto kapely. Nikdy by som si nemyslel, že to tak dopadne a ostaneme v kapele dvaja bratia, čiže od malička najväčší konkurenti. Každý, kto má súrodenca, to pozná. Ale situácia je, aká je, tak to skúsime." Martin a Tomáš Višňovský majú nápady, čo ďalej. Časom sa to vykryštalizuje aj vzhľadom na situáciu v spoločnosti aj podľa toho, ako si sadnú s muzikantmi, ktorých majú v merku.
Kým začne nová éra kapely, môžu si fanúšikovia zaobstarať nielen prvých päť albumov na vinylových platniach, ktoré vychádzajú v limitovanom počte po 300 kusov, ale aj cédečkový megakomplet vrátane koncertného DVD. Prípadne je možné, vybrať si jednotlivé albumy sólovo. Fanúšikovia si môžu svoj šatník rozšíriť o tričká a mikiny. K dispozícii sú aj digitálne downloady alebo dobrovoľný príspevok. Podporiť nové dobrodružstvo kapely Chiki liki tu-a môžete od utorka 22. marca do štvrtka 30. júna na webe chikiliki.sk.
Redakciu informoval PR manažér Edo Kopček