Asociácia slovenských kameramanov (ASK) zverejňuje nominácie na cenu KAMERA 2019 za najlepší kameramanský výkon v siedmich kategóriách: hraná filmová tvorba, dokumenty, televízne seriály, krátke filmy, reklamy a videoklipy, študentské filmy. Figuruje v nich 21 titulov, ktoré postupujú do druhého kola z celkového množstva 133 prihlásených diel. O víťazoch rozhodne odborná medzinárodná porota na čele s americkým kameramanom Steveom Gainerom; slávnostné vyhlásenie sa uskutoční už tento štvrtok 27. novembra 2019 o 19.00 hod. v Kine Lumière. Cenu za celoživotné dielo prevezme Richard Krivda a Cenu za technologický prínos Vlado Struhar.
"Sedem súťažných kategórii ako sedem statočných, ďalšie dve sú nesúťažné. Celoživotné dielo a technický prínos. Dokopy deväť kategórií v deviatom ročníku Kamery v roku 2019. Magické – három –- to sú traja nominovaní z každej súťažnej kategórie. Hráme sa s číslami, aj keď nie sme numerológovia, ale cinematografovia. A trikrát sedem je dvadsať jeden, čo je zlaté oko. Kino oko. A na koniec, všetkých týchto 133 prihlásených filmov bolo vytvorených jednotkami a nulami, v našej digitálnej dobe, ktorú teraz žijeme," povedal prezident ASK, Lukáš Teren. Asociácia vyhlasuje súťaž KAMERA spojenú s dvojdňovým programom, vhodným pre odbornú aj laickú verejnosť, raz za dva roky s cieľom podporiť a motivovať zvyšovanie kvality profesie kameramana a prispieť tak aj k zvyšovaniu celkovej profesionálnej úrovne audiovizuálnej tvorby na Slovensku.
Prijaté diela do súťaže sa hodnotia v dvojkolovom systéme. V prvom kole hlasovali všetci riadni a čestní členovia ASK, v druhom kole bude hodnotiť a vyberať víťazné diela z nominácií z prvého kola porota v zložení: Steve Gainer ASK, ASC, argentínsky kameraman Federico Cesca a zástupcovia domácej kinematografie, kameramani: Richard Žolko ASK (zástupca Literárneho Fondu), Tomáš Stanek ASK, Martin Chlpík ASK.
Do súťaže sa prihlásilo presne 133 audiovizuálnych diel, z toho 18 celovečerných hraných filmov, 21 dokumentárnych filmov, päť krátkych filmov, 12 televíznych seriálov, 39 audiovizuálnych reklám, 15 hudobných videoklipov, 23 študentských filmov. Všetky prihlásené práce spĺňajú podmienky súťaže.
Režisérom programu Slávnostné udeľovanie cien za najlepšie kameramanské výkony KAMERA 2019 je Anton Šulík. Ceny odovzdajú osobnosti rôznym spôsobom späté s kinematografiou: Božidara Turzonovová, Dušan Hanák, Juraj Johanides, Ivan Puťora, Marek Leščák, Marek Šulík, Ondrej Rudavský, Marian Urban.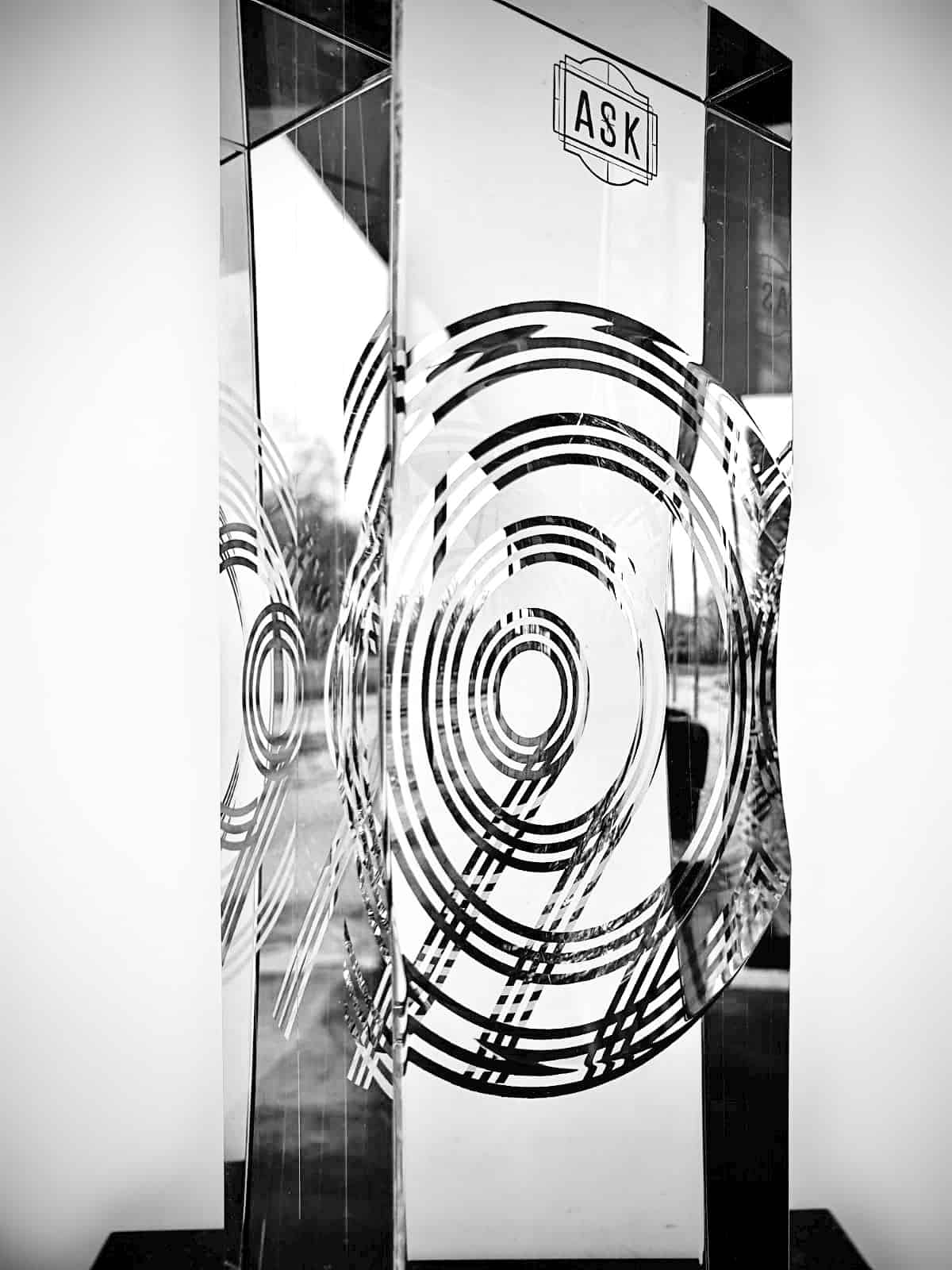 Nominácie na víťazov KAMERA 2019
Hlavná cena KAMERA 2019 – hraný film

Ostrým nožom – Denisa Buranová
Nech je svetlo – Ján Meliš
Sklenená izba – Martin Štrba
Cena za televízny seriál
Dáma a Král – Nick Kollár
Mária Terézia – Tomáš Juríček
Za sklom (3.séria) – Martin Rau
Cena za dokumentárny film
DOBRÁ SMRŤ – Ondřej Szollos
Doing What They Love – Dušan Husár
Stratený domov – Juraj Mravec
Cena za krátky film
Flora – Michal Babinec
Kid – Anna Smoroňová
Výlet – Nick Kollár
Cena za audiovizuálnu reklamu
DEDOLES_ASTRAL FREEDOM – Marián Ontko
Heroes of today – Michal Babinec
royal crown cola – Dušan Husár
Cena za hudobný videoklip
Sabina – Panowie w kapeluszach – Tomasz Wierzbicki
Son Lux -Yesterday's Wake – Dušan Husár
Territoire – Exil – Michal Babinec
Cena za študentský film
Babie leto – Lucia Kovaľová
Paradoxy zverokruhu – Lukáš Kačerjak
Pura Vida – Oliver Záhlava
Tohto roku prihlásili tvorcovia do súťaže KAMERA rekordný počet audiovizuálnych diel – až 133. Ide o diela, ktoré vznikli za ostatné dva roky v rámci hranej filmovej tvorby, dokumentov, televíznych seriálov, krátkych filmov, reklám a videoklipov ako aj študentskej tvorby. Súťaž vyhlasuje ASK od roku 1999, raz za dva roky, s cieľom podporiť a motivovať zvyšovanie kvality profesie kameramana a prispieť tak k zvyšovaniu celkovej profesionálnej úrovne audiovizuálnej tvorby na Slovensku.
Vyhlasovateľmi tvorivej súťaže Kamera 2019 sú: ASK ako organizátor súťaže; podujatie finančne podporil Audiovizuálny fond a Literárny fond.
Asociácia slovenských kameramanov má 34 riadnych a 13 čestných členov všetkých generácií, od debutantov až po najstarších kameramanov, ktorí boli a sú zásadným vkladom do československej či slovenskej kinematografie, ako napríklad Stanislav Szomolányi, Dodo Šimončič, Ján Ďuriš, Vladimír Holloš, Ladislav Kraus.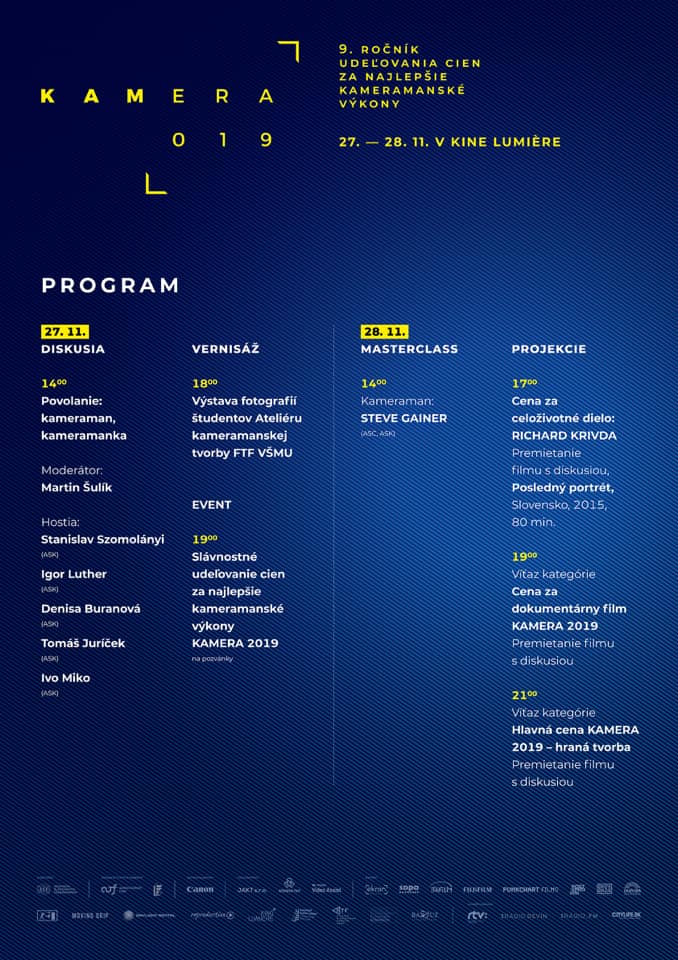 Zdroj: TS