17-ty ročník festivalu TOPFEST odštartoval po náročnom pandemickom roku letnú festivalovú sezónu! Obľúbený festival sa premiestnil na nové miesto do Jazdiarne Banát v obci Častkovce, kde vyrástlo dokonalé festivalové mestečko. O fantastickú náladu sa postarali kapely Kabát, Horkýže Slíže, HEX, INEKAFE Zóna A či Queenie. Fanúšikovia aj účinkujúci boli nadšení a užili si živé koncerty aj neopakovateľnú festivalovú atmosféru!
Organizátor zvládol všetky protipandemické opatrenia vrátanie testovania návštevníkov. Tí sa už nevedeli dočkať a tak sa mohol v Jazdiarni Banát v obci Častkovce rozbehnúť koncertný kolotoč! Prvý deň TOPFESTu odpálila skupina 4Faces. Po nej si fanúšikovia zaspievali s kapelou Heľenine Oči. Rockom potešila všetkých skupina No Control a punkrocková formácia Bijouterrier so šarmantnou speváčkou Alenou Pajtinkovou alias Zitou Rigondeaux.
"Na TOPFESTe sme hrali po prvýkrát a boli sme úplne ohúrení atmosférou. Bola som prekvapená účasťou, takýto veľký koncert sme ešte nehrali. Veľmi nás to bavilo a dúfam, že tu budeme vystupovať každý rok," tešila sa Zita Rigondeaux.
Potom to už na pódiu rozbalila bratislavská punková legenda Zóna A, ktorá koncertovala po prvýkrát po dlhých 11-tich mesiacoch. Ich známe skladby "Puf a Muf", "Možno", "Chleba" či "Nebuď hlúpa" roztancovali všetkých. Vystúpenie si užila aj kapela Smola a Hrušky zo Spišskej Novej Vsi a punková legenda Konflikt, ktorá minulý rok oslávila 30 rokov na hudobnej scéne.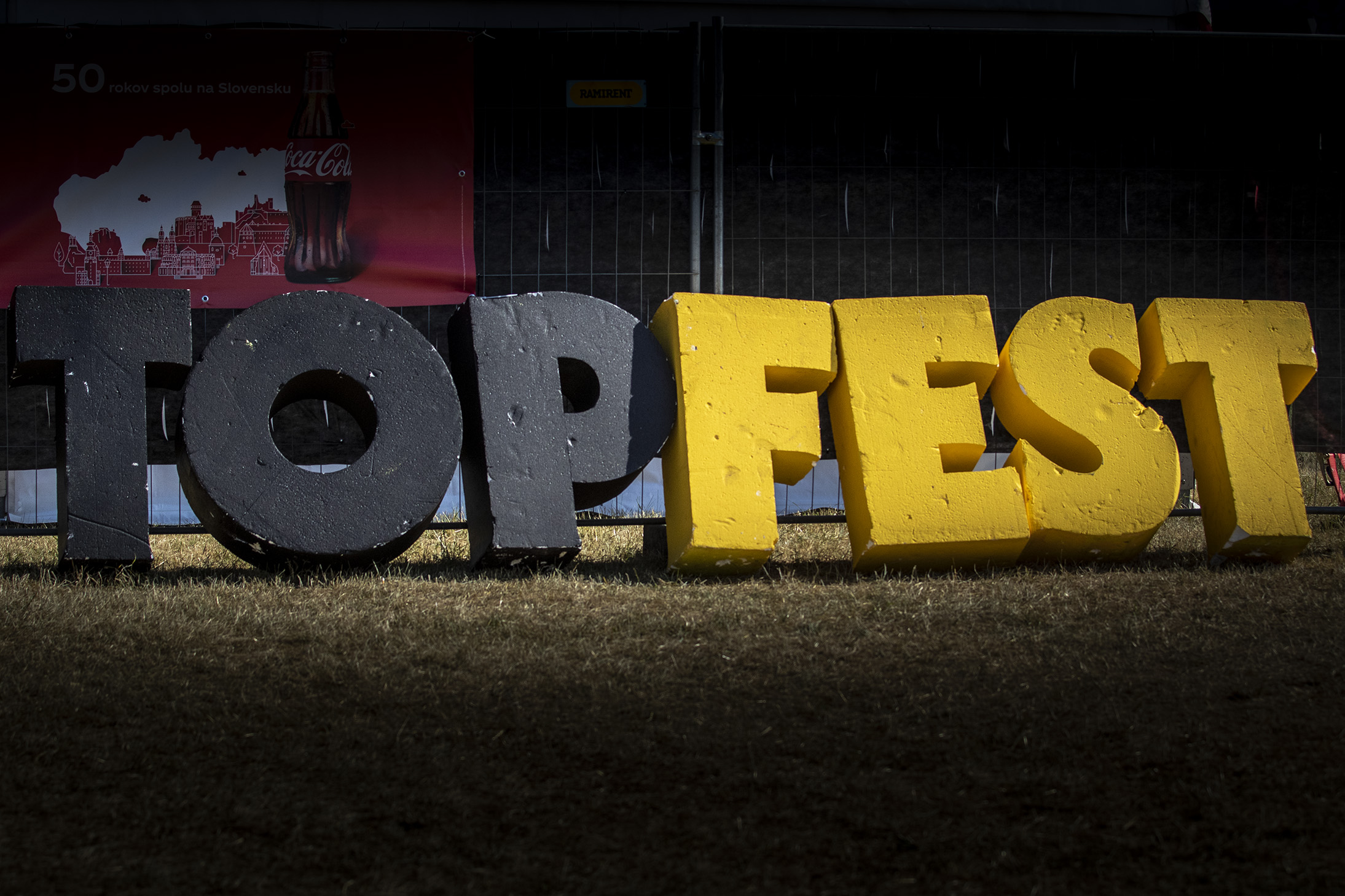 "Toto je náš prvý festival po korona kríze. Na TOPFESTe sme ako doma, pretože ja som pomáhal s organizáciou festivalu desať rokov. Zahrali sme výber najväčších hitov a to špeciálne vo štvorici, po 17-tich rokoch sa vrátil do kapely gitarista Tomax. Našu 30-tku by sme ešte chceli osláviť na turné a výberovým albumom," plánuje gitarista a spevák Róbert "Jury" Jurányi
Záver prvého dňa patril rockovému nášupu v podaní kapely Horkýže Slíže a ich hitom "Malá Žužu", "Silný refrén" alebo "Horí ti maštal"! Sobotný program otvorila bratislavská formácia Karpina. Po nej nasledovala kapela Bullet Holes a funky nádielka od nitrianskej skupiny Sematam. Humorné texty a coververzie svetových hitov zahrala kapela Los Brados. Všetkých fanúšikov roztancovala obľúbená bratislavská partička HEX, ktorá zahrala "V piatok podvečer", "Nikdy nebolo lepšie" a "Snežný pluh". Pieseň "Keď sme sami" venovali HEXáci do neba Petrovi "Duďovi" Dudákovi, ktorý pred dvoma rokmi prehral boj s rakovinou.
"Fantastický koncert, úžasné publikum a krásne prostredie. Koncert sme si fakt užili, bolo to skvelé. Živé hranie nám nesmierne chýbalo. Nedá sa to ničím nahradiť. Už sme pár akcií odohrali a vidíme, že to ľuďom chýbalo rovnako, ako nám," prezradil frontman Tomáš "Yxo" Dohňanský.
Potom už pódium patrilo českému Freddiemu Mercurymu a formácii Queenie, ktorá svojou tvorbou vzdáva hold britskej kapele Queen. Svoju šou predviedli Queenie dokonca pred britskou kráľovnou či pred vypredanou O2 Arénou v Prahe a očarili aj festivalové publikum.
"Na TOPFESTe sme hrali po prvýkrát a bolo to bombastické. Tu na Slovensku je to vždy skvelé, takže sem veľmi radi chodíme. K hudbe skupiny Queen mám veľmi blízko už vyše 20 rokov," povedal líder kapely Michael Kluch.
Najväčším ťahákom TOPFESTu je už tradične česká kultová kapela Kabát, ktorá fanúšikom predviedla dokonalý rockový nášup. Celý festival si spolu s Kabátom 90 minút zaskákal a zaspieval megahity "Kto ví jestli", "Malá dáma", "Pohoda" či "Burlaci".
"Je to náš prvý koncert po roku a pol. Veľmi sa tešíme na živé hranie. Počas krízy sme cvičili, takže sme vo forme. A teraz pripravujeme nový album a špeciálne turné Cirkus Kabát. A keď sa všetko vráti do normálu, tak odohráme aj odložené turné, s ktorým prídeme aj na Slovensko," prezradil spevák Kabátu Pepa Vojtek.
Záver festivalu patril skupine INEKAFE, ktorá naživo predstavila novinku "Všetky skladby sveta". Líder Vratko Rohoň zaspieval obľúbené "Ráno", "Ružová záhrada", "Úspešne zapojení" a festival ukončil skladbou "Záverečná". Okrem dobrej hudby priniesol TOPFEST aj foodfest so skvelým jedlom a fun zónu, kde nechýbali kolotoče, zábavné hry, jazda na divokom býkovi a vodné športy. Ale najmä fantastickú atmosféru, ktorú si s nesmiernou vďakou užívali účinkujúci aj návštevníci festivalu. Všetky informácie nájdete na www.topfest.sk
Zdroj: NK Factory