Radostná správa – to je komiksový príbeh Lasicu a Satinského na pozadí krátkych dejín legendárneho Divadla na korze, spoločenského odmäku 60. rokov, prudkého obratu a nástupu normalizácie. Knihou sa nesú trefné poznámky, torzá známych dialógov, skutočné reálie i atmosféra doby, ktorá síce humoru nepriala, no ktorá pre dvojicu Lasica&Satinský predstavovala napriek mnohým zákazom zásadné tvorivé obdobie. Kniha je dielom scenáristu Petra Gärtnera a ilustrátora Ďura Balogha, autorom námetu je vydavateľ Peter Michalík. Milan Lasica bol pri zrode komiksu, stihol ho ešte odobriť, ale žiaľ, jeho vydania sa nedožil. Kniha vychádza v týchto dňoch
"Príbeh knihy sa začal mailom s nasledovným znením: "… ako dlhoročný predstaviteľ pokleslej kultúry vítam vašu ambíciu a som k dispozícii. ML". No až po zistení, že by sa príbeh slávnej dvojice, spracovaný prostredníctvom tohto "pokleslého" média mohol páčiť aj jeho vtedy ešte žijúcemu aktérovi, som vedel, že sa do toho môžeme a snáď aj musíme pustiť. Podobnú reakciu som mal aj od rodiny Satinských," povedal Peter Michalík, riaditeľ a zakladateľ vydavateľstva Monokel. Na začiatku roka 2019 oslovil tvorcov, o ktorých bol presvedčený, že majú na takýto počin "správnu výbavu". O pár týždňov pripravil Ďuro Balogh prvé skice a Peter Gärtner prvý návrh scenára.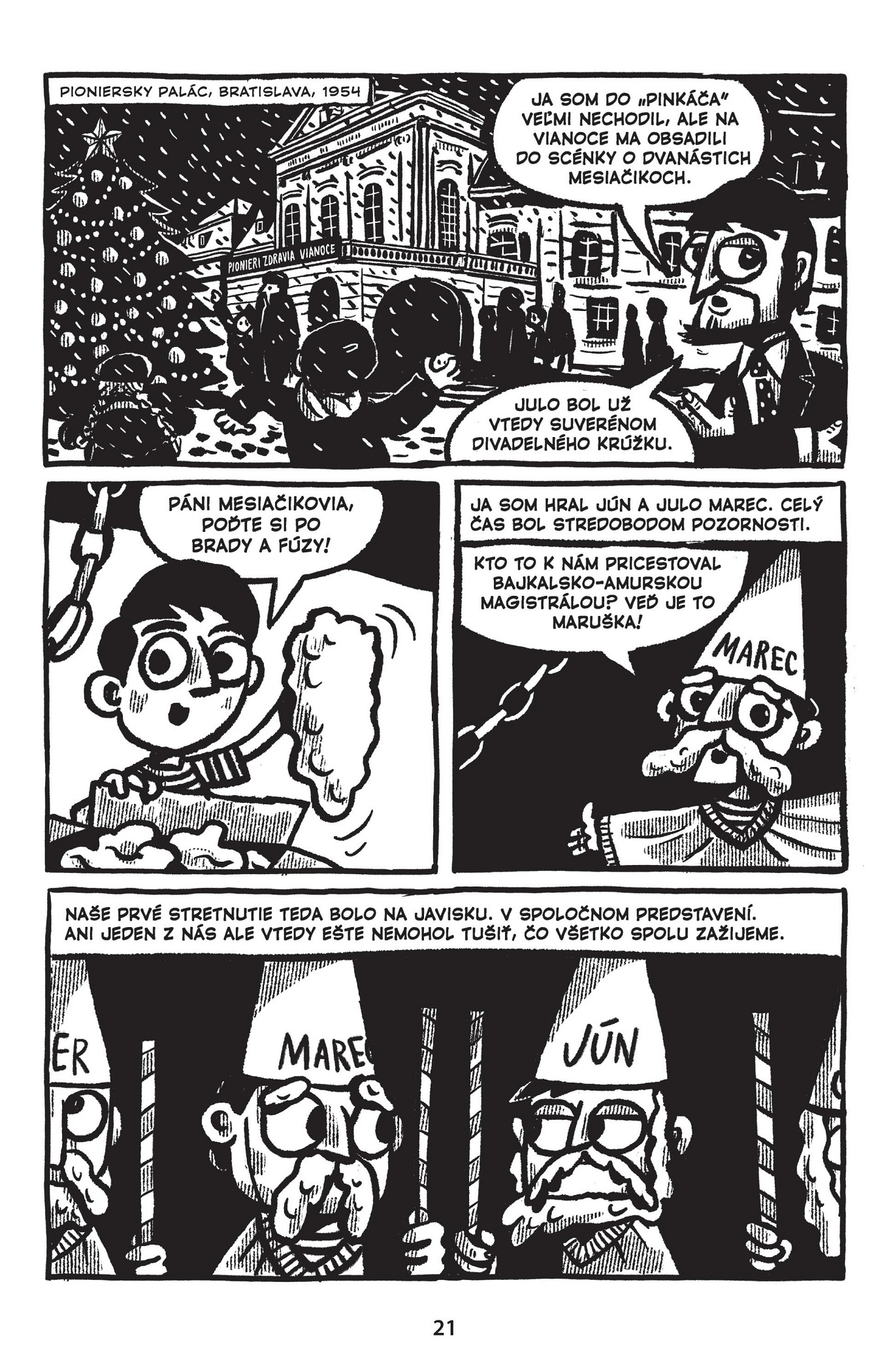 Milan Lasica a Július Satinský tvorili humoristickú dvojicu celé desaťročia, až do smrti Júliusa Satinského, do decembra 2002. Milan Lasica odišiel náhle, tohto roku, 18. júla 2021. Peter Michalík a autor textu Peter Gärtner s ním o nápade vytvoriť a vydať knihu tohoto typu ešte stihli hovoriť a konzultovať s ním.
"S Milanom Lasicom sme hovorili od začiatku, a vlastne bez jeho posvätenia by sme to ani nerobili. Prvýkrát sme sa stretli pred letom 2019, kedy bol jeho postoj, povedal by som rezervovaný. Potom druhýkrát sme sa s ním stretli o rok, keď už bol hotový scenár. Ten sa mu páčil a dokonca vtedy vyjadril svoje potešenie, že niečo také vznikne. Potom sa to ešte rok kreslilo, a výsledku sa bohužiaľ pán Lasica nedožil. Povedal nám veľa známych aj menej známych historiek zo svojho života, tie najlepšie sme spracovali do knihy. V konečnom dôsledku nám dal voľnú ruku: Dajte tam čo chcete len nech to je už hotové," spomína Peter Gärtner. Vydavateľ a autor námetu ho chcel na stretnutí uistiť, že nápad vychádza najmä z ich rešpektu voči humoristickej dvojici a ich spoločnému dielu. "Jeho odpoveď bola: prosím – radšej bez rešpektu," pridal k spomienkam Peter Michalík s tým, že podporu mali od začiatku aj od rodiny Satinských.
Ilustrátor Ďuro Balogh sa žiaľ s Milanom Lasicom nestihol stretnúť, čo ho dodnes veľmi mrzí. Od pätnástich rokov obdivoval humor Lasicu – Satinského, dávka absurdity a úspornosti bola pre neho niečo nové. "Ešte nikdy som nerobil taký dlhý, náročný projekt. Obával som sa toho, sto strán komiksu, to je naozaj na dlho. No nakoniec som už na druhý deň po tom, ako mi zavolali, poslal prvé ukážky a hneď som si začal na to zvykať, áno, budem to robiť a budem veľmi rád," povedal autor ilustrácií, letteringu a grafického dizajnu Ďuro Balogh. "Oni všetci majú veľmi výrazné črty, nosy, brady; vyzerajú ľahko nakresliteľní. Počas kreslenia, za tie dva roky, som si na nich zvykol a vytvoril som si z nich postavy, pri ktorých som mal pocit, že ich osobne poznám, že sú to moji kamaráti," dodal.
Hneď od začiatku existovala idea, že nepôjde o klasický životopis, ale že sa autori zamerajú na vrcholné tvorivé obdobie Lasicu – Satinského a tak je hlavnou témou komiksu Divadlo na korze. Toto legendárne divadlo trvalo veľmi krátko, od roku 1968 do roku 1971; za tri sezóny odpremiérovalo osem inscenácií, ktoré znamenali nóvum pre slovenské profesionálne divadlo. "Zlaté šesťdesiate", uvoľnenie, nová, silná generácia divadelníkov.
Čitatelia a čitateľky si pripomenú slávne dialógy dvojice, ich humor, pre ktorý bola príznačná absurdita a skratka, trefné narážky, ktoré ilustrujú dobový kontext ich vzniku. K nemu patrí aj celý rad zákazov a odmietaní. Lasica – Satinský chceli hrať pre svoje publikum, no vždy a zas im ho vzali. V knihe sú aj vedľajšie postavy skutočných súputníkov dvojice, ich priatelia, i tí "najvyšší", ktorí rozhodovali v mene režimu.Dôležitou postavou je šéfredaktor zásadného Kultúrneho života Kornel Földvári, neskôr riaditeľ Divadla na korze, okrem iných sa v knihe objavia: Peter Mikulík, Laco Kalina, Janko Borodáč, Martin Porubjak, Alexander Dubček, Ján Roháč, Miroslav Válek, Miroslav Horníček, Ján Werich, Milan Sládek, herci z korza, kapela Prúdy a mnohí ďalší.
"Toto obdobie tvorí priesečník mnohých silných historických, umeleckých aj osobných momentov. 60. roky patrili aj vďaka spoločenskému odmäku, ktorý priniesla Pražská jar, k najslávnejším obdobiam modernej slovenskej kultúry: hudba, literatúra, kinematografia, ktorá vtedy vznikala, inšpiruje mnohých dodnes. Aj pre Lasicu a Satinského to bolo nesmierne dôležité obdobie: po legendárnych prechádzkach pri Dunaji, mládežníckych predpoludniach v Tatra revue a prvých televíznych skúsenostiach, dosiahli zrelý autorský aj herecký výraz, ktorý mali zrazu možnosť po dlhých rokoch presúvania a zákazov rozvíjať na doskách vlastnej scény v Divadle na korze. Až kým neprišli tanky, divadlo nezavreli a Lasicu a Satinského neupadli do minulosti," povedal Peter Michalík.
Pri zbere materiálu autor textov vychádzal z dostupných teatrologických materiálov, filmových záznamov, knižných a časopiseckých rozhovorov, ale aj z autentických spomienok priamych aktérov či pamätníkov slávnej éry slovenského divadelníctva. Autori za cenné informácia a podnety ďakujú v knihe Martinovi Hubovi, Petrovi Mikulíkovi, Milanovi Lasicovi, Lucii Molnár Satinskej, Viere Satinskej, Milanovi Sládkovi, Vladimírovi Strniskovi a ďalším.
Kniha zaznamenáva dve časové línie, tou dominantnou je spomínané obdobie Divadla na korze a jeho spoločensko-politický kontext; no príbeh sa vracia aj k bodu prvého stretnutia Milana Lasicu a Júliusa Satinského. Bolo to v roku 1954, v Pionierskom paláci, v Bratislave. Prvé stretnutie sa konalo rovno na javisku, v hre O dvanástich mesiačikoch. Ani jeden z nich vtedy nemohol tušiť, čo spolu ešte zažijú.
Prišila VŠMU, Vojenský umelecký súbor, Tatra revue… Tam všade "robili srandu" z politickej situácie, hral jazz, imperialistická hudba, inak ako zákazmi to vtedy ani nemohlo skončiť.
"Ja ako scenárista projektu som sa snažil spraviť čo najpodrobnejší výskum. Čo sa nám však nepodarilo zistiť sme si museli domyslieť, že asi ako to mohlo byť. V konečnom dôsledku každý životopis je fikcia. My sme to chceli poňať odľahčene, s úctou k udalostiam. Vymýšľali sme si len vedľajšie postavičky, ostatne veci idú z reality, napríklad aj fotograf čo fotil Dubčeka, či ďalšie detaily," dodal Peter Gärtner.
Radostná správa je druhé a zároveň posledná autorská hra, ktorú stihli Lasica so Satinským uviesť koncom 60. rokov v bratislavskom Divadle na korze. S nastupujúcou normalizáciou prišiel zákaz, nútený odchod z divadla či snaha vymazať dvojicu z archívov a najmä z pamäti ľudí. Podaril sa však pravý opak.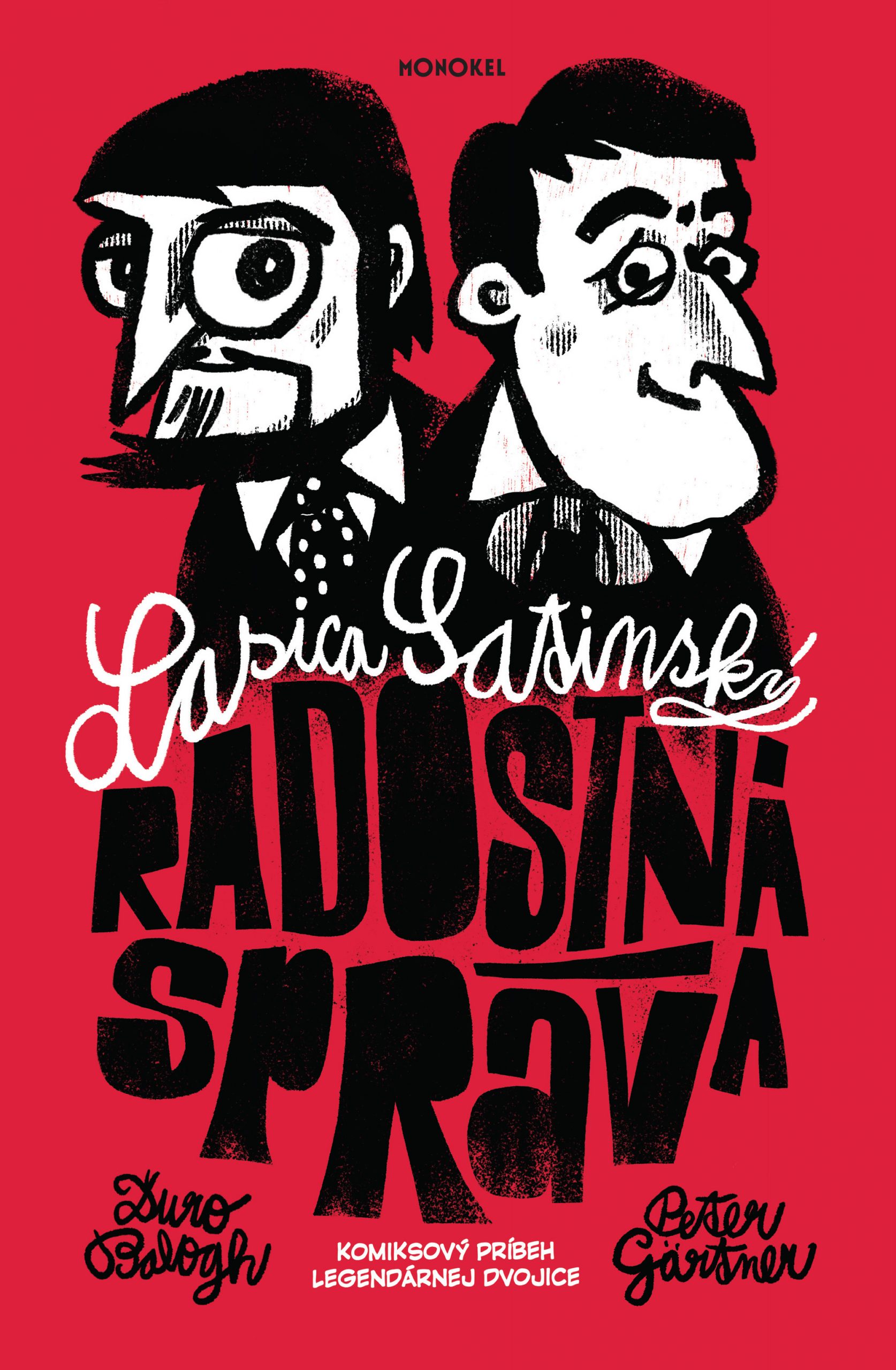 Zdroj: Zuzana Golianová, Mediálna podpora komiksu Radostná správa (vydavateľstvo Monokel)