Výsledky prv
é

ho kola hlasovania Českej hudobnej akad

é

mie predznamenávajú, ako by mohli vyzerať tohtoročn

é

nominácie na Ceny Anděl Coca-Cola 2022. Zo shortlistu siedmich interpretov v každej kategórii budú akademici hlasovať v druhom kole v polovici februára. Po ňom budú známe tradičn

é

tri nomin

ácie. Na shortlist v kategórii Slovenský album sa spolu s albumom Posledn

é veci Mira

Žbirku dostali aj ADONXS –

Age of Adonxs, He

ľenine Oči –

Cirkus 22, Kali & Peter Pann

–

Banan, Korben Dallas

–

Deti r

ý

b, Richard M

üller – Č

ierna labu

ť, biela vrana, Vec – Zem & Vec. Miro Žbirka je so svojim posmrtne vydaným albumom Posledn

é

veci nominovaný aj v najprestížnejších českých kategóriách Album roka Najlepší sólový interpret a skladba Nejsi sám s jeho synom Davidom, ktorý je aj producentom albumu, sa objavila v shortliste kategórie Najlepšia skladba.

V poradí 32. ročník cien Českej hudobnej akadémie sa uskutoční v sobotu 15. apríla v Křižíkovom pavilóne pražského Výstaviska. Večerom, ktorý v priamom prenose odvysiela Česká televízia, bude sprevádzať herec Kryštof Bartoš. Aj keď po prvom kole hlasovania sa dá iba letmo načrtnúť, kto by si tento rok mohol ikonickú sošku Anděla so šalmajom odniesť, niekoľko mien v shortlistoch predsa len dominuje. Najväčšie šance na nominácie majú s ohľadom na zastúpenie v jednotlivých kategóriách Calin a Miro Žbirka. Prvý z nich zaujal albumom Popstar a singlom Hannah Montana, za ktorý by mohol byť nominovaný na Skladbu, Sólového interpreta, Objav a v žánrovej kategórii Rap. Miro Žbirka má šancu získať nominácie za svoj posmrtne vydaný album. Trikrát v zoznamoch prednominácií figurujú mená 7krát3, Lazer Viking a skupiny Dunaj, Lake Malawi a Vypísaná Fixa.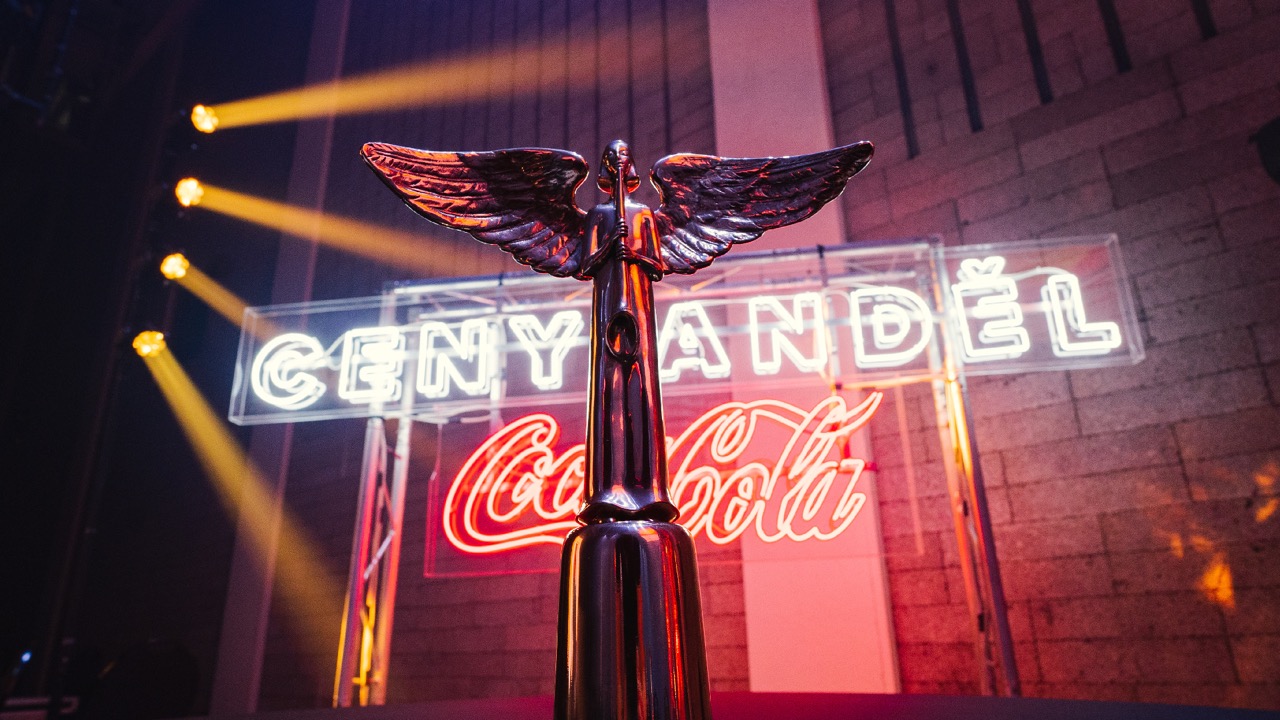 Aj tento rok zostali organizátori Cen Anděl pri trojkolovom syst
é

me hlasovania.
"Podobne ako v minulom ročníku, kedy sme si ich vyskúšali prvýkrát, nám prednominácie umožňujú upozorniť na širšie spektrum skvelej hudby, ktorá u nás vychádza. Pri detailnejšom pohľade odhaľujú, že Česká hudobná akadémia má v súčasnom zložení široký záber. Aj v hlavných kategóriách vedľa zavedených a poslucháčmi preverených hviezd populárnej hudby v shortlistoch figurujú aj všeobecne menej známe mená z rôznych žánrov aj generácií," komentuje výsledky prvého kola hlasovania predseda rady Českej hudobnej akadémie Honza Vedral. Trojkolový systém hlasovania podľa neho dáva akademikom priestor venovať sa pred finálnou voľbou pozorne rôznym nahrávkam.
Prv
é

ho kola hlasovania sa zúčastnilo celkom 421 akademikov, teda najviac za celú

hist

óriu Andělov.
"Máme veľkú radosť, že sa Ceny Anjel tešia stále väčšej priazni, a to nielen akademikov. Posúvať toto ocenenie k hudobníkom a všetkým hudobným fanúšikom bola, aj je naša priorita. Všetkým akademikom a podporovateľom Andělov patrí naša obrovská vďaka," hovorí producentka Lucka Hájková.
V žánrových kategóriách hlasujú špecializované žánrové akadémie, ktorých garantmi sú rovnako ako vlani Vojtech Tkáč (Alternatíva a elektronika), Milan Tesár (Folk, Jazz), Michaela Vostrelová (Klasika), Matej Kretík (Rap), Petr Adámek (Rock), Roman Juhás (Slovenský album) a Saša Michailidis (Videoklip). Jedinou kategóriou, o ktorej laureátovi akademici rozhodli už v prvom kole, je už tradične Sieň slávy.
Ceny Anděl udeľuje každoročne od roku 1991 hudobná akadémia. Od roku 1995 sa realizujú pod záštitou ČNS IFPI a od roku 1997 ich symbolizuje soška Anjela sa šalmajú od sochára Jaroslava Rónu. Partnermi 32. ročníka Cien Anjel sú spoločnosť Coca-Cola, INTERGRAM a OSA, hlavným mediálnym partnerom je Európa 2. Usporiadateľom je od roku 2017 spoločnosť LUFF PRODUCTION.