Vizuálom nás vťahuje do atmosféry seriálu True Detective a kombináciou rapu, country a bluesu ponúka nezabudnuteľný hudobný zážitok.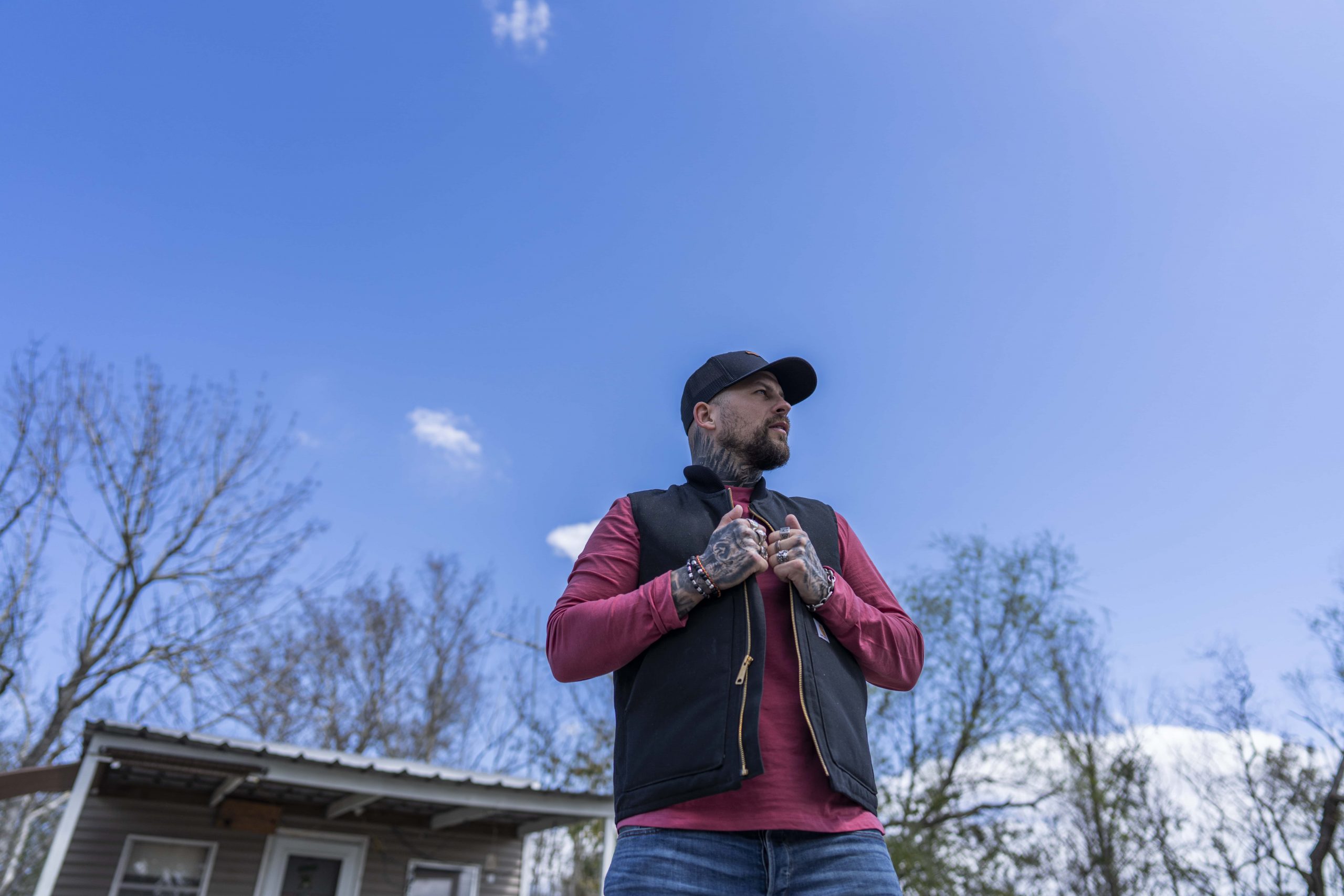 Marpo je výrazný solitér českej hiphopovej scény, ale aj mainstreamu. V roku 2018 vydal svoj doposiaľ posledný a zároveň najúspešnejší album Dead Man Walking, s ktorým ako TroubleGang vypredali O2 arénu. 09.07.2021 tento 36-ročný rapper vydal nový projekt, ktorý je mixom rapu, country a bluesu. Na albume pracoval viac ako rok a jeho fragmenty sa nakrúcali mimo iného aj v americkej Louisiane a Mississippi. Temná miestna atmosféra dokonale zrkadlí náladu celého albumu a umelca. Backwoods Bred pomyselne nadväzuje na Dead Man Walking, čo dokazuje blízka a nielen producentská spolupráca Marcusa Trana a Clinta Murphyho. Veľká pozornosť sa dostala aj bookletu albumu, o ktorého dizajn sa postaral osvedčený grafik Ondřej "SHO" Havlíček, ktorý z neho vytvoril umelecké dielo.
Album vznikal na diaľku, kvôli pandemickej situácii, ktorá nedovoľovala stretnutie s producentami Marcusom Tranom a Clintom Murphym. Marpo prezradil, že Clint mal priletieť z Anglicka, ale česká strana mu nedovoľovala vstup do krajiny, takže pracovali štýlom zdieľania obrazovky laptopu a album sa tvoril počas video hovorov. Prvou ochutnávkou albumu sa stal track "Hillbilly", ktorým dal Marpo najavo, akým smerom sa bude nový album uberať. V druhom singli "Bad Man", ktorý má na konte viac ako 408 tisíc zhliadnutí na Youtube, sa vyspovedal Bohu a v treťom tracku "Sinner" sa stal hriešnikom. Teraz spolu s albumom vydáva videoklip "V plamenech".
"Je to zmeska rapu, country a bluesu. S Marcusom sme na tom veľa makali, ladili každý detail, ale to vo svojich tlačovkách vraví každý. J Budem rád, keď to ľudia posúdia sami," vraví Marpo a pochvaľuje si spoluprácu. "Marcus je obrovský producentský talent a má neskutočné cítenie. Sme prepojení ako bratia. Myslím, že nám to funguje skvele."
Album Backwood Bred mapuje viac ako rok intenzívnej práce. "Každý track je vypiplaný do úplného detailu. Každý nástroj, každý 808 kopák, každý vokál, harmónie atď. Musím uznať, že ten časový rozostup funguje skvele, pretože sme sa k niektorým trackom vracali a doaranžovávali ich, keď sme to po troch mesiacoch cítili trochu inak," približuje tvorbu rapper.
O Marpovi sa vie, že je milovníkom Floridy a tepla. Teraz mu počarovala práve krajina Louisiany a Mississippi, kde sa zároveň podarilo nakrútiť videoklipy a nafotiť vizuály k albumu. "Natáčalo sa na rovnakých miestach, kde točil Woody Harrelson a Matthew McConaughey," vraví Marpo, ktorý plánuje temnú atmosféru amerických miest priniesť fanúšikom i na pódiá.
Hudobne Ota Petřinu aka Marpa najviac ovplyvnil jeho otec, ktorý bol znamenitý skladateľ a rešpektovaný gitarista. Nemal však rád rap a o to viac je teraz Marpo na hudbu, ku ktorej dospel, hrdý. "Mal som krízu tvoriť. Potom, ako sme v O2 aréne vystrelili až medzi popových umelcov a do mainstreamu, sa mi to nejako strašne znechutilo. Šoubiznis. Potom krachol EDEN pre covid a bol koniec. Ale urobili sme prvý song "Bad Man" a ja som zase našiel tú chuť, drive a lásku k hudbe. Vypísal som sa z toho," popisuje posledné roky Marpo
STREAMINGOVÉ SLUŽBY – ALBUM
www.facebook.com/mcmarpo/
www.instagram.com/mcmarpo/
Zdroj: TS