Život je jako kolo. Dříve či později se pokaždé dostanete do bodu, kdy zas znovu začínáte. K

tomu, aby se člověk posunul, to chce dostatek odvahy. Třeba takové, jakou měl frontman WHEEL James Lascelles. Po tom, co tenhle Anglán v Helsinkách potkal tři podobně smýšlející muzikanty, se za nimi neváhal kvůli tvoření muziky přestěhovat. Hudba tělesa je v tomto případě odrazem toho, co mají rádi, i když oni sami neví, zda se řadit k metalu či rocku.
Jejich nejoblíbenější kapely jsou totiž Karnivool, Radiohead a Alice in Chains a všechny tyto ingredience jsou v jejich hudbě cítit. Jakožto silný odkaz Tool. Hutná progresivita s groovem, zatěžkaný grunge i rovnější zpěvnější pasáže.
Po megaúspěšném EP "The Path and The Divide" vyšel debut "Moving Backwards", které "inspiraci" WHEEL ve stylotvůrcích Tool nezapřou. Jsou tu delší surreálné sekvence, masivní kytarové riffy, zajímavé a překvapivé aranže s temnými zákoutími i vhodně padnoucí zpěv. Prýští tu kreativita, jaká by se od mezinárodní spolupráce muzikantů dala očekávat.
Život je jako kolo. Dříve či později se zas dostanete do bodu, kdy znovu začínáte. A právě teď ho poslechem "Moving Backwards" a navštívením jejich koncertu můžete změnit a vpustit si do života další skvělou kapelu, která měla odvahu najít to své štěstí.
Koncertní debut Wheel u nás doprovodí "plzeňští" MADEBYTHEFIRE. Dlouhodobě jedna z nejosobitějších kapel, která ze své minulosti stále zachovává nečekané puzzle-struktury a náročnou instrumentaci, ale dnes se už prezentuje emocemi nabitým a podmanivě impresionistickým (post-)rockem v lichodobých rytmech, jaký nikde jen tak neuslyšíte.
WHEEL, MADEBYTHEFIRE
21 / 02 / 2020 – Praha / Chapeau Rouge
FB event: https://www.facebook.com/events/1375490409285516/
e-TICKET: https://obscure.cz/cs/tickets/detail/id/316
WHEEL (UK/Fin) – progressive rock/metal
www.youtube.com/watch?v=jwJsQCetgDU
www.youtube.com/watch?v=MMe99B0EP94
www.youtube.com/watch?v=Nm9E5OMFnXg
www.youtube.com/watch?v=i2zfxHWZr4A
MADEBYTHEFIRE – progressive rock/emo/indie
https://youtu.be/gq8zgOmf8HI
Předprodej dále v síti Ticketmaster, GoOut (https://goout.net/cs/listky/wheel/ietf/) a na předprodejní kase v Lucerna Music Baru.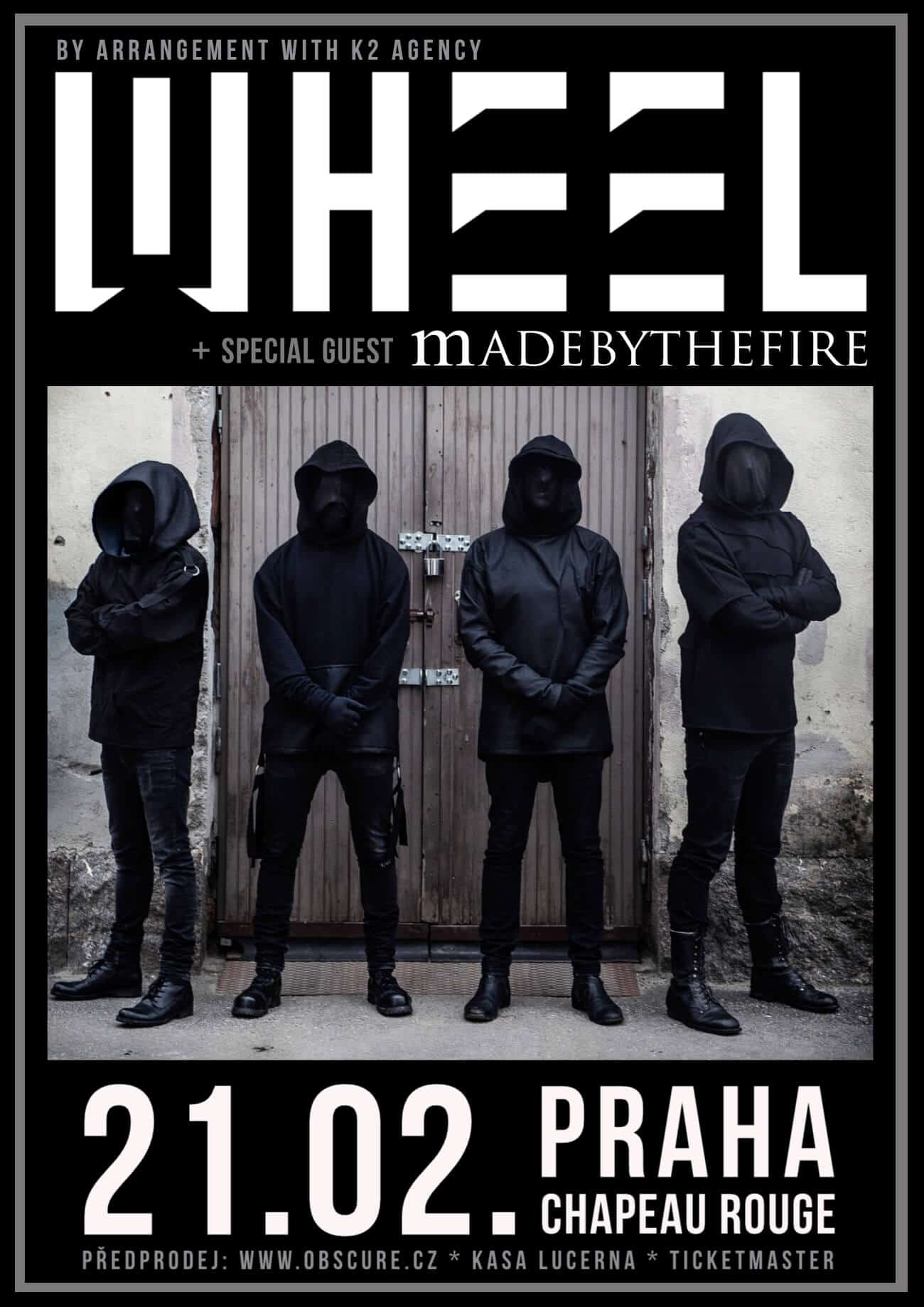 Zdroj: Obscure Promotion