CARL COX, CHARLOTTE DE WITTE, TIËSTO, ADAM BEYER, CHARLIE SPARKS, JOSEPH CAPRIATI, ANNA, ENRICO SANGIULIANO, DUBFIRE, BLASTERJAXX, GOODBOYS, REGARD, PAN-POT, YVES V & mnoho ďalších!
Festival Balaton Sound oznamuje neuveriteľnú druhú vlnu medzinárodne uznávaných DJov vrátane Carla Coxa, Charlotte de Witte, Tiësta, Adama Beyera, ANNA a ďalších, ktorí sa pripájajú k už tak hviezdnemu line upu v ktorom jeArmin Van Buuren, Joel Corry, Don Diablo, Dimitri Vegas & Like Mike mnohí ďalší. Vydanie Balaton Soundu pre rok 2023 bude obsahovať rôznorodejší line up, ktorý predstaví širokú škálu elektronickej hudby a prinesie tie najlepšie mená z každého žánru na slnečné brehy jazera Balaton v Maďarsku.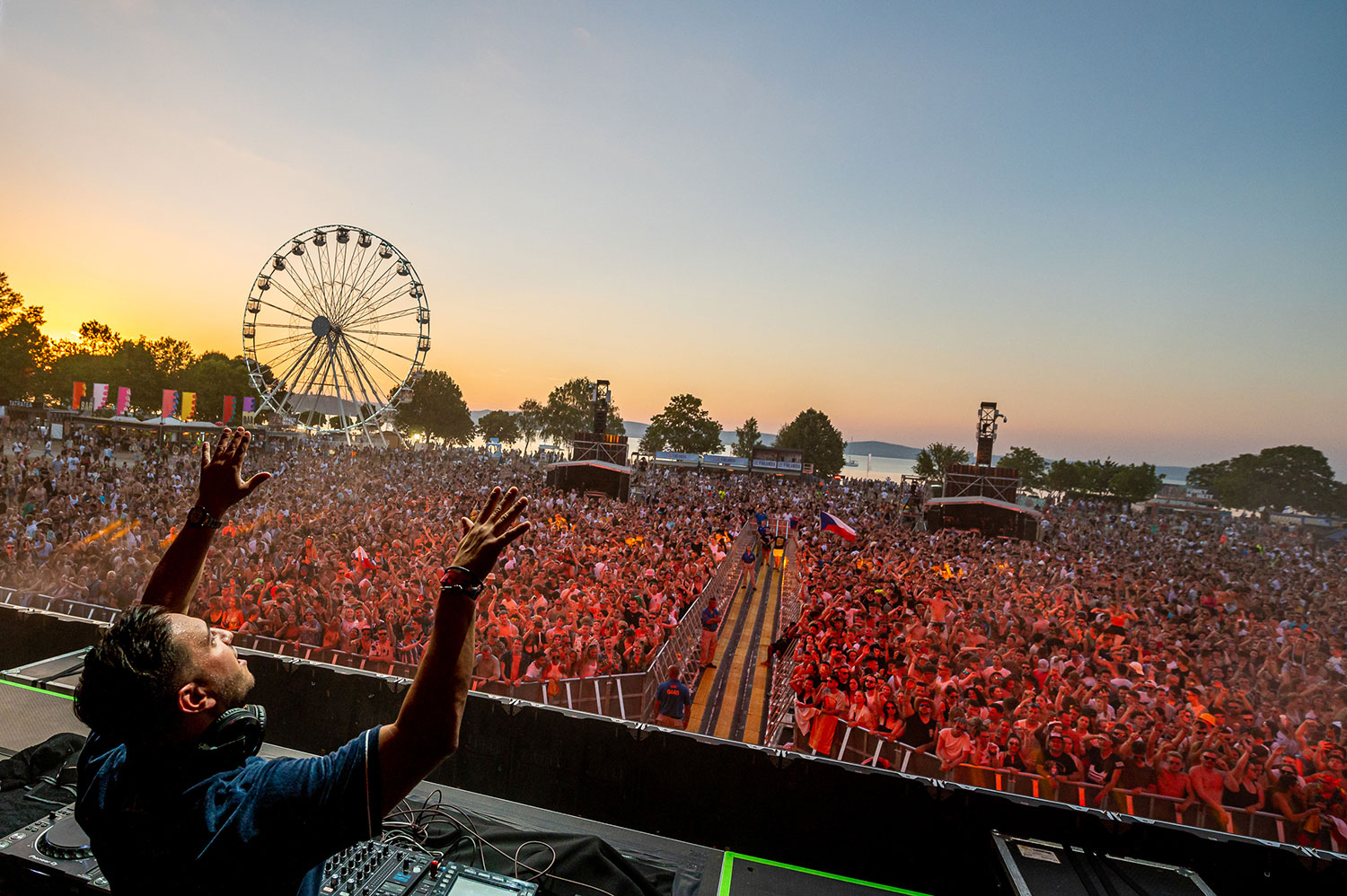 V roku 2023 bude hlavné pódium naďalej hostiť rotáciu EDM DJs vrátane nového headlinera a "krstného otca" tanečnej hudby Tiësta, ktorý je už desaťročia na čele najlepších svetových DJov. Ďalšie neuveriteľné mená, ktoré boli práve oznámené na hlavnom pódiu, sú holandské duo Blasterjaxx a deep house majster Regard, ktorí sa pripájajú k Arminovi Van Buurenovi, Dimitri Vegas & Like Mike, Don Diablo, Hardwell a KSHMR.
Fanúšikovia undergroundovej elektronickej hudobnej scény si užijú nabitý program naprieč pódiami, vrátane BmyLake, kde od 90 rokov nepasovaný kráľ elektronickej hudby Carl Cox, prinesie svoje legendárne umenie mixu spolu s č. 1 DJ Mag pre rok 2022, Charlotte de Witte. Medzi ďalšie klasické superhviezdy tohto žánru patria Joseph Capriati, kyjevské DJské duo Artbat, hviezda DJ Mag Top 100 Adam Beyer a brazílska tanečná veľmoc ANNA.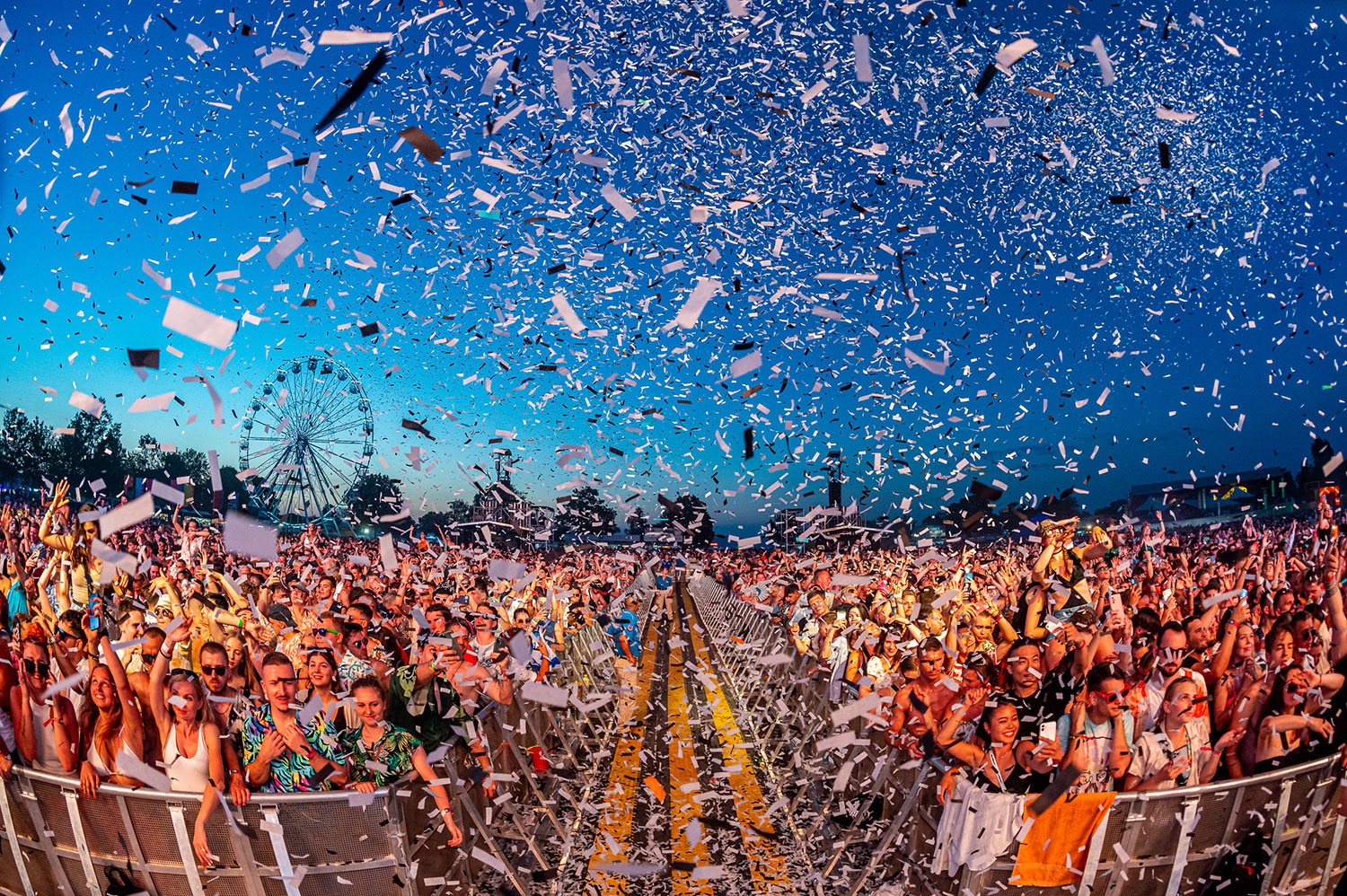 Nový stage Dreher Soundclash bude obsahovať špeciálne denné vystúpenia po skončení umelcov na hlavnom stagy, čímsprostredkuje ešte intenzívnejší rave zážitok, na ktorom sa budú podieľať značky ako Claptonov Masquerade, Q-dance, Rave Culture a Next Level..
Anna Filutás, Balaton Sound Projektový manager: "Vlaňajším návratom sme uzavreli 'éru covidu' a užili sme si, že sme konečne sme si to spolu poriadne užili. Rok 2023 odštartuje novú éru Balaton Soundu s bohatým a rozmanitým hudobným programom, pódiami a dennými aktivitami. Sme radi, že naše reputácia naďalej rastie vďaka line upu pre rok 2023, ktorá obsahuje takmer 20 mien zo zoznamu 100 najlepších Djov sveta.
Balaton Sound ponúka bezkonkurenčný VIP zážitok vďaka Beach klubu, exkluzívnymi reštauráciami a exluzívnymi show, vďaka čomu je toto podujatie jednou z obľúbených európskych festivalových destinácií. Návštevníci festivalu môžu zažiť predstavenia z rôznych pouličných divadiel, módne prehliadky a sériu relaxačných aktivít.
Celý lineup A-Z
Adam Beyer
Agents of Time
Alle Farben
Amémé
Anfisa Letyago
ANNA
Argy
Artbat
AXMO
Armin Van Buuren
Blasterjaxx
Carl Cox
Cera Khin
Charlie Sparks
Charlotte de Witte
Claptone
Clara Cuvé
Coeus
Dimension DJ set
Dimitri Vegas & Like Mike
Don Diablo
Dubfire
Dubvision
Enrico Sangiuliano
Ferreck Dawn
Fred Lenix
Giolì & Assia live
Goodboys
Hardwell
Indira Paganotto
Joel Corry
Joris Voorn
Joseph Capriati
Justus
KSHMR
Kungs
Layla Benitez
Ofenbach
Matroda
Olly James
Pan-Pot
Parfait
Philipp Straub
Ran-D
Rebelion
Regard
Riton
Sam Paganini
Satori live
Sébastien Léger
Sefa
Sound Rush
Sub Zero Project
Sullivan King
Tchami
Tiësto
Tinlicker live
TNT
Regard
W&W
Will Sparks
Villain
Vini Vici
Yves V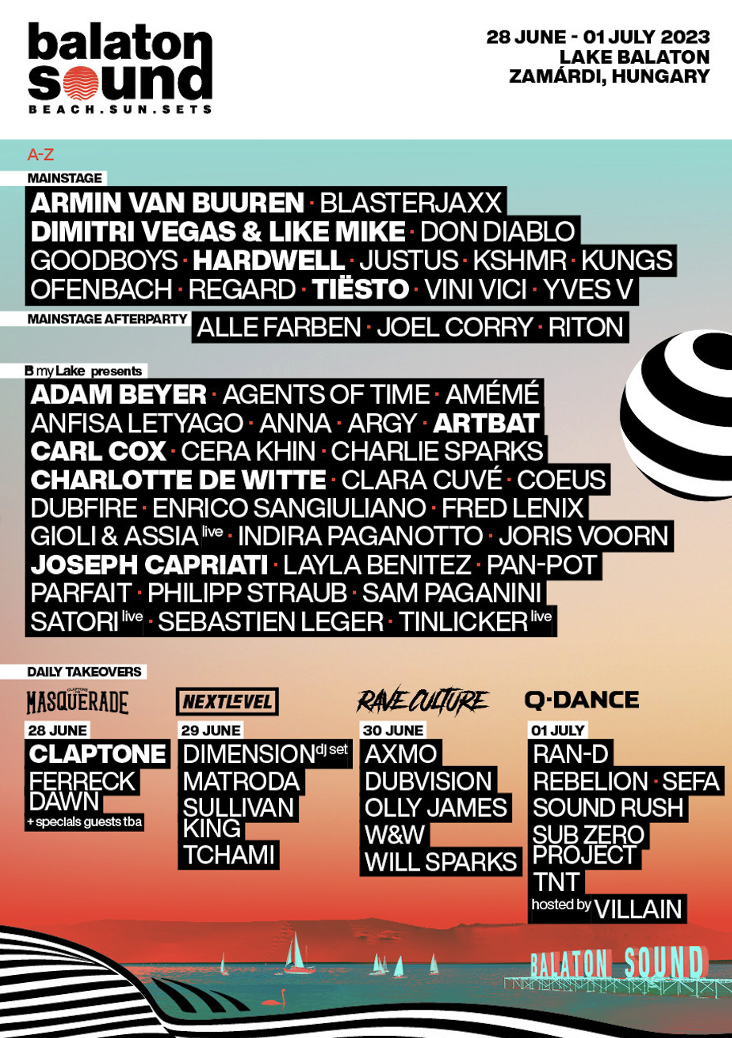 28. Jún – 1. Júl 2023
Zamárdi, Maďarsko
4-dňový festivalový lístok od 219 €, 3-dňový festivalový od 185 €
Vstupenky k dispozícii na www.balatonsound.com/sk
Cena vstupeniek sa zvyšuje 23. februára o 19:00 GMT
Ceny lístkov:
4-dňový lístok od 219 €, ponuka VIP 369 €
3-dňový lístok od 185 €, ponuka VIP 310 €
Denné vstupenky od 69 €, ponuka VIP 159 €
Balaton Sound 2023 sa bude konať pri jazere Balaton v Maďarsku od 28. júna do 1. júla.
Pre viac informácií navštívte www.balatonsound.com.
Zdroj: TS