Na společné turné se na podzim vydají IN THE WOODS… a SATURNUS, dvě skandinávské kapely, které nespojuje jen atmosféra, ale i opatrný přístup ke koncertování. A jelikož obě party mají nové desky, je dobře, že pro tuto událost našly společnou řeč.
Dánský doommetalový pilíř SATURNUS nejenže příliš nekoncertuje, příliš ani nevydává. Loni v listopadu jsme je v Čechách viděli po 7 letech a desku nevydali dokonce celou dekádu. A tu před měsícem přerušili novou deskou "A Storm Within", která opět do jemné melancholie zaplétá šlapavé hitové pasáže. Snad je spolupráce s Prophecy Prod. už definitivně vytrhne ze spárů turbulencí v sestavě, protože hudba SATURNUS pro fanoušky doom metalu představuje trvale zářící maják ve vodách zoufalství obklopených mlhami smutku, kterými by jejich vznosné melodie a pohlcující atmosféra zaslouženě měly být.
IN THE WOODS… pocházejí z plodné norské blackmetalové scény a vznikli roku 1991 ze členů původní sestavy Green Carnation. Melancholickou polohou na ně navazují i hudebně, ačkoli mezi lety 2000 a 2014 v jejich životě zeje díra. V minulosti záhadná entita, co před svým debutem (1995) pionýrsky začala používat termín 'pagan', svou kariéru vybudovala na experimentálním přístupu a rozmanitém black písničkářství, které bychom z dnešního pohledu mohli nazvat i za předchůdce post-větve. S pěti alby a několika EP je do hry vrací šestá deska "Diversum", která je opět plna osobitého, progresivně laděného nablacklého doomy rocku odhalujícího epické scenérie končící až v horizontech v nekonečných lesích…
Hostem na turné budou THE FORESHADOWING z Říma, kteří právě vydali nové, přes půlhodinu trvající EP "Forsaken Songs". Doom metal jak z gotické katedrály rozeznělé pochmurným melancholickým žalmem.
Předprodej viz e-TICKET výše, dle místa konání dále v sítích GoOut, Ticketmaster, Ticketportal.sk nebo v klubu Collosseum.
IN THE WOODS…, SATURNUS, THE FORESHADOWING
17. 10. 2023 – Bratislava, Randal
FB event: https://fb.me/e/1k0gOnVU5
e-TICKET: https://obscure.cz/cs/tickets/detail/id/619
18. 10. 2023 – Praha, Futurum
FB event: https://fb.me/e/BRDXCBEx
e-TICKET: https://obscure.cz/cs/tickets/detail/id/620
19. 10. 2023 – Košice, Collosseum
FB event: https://fb.me/e/QagxtFAP
e-TICKET: https://obscure.cz/cs/tickets/detail/id/621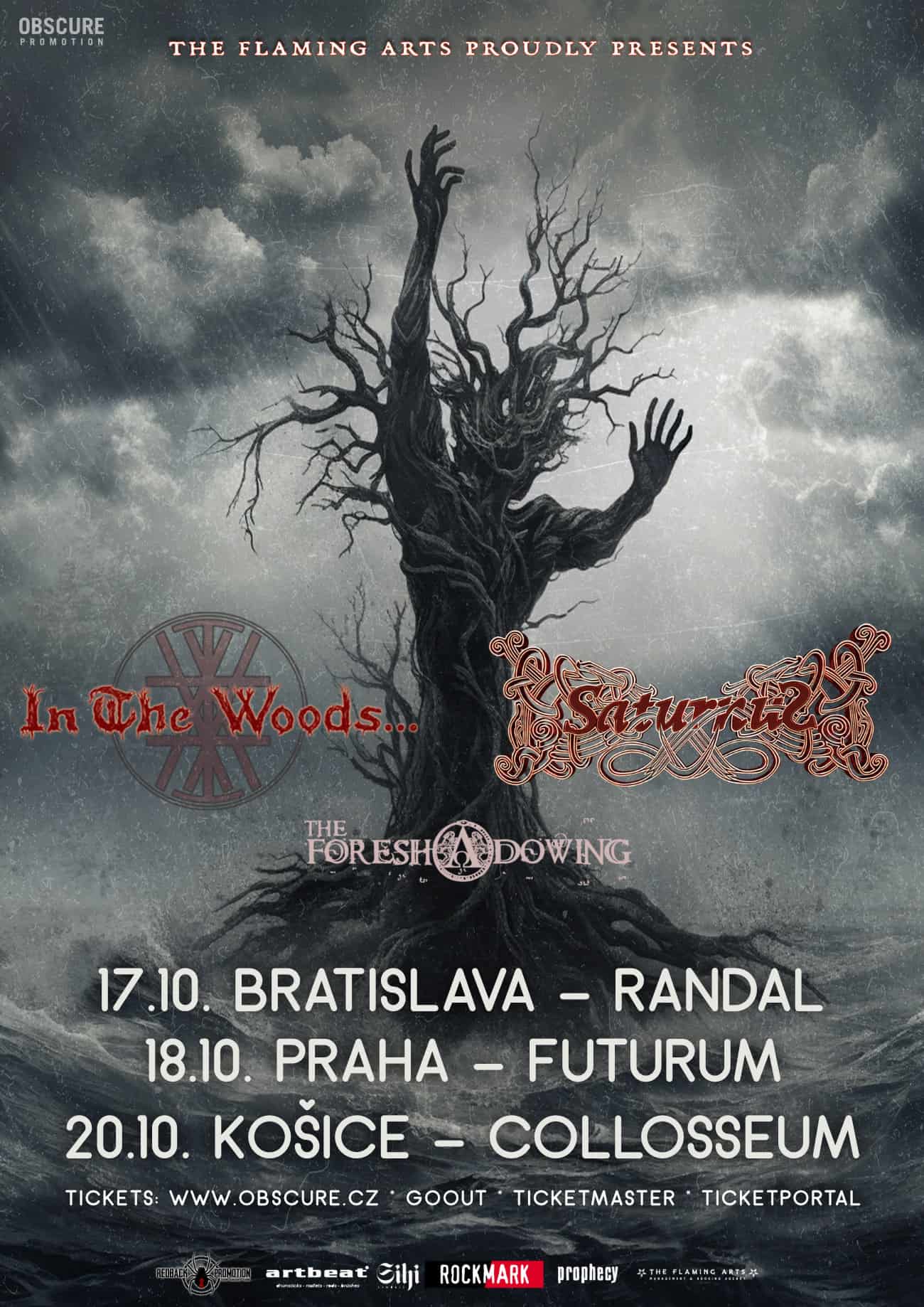 Zdroj: TS