Chrliči síry a zlého nenapodobitelného death metalu IMMOLATION se v listopadu vrací do Prahy. V jejich bitvě zasazující se o vymýcení všeho svatého budou účastni norští raraši RAGNAROK a vídeňští rychlíci MONUMENT OF MISANTHROPY.
IMMOLATION nepotřebují mnoho představování. Však tato stabilní kapela zanedlouho oslaví již téměř 30 let. Za tu dobu se svou unikátní hudbou a zvukem vydali 10 alb a turné bychom ani nespočítali. Stejnak jejich následníky, kteří se k jejich signifikantnímu temnému vyznění hrdě hlásí již od jejich debutové alba. Jsou synonymem promyšleného extrému s ukotveným názorem vystupujícím proti všem svátostem a bez debat je můžeme společně s Cannibal Corpse, Deicide a Morbid Angel zařadit mezi největší pilíře a jistoty deathmetalové scény, které trvale získávají obdiv.
Ani druhá kapela turné nepotřebuje zásadního uvedení. RAGNAROK hrají black metal a jsou ze země žánru zaslíbené, z Norska. V sestavě se jim od roku 1994 vystřídalo několikero známých individualit jako Shagrath (Dimmu Borgir) nebo Hoest (Taake ad.), na kontě právě mají deváté album "Non Debellicata" (vyšlo 15. listopadu). Již od svého vzniku se na svých nahrávkách věnují tématům okolo norské mytologie vč. vikingů, válek a antikřesťanství, ačkoli dnes pohanská témata spíše nahradil satanismus. Nová deska nepřináší kompromisy, jen čistý extrémní black metal pro fanoušky klasických, žánrově čistých kapel jako Dark Funeral, Gorgoroth, Immortal nebo Marduk.
Death a black metal jdou dohromady, revoltujícího The Last Atonement tour se ale ještě účastní brutal deathoví MONUMENT OF MISANTHROPY, jimž se za bicími vystřídala taková esa jako Romain Goulon (Necrophagist ad.), Simon Schilling (Marduk, ex-Belphegor) nebo David Diepold (ex-Benighted, Cognizance ad.). Se zkušenostmi z Brutal Assaultu či turné se Suffocation, Cattle Decapitation, Vader a Full Of Hell nebudou na začátku večera jen pouhou záplatou času.

Immolation
https://www.youtube.com/watch?v=YFReL3uMV7A
https://www.youtube.com/watch?v=1u7wZFkmaVA
https://www.youtube.com/watch?v=KFimlFRqQhA

Ragnarok
https://www.youtube.com/watch?v=qSzAfgTDtpo
https://www.youtube.com/watch?v=3sYfjbcomF4

Monument of Misanthropy
https://www.youtube.com/watch?v=Thp6BGBFJEA
IMMOLATION, RAGNAROK, MONUMENT OF MISANTHROPY
27. 11. 2019 – Praha, Nová Chmelnice
FB event: https://www.facebook.com/events/350255412319729/
Předprodej: https://obscure.cz/cs/tickets/detail/id/286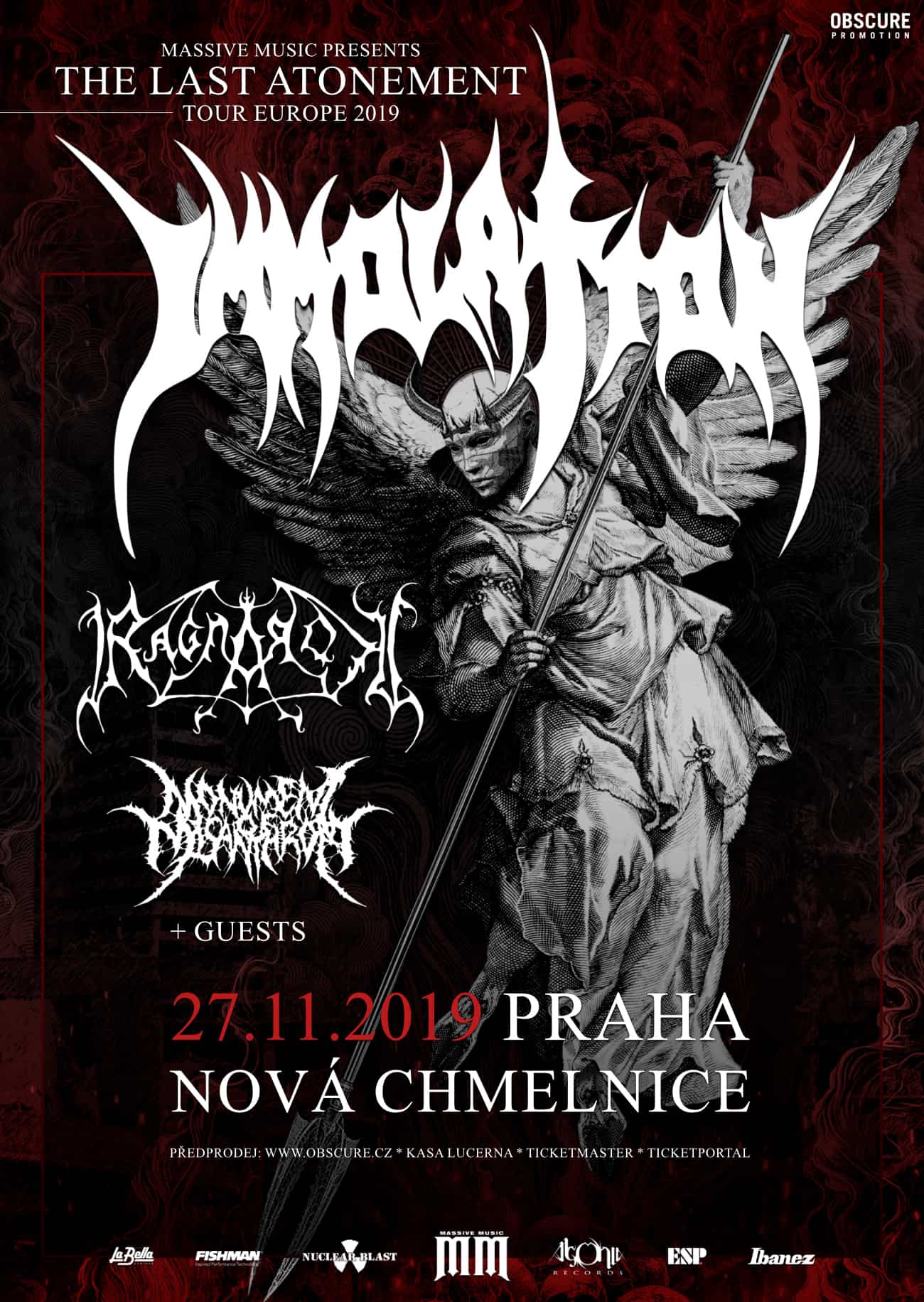 Zdroj: Obscure Promotion