Martin Noga, zakladajúci člen kapely Balkansambel, zakladateľ a riaditeľ world music festivalu Hudba sveta Žilina, producent, manažér a profesionálny hudobník nám porozprával o jeho názore na hudbu world music, čo obnáša vedenie festivalu a omnoho viac.
Martin, tvoja kapela Balkansambel zameriavajúca sa na balkánsku hudbu pretavenú do vášho originálneho hudobného jazyka v spojení s jazzom, slovenským folklórom, dokonca s motívmi z klasickej hudby má už pomerne dlhú a úspešnú hudobnú kariéru. Chcem sa ale opýtať na festival Hudba sveta Žilina, ktorého si riaditeľom a ktorému v roku 2015 táto kapela dopomohla k existencii. Čo stálo na počiatku tohto festivalu?
Na začiatku bol len taký jemne šialený nápad, že nám niečo také ako festival, kde bude hudba blízka našej chuti, doma chýba. Chodili sme dovtedy hrávať po takýchto festivaloch po rôznych kútoch sveta a sladká nevedomosť čo obnáša organizovanie v spojitosti s nadšením dopomohli vzniku tohto festivalu.
Festival je charakterizovaný ako festival tzv. world music. Vedel by si opísať, čo pre teba táto hudba znamená? Prečo chceš ľuďom priblížiť práve tento druh hudby?
World music alebo tiež roots music, ako sa tiež nazýva, je pre mňa hudba vychádzajúca z tradície ale predvedená v novom šate. Je tam priestor pre fúziu rôznych štýlov a žánrov. Viem, že tento žáner nie je žiaden mainstream, nie je to žiadna prvoplánová hudba a možno aj to je pre mňa príťažlivé.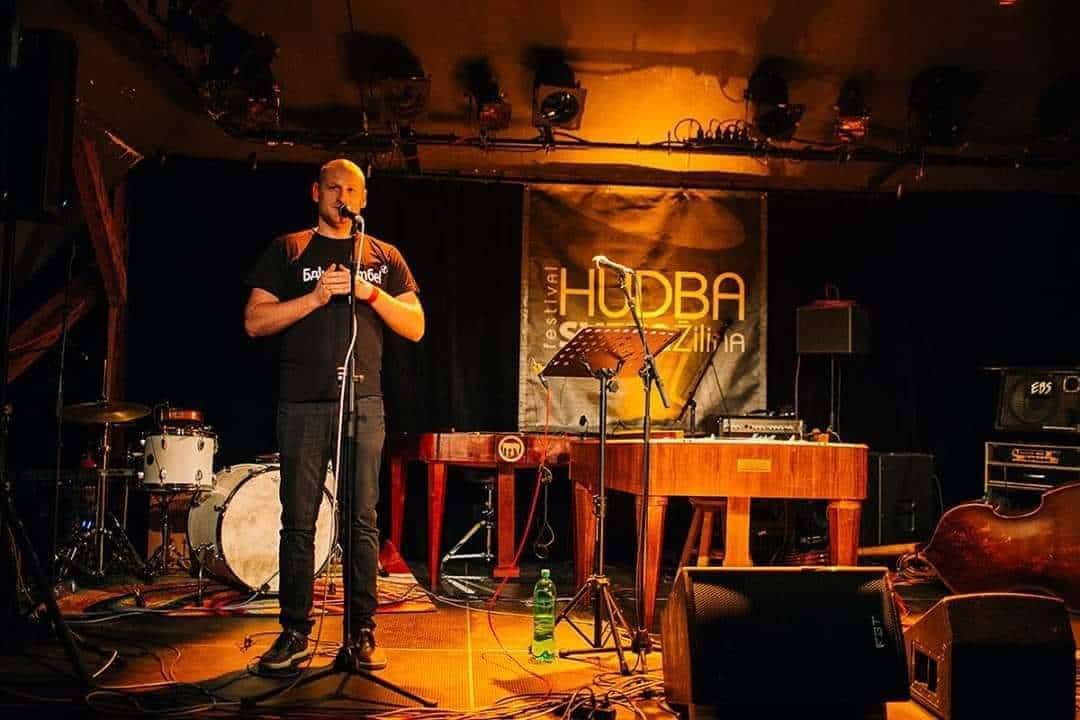 Ako riaditeľ festivalu, člen kapely Balkansambel, ako aj člen platformy WOMUSK si precestoval mnoho zahraničných festivalov, hudobných veľtrhov po celej Európe. Vedel by si zhodnotiť, ako hudbu world music vnímajú v iných krajinách? Má táto hudba nejaké meniace sa trendy, prechádza vkus riaditeľov festivalov nejakým vývojom počas rokov? Vedia si organizátori a hudobní profesionáli nájsť nejakú spoločnú reč na túto hudobnú kategóriu, alebo je to veľmi široký pojem, ktorý každý chápe po svojom?
Myslím, že nikde vo svete nie je táto hudba natoľko mainstreamová, aby vypredávala haly ako súčastné popstar. Jej bonusom je však, že prináša častokrát nový a nepoznaný zážitok, čiže je veľmi objavná. Nie je dôležité, či hudobní profesionáli a organizátori nájdu spoločnú reč na túto hudobnú kategóriu, pokiaľ bude dosť nadšencov, ktorí sa jej budú venovať, organizovať, hrať, tvoriť. Dovtedy bude tento žáner žiť a vyvíjať sa. A to je podstatné.
Festival Hudba sveta Žilina má za sebou už 6 rokov. Ako by si zhodnotil jeho vývoj, má nejaké smerovanie, alebo sa drží počiatočnej idei?
Samozrejme, že sa učíme a rok čo rok sa snažíme zlepšovať. Idea prinášať kvalitnú world music, teda podľa nášho názoru, stále zostáva. Každý ročník má svoju tému, aj to zostáva. Robíme najlepšie ako vieme, aby aj návštevníci aj účinkujúci mali vždy skvelý zážitok. Od počiatku je idea, aby to bol festival, ktorý využíva rôzne koncertné priestory v Žiline, preto sa vždy koná na inom mieste. Festival sa už konal v Mestskom Divadle, Stanici Záriečie, Novej Synagóge, Rosenfeldovom Paláci, Konzervatóriu v Žiline a Smer Klube.
Život hudobníka a hudobného organizátora nie je zrejme jednoduchý. Nie je len o cestovaní a užívaní si koncertov, ale predovšetkým o sústavnom zháňaní prostriedkov na existenciu. A keďže world music nie je komerčná hudba, bude to zrejme o to náročnejšie. Je to tak?
Musí tam byť veľa nadšenia, pretože kolotoč zháňania prostriedkov asi nikdy nekončí. Veľa ľudí si myslí, že hudobníci majú super život, keď veľa cestujú, ale je to často len malá časť pravdy. Áno, cestujeme veľa, ale často krát je to len letisko, diaľnica, hotel, sála a cesta naspäť. Ale sú aj svetlé výnimky. Čiže je to práca tak ako každá iná, ale má výhodu, že sa často odohráva na úžasných miestach. ☺
O týždeň (7. a 8. októbra) sa Žilina môže tešiť na ďalšie pokračovanie festivalu. Pôvodný marcový termín festivalu sa uskutočnil kvôli pandémii iba v online verzii. Momentálne sa podmienky pre kultúrne podujatia menia z týždňa na týždeň. Ako sa v takýchto podmienkach dá vôbec v hudobnej kultúre prežiť a ako sa dá vôbec niečo organizovať?
Marcový termín bol z pochopiteľných dôvodov presunutý. Podmienky sa menia neustále, preto je to momentálne o veľkej trpezlivosti aj keď netušíme výsledok. Prínosom je, že po minulom roku zostaneme aj v online priestore, chceme vytvoriť online záznam z festivalu, ktorý budeme neskôr vysielať. A to či sa dá prežiť a organizovať v týchto časoch vážne netuším, budúcnosť ukáže, či sa dalo preži. Zatiaľ nám nezostáva nič iné, iba sa snažiť.
Na záver by ma zaujímalo, či sú nejaké kapely, ktoré by si ešte veľmi rád priniesol na festival ty osobne? Máš nejaký "hudobný sen"?
Jeden hudobný sen sa mi splnil, keď sa mi podarilo priviesť Fanfare Ciocarlia a Maiju Kauhanen. A mám aj veľa ďalších, ale tie si nechám zatiaľ pre seba… asi budem trochu poverčivý. Bohužiaľ musím svoje vysnené kapely triediť podľa našich finančných možností. Je to síce už taká otrepaná fráza, ale pravdivá. Niekedy sa sny stanú skutočnosťou, len sa musíme stále snažiť.
Viac informácii o programe tohtoročného festivalu Hudba Sveta Žilina nájdete na webovej stránke https://hudbasvetazilina.sk/sk/ ako aj na facebookovej stránke.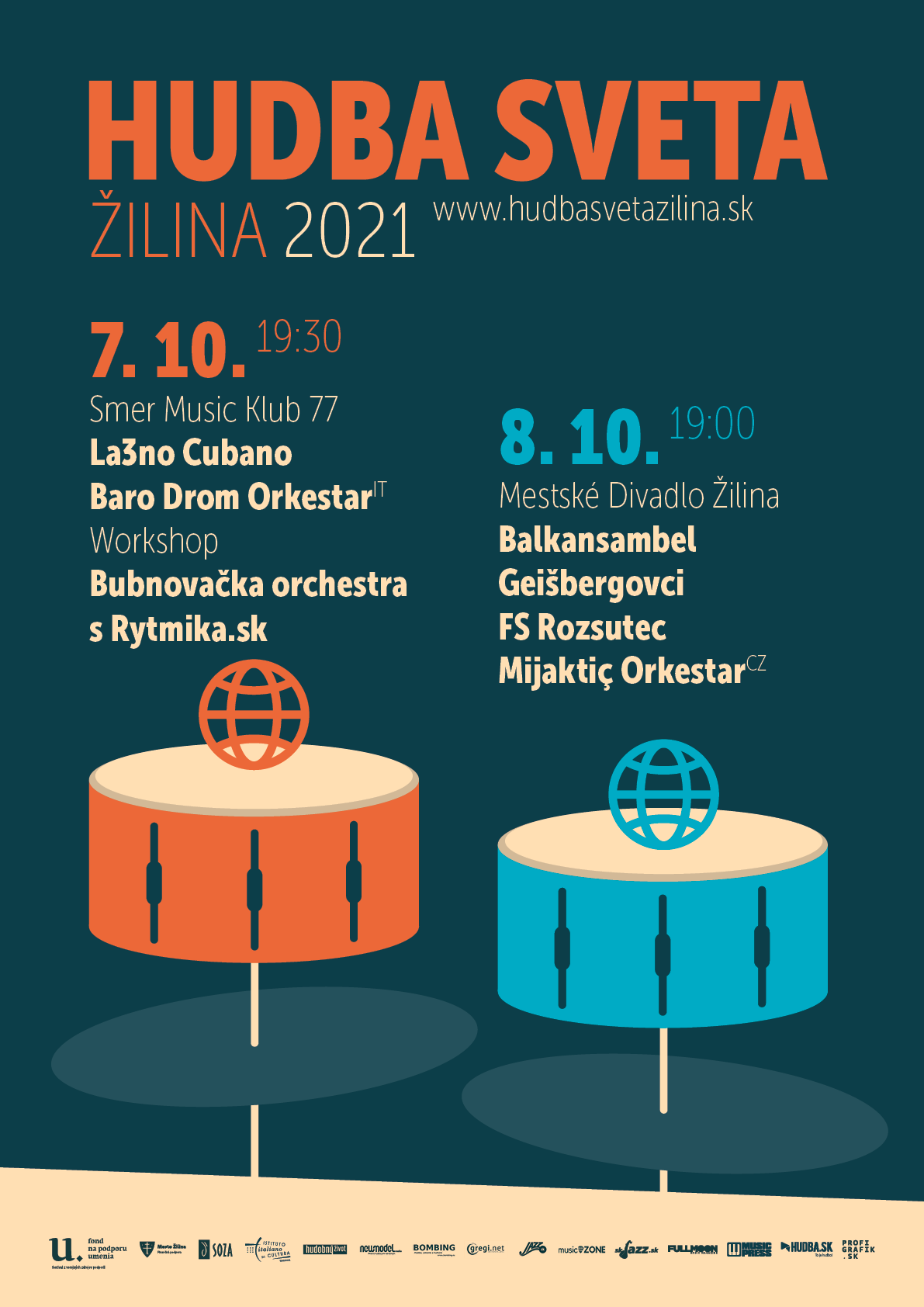 Ľubica Záborská, muzikologička, PR manažérka festivalu Hudba sveta Žilina