Zdá sa, že ustáť medziľudské vzťahy v akýchkoľvek formách a situáciách, môže znamenať nadľudský výkon. Ľudia sa aj v bežných dňoch – v rámci partnerského života, rodiny a práce – stávajú superhrdinami. Aj to sú námety, ktoré spracovávajú renomovaní talianski režiséri. Paolo Genovese, Edoardo Leo a Gabriele Muccino, prinášajú svoj pohľad na aktuálne vzťahové témy. Bodku za tohtoročnou prehliadkou dá oceňovaný Toni Servillo v úlohe slávneho komika Eduarda Scarpettu. Program CINEVITAJ tvoria štyri filmy, ktoré sa budú premietať štyri júnové stredy v bratislavskom Kine Lumière. Festival DOLCE VITAJ, ktorý každoročne prináša aj filmovú prehliadku, organizuje Taliansky kultúrny inštitút v Bratislave.
"Filmy hrajú v našom každodennom živote dôležitú úlohu: z filmového plátna, monitorov a displejov sa príbehy a obrazy, ktoré sledujeme, spájajú s našimi spomienkami a emóciami a na pár okamihov nám dajú pocítiť, že nie sme sami. A preto filmy v ponuke reflektujú dynamiku našich bežných dní, no robia to s ľahkosťou a nádejou, ktorá je dnes potrebná viac než kedykoľvek predtým," povedala Alessandra Sanniti, riaditeľka Talianskeho kultúrneho inštitútu v Bratislave. Filmová prehliadka sa tento rok okrem Bratislavy koná aj v Košiciach, Prešove a Banskej Bystrici.
Prehliadku otvorí v stredu 8. júna 2022 o 20.00 piaty film režiséra a herca Edoarda Lea ROZCHOD V RÍME. Príbeh sa začína tam, kde sa väčšina filmov končí. Snímka, zasadená do uličiek čarovného Ríma, potvrdzuje režisérovo nadanie rozprávať príbehy. Výsek zo životov Tommasa (Edoardo Leo) a Zoe (Marta Nieto) pôsobí pravdivo a vierohodne. Cez Tommasov strach z opustenia, ktorého sa bojí viac než toho, že už nie je milovaný a cez odťažitosť hlavnej hrdinky od všetkých ostatných ľudí, Leo stavia zručný a vášnivý film, ktorý odhaľuje skutočný život páru v plnej nahote. Ukazuje, ako sme dezorientovaní, keď nečakaná udalosť naruší tichú monotónnosť každodenného života. Sledujeme príbehy mužov v úzadí, ktorí majú emancipované, úspešné partnerky a snažia sa nájsť svoje miesto vo vzťahoch. Vo filme účinkujú aj Claudia Gerini a Stefano Fresi.
Druhým filmom prehliadky je novinka režiséra Gabriela Muccina NAJLEPŠIE ROKY, na programe je v stredu 15. júna 2022 o 20.00 hod. Hrdinami snímky sú štyria priatelia: Giulio (Pierfrancesco Favino), Gemma (Micaela Ramazzotti), Paolo (Kim Rossi Stuart) a Riccardo (Claudio Santamaria). Ich príbeh trvá približne štyridsať rokov, od začiatku 80. rokov až po súčasnosť. Niekto stále miluje tú istú ženu a prežíva trpké sklamania, druhý zmení svoj život a získa úspech a peniaze, no stratí priateľov, ďalší nedokáže vyžiť z práce, ktorú miluje, a opúšťa ho manželka s dieťaťom. Možno najlepšie roky skutočne predstavujú bilanciu života pre ľudí okolo päťdesiatky. Štyria protagonisti, pravidelne oceňovaní na medzinárodných festivaloch, intenzívne prežívajú všetky emócie svojich postáv. Muccino rozpráva príbeh jednej generácie, tej vlastnej. Rozpráva o smäde po živote, chybách, vzostupoch a pádoch, hľadaní cesty životom a šťastiu, ktoré by sme všetci chceli nájsť.
"Byť spolu desať rokov je ťažké, dosiahnuť dvadsať je vzácne, prekonať ich dokážu iba Superhrdinovia," tvrdí oceňovaný režisér Paolo Genovese v súvislosti so svojím najnovším filmom SUPERHRDINOVIA. Cinevitaj ho uvedie v stredu 22. júna 2022 o 20.00 hod. Snímka je akoby cestou v čase. Genovese v nej ruší časové línie a mieša minulosť so súčasnosťou, len tak sa dá porovnať, kým človek bol a čím sa stal. Superhrdinovia pre neho nie sú komédiou, napísal to aj vo svojej knihe, ktorú potom preniesol z pôvodnej románovej verzie na filmové plátno, pričom ako protagonistov si vybral Jasmine Trincu (Anna) a Alessandra Borghiho (Marco).
Anna a Marco sa náhodne stretnú pod arkádami milánskeho námestia, zatiaľ čo pouličný umelec hrá na violončelo a vonku padá dážď. Pravdepodobnosť opätovného stretnutia? Taká nízka, že je to irelevantné. Namiesto toho sa však opäť stretnú a zamilujú sa.
Paolo Genovese sa vracia k témam, ktoré sú mu blízke, rekonštruuje zvraty lásky v dvadsaťročnom rozprávačskom oblúku, menia sa tváre a telá hrdinov, premieňajú sa ich pocity, mení sa celý svet okolo. Zámer Superhrdinov je jasný: preskúmať vplyv času na život páru, ktorý je niekoľkokrát stvárnený v rôznych momentoch ich existencie v neprestajnom pohybe medzi minulosťou a prítomnosťou.
Paolo Genovese je slovenským divákom známy vďaka kinohitu Úplní cudzinci, Jasmine Trinca je držiteľkou niekoľkých cien David di Donatello, Alessandro Borghi hral napríklad v ďalšom Geneveseho filme The Place.
Cinevitaj uzavrie v stredu 29. júna 2022 o 20.00 hod. film režiséra Maria Martoneho inšpirovaného životnými osudmi jedného z najslávnejších divadelných hercov Eduarda Scarpettu KTO SA SMEJE NAPOSLEDY… Neapol, belle époque, začiatok 20. storočia. Divadelnému svetu kraľuje komik Eduardo Scarpetta (Toni Servillo). Stredobodom jeho života a širokej rodiny pozostávajúcej z manželiek, priateliek, mileniek, manželských a nemanželských detí je divadlo. Na vrchole úspechu si Scarpetta dovolí nebezpečný hazard. Rozhodne sa uviesť na scénu paródiu hry najslávnejšieho talianskeho básnika vtedajších čias Gabrieleho D'Annunzia Ioriova dcéra. Hru na premiére preruší krik, pískanie a protesty básnikov a dramaturgov novej generácie. Samotný D'Annunzio žaluje Scarpettu za plagiátorstvo a celý komikov život sa odrazu ocitne v troskách. Veľký herec však prijme hodenú rukavicu a so sebe vlastným majstrovstvom dokáže vyhrať svoj najdôležitejší súboj.
Oceňovaný i publikom milovaný herec Toni Servillo nechýbal v úspešných snímkach ako Veľká nádhera, Oni a Silvio, Božia ruka, Čas nehybnosti.
Festival sa koná pod záštitou primátora Hlavného mesta SR Bratislavy Matúša Valla.
Organizátori: Taliansky kultúrny inštitút v Bratislave, Talianske veľvyslanectvo, Taliansko – Slovenská obchodná komora
Spoluorganizátori prehliadky: Kino Lumiére Bratislava, Kino Úsmev Košice, FK v Múzeu SNM Banská Bystrica, Záhradné kino Scala Prešov
Partneri: VUB, Generali, Brovedani
Mediálni partneri: RTVS, Rádio Devín, in.ba, citylife, buongiornoslovacchia, JCDecaux, gregi
Viac informácií ponúkajú webové stránky: dolcevitaj.eu / iicbratislava.esteri.it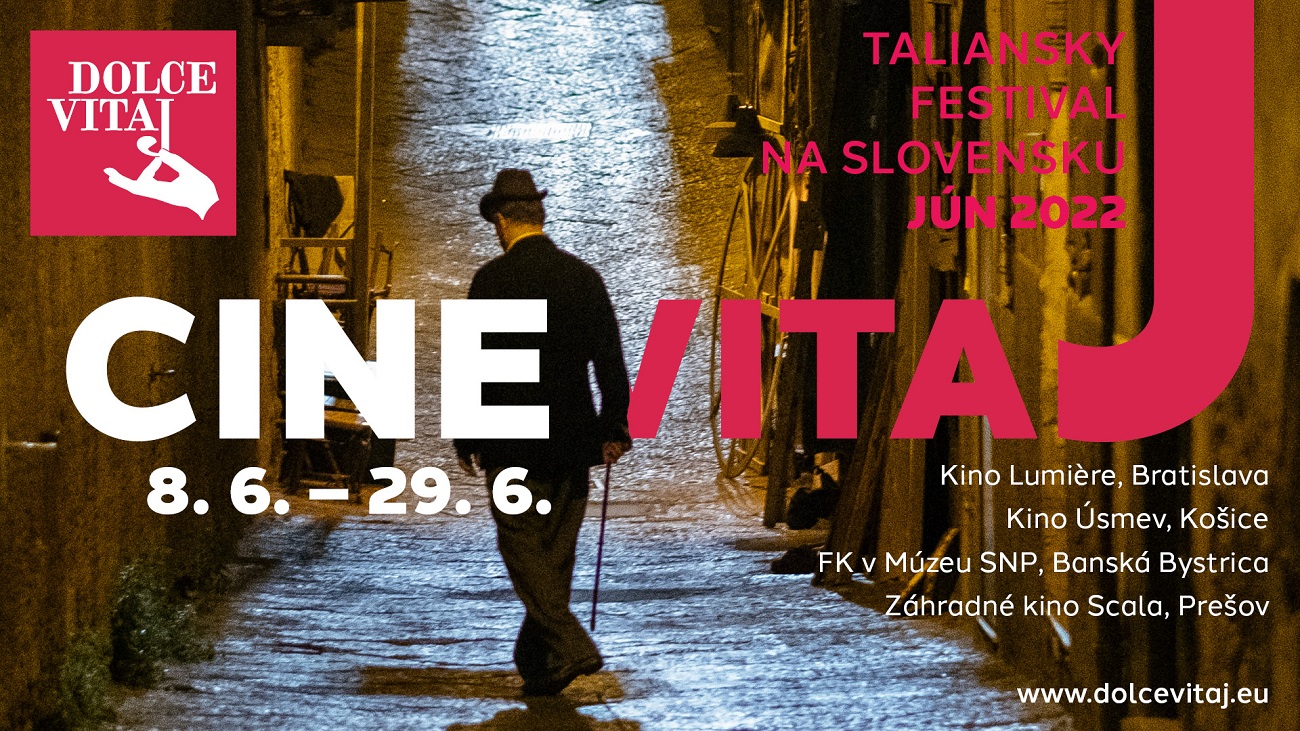 Zdroj: TS